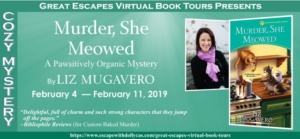 I'm happy to be participating in the Great Escapes Virtual Book Tours presenting MURDER, SHE MEOWED! This seventh book in the Pawsitively Organic Mystery series by Liz Mugavero, brings the reader to Frog Ledge, Connecticut where protagonist, Stan (Kristan) Conner is preparing for her nuptials. Weddings are supposed to be joyous times but Stan is feeling nothing but stress because her mother is planning the wedding of her dreams and not those of her daughter. Adding to Stan's angst is her own sister forcing a bachelorette party on the bride-to-be, complete with a handsome guy jumping out of a huge cake. Except the poor man is stabbed to death inside the cake while waiting for his cue to entertain and drags Stan into focusing on murder instead of wedding plans. Ms. Mugavero weaves a tight tale that helps the reader feel the emotions the characters feel and visualize the scenes they occupy. I greatly enjoy how, with each book, she's stretched the protagonist and supporting characters. This has brought about personal and external challenges, growth and change which reflect how endearing the characters have become to readers throughout this series.
The mystery itself is well-plotted. The victim seems like a happy-go-lucky guy which makes it harder to imagine someone would actually want to murder him. Yet as Stan delves into his life, she finds people who were jealous of him and the suspects start piling up. I'll admit the creepy stalker and Fatal Attraction scenario with a chocolate bunny was a clever idea and captured my attention. It added a unique twist with an interesting ending that I didn't see coming. While Stan has a way of getting involved in investigations, her future sister-in-law, a sergeant with the Connecticut State Police, hasn't always been happy about her meddling. It was nice to see how she's finally recognizing that Stan has valuable insight and welcomes it to help capture the killer. MURDER, SHE MEOWED is another terrific addition to an entertaining and endearing series!
Stan is the owner of the Pawsitively Organic Pet Patisserie and bakes special treats for the town's pets. Ms. Mugavero provides several recipes at the back of the book for our furry friends and I knew my grand-puppy, Piper, would adore her Bacon and Peanut Butter Homemade Dog Treats. A dog would likely be happy with any good treats, be they some of the Serenity Store's range of dog products or these homemade treats, but I felt like spoiling my girl today. These whole-grain bites are full of flavor thanks to a generous amount of peanut butter and bits of bacon. And I was right… Piper danced around and begged just as soon as her nose caught a whiff of these treats! I liked that they were easy to mix up and they freeze well so we can spoil our four-legged fur-baby for weeks to come.
In case you aren't sure whether the same food or ingredients would suit your cute canine, it's better to seek some professional advice on that. There are various websites that can provide you with the necessary information, considering your dog's breed type and age. You can get more details here.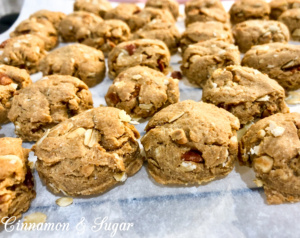 Amazon Synopsis
Kristan "Stan" Connor loves concocting tasty organic treats for dogs and cats-and she also loves her fiancé, pub owner Jake McGee. But she's not so enthusiastic about finding a dead body at her own bachelorette party . . .

Stan and Jake's wedding will soon take place on the town green in Frog Ledge, Connecticut, followed by a reception at their beloved Irish pub filled with friends, family, and their four favorite canine companions. Stan just has to endure the traditional girls' night out first. Male strippers jumping out of gigantic cakes aren't her preferred entertainment. But the hired hottie never gets around to taking it all off . . . because someone takes him out first with one of Stan's kitchen knives. A heartbroken Stan recognizes the victim as one of the delivery men from the local farm-who must have been moonlighting for some extra cash. Now the guest list has turned into a suspect list-and Stan's making a vow to find the killer . . .

A special thanks to Liz Mugavero for providing THREE print copies of MURDER, SHE MEOWED for three lucky winners! Contest ends February 12, 2019 and is limited to U.S. residents. Please use the Rafflecopter box located below the recipe to enter. The contest is administered by Great Escapes Virtual Book Tours and the winner will be announced on this page as well as notified by email (so check your spam folder!)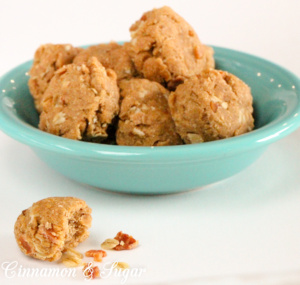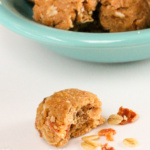 Peanut Butter and Bacon Homemade Dog Treats
Recipe courtesy of Chris Carrington
Ingredients
1

cup

creamy natural peanut butter

3/4

cup

milk

1

large

egg

2

cups

plus 1 tablespoon whole-wheat flour

1/2

tablespoon

baking powder

4

strips

bacon, cooked and crumbled

1/2

cup

old-fashioned oats
Instructions
Preheat oven to 325 degrees (F). Line a large baking sheet with parchment paper and set aside.

In a large bowl, add the peanut butter, milk, and egg. Stir until well mixed. Add the flour and baking powder. Mix well to incorporate all of the ingredients.

Knead the dough until it is firm and elastic. You can knead directly in the bowl, or if you prefer, on a level workspace. Sprinkle 1 tablespoon of flour onto your workspace and place the kneaded ball of dough on top. Flatten the dough a bit and sprinkle the crumbled bacon and oats on top. Knead the dough four or five more times to distribute the bacon and oats.

Drop by spoonfuls onto prepared baking sheet.

Bake for 20 minutes and cool on a wire rack.

You can store these peanut butter and bacon dog treats in an air-tight container in the refrigerator for up to 1 week, if they last that long. You can also freeze them for up to 1 month.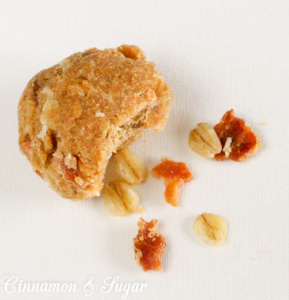 Pin to Pinterest: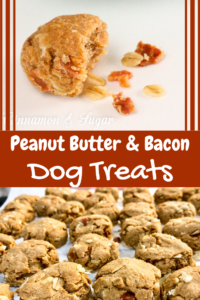 If you receive my blog post via email you will need to visit my website to view the video.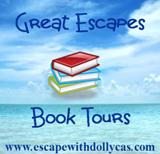 TOUR PARTICIPANTS
February 4 – The Avid Reader – REVIEW
February 4 – Socrates Book Reviews – SPOTLIGHT
February 4 – Reading Authors – REVIEW
February 5 – Babs Book Bistro – SPOTLIGHT
February 5 – Brooke Blogs – SPOTLIGHT
February 5 – A Wytch's Book Review Blog – REVIEW
February 6 – T's Stuff – SPOTLIGHT
February 6 – StoreyBook Reviews – GUEST POST
February 6 – Valerie's Musings – AUTHOR INTERVIEW
February 7 – Sneaky the Library Cat's Blog – CHARACTER INTERVIEW
February 7 – FUONLYKNEW – SPOTLIGHT
February 7 – Mystery Thrillers and Romantic Suspense Reviews – SPOTLIGHT
February 8 – Celticlady's Reviews – SPOTLIGHT
February 8 – View from the Birdhouse – SPOTLIGHT
February 8 – Books a Plenty Book Reviews – REVIEW
February 9 – Sapphyria's Books – SPOTLIGHT
February 9 – The Montana Bookaholic – REVIEW, RECIPE
February 9 – I'm All About Books – CHARACTER GUEST POST
February 10 – A Blue Million Books – AUTHOR INTERVIEW
February 10 – Laura`s Interests – REVIEW
February 10 – Readeropolis – SPOTLIGHT
February 11 – Cinnamon, Sugar and a Little Bit of Murder – REVIEW, RECIPE
February 11 – MJB Reviewers – REVIEW, AUTHOR INTERVIEW
February 11 – Here's How It Happened – GUEST POST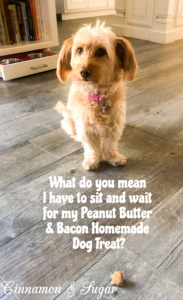 I was provided an advance copy with the hopes I would review. All thoughts and opinions are my own.