CORNED BEEF AND CAUSALTIES is another holiday novella in the Tourist Trap Mystery series by Lynn Cahoon. While I prefer full-length books, I do adore the Tourist Trap Mysteries and the ability to visit South Cove, California even if for a short read. And I'm always drawn to St. Patrick's Day themed stories… especially since my maiden name is McMahan. Protagonist Jill Gardner, owner of Coffee, Books, and More is getting ready for the town's first ever St. Patrick's Day event. And what an event it turns out to be with perhaps just a little too much flowing green beer. Ms. Cahoon captures the festival's shenanigans and celebratory spirit with fun descriptions and events.
When the sweet woman, who Jill felt a close connection to after their brief chance meeting, is found murdered on a deserted beach, she feels the need to get involved. I liked how the author has the townspeople come together to piece together the victim's last hours on earth to help solve the mystery. Even though it is a novella, I felt the story contained all the necessary elements to make it a delightful read: good characters, a mystery to be solved, clues sprinkled around, and a satisfying conclusion.
Not only is Jill's shop known for its coffee drinks but also for its sweet treats, especially cheesecakes. Jill's friend, Sadie, who is the owner of Pies on the Fly, creates the desserts and comes up with a special cheesecake especially for St. Patrick's Day. She names the cheesecake after the fun visitor who shows up at the end of the book… Gertie might be real or imagined or mystical… either way, the cheesecake inspired by her appearance embraces the epitome of St. Patrick's Day celebrations. The creamy, slightly minty filling perfectly complements the chocolate crust and received high praise from my friends! While the spring green color is perfect for St. Patrick's Day, this is so yummy you'll want to make it throughout the year.
Amazon Synopsis
South Cove, California, is celebrating St. Patrick's Day—and there's going to be a parade of suspects.

Jill Gardner's store, Coffee, Books, and More, is raking in the green as her little coastal town holds a big festival for St. Patrick's Day. But the locals aren't exactly feeling the luck of the Irish, thanks to the rowdy behavior of some of the tourists who are pouring in.

Then a woman who just visited Jill's shop is found dead near the shore. The fireworks display on the beach may have already happened, but the real fireworks have just begun . . .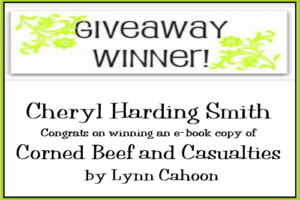 A special thanks to Lynn Cahoon for providing a winner with an e-book copy of CORNED BEEF AND CASUALTIES. Contest ends Sunday, February 10, 2019 at 11:59 pm PST. Please use the Rafflecopter box located below to enter. The winner will be announced on this page and on Cinnamon & Sugar's Facebook page, as well as notified by email (so check your spam folder!)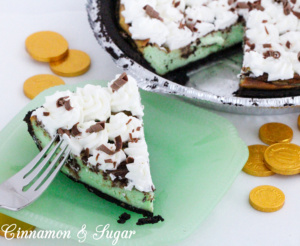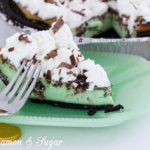 Gertie's Saint Patrick's Cheesecake
Ingredients
2

pre-made chocolate graham cracker crusts
Filling:
4

ounces

semisweet chocolate chips

3

(8 oz) packages cream cheese, softened

1

cup

sugar

4

eggs

1/3

cup

green Crème de menthe liqueur
Topping:
Whipped Cream

Shaved Chocolate
Instructions
Preheat oven to 300 degrees (F).

Microwave chocolate on High 45 to 60 seconds, stirring once halfway through microwaving, until melted. Set aside.

Mix together cream cheese and sugar until smooth and creamy.

Add eggs, one at a time, beating until smooth. Stir in liqueur.

Pour filling evenly over crusts.

Drop melted chocolate randomly onto filling. Let it sink, then with a knife, cut through chocolate and filling to swirl to marble.

Bake 1 hour, 10 minutes until set. Turn oven off and open door slightly. Cool cheesecake in oven 1 hour.

Remove from oven and cool at room temperature for 1 hour. Refrigerate 3 hours.

Garnish with whipped cream and shaved chocolate if desired, right before serving.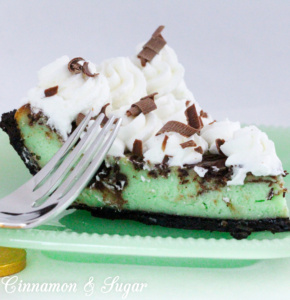 Pin to Pinterest: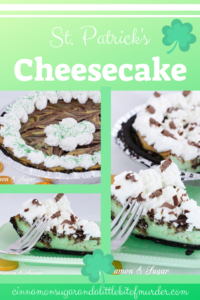 If you receive my blog post via email you will need to visit my website to view the video.
I was provided an advance copy with the hopes I would review. All thoughts and opinions are my own.