A FLAIR FOR TRUFFLES, the fourth book in the Sadie Kramer Flair Mysteries by Deborah Garner, is a refreshing change to the lineup of cozy mystery young protagonists out there. Sadie Kramer is self-described as an "eccentric senior citizen who carries a dog around in a tote bag." Despite her age, she is full of life, humor, and chocolate! I drooled over all the yummy sounding chocolate truffles she gets to sample whenever she visits her neighboring business, Cioccalato. I also appreciate that the author takes a moment to remind readers that chocolate and dogs don't mix, especially during this holiday when chocolate gifts make the rounds. Coco, Sadie's adorable Yorkie, adds her own brand of cuteness and humor to the story and fills in as a sidekick while Sadie investigates murder.
With San Francisco as a backdrop, the reader is treated to wonderful descriptions of the best that the city has to offer, along with a culinary tour of not to miss eats. It's like a mini-vacation on the page. Despite the short length of this book, Ms. Garner manages to create a full-bodied mystery with fun characters, clues, and suspects, while throwing in entertaining humor!
I had the privilege of contributing the recipe for Spicy Chocolate Truffles included in A FLAIR FOR TRUFFLES. Using pantry staples, these creamy candies are quick to make. And by rolling the finished candy in holiday-themed sprinkles, these truffles are the perfect gift for any special occasion, year-round!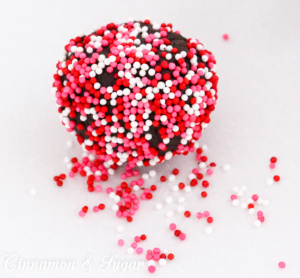 Amazon Synopsis
Sadie Kramer's friendly offer to deliver three boxes of gourmet Valentines truffles for her neighbor's chocolate shop, Cioccolato, backfires when she arrives to find the intended recipient deceased. Even more intriguing is the fact that the elegant heart-shaped gifts were ordered by three different men.
With the help of one detective and the hindrance of another, Sadie will search San Francisco from the prestigious financial district to a low-life bar, to iconic Fisherman's Wharf, looking for clues. With the help of her trusted sidekick Yorkie, Coco, will Sadie manage to find out "whodunnit" before the killer finds a way to stop her?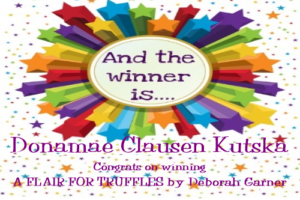 A special thanks to Deborah Garner for providing a winner with their choice of either print or an e-book copy of A FLAIR FOR TRUFFLES. Contest ends Tuesday, February 19, 2019 at 11:59 pm PST. Please use the Rafflecopter box located below to enter. The winner will be announced on this page and on Cinnamon & Sugar's Facebook page, as well as notified by email (so check your spam folder!)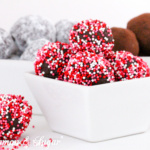 Spicy Chocolate Truffles
Ingredients
Truffles:
1

14-ounce sweetened condensed milk

16

ounces

good-quality bittersweet chocolate chips or bars chopped into small pieces

2

teaspoons

vanilla extract

1

teaspoon

ground cinnamon

1/4 - 1/2

teaspoon

cayenne powder, depending on how spicy you like it

1/4

teaspoon

sea salt
Garnish:
Your choice of cocoa powder, hot cocoa mix, non-melting confectioners' sugar, or holiday-themed candy sprinkles
Instructions
For the truffles:
Heat the sweetened condensed milk in a small saucepan just until the edges start to bubble, stirring constantly. Do NOT allow to boil.

Place the chocolate in a medium-sized heat-proof bowl. Pour the hot milk over the chocolate and allow to sit for two minutes. Add in the vanilla, sea salt, cinnamon, and cayenne powder and stir until the chocolate is fully melted.

Cover and refrigerate until chilled, around 1 hour. Mixture should be firm but not hard.

Roll the chilled mixture into small balls then roll into your choice of garnish.

Serve truffles at room temperature. Store leftovers in the refrigerator.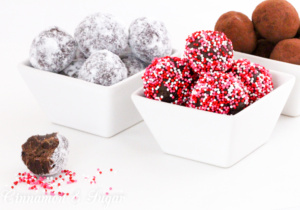 Pin to Pinterest:
If you receive my blog post via email you will need to visit my website to view the video.