RESTAURANT WEEKS ARE MURDER, the third book in the Poppy McAllister Mystery series by Libby Klein, is another laugh out loud, can't put down read! Ms. Klein continues to create and develop characters that are entertainingly funny with plenty of witty dialog to tickle the funny bone. Her use of clever similes brings each scene to life. Protagonist Poppy McAllister is smart yet a bit self-deprecating. I've appreciated her internal growth over the course of the series and this book is no exception. Poppy has learned to "manage" her feisty, always getting into trouble Aunt Ginny while she's almost given up on trying to corral her always getting into trouble cat, Figaro. Between Aunt Ginny (who is a hoot) and Figaro, Ms. Klein has plenty of opportunities to insert even more humor.
I greatly enjoyed the theme of the book: a week-long cooking competition very similar to the Food Network program Chopped where the participating chefs must create a dish using strange mystery ingredients. I've always liked these types of television programs and reading about Poppy's participation in such a competition was highly entertaining. The combination of cut-throat competitors, sabotaged ingredients plus kitchen equipment, and a murder victim create plenty of suspense and mystery for Poppy to solve. Are the crimes connected or are there multiple people out for revenge? Ms. Klein writes a tight plot that kept me turning pages late into the night until I finished the very last page.
Poppy is an accomplished pastry chef, specializing in paleo desserts and treats. I love that Ms. Klein provides several paleo recipes at the back of the book, all which sound mouthwatering! I was drawn to the Earl Gray Madeleines because 1) I love madeleines and 2) I love Earl Gray tea. The combination of flavors in this dessert is an elegant, delectable taste that is perfect for serving at an afternoon tea or champagne brunch!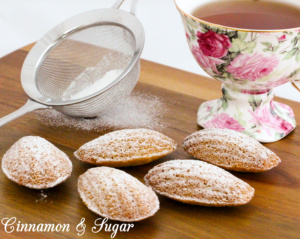 Amazon Synopsis
Cape May, New Jersey, is the site of a big culinary competition—and the knives are out . . .

Poppy McAllister is happy about opening a Jersey Shore B&B—but working in a professional kitchen has always been her real dream. Now it's coming true, at least briefly, as she teams up with her former fiancée, Tim—and his condescending partner, Gigi—during the high-profile Restaurant Week challenge. Poppy's specialty is pastries, despite her devotion to a Paleo diet. But if anyone can make glorious gluten-free goodies, it's Poppy.

Things get heated quickly—especially when some ingredients get switched and Tim's accused of sabotage. Relatively harmless pranks soon escalate into real hazards, including an exploding deep fryer. And now one of the judges has died after taking a bite of Poppy's cannoli—making her the chef suspect . . .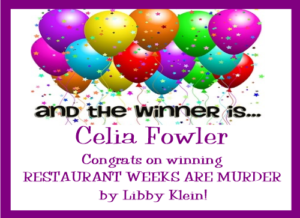 A special thanks to Libby Klein for providing a winner with an arc print copy of RESTAURANT WEEKS ARE MURDER. Contest ends Thursday, February 28, 2019 at 11:59 pm PST. Please use the Rafflecopter box located below to enter. The winner will be announced on this page and on Cinnamon & Sugar's Facebook page, as well as notified by email (so check your spam folder!)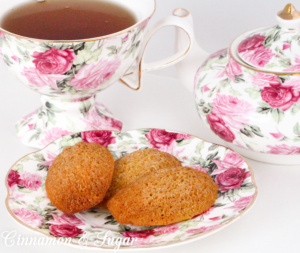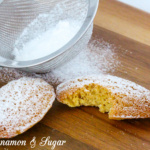 Paleo Earl Grey Madeleines
Ingredients
5

tablespoons

unsalted butter, plus additional for molds, room temperature*

4

tablespoons

loose Earl Grey tea or tea from 4 teabags

1/3

cup

+ 1 tablespoon coconut flour

1/2

cup

arrowroot starch

1/4

teaspoon

baking soda

1/4

teaspoon

baking powder

1/4

teaspoon

salt

1/8

teaspoon

xanthan gum

3

eggs

1/3

cup

raw honey

1/4

cup

butter, melted*

1/4

cup

coconut milk

Zest of 1 lemon
Instructions
Preheat the oven to 350 degrees (F).

Melt 5 tablespoons butter in saucepan over low heat. Mix in the tea. Let steep for 10 minutes.

Grease two madeleine pans with remaining butter.

In a small bowl, whisk together the coconut flour, arrowroot starch, baking soda, baking powder, salt, and xanthan gum. Set aside.

Whip the eggs until thick and lemon colored.

Strain the butter/tea mixture well - you want as much of the butter as possible. Throw away the tea.

Add the honey, melted butter, coconut milk, lemon zest, and strained butter/tea mixture into the beaten eggs, while mixing on low.

Slowly add in the dry ingredients into the wet and mix until incorporated, scraping the sides of the bowl often.

Use a cookie scoop to evenly divide the batter among the greased madeleine molds in the pans. You should fill the madeleine molds just about entirely. Do not bang the pan or pat down the batter.

Bake for 12 to 15 minutes or until a toothpick comes out clean. Mine were done in 12 minutes.

Let cool in pans for 5 minutes before turning onto a wire rack to completely cool.
Notes:
*You can always use coconut oil if you are sensitive to dairy. Refined coconut oil will not have a coconut flavor.

Optional: Sprinkle the madeleines with with powdered sugar, but be aware this is not a Paleo option.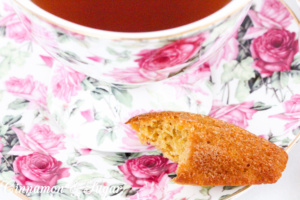 Pin to Pinterest: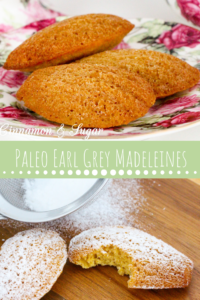 If you receive my blog post via email you will need to visit my website to view the video.
I was provided an advance copy with the hopes I would review. All thoughts and opinions are my own.