MURDER IN AN IRISH PUB is the fourth book in the Irish Village Mysteries by Carlene O'Conner but the first I've gotten around to reading. I enjoyed it so much I'm determined to start at the beginning and catch up with this delightful series. Given the backstory about protagonist Siobhán O'Sullivan (pronounced "shiv + awn) and the multitude of siblings she is raising on her own, I would recommend starting with the first book. Despite not fully knowing the previous stories and what happened to the O'Sullivan broods' parents, I was still captivated by the plot revolving around the international poker tournament being held in the Irish village. Ms. O'Conner captures the authentic feeling of Ireland and the small village with detailed descriptions and colloquial sayings and words which added a layer of charm. I had a good chuckle over the visual her description brought to mind when she wrote: "He had the face of a silver fox but the body of a lazy dog." Her characters come to life and I especially liked Siobhán. Even though her family owns Naomi's Bistro, Siobhán decided to follow her dreams and become Garda Sullivan, a policewoman. This is a bit different from other cozy amateur detectives, but she still portrays the cozy mystery spirit.
I was also greatly intrigued by the "locked room" scenario surrounding the murder. I found the author's method impressive and quite clever to throw the investigators and the reader off from discovering the truth. I think it takes a lot of creativity to make it believable and the author pulls it together quite effectively. There are just enough clues to make the reader keep turning pages to see if Siobhán can figure it out (I certainly couldn't but then again I was willing to go along for the ride instead of puzzling it out) and enough action to keep me turning pages faster and faster. A surprising reveal wrapped the ending up in a satisfying ending and makes me want to find out what Siobhán does next.
While the book doesn't include recipes, Siobhán and her brothers and sisters own Naomi's Bistro in the village of Kilbane. They produce a multitude of mouthwatering meals for their customers. Ms. O'Connor had the opportunity to meet Chef Noel McMeel at the Chicago Irish American Heritage Center earlier this year at the annual IBAM, Irish Books and Music festival. She was fortunate to have the chance to chat with the chef, who offered his permission for her to share his recipe for Peanut Butter and Spuds Candy. I'm happy that she passed along the recipe to me to share! Two simple ingredients produce a sweet confection while peanut butter provides a nice contrasting flavor and visual appeal in the rolled dough. This unique candy is sure to please anyone with a penchant for sweets!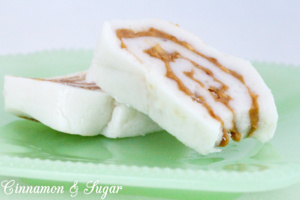 Amazon Synopsis
When competing card sharps stir up Siobhán O'Sullivan's quiet Irish village, a poker tournament turns into a game of Hangman . . .

In the small village of Kilbane in County Cork, for a cuppa tea or a slice of brown bread, you go to Naomi's Bistro, managed by the many siblings of the lively O'Sullivan brood. For a pint or a game of darts—or for the poker tournament that's just come to town—it's the pub you want.

One player's reputation precedes him: Eamon Foley, a tinker out of Dublin, called the Octopus for playing like he has eight hands under the table. But when Foley is found at the end of a rope, swinging from the rafters of Rory Mack's pub, it's time for the garda to take matters into their own hands. Macdara Flannery would lay odds it's a simple suicide—after all, there's a note and the room was locked. But Siobhán suspects foul play, as does Foley's very pregnant widow. Perhaps one of Foley's fellow finalists just raised the stakes to life and death.

With conflicting theories on the crime—not to mention the possibility of a proposal—tensions are running high between Siobhán and Macdara. Soon it's up to Siobhán to call a killer's bluff, but if she doesn't play her cards right, she may be the next one taken out of the game . . .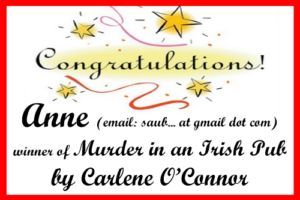 A special thanks to Carlene O'Connor for providing a winner with a hardcover copy of MURDER IN AN IRISH PUB. Contest ends Wednesday, March 6, 2019 at 11:59 pm PST and is limited to U.S. residents. Please use the Rafflecopter box located below to enter. The winner will be announced on this page and on Cinnamon & Sugar's Facebook page, as well as notified by email (so check your spam folder!)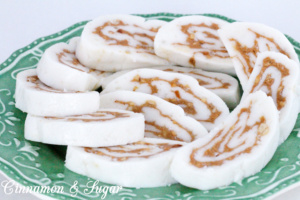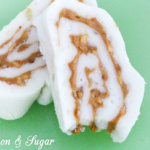 Peanut Butter and Spuds Candy
Recipe shared with permission granted by Chef Noel McMeel, author of Irish Pantry. "LIFE'S TOO SHORT NOT TO BE IRISH," they say. To show that I'm Irish through and through, I'm going to share my recipe that combines my favorite Irish thing, the potato, with enough sugar to make my sweet tooth sing. An unlikely pairing, maybe. But here's a case of the sum being even better than its parts.
Ingredients
1

small floury potato (such as russet)*

4

cups

(400g) confectioners' sugar, plus more for rolling**

1/2

cup

(125g) crunchy peanut butter
Instructions
Peel and cube the potato. Cover the potato with cold water in a medium saucepan and bring it to a boil. Cook until the potato is fork-tender, then drain the potato through a colander and place the cubes in a large bowl. Mash them with a potato masher until fluffy.

Sift the sugar into the potatoes a little at a time, stirring to mix. Don't panic when the potato gets watery. Keep adding the sugar until the mixture starts to look like dough.

Lay out parchment paper and sprinkle it with confectioners' sugar. Roll out the dough with a rolling pin until it's thinner than a piecrust but not falling apart.

Warm the peanut butter in the microwave for 10 seconds at a time until it's smooth but not runny, checking after each increment. Spread over the dough

Roll up from the long side like a jelly roll and put in the refrigerator for 2 hour, until firm.

Slice into small pieces. Store tightly covered in the refrigerator.
Notes:
Makes about 1 pound candy.

Cinnamon & Sugar's Notes:
* U.S. potatoes are huge, often weighing over 1 pound! Pick a small potato that weights about 6 ounces.

** Depending on the size of your potato, you may need to use more confectioners' sugar. Just keep adding to the potato mixture, in small increments, until a pliable dough is formed.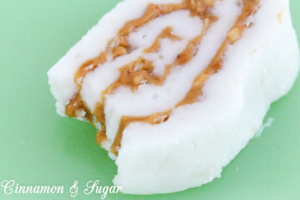 I'll answer the comment questions here: Have you ever been to Ireland? No, but my husband and I are planning a trip this fall to celebrate our 20th wedding anniversary! I loved getting a preview of Irish village life and an introduction to Irish words and people in this book.
Pin to Pinterest: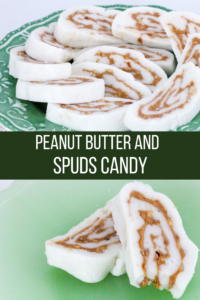 If you receive my blog post via email you will need to visit my website to view the video.
I was provided an advance copy with the hopes I would review. All thoughts and opinions are my own.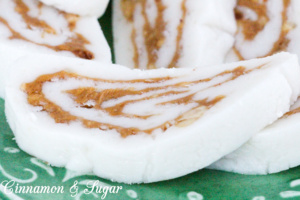 If you're interested in the IRISH PANTRY by Noel McMeel, click on the book to visit Amazon. Chef Noel McMeel is a chef from Northern Ireland, who is the executive head chef at Lough Erne Golf Resort and Hotel in Enniskillen, County Fermanagh. He describes his cooking as "modern Irish cuisine".