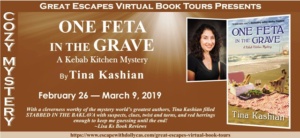 I'm excited to be participating in the Great Escapes Virtual Book Tour introducing ONE FETA IN THE GRAVE! This third book in the Kebab Kitchen Mystery series, by Tina Kashian, is a delightful sun-drenched, seaside cozy mystery. The author brings small-town Jersey shore and boardwalk culture to life. The reader will feel like they are immersing themselves in the last hurrah of hot summer days with a sand sculpture contest, a wine and food festival featuring local restaurants, and carnival rides. You can smell the Coppertone, taste the cold ice cream, and hear the laughter, until murder brings the festive atmosphere to a screeching halt… I love the way Ms. Kashian uses words to paint vivid pictures of both her settings and her characters. She wraps the theme of family and friendship into the story with heartwarming results.
Ms. Kashian brings protagonist, Lucy Berberian, and the supporting cast to a tightly-developed plot. Lucy would rather not get involved in murder, especially given her previous close calls with killers. Even though she knows the town is suffering financial distress by the interruption to their last summer tourist event, she's determined to let the town's detective (who dislikes Lucy and her family) solve the case. I loved seeing how the author weaves her tale, pulling Lucy into getting involved despite her reluctance. I find it adds to the creativity of the plot and avoids the "just because of curiosity" excuse. It also gives Lucy more of a human connection to the other characters in the book, allowing the reader to relate more. The exciting conclusion wraps the threads of the plot and subplot together for a satisfying and entertaining read!
Lucy is a first generation American with an Armenian, Greek, and Lebanese heritage. When her parents immigrated to the Jersey shore, they opened their Kebab Kitchen restaurant which Lucy now manages. While Lucy isn't much of a cook, her mother is inspiring her to learn. Thankfully, Lucy isn't the chef and instead, the mouthwatering food coming from the kitchen belongs to Lucy's romantic interest, Azad. Fortunately for the reader, Ms. Kashian includes several recipes at the back of the book. They all sound fantastic! I chose to feature her recipe for Date Stuffed Cookies. The sweet, cinnamon-y filling is encased in flaky cookie dough, so it's almost like a mini turnover. I loved the ease of working with the dough and my taste testers loved the flavor… even those who said they didn't like dates! For a fun change from regular flat cookies, I'll be making these to add elegance to my holiday cookie platters.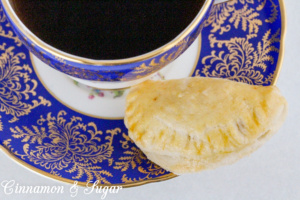 Amazon Synopsis
As summer comes to an end in her Jersey Shore town, Lucy Berberian continues to manage her family's Mediterranean restaurant. The Kebab Kitchen also has a food tent at this year's beach festival. But now a local businessman is under the boardwalk—dead by the sea …

With a sand castle contest and live music, Ocean Crest bids a bittersweet farewell to tourist season. Summer will return next year … but Archie Kincaid won't. The full-of-himself store owner has been fatally shot, soon after a screaming match with Lucy's best friend. Katie's far from the only suspect, though, since Archie had some bitter rivals—as well as some relationships no one knew about. It's up to Lucy to look into some seedy characters and solve the case before the wrong person gets skewered …

A special thanks to Tina Kashian for providing FOUR copies (winner's choice of print or digital) of ONE FETA IN THE GRAVE for four lucky winners! Contest ends March 10, 2019 and print is limited to U.S. residents. Please use the Rafflecopter box located below the recipe to enter. The contest is administered by Great Escapes Virtual Book Tours and the winner will be announced on this page as well as notified by email (so check your spam folder!)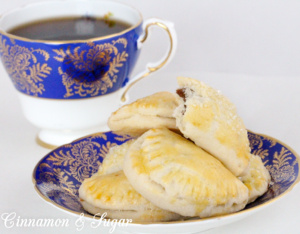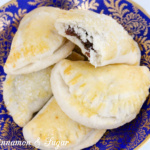 Lucy's Date-Stuffed Cookies
Ingredients
For the Dough:
1/2

pound

(1 cup) unsalted, softened butter

3

tablespoons

vegetable oil

3

tablespoons

sugar

3

cups

flour

1

teaspoon

baking powder

1/2

cup

warm water
For the Filling*
1-1/2 to 2

pounds

pitted and chopped dates

1

tablespoon

unsalted, softened butter

1

cup

hot water

3

tablespoons

sugar

1

teaspoon

cinnamon
Instructions
For the Dough:
Use an electric mixer on medium speed to mix butter, oil and sugar. Add flour, baking powder, and water and mix on medium speed. The dough should be a soft, pliable consistency. Cover the dough with plastic wrap and set it aside for thirty to forty-five minutes at room temperature.

Combine dates, butter, hot water, sugar, and cinnamon in a separate bowl and mix on medium speed until well combined.
Putting it together:
Flour a work surface to prevent the dough from sticking. Roll out dough until about 1/8-inch thick. Use a two-inch round cookie cutter or a water glass to cut out a circle shape. Place one rounded teaspoon of date filling in the center of each circle shape. Fold into a half-circle shape. Using a fork, gently press the edges together to seal.

Preheat oven to 350 degrees. Lightly spray baking sheets with cooking spray (or line of parchment paper).

Place cookies on baking sheets. Brush each cookie with egg wash. Bake for 15 - 20 minutes. Cookies should be golden, not brown. Lift cookies with a spatula and place them on cooling racks.

Makes about two - three dozen cookies. Enjoy!
Cinnamon & Sugar's Note:
I found I only needed half of the filling for all of the dough. 1-1/2 pounds of dates (without pits) was too much.

I love the look of sparkling sugar on cookies, so sprinkled a bit on some of the cookies after I applied the egg wash.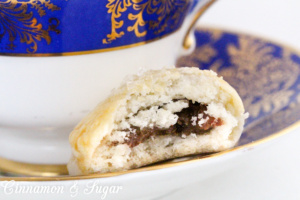 Pin to Pinterest: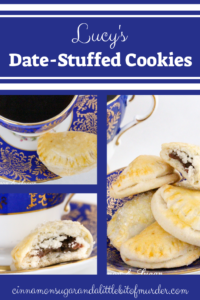 If you receive my blog post via email you will need to visit my website to view the video.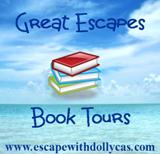 TOUR PARTICIPANTS
February 26 – Laura`s Interests – REVIEW
February 26 – The Book Diva's Reads – CHARACTER GUEST POST
February 26 – A Holland Reads – SPOTLIGHT
February 27 – Babs Book Bistro – REVIEW
February 27 – The Pulp and Mystery Shelf – GUEST POST
February 27 – My Reading Journeys – SPOTLIGHT
February 28 – Ruff Drafts – SPOTLIGHT
February 28 – The Avid Reader – REVIEW
February 28 – Reading Is My SuperPower – REVIEW
March 1 – Cozy Up With Kathy – REVIEW
March 1 – Christa Reads and Writes – GUEST POST
March 2 – Cinnamon, Sugar and a Little Bit of Murder – REVIEW
March 2 – Cassidy's Bookshelves – SPOTLIGHT
March 2 – Brooke Blogs – AUTHOR INTERVIEW
March 3 – StoreyBook Reviews – REVIEW
March 3 – Lisa Ks Book Reviews – REVIEW, AUTHOR INTERVIEW
March 4 – Here's How It Happened – SPOTLIGHT
March 4 – Baroness' Book Trove – REVIEW
March 4 – Mystery Thrillers and Romantic Suspense Reviews – SPOTLIGHT
March 5 – Rosepoint Publishing – REVIEW
March 5 – A Wytch's Book Review Blog – REVIEW, CHARACTER INTERVIEW
March 5 – Escape With Dollycas Into A Good Book – REVIEW
March 6 – I'm All About Books – CHARACTER GUEST POST
March 6 – Readeropolis – SPOTLIGHT
March 7 – The Montana Bookaholic – REVIEW
March 7 – The Cozy Pages – REVIEW
March 8 – A Chick Who Reads – REVIEW
March 8 – MJB Reviewers – REVIEW
March 9 – Socrates Book Reviews – REVIEW
March 9 – Melina's Book Blog – REVIEW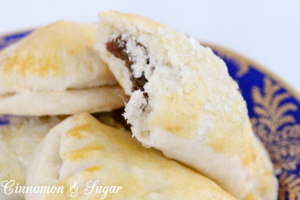 I was provided an advance copy with the hopes I would review. All thoughts and opinions are my own.