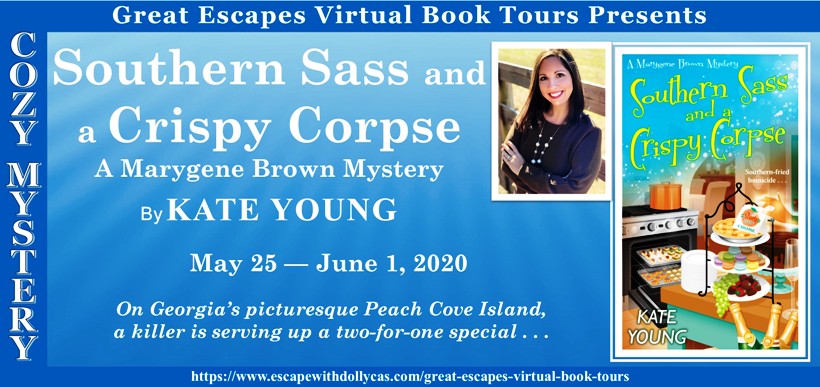 I'm delighted to be participating in the Great Escapes Virtual Book Tour presenting SOUTHERN SASS AND A CRISPY CORPSE, the second book in the Marygene Brown Mystery Series by Kate Young. The action starts right from the very first in this edgy cozy mystery. Protagonist Marygene Brown gets involved in a decades-old cold case after accidentally bumping into the remains of the missing young woman while skinny-dipping in the ocean off the coast of Peach Cove Island in Georgia. From this set up, the mystery takes a unique and entertaining twist in that Marygene doesn't want to be involved in solving the mystery, nor has she ever wanted to be an amateur sleuth. Except her deceased mother's ghost is quite insistent that Marygene do so… or else… Adding to the twists in Marygene's life is the fact that she's the daughter of Sheriff Eddie Carter, the result of an affair between the sheriff and her mother. Marygene is pulled between her mother's ghost and her sheriff father while working alongside her half-sister and half-brother at the family-owned Peach Diner. Ms. Young's vivid imagery leaps from the pages as the story unfolds. The reader feels the emotional angst the protagonist feels, smells the delectable peach treats baking at the family diner, hears the sound of the waves on the beach, and sees a ghost that shouldn't be there. With each turn of the page I felt like there was something new to discover.
Ms. Young crafts a fast-paced plot. There are layers upon layers of mystery surrounding the cold case(s) and plenty of suspects for Marygene to discover. The author has created some terrific characters, especially in the island's older generation that were around when the cold case occurred. These memorable characters added some humor and humanity which I found important since the book covers some serious topics that can be quite tragic. It adds an element of emotional depth and I appreciated that each scene is written with sensitivity and weaves into the story without detracting from the flow. With a heart stopping reveal, Ms. Young wraps up the threads of the plots and subplots in one highly satisfying conclusion, making me count the months until the next book in this series is released.
With the Peach Diner serving up all sorts of delicious Southern food and delectable peach treats, the reader will get hungry reading the descriptions. There are several recipes at the back of the book and I just had to try the recipe for Peach Muffins. Chock-full of peaches these mix up quickly without any fuss. Canned peaches even work when fresh aren't available which makes this recipe convenient year round. And, thanks to the generous amount of peaches used, the muffins are super moist and flavorful. The batch makes plenty to serve a hungry family or can be stored in an airtight container for a couple of days to nibble on for breakfast or snack time!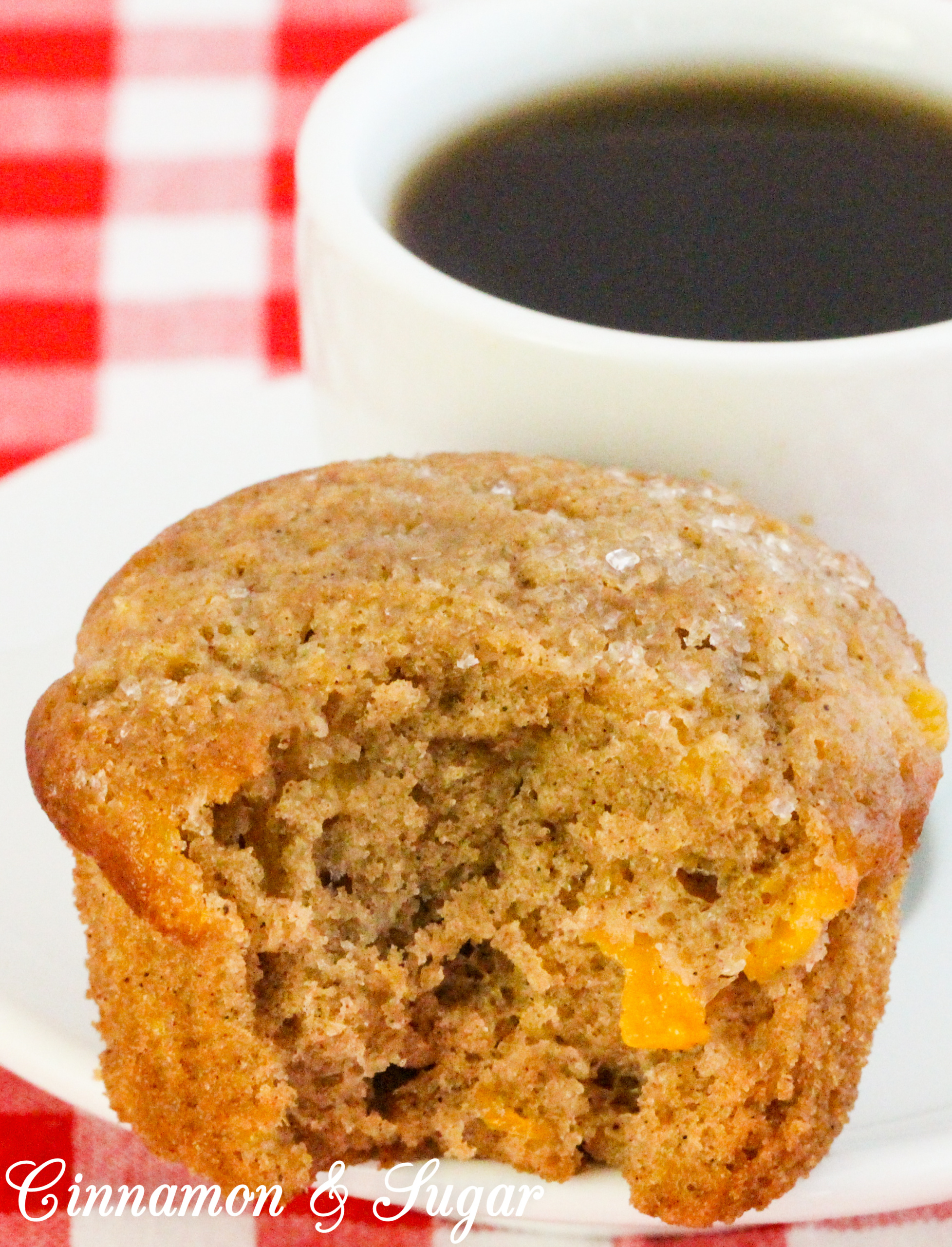 Amazon Synopsis
On Georgia's picturesque Peach Cove Island, a killer is serving up a two-for-one special . . .
After their mama's passing, Marygene Brown returned to Peach Cove Island to help her sister Jena Lynn run the family diner, renowned for its homemade peach desserts. But Mama is never too far away—her sassy spirit haunts the island, and more specifically Marygene. Lately Mama has been warning her that the dead will seek her out to solve their murders, an idea Marygene is far from peachy keen on.
But that prophecy appears to be coming true when she goes skinny-dipping off the island and swims right into a woman's charred corpse floating in the waves. And when Marygene and her brother Sam come upon a second burned body in a wine cellar at an event they're catering, it appears they have a double homicide on their hands. It soon turns out the victims have more in common than their charred remains, and Marygene will need to double down to find a killer who has no aversion to playing with fire. Good thing Mama has her back . . .
A special thanks to Kate Young for providing 1 winner with a $50 Amazon gift card! Contest ends June 1, 2020 at 11:59 pm PST and is administered by Great Escapes Virtual Book Tour. Please use the Rafflecopter box located below to enter. The winner will be announced on this page as well as notified by email (so check your spam folder!)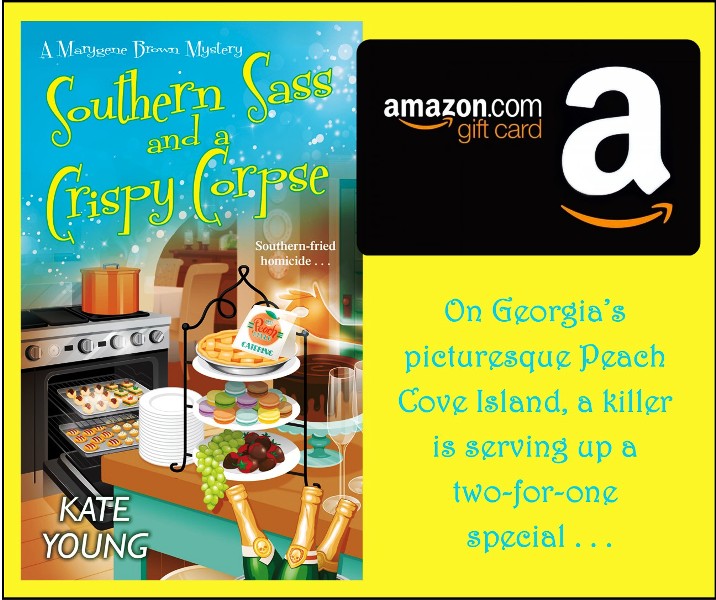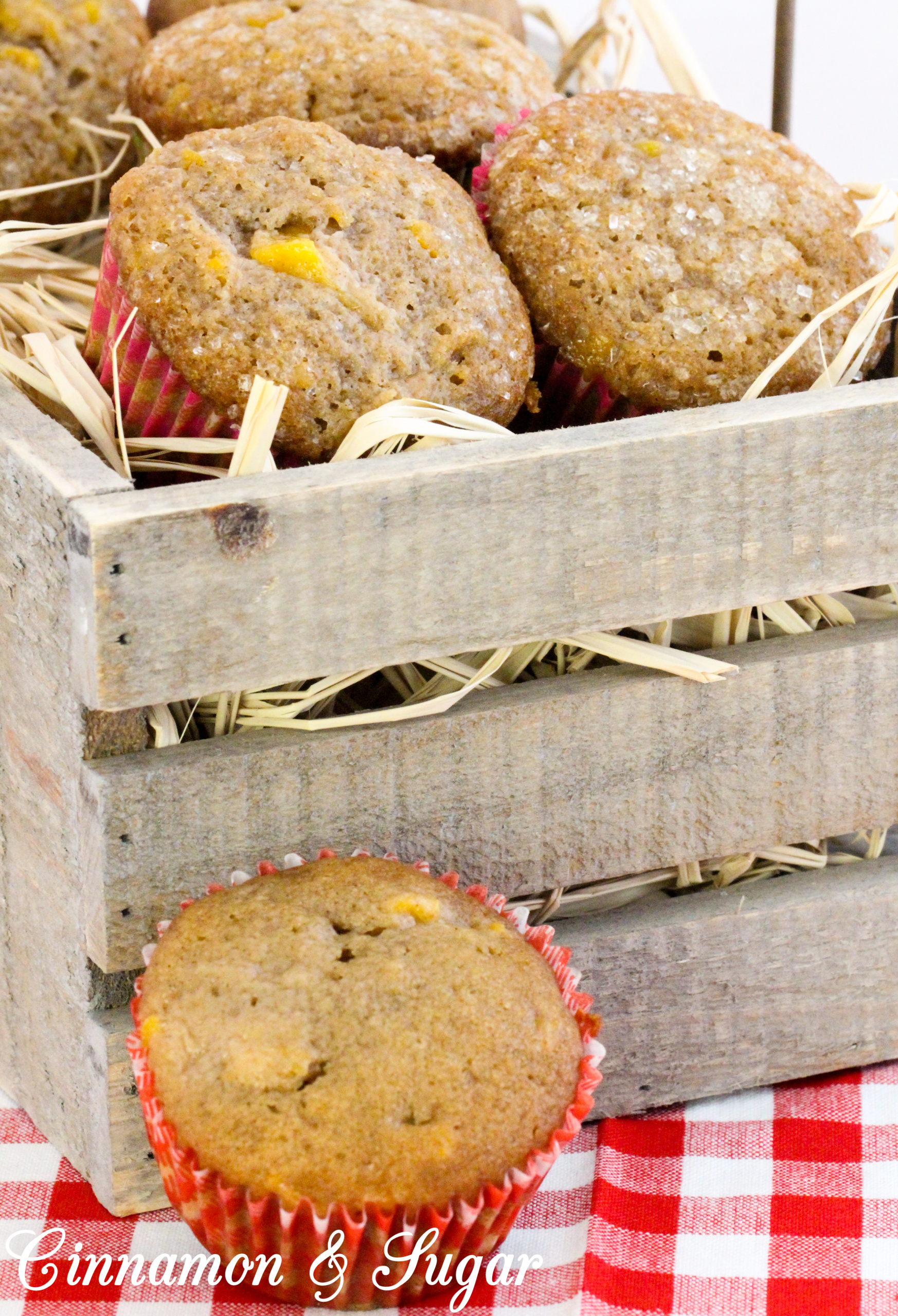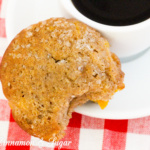 Peach Muffins
Ingredients
3

cups

all-purpose flour

1

tablespoon

cinnamon

1/2

teaspoon

allspice

1

teaspoon

baking soda

1/2

teaspoon

salt

1

cup

vegetable oil

1/2

cup

buttermilk

1

teaspoon

vanilla extract

3

eggs, lightly beaten

1-1/2

cups

brown sugar

3

cups

chopped peaches, fresh or canned
Instructions
Preheat the oven to 350 degrees (F) and line muffin tins with 16 muffin paper liners.

In a large bowl, mix flour, cinnamon, allspice, baking soda, and salt. Set aside.

In a separate bowl, mix oil, vanilla, buttermilk, eggs, and brown sugar. Pour wet mixture into dry ingredients and mix gently until combined. Fold in peaches.

With a large ice cream scoop, spoon batter into muffin cups.

Bake 20 minutes or until toothpick inserted into the center comes out clean. Cool 10 to 15 minutes before turning out on a wire rack to cool.
Cinnamon & Sugar's Note:
If using canned peaches, drain well before dicing. I used a 29-ounce can of peaches but it wasn't enough to make 3 cups. Due to grocery store lines during the shutdown, I made do with what I had and the muffins turned out fine.

I sprinkled half of the muffins with coarse sparkling sugar for a bit of added sweetness and crunch.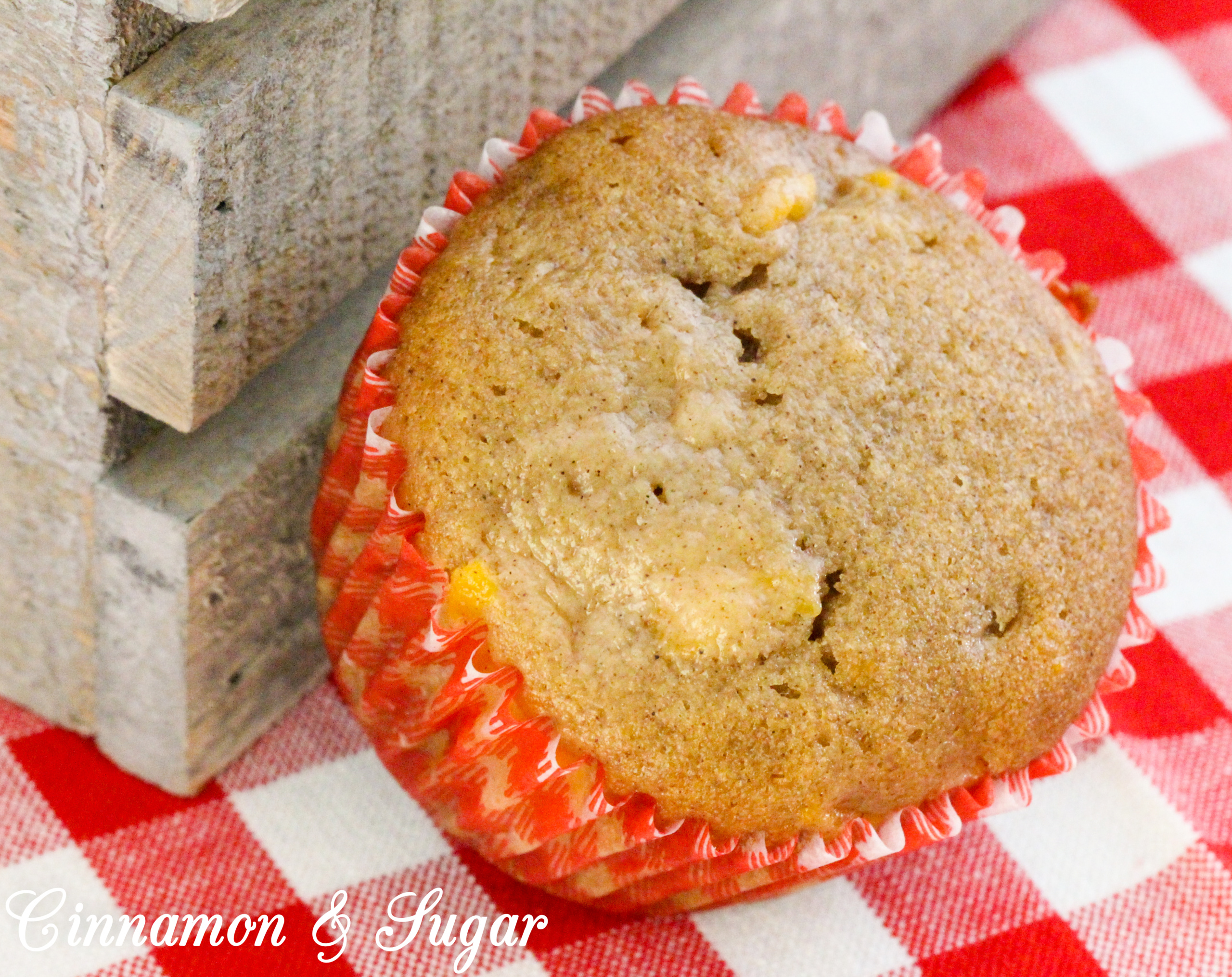 Pin to Pinterest: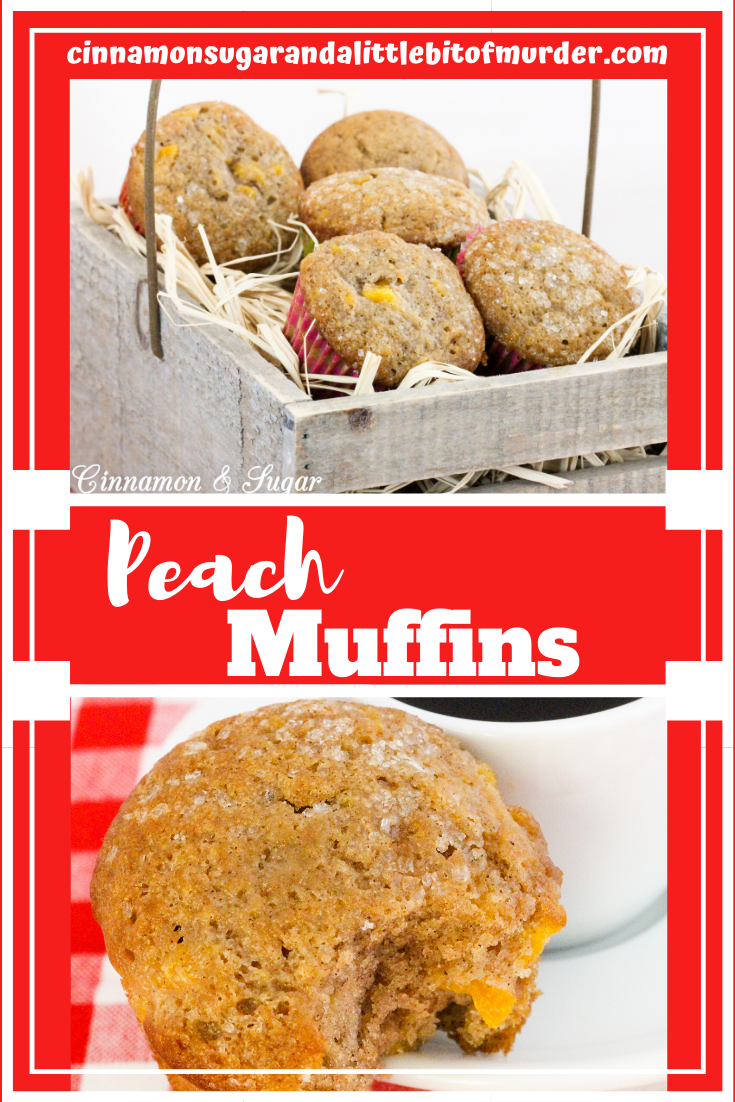 If you receive my blog post via email you will need to visit my website to view the video.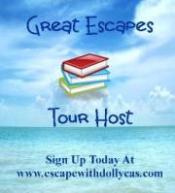 TOUR PARTICIPANTS
May 25 – The Avid Reader – REVIEW
May 25 – Hearts & Scribbles – SPOTLIGHT
May 25 – The Book Decoder – REVIEW
May 26 – Cinnamon, Sugar, and a Little Bit of Murder – REVIEW, RECIPE
May 26 – Ascroft, eh? – AUTHOR INTERVIEW
May 26 – Paranormal and Romantic Suspense Reviews – SPOTLIGHT
May 26 – FUONLYKNEW – SPOTLIGHT
May 27 – Read Your Writes Book Reviews – CHARACTER INTERVIEW
May 27 – Socrates Book Reviews – SPOTLIGHT
May 27 – Escape With Dollycas Into A Good Book – REVIEW
May 28 – Diane Reviews Books – REVIEW, CHARACTER INTERVIEW
May 28 – Christy's Cozy Corners – REVIEW
May 28 – Baroness' Book Trove – REVIEW
May 28 – Satisfaction for Insatiable Readers – SPOTLIGHT
May 29 – Cozy Up With Kathy – REVIEW
May 29 – Literary Gold – SPOTLIGHT
May 29 – I'm Into Books – SPOTLIGHT
May 29 – T's Stuff – SPOTLIGHT
May 30 – MJB Reviewers – REVIEW
May 30 – The Self-Rescue Princess – CHARACTER INTERVIEW
May 30 – Gimme The Scoop Reviews – SPOTLIGHT
May 30 – eBook Addicts – SPOTLIGHT
May 31 – Brooke Blogs – SPOTLIGHT
May 31 – Laura's Interests – SPOTLIGHT
May 31 – Books a Plenty Book Reviews – REVIEW
May 31 – Ruff Drafts – SPOTLIGHT
June 1 – Readeropolis – SPOTLIGHT
June 1 – StoreyBook Reviews – REVIEW
June 1 – Melina's Book Blog – REVIEW
June 1 – My Reading Journeys – REVIEW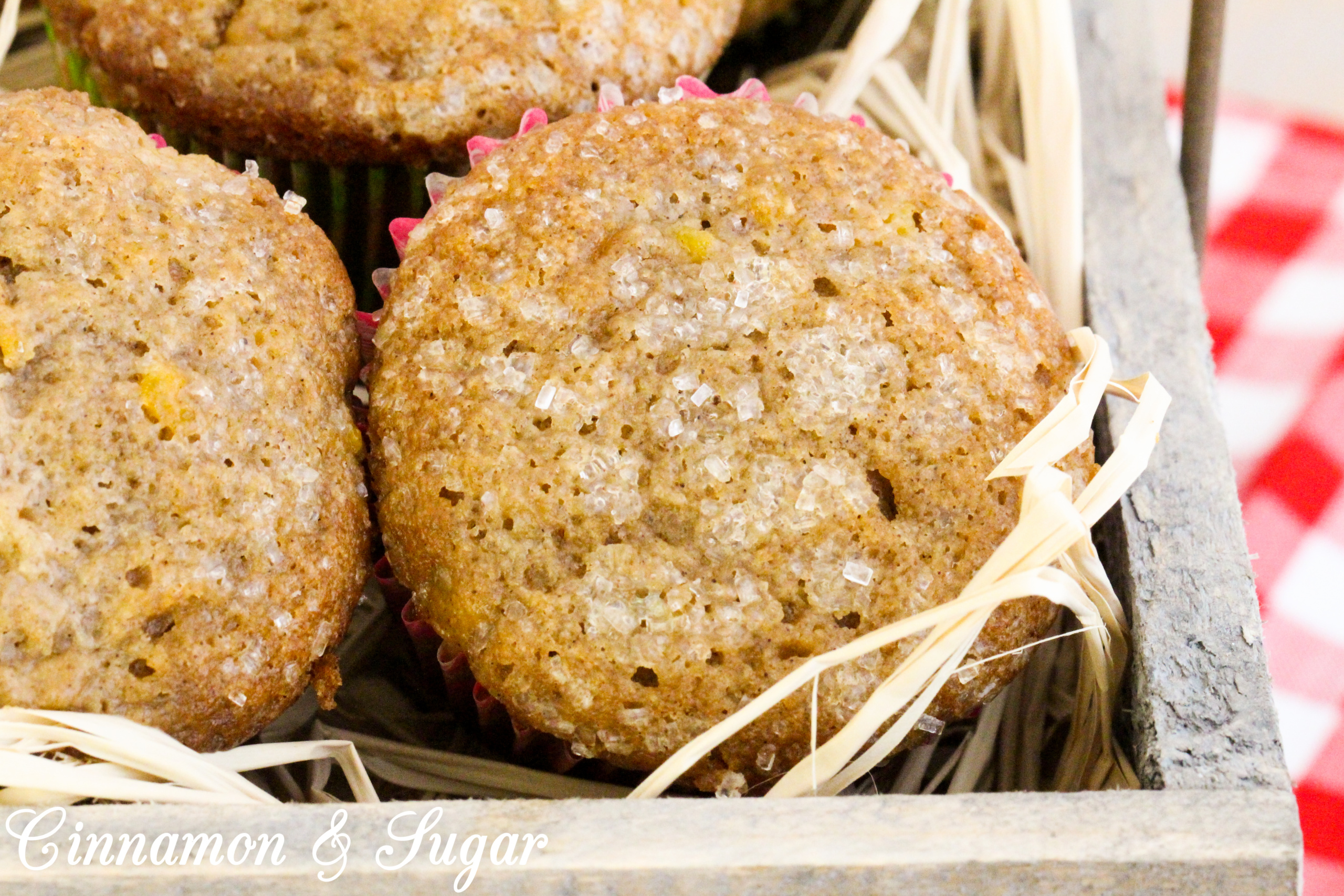 I was provided an advance copy. All thoughts and opinions are my own.