SHREDDING THE EVIDENCE, the ninth book in the Cookbook Nook Mystery series by Daryl Wood Gerber, is another terrific addition to a well-loved series! The protagonist, Jenna Hart, is preparing for their town's week-long Food Bowl event, where local chefs create imaginative bite-sized delicacies. I adore the clever event themes Ms. Gerber bases each murder mystery around in her books. It adds to the reader becoming immersed in the setting and provides the opportunity to experience it with all the senses. She also creates entertaining, witty names for the businesses in town which showcases the author's humor. Jenna is a very likeable character and I appreciate how the author has continued to find avenues of growth and change for her along with the other central characters. It makes them seem all the more relatable. Jenna is a true friend to her employees and treats her many customers with respect. It's no wonder her shop, the Cookbook Nook Bookstore and Nook Café, which she co-owns with her Aunt Vera, is so successful. I would love to spend my free time in the Cookbook Nook browsing the many veritable, specialty cookbooks that Jenna sells. Instead I do the next best thing and search for those that catch my eye on Amazon to add to my own collection.
The local food reporter turned murder victim didn't come as a surprise. She was a mean-spirited woman and there were many, many people who had reasons to hate her, including Jenna's best friend's husband. In keeping with her character, Jenna jumps in to support her friend no matter the cost and prove his innocence. Ms. Gerber writes a tightly plotted mystery with the clues twisting and turning to keep the reader on their toes. With the murder happening in a "locked-room" situation, the reveal was quite stunning on how it was pulled off with an edge-of-your seat conclusion. The author does an admirable job wrapping up each strand of the story creating a highly satisfying read!
With Food Bowl week happening and the Nook Café serving up all sorts of delightful goodies, the reader will be hungry as they turn the pages. You can always count on Ms. Gerber's books containing many delectable recipes at the back of the book and as usual, I want to try them all! As a bonus, many of them have been adapted for those who need to eat gluten-free as well. In the end I chose to try the author's Pumpkin-Chocolate-Coconut Muffins. Oh my goodness… these are so yummy! The chocolate gave just the right amount of bittersweet sweetness to the pumpkin base while the coconut added a nice texture. I found them quite easy to mix up and appreciated I didn't have to drag out the stand mixer for this recipe. With the additional garnish of extra chocolate chips and coconut on the tops, these made me feel like I was eating dessert for breakfast… a special treat!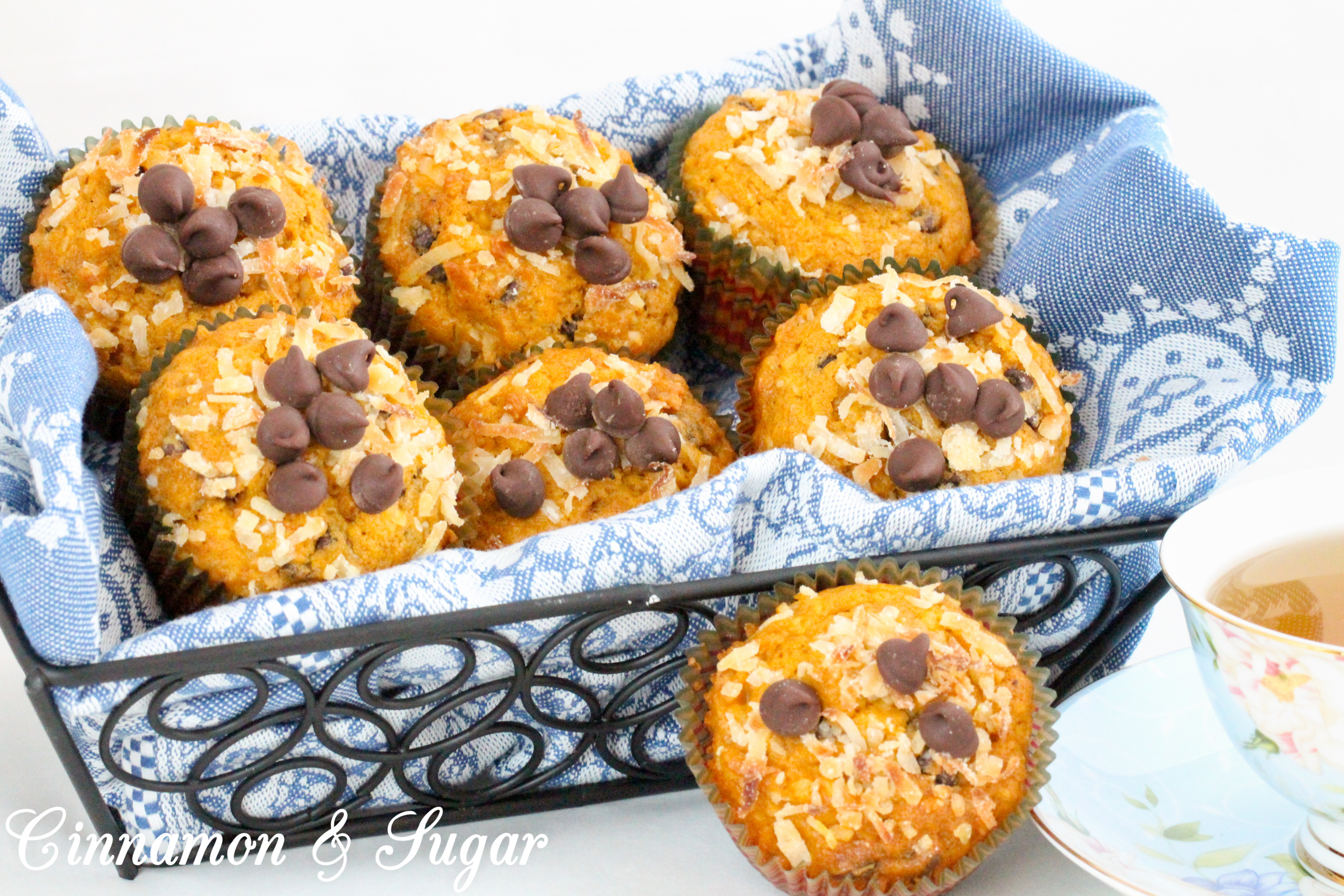 Amazon Synopsis
The denizens of Crystal Cove are salivating over the upcoming Food Bowl Week, when local chefs offer some of their best and most imaginative creations in bite-size portions all over town. Bookstore proprietor Jenna Hart is hungry to sample as many of the delicacies as she can, but when she stumbles onto the dead body of a local food reporter and learns that her best friend's husband is the primary suspect, she'll have to summon the appetite for a side dish of sleuthing to prove his innocence.
Jenna knows the ambitious and aggressive reporter, who was strangled at a fitness center with her shredded restaurant reviews scattered around her, left behind a long list of potential suspects. As she begins piecing together the scant clues, she uncovers illicit ties between the victim and a local newspaper owner, a spurned would-be lover, and a host of disgruntled restaurant owners not a bit torn up by the critical reporter's demise. And with a solution so close she can almost taste it, Jenna turns up the heat on the culprit, realizing too late that she's the next course on the murderer's menu.
A special thanks to Daryl Wood Gerber for providing one lucky winner with a print copy of SHREDDING THE EVIDENCE! Giveway is limited to U.S. residents. Contest ends Sunday, May 24, 2020 at 11:59 pm PST. Please use the Rafflecopter box located below to enter. The winner will be announced on this page and on Cinnamon & Sugar's Facebook page, as well as notified by email (so check your spam folder!)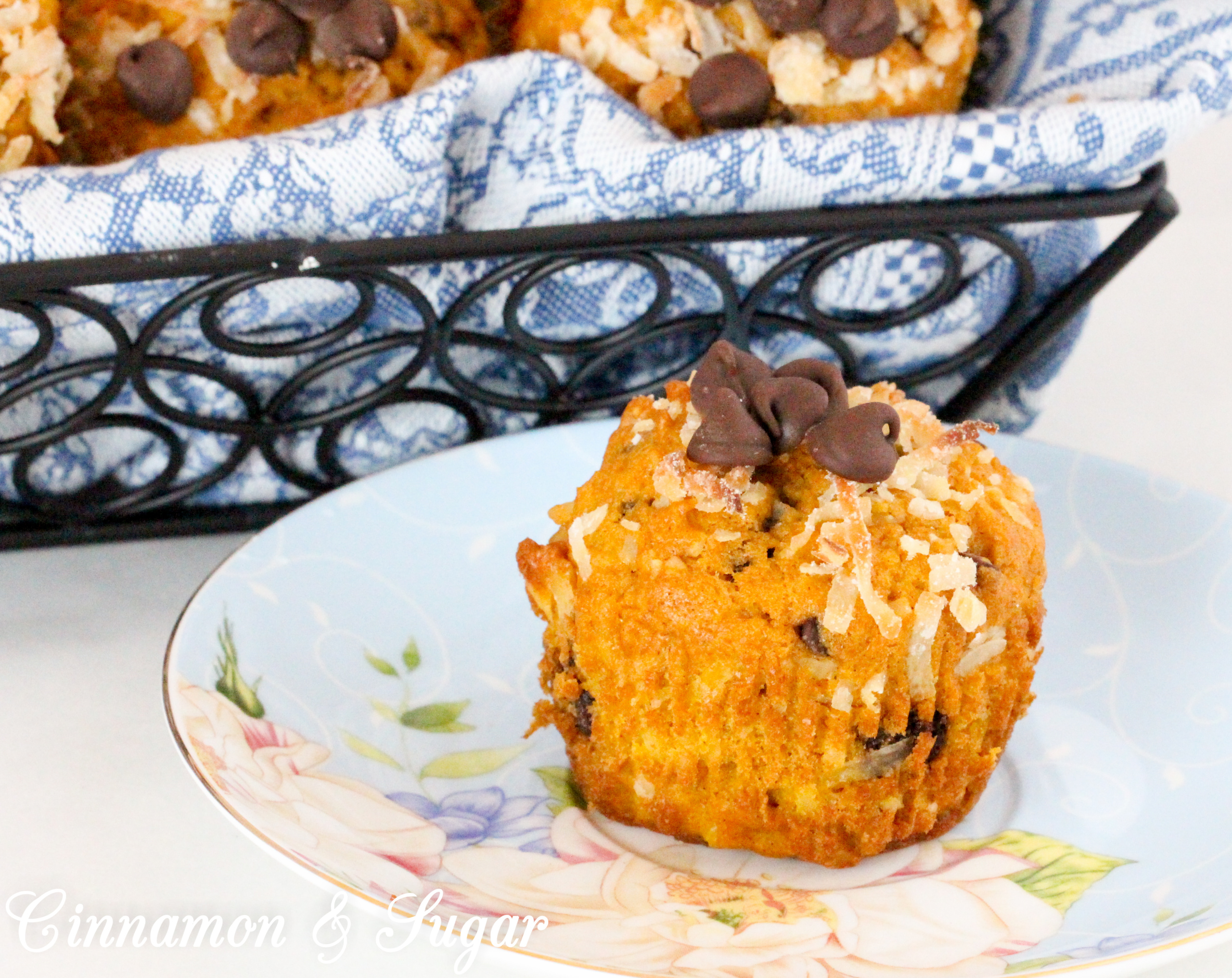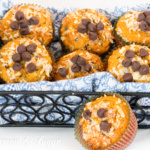 Pumpkin-Chocolate-Coconut Muffins
While the recipe was created to be gluten-free, it's easy to make these with all-purpose flour if you don't have gluten-free flour on hand.
Ingredients
1-1/2

cups

gluten-free flour (or substitute all-purpose flour)

1/2

teaspoon

xanthan gum (omit if using all-purpose flour)

1

teaspoon

baking powder

1

tablespoon

whey flour (omit if using all-purpose flour)

1

teaspoon

ground cinnamon

1/2

teaspoon

ground ginger

1/8

teaspoon

ground nutmeg

1/2

teaspoon

baking soda

1/2

teaspoon

salt

1

cup

pumpkin puree

3/4

cup

granulated sugar

1/2

cup

coconut oil, melted and cooled

2

large

eggs

1

teaspoon

vanilla

1-1/2

cups

shredded coconut

1/2

cup

semisweet chocolate chips
For the topping:
1/4

cup

shredded coconut

1/4

cup

semisweet chocolate chips
Instructions
Preheat oven to 350 degrees (F). Line a muffin pan with paper liners. Spray the liners with nonstick cooking spray. Set aside.

In a medium bowl, whisk together the gluten-free flour, xanthan gum, baking powder, whey flour, cinnamon, ginger, nutmeg, baking soda, and salt. Set aside.

In a large bowl, combine the pumpkin puree, sugar, melted coconut oil, eggs, and vanilla. Gradually add the dry ingredients to the pumpkin mixture. Stir until combined. Add in the coconut and chocolate chips.

Fill each of the muffin cups about 3/4 full. Sprinkle with additional coconut.

Bake muffins for 20 - 22 minutes until a toothpick comes out clean. When you remove from the oven, top with additional chocolate chips. They will melt as the cupcakes cool on a rack for 20 minutes.

Once completely cooled, store leftovers in an airtight container.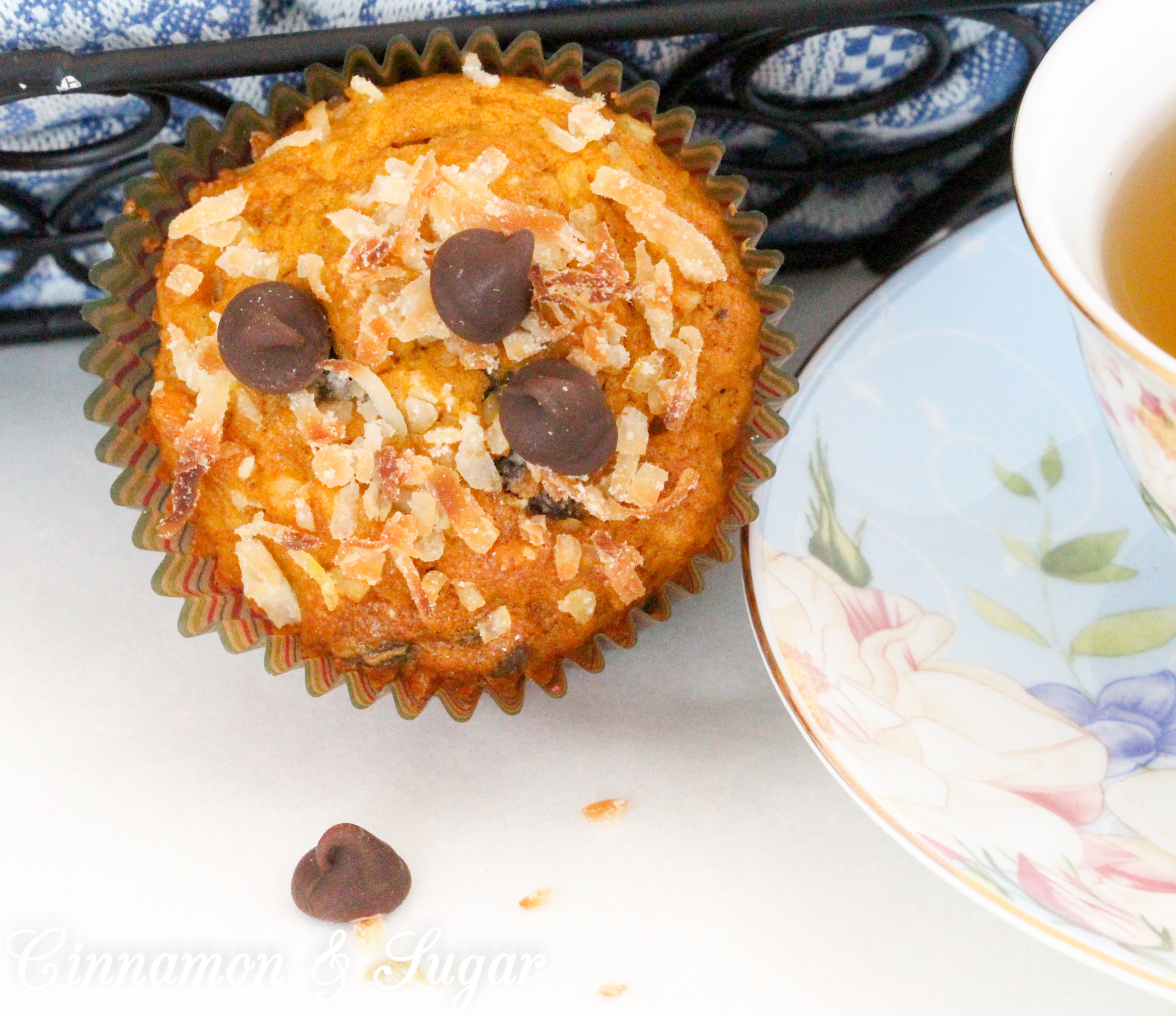 Pin to Pinterest:
If you receive my blog post via email you will need to visit my website to view the video.
I was provided an advance copy. All thoughts and opinions are my own.