I'm thrilled to announce my new book, SPRINKLES OF SUSPICION, releases tomorrow, June 2, 2020! To celebrate, I'm participating in lots of giveaways on several blogs. You can view the schedule of "appearances" at the bottom of the page. On this post today, I'm sharing my recipe for Cowgirl Cookies which is a riff on the quintessential Cowboy Cookies for a little girl's party that my protagonist, Emory, helps cater. Brown sugar based cookie dough is stuffed full of oats, chocolate chips, coconut, marshmallows, and walnuts for a substantial mouthwatering cookie. I'm also offering a chance to win your choice of a print or an e-book copy of my book along with some fun cupcake baking items! Scroll through to enter and see the recipe.
If you haven't done so already, there's still time to purchase an e-book copy at the low price of only $0.99! Click here to go to Amazon:
Print is also available.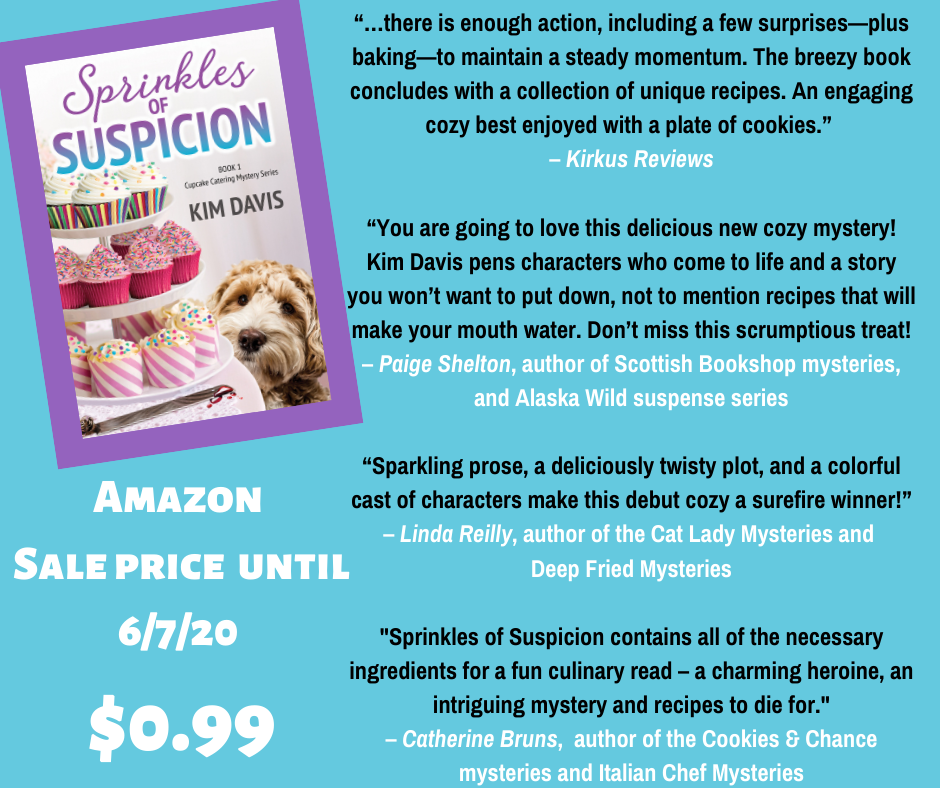 Amazon Synopsis
One glass of cheap California chardonnay cost Emory Gosser Martinez her husband, her job, and her best friend. Unfortunately, that was only the beginning of her troubles.
Distraught after discovering the betrayal by her husband and best friend, Tori, cupcake caterer Emory Martinez allows her temper to flare. Several people witness her very public altercation with her ex-friend. To make matters worse, Tori exacts her revenge by posting a fake photo of Emory in a compromising situation, which goes viral on social media. When Tori is found murdered, all signs point to Emory being the prime suspect.
With the police investigation focused on gathering evidence to convict her, Emory must prove her innocence while whipping up batches of cupcakes and buttercream. Delving into the past of her murdered ex-friend, she finds other people had reasons to want Tori dead, including Emory's own husband. Can she find the killer, or will the clues sprinkled around the investigation point the police back to her?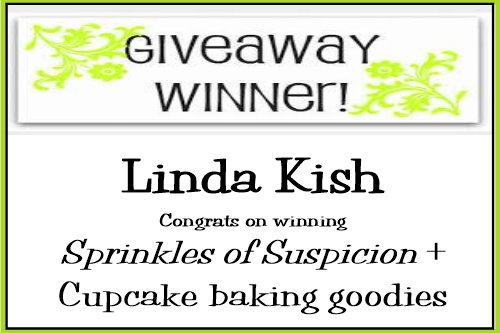 One lucky winner will win their choice of either print or an e-book copy of SPRINKLES OF SUSPICION plus some cupcake baking goodies which includes 2 cupcake potholders, cupcake batter measuring cup, cupcake-themed tongs and cake tester, and cupcake wrappers! Giveaway is limited to U.S. residents. Contest ends Sunday, June 7, 2020 at 11:59 pm PST. Please use the Rafflecopter box located below to enter. The winner will be announced on this page and on Cinnamon & Sugar's Facebook page, as well as notified by email (so check your spam folder!)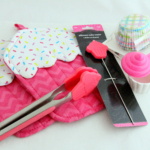 For those outside the U.S., I'm happy to offer 1 winner e-book copies of both my books SPRINKLES OF SUSPICION and A GAME OF DECEIT via BookFunnel.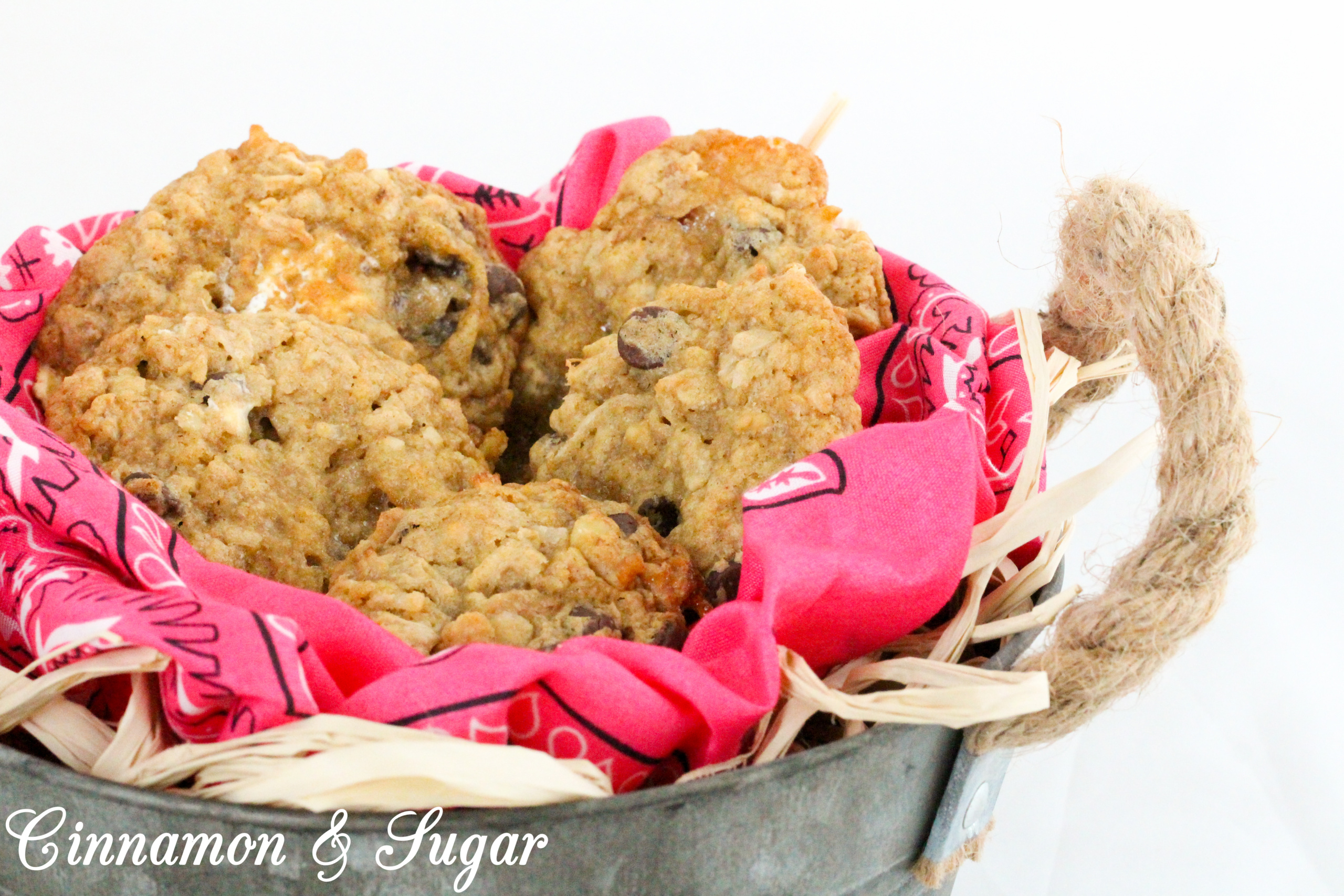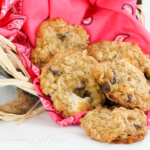 Cowgirl Cookies
Ingredients
1-1/4

cups

(6.25 ounces) all-purpose flour

1

teaspoon

baking powder

1/4

teaspoon

baking soda

1/4

teaspoon

ground cinnamon

1/2

teaspoon

salt

1-1/2

cups

(10.5 ounces) packed brown sugar

3/4

cup

butter

melted

2

eggs

1

teaspoon

vanilla extract

1-1/4

cups

(3.75 ounces) old-fashioned rolled oats

1

cup

(4.4 ounces) walnuts, chopped

1

cup

(3 ounces sweetened) shredded coconut

1

cup

(6 ounces) semisweet chocolate chips

1

cup

(2 ounces) mini marshmallows
Instructions
In a medium-sized bowl, whisk together and set aside the flour, baking powder, baking soda, cinnamon, and salt.

In a large bowl, combine the sugar, melted butter, eggs, and vanilla. Mix in the flour mixture and, once it is fully incorporated, stir in the oats, walnuts, coconut, marshmallows, and chocolate chips.

Refrigerate for 1 hour.

Preheat oven to 350 degrees (F).

Portion the dough into 2 tablespoon-sized scoops and place on parchment-lined baking sheets. Make sure there is at least 2 inches between cookies to allow room to spread.

Bake cookies, one sheet at a time, 12-15 minutes, until edges start to turn golden brown. The centers should remain slightly undercooked. Rotate the baking sheet halfway through baking.

Remove from oven and allow cookies to cool on baking sheet for 5 minutes then place on a wire rack to cool completely.

Store leftovers in an airtight container for up to 4 days.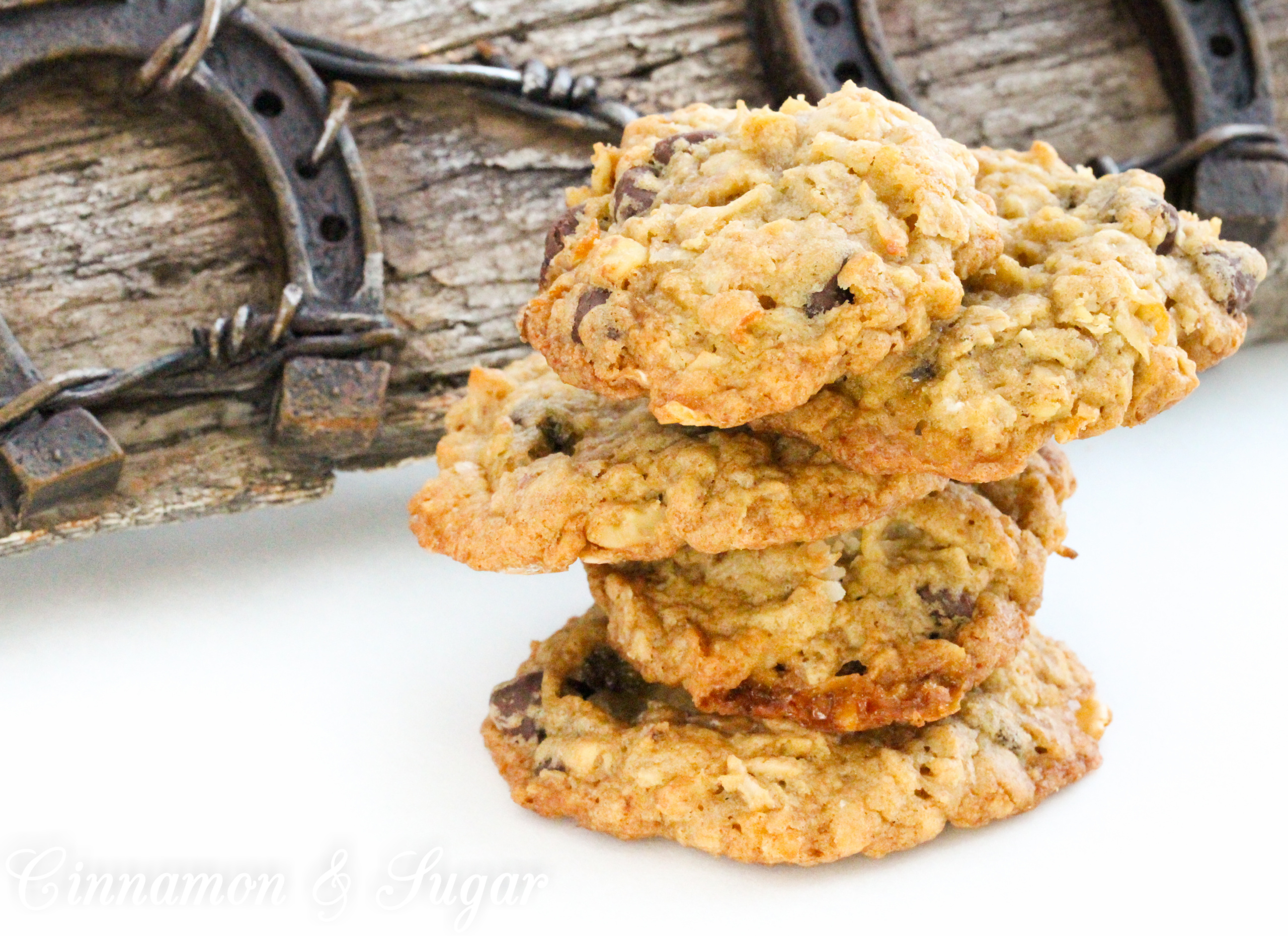 Pin to Pinterest: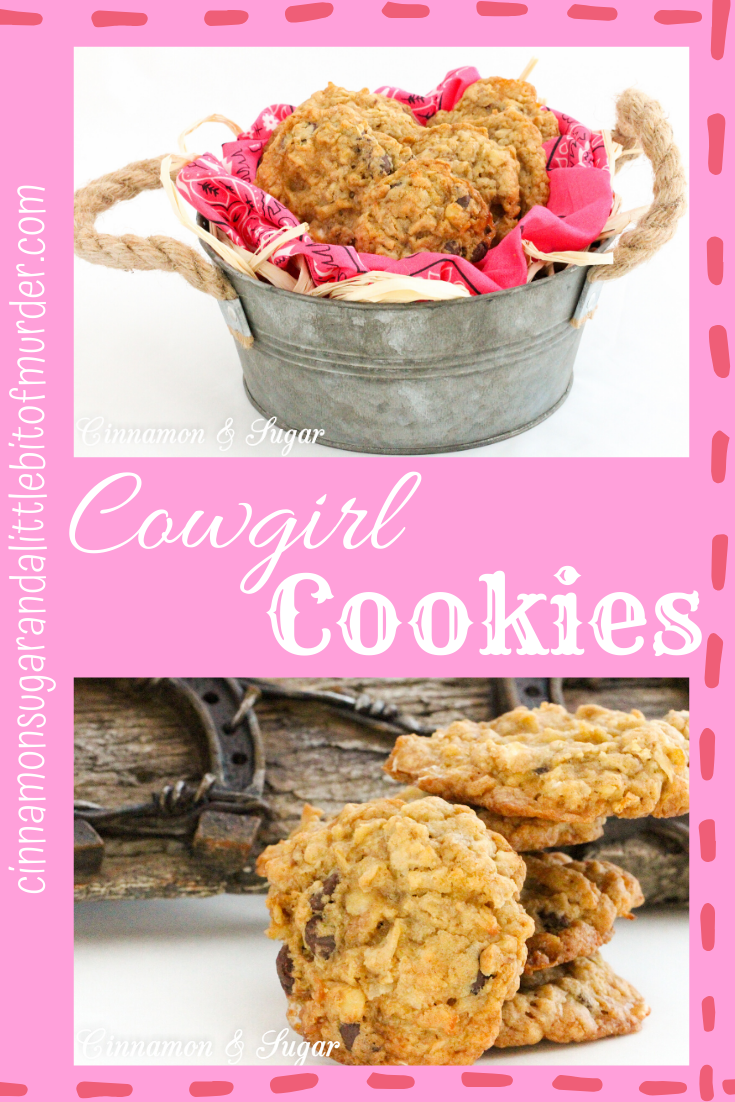 If you receive my blog post via email you will need to visit my website to view the video.
Blog Appearances & Giveaways
June 2, 2020 – Dru's Book Musings
June 26, 2020 – Lisa Ks Book Reviews
June 13 – 19, 2020 – Kings River Life Magazine
June 21, 2020 – Kings River Life – Father's Day Cupcake Recipe
SPRINKLES OF SUSPICION GREAT ESCAPES VIRTUAL TOUR 
June 1 – Brooke Blogs – SPOTLIGHT
June 1 – Diary of a Book Fiend – REVIEW
June 1 – A Wytch's Book Review Blog – REVIEW
June 2 – Christa Reads and Writes – REVIEW
June 2 – Hearts & Scribbles – SPOTLIGHT
June 2 – The Book Decoder – REVIEW  
June 3 – Carstairs Considers – REVIEW
June 3 – Celticlady's Reviews – SPOTLIGHT
June 3 – Moonlight Rendezvous – REVIEW
June 4 – Escape With Dollycas Into A Good Book – REVIEW  
June 4 – The Pulp and Mystery Shelf – SPOTLIGHT
June 4 – Literary Gold – CHARACTER GUEST POST
June 5 – View from the Birdhouse – SPOTLIGHT
June 5 – Sneaky the Library Cat's Blog – CHARACTER INTERVIEW
June 6 – Reading, Writing & Stitch-Metic– SPOTLIGHT
June 6 – La libreria di Beppe – SPOTLIGHT
June 7 – Books a Plenty Book Reviews – REVIEW, CHARACTER INTERVIEW
June 7 – Mystery Thrillers and Romantic Suspense Reviews – SPOTLIGHT
June 7 – Christy's Cozy Corners – GUEST POST
June 8 – Socrates Book Reviews – SPOTLIGHT
June 8 – StoreyBook Reviews – REVIEW
June 9 – Gimme The Scoop Reviews – REVIEW
June 9 – Dee-Scoveries – SPOTLIGHT
June 9 – Cozy Up With Kathy – REVIEW, AUTHOR INTERVIEW
June 10 – Read Your Writes Book Reviews – AUTHOR INTERVIEW
June 10 – Reading Is My SuperPower – REVIEW
June 10 – Lisa Ks Book Reviews – REVIEW