THE GRIM READER, the fourteenth book in the Bibliophile Mystery series by Kate Carlisle, brings the reader back to the delightful setting of Dharma, a quaint wine country town situated in Sonoma County in Northern California. A long-time fan, I've greatly enjoyed previous books that has protagonist, Brooklyn, and her new husband, Derek, surrounded by their family and close friends. THE GRIM READER brings them all back together for the first annual Book Festival in Dharma. The close-knit relationships Brooklyn and Derek's family have together is heartwarming. I love how they're supportive of each other with nary a jealous or snide remark to be seen within the in-laws. In fact, Brooklyn and Derek's mothers have become best friends and together they are a force to be reckoned with. I greatly enjoyed seeing Brooklyn's mom, Becky, take center stage in this story, which helps give the reader glimpses of why Brooklyn is who she's become in adulthood. One of the greatest strengths in this series is the character development Ms. Carlisle brings throughout the arc of the books and builds on that development with each passing page.
While Brooklyn and Derek's families may be kindhearted, caring individuals (and most of the community is as well!) a greedy predator is gobbling up local vineyards and using the harvests to produce inferior boxed wine. He goes out of his way to harass and threaten the Book Festival committee, particularly, Becky. Early on in the book I thought I knew which way the mystery would go but Ms. Carlisle throws in several twists to keep the reader on their toes. I love how she intertwines a rare mishandled first edition copy of Little Women into the mystery along with scenes showcasing Brooklyn's bookbinding and restoration skills. With plenty of suspicious suspects to keep the reader guessing, the plot unfolds at a nice pace until the dramatic reveal. The author does a great job of wrapping up all the threads in the story into an entertaining conclusion that left me wishing the next book in the series was ready for me to read!
Brooklyn and Derek share many meals with their family and close friends during their visit to Dharma, especially breakfast. I was delighted to see the Ms. Carlisle provides several mouthwatering breakfast recipes at the back of the book, all which sound fabulous! I was drawn to the recipe for Streusel-topped Pumpkin Scones (I've been on a pumpkin kick for a while now!) and am so glad I decided to try it. My granddaughter isn't a fan of scones but she gave these two thumbs up and went back for seconds. The sweet streusel complements the cinnamon in the scone without being overly crumbly, while the mild pumpkin brings color and good texture to the treat. She liked that these were moist and sweet enough on their own without having to drench them in additional butter and jam making them perfect for a grab-and-go breakfast or snack.
Amazon Synopsis
Brooklyn and her new hunky husband, Derek, are excited to be guests at Dharma's first annual Book Festival. The entire town is involved and Brooklyn's mom Rebecca is taking charge. In addition to all of her other event related duties, she's got Brooklyn doing rare book appraisals and is also staging Little Women, the musical to delight the festival goers. If that wasn't enough, she and Meg—Derek's mom—will have a booth where they read palms and tarot cards.
Brooklyn couldn't be prouder of her mom's do-it-all attitude so when a greedy local businessman who seems intent on destroying Dharma starts harassing Rebecca, Brooklyn is ready to take him down. Rebecca is able to hold her own with the nasty jerk until one of her fellow festival committee members is brutally murdered and the money for the festival seems to have vanished into thin air.
Things get even more personal when one of Brooklyn's nearest and dearest is nearly run down in cold blood. Brooklyn and Derek go into attack mode and the pressure is on to catch a spineless killer before they find themselves skipping the festival for a funeral.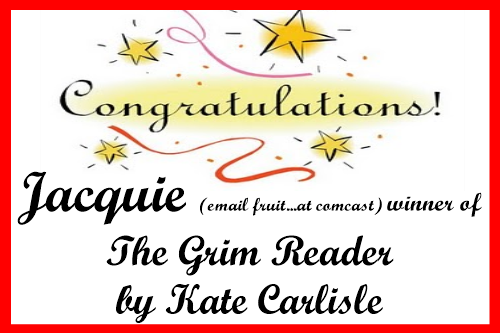 A special thanks to Kate Carlisle for providing one lucky winner with a print advance copy of THE GRIM READER! Giveaway is limited to U.S. residents. Contest ends Sunday, June 14, 2020 at 11:59 pm PST. Please use the Rafflecopter box located below to enter. The winner will be announced on this page and on Cinnamon & Sugar's Facebook page, as well as notified by email (so check your spam folder!)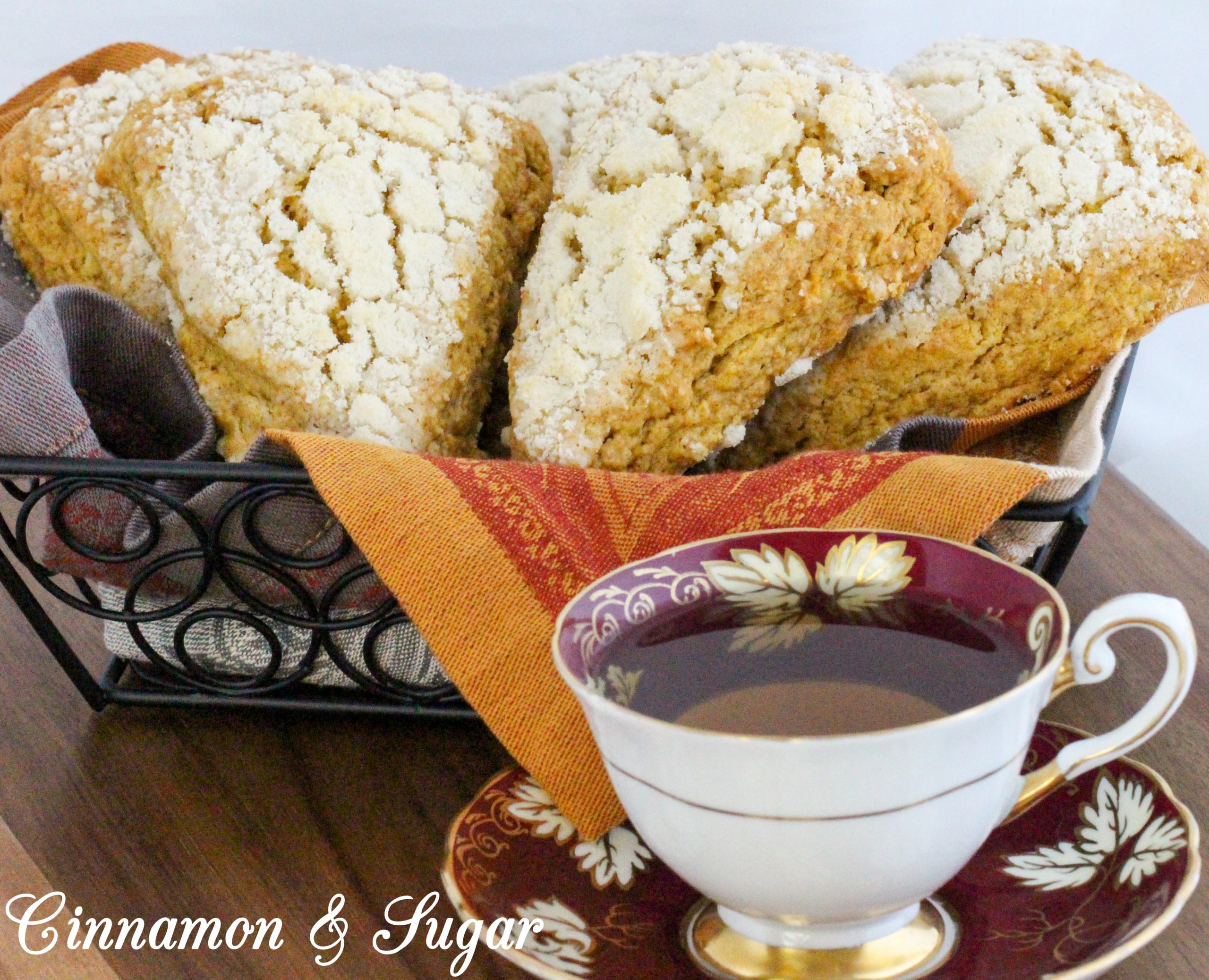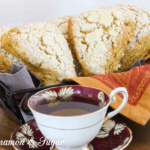 Streusel-Topped Maple-Pumpkin Scones
Ingredients
Maple Sugar
1

cup

granulated sugar

2

tablespoons

maple syrup
Streusel Topping
1/4

cup

flour

2

tablespoons

maple-sugar, packed

1

tablespoon

butter
Scones
1/2

cup

canned pumpkin (not pumpkin pie filling)

2-1/4

cups

flour

1

tablespoon

baking powder

1/2

teaspoon

baking soda

1/2

teaspoon

salt

1

teaspoon

cinnamon

1/2

teaspoon

nutmeg

1/2

cup

maple-sugar, packed

1/2

cup

cold butter

1

egg

1/4

cup

+ 1 tablespoon cream, divided

1

teaspoon

vanilla
Instructions
Maple Sugar
Stir together maple and sugar with a fork until well combined. Set aside.
Streusel Topping
Whisk the flour and sugar until well combined. Cut in the butter with a pastry cutter. Set aside.
Scones
Place pumpkin in a sieve over a bowl so the pumpkin will drain. If possible, do this the night before and put the sieve and bowl in the fridge because cold ingredients make for flaky scones.

Preheat oven to 400 degrees. Line a baking sheet with parchment paper and put in the fridge.

Sift together the flour through nutmeg. Whisk in the sugar. Cut the butter into ¼-inch chunks. Add to the dry ingredients and cut in with a pastry blender or two butter knives until the mixture has a crumb-like texture.

In a separate bowl, whisk together the egg, pumpkin, ¼ cup of cream and vanilla. Fold into the dry ingredients just until it pulls together into a ball. If necessary, add cream one teaspoon at a time. Don't overwork.

Place the ball on the parchment-lined baking sheet and pat down into a 10-inch circle. Slice into 8 wedges and pull apart so each scone is separate. Brush with cream. Top with streusel. Bake until scones are brown on bottom and streusel is golden on top, about 20-25 minutes.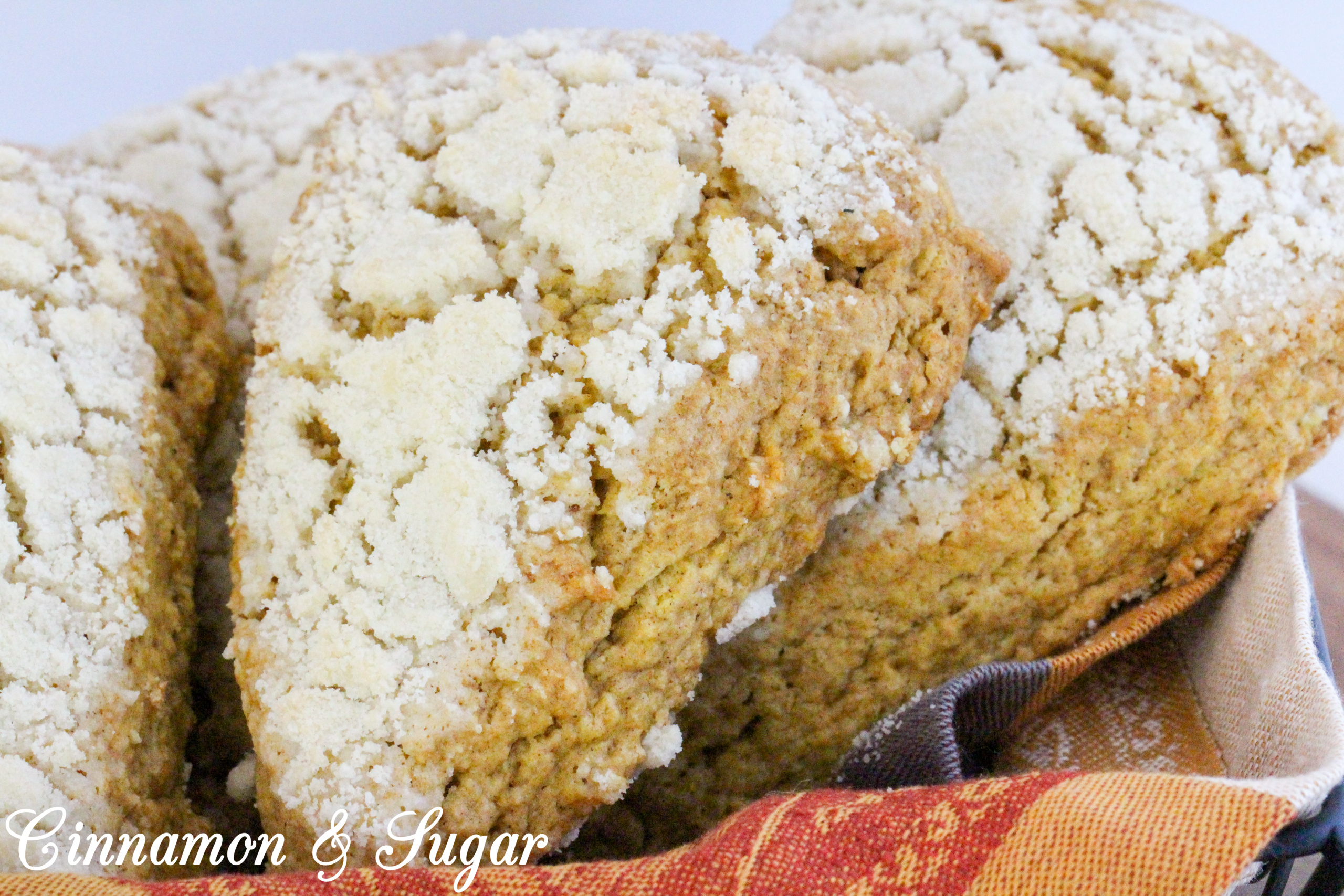 Pin to Pinterest: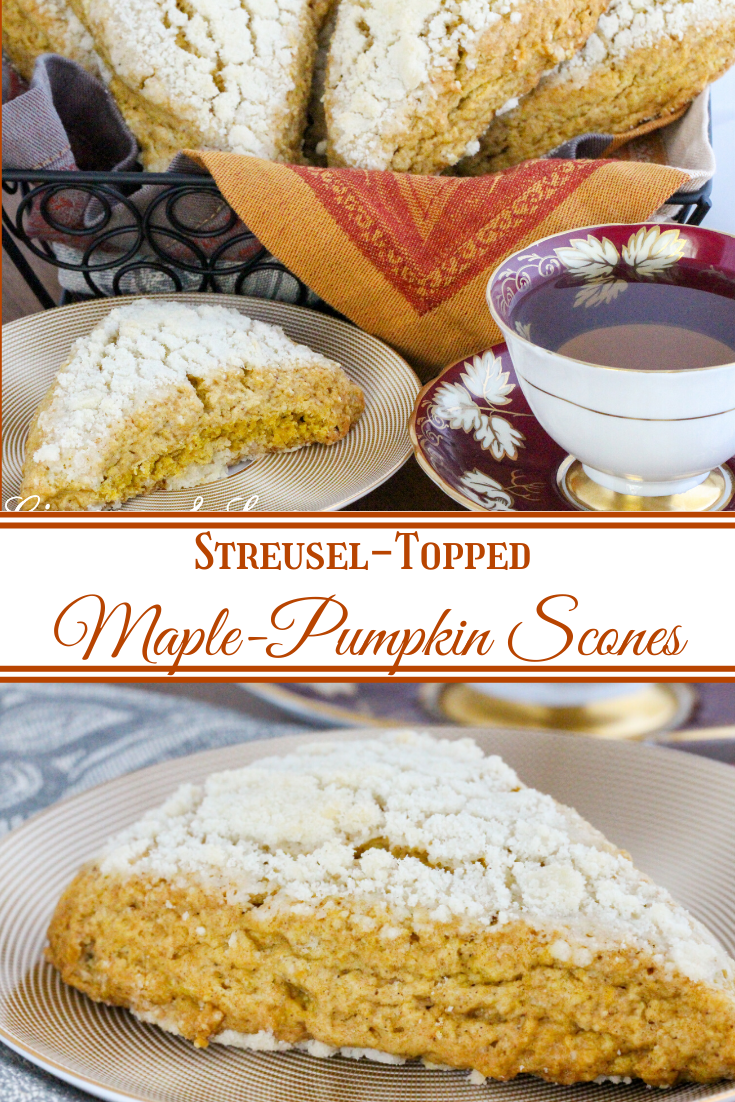 If you receive my blog post via email you will need to visit my website to view the video.
I was provided an advance copy. All thoughts and opinions are my own.