Thank you from the bottom of my heart to everyone who made the launch of SPRINKLES OF SUSPICION such a huge success! I debuted at #38 on Amazon's Cozy Culinary Mystery spot — a dream come true to be in the top 50!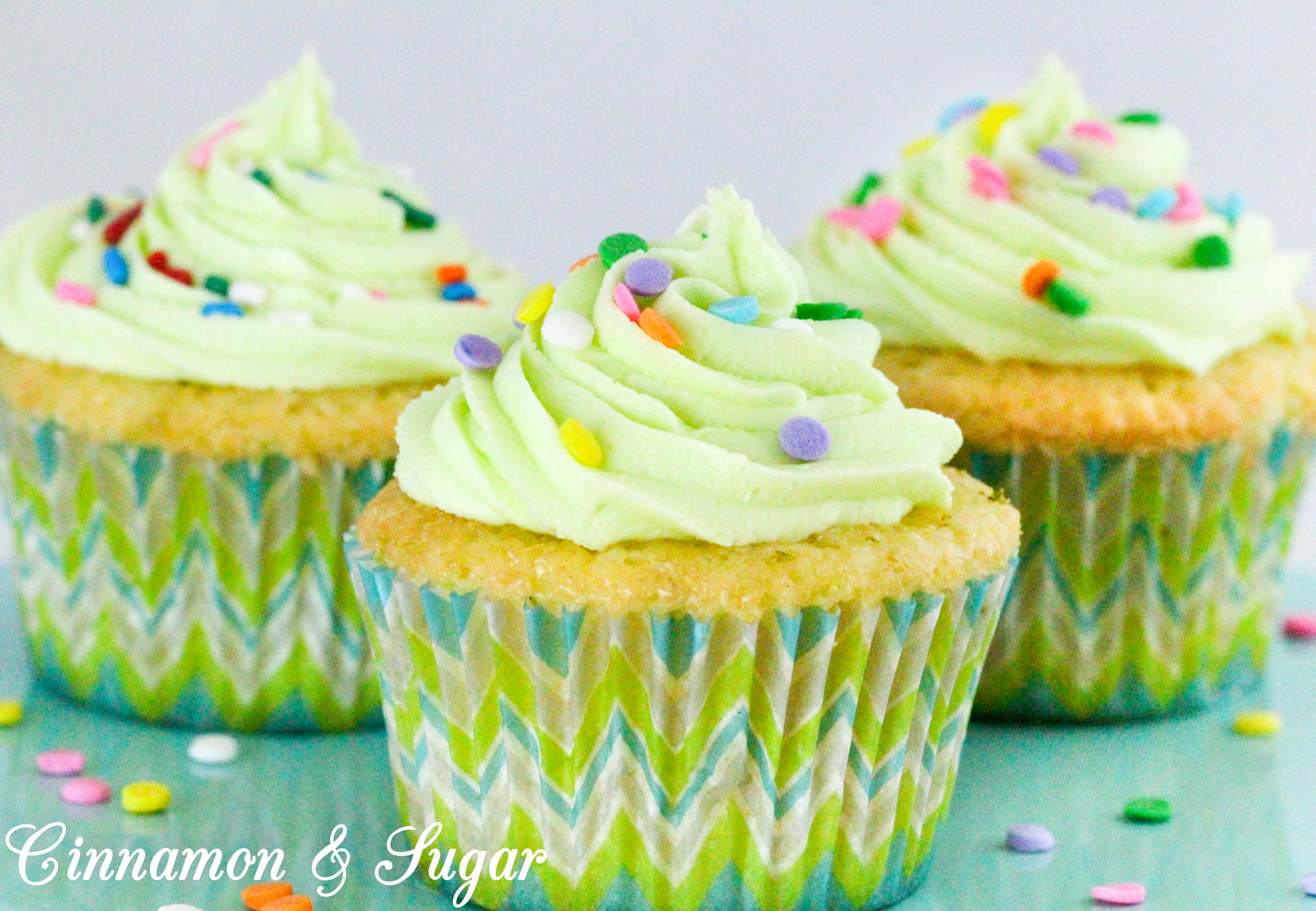 I'm celebrating with another giveaway (see below) and a recipe for Gimlet Cupcakes which I developed for the book. These cupcakes have earned top ratings from my taste testers! While there are a lot of steps involved, the components work together to layer the flavors of the gin and lime cocktail. I'll be the first to admit that I wouldn't make these often because of the time involved but for a special occasion to treat yourself or family, or to celebrate a memorable event, these capture the feeling of a party!
With the success of the release of Sprinkles of Suspicion I've decided to leave the special sale price of $0.99 up until the the end of this contest, Sunday, June 21, 2020. If you haven't done so already, grab it before the price goes up or download for FREE via Kindle Unlimited! Print is also available.
You can visit Amazon by clicking here:
Amazon Synopsis
One glass of cheap California chardonnay cost Emory Gosser Martinez her husband, her job, and her best friend. Unfortunately, that was only the beginning of her troubles.
Distraught after discovering the betrayal by her husband and best friend, Tori, cupcake caterer Emory Martinez allows her temper to flare. Several people witness her very public altercation with her ex-friend. To make matters worse, Tori exacts her revenge by posting a fake photo of Emory in a compromising situation, which goes viral on social media. When Tori is found murdered, all signs point to Emory being the prime suspect.
With the police investigation focused on gathering evidence to convict her, Emory must prove her innocence while whipping up batches of cupcakes and buttercream. Delving into the past of her murdered ex-friend, she finds other people had reasons to want Tori dead, including Emory's own husband. Can she find the killer, or will the clues sprinkled around the investigation point the police back to her?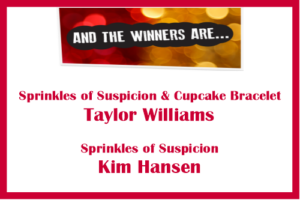 One lucky winner will win their choice of either print or an e-book copy of SPRINKLES OF SUSPICION plus a cupcake bangle bracelet. Giveaway is limited to U.S. residents. Contest ends Sunday, June 21, 2020 at 11:59 pm PST. Please use the Rafflecopter box located below to enter. The winner will be announced on this page and on Cinnamon & Sugar's Facebook page, as well as notified by email (so check your spam folder!) For those outside the U.S., I'm happy to offer the winner e-book copies of both my books SPRINKLES OF SUSPICION and A GAME OF DECEIT via BookFunnel instead.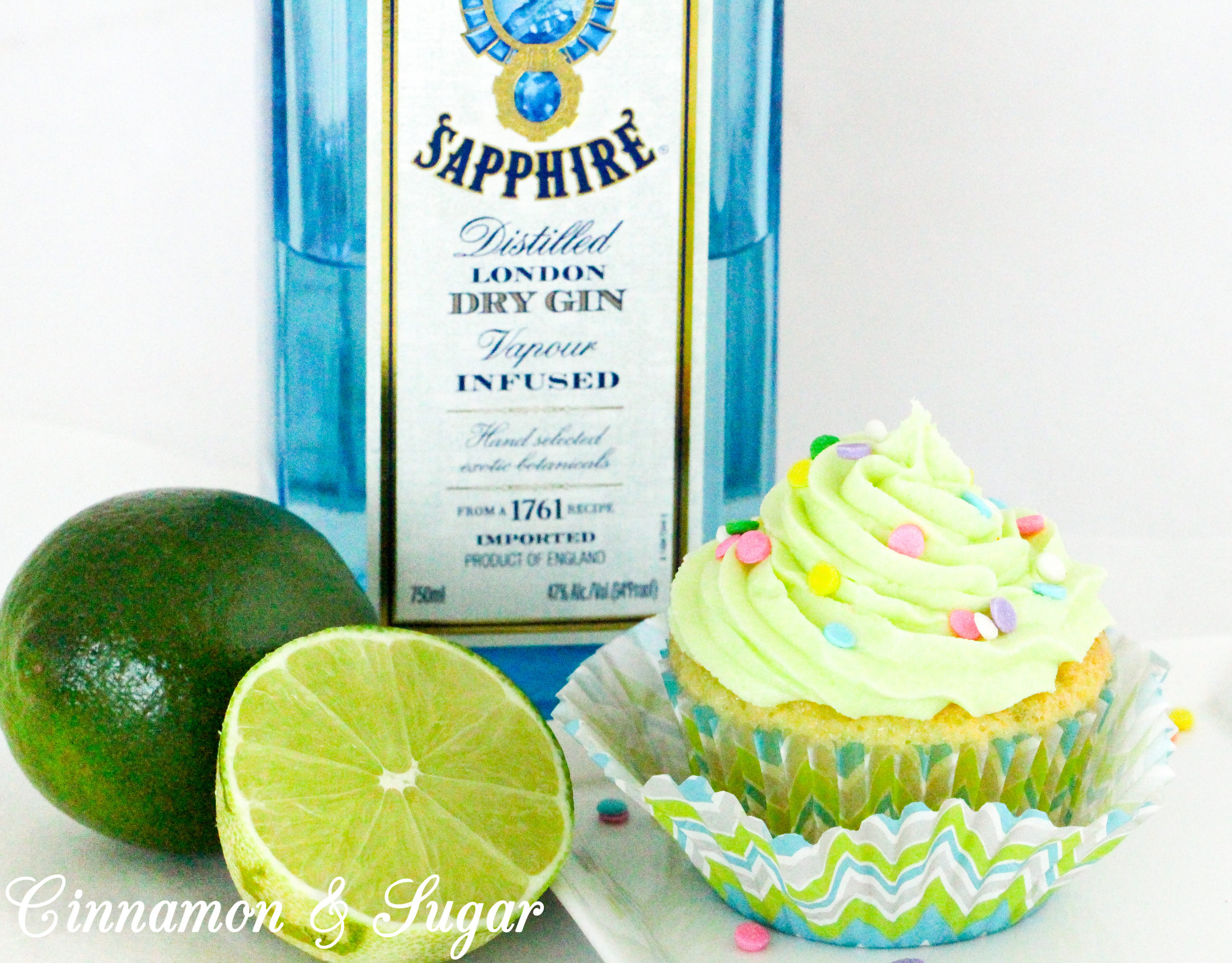 Gimlet Cupcakes
Ingredients
Cupcakes
1-1/4

cups

(161g) cake flour

1-1/4

teaspoons

baking powder

1/2

teaspoon

baking soda

1/2

teaspoon

salt

2

eggs, room temperature

1

cup

(200g) granulated sugar

Zest from 1 lime

1/2

cup

vegetable oil

1/3

cup

gin

3

tablespoons

fresh lime juice

1/8

teaspoon

pure lime oil, optional
Glaze
1/2

cup

(64g) confectioners' sugar

2

tablespoons

gin

2

tablespoons

lime juice

Zest from 1 lime
Frosting
4

cups

(506g) confectioners' sugar

1/2

cup

(113g) unsalted butter, room temperature

1/4

teaspoon

salt

1

tablespoon

fresh lime juice

3

tablespoons

gin

1/8

teaspoon

pure lime oil, optional

1

drop mint green and 2 drops yellow gel food coloring, optional
Garnish Suggestions
Fresh lime wedges

Candied lime peel

Lime fruit gel candies

Sprinkles or candy confetti
Instructions
Cupcakes
Preheat oven to 350 degrees (F). Line cupcake tins with paper liners.

Whisk flour, baking powder, baking soda, and salt together in a small bowl. Set aside.

Whisk the gin, lime juice, and pure lime oil (if using) together. Set aside.

In the bowl of a standing mixer, whisk the eggs on medium speed for 30 seconds.

Add the sugar and the lime zest and continue to whisk an additional minute.

With the mixer running on low, slowly add the vegetable oil. Increase mixer to medium and whisk an additional minute.

Reduce mixer speed back to low and add half the flour mixture to the sugar mixture. Beat on low until mostly incorporated.

Add half the gin mixture and stir to combine.

Repeat with remaining flour and gin mixture and beat until smooth, about 30 seconds, scraping down the sides of the bowl as necessary.

Fill cupcake liners about 1/2 - 2/3 full. Batter is quite thin, and I like to use 1/4 cup measuring cups for filling liners. Bake 12-15 minutes. Edges will be slightly golden and a wooden skewer inserted into center should come out clean.

Remove from oven and allow to cool in the cupcake tin for 5 minutes.

Move the cupcakes to a wire rack and immediately proceed with glaze.
Glaze
Whisk together the confectioners' sugar, gin, lime juice, and lime zest.

Pierce each warm cupcake 4 times with the tines of a fork.

Brush the glaze over the cupcakes, allowing the liquid to soak in before applying more. Be sure to use all the glaze.

Allow the cupcakes to cool completely before proceeding with the frosting.
Frosting
Place butter and salt into the bowl of a standing mixer and whip until the butter is creamy, approximately 2-3 minutes on medium-high speed.

With the mixer running on low speed, add confectioners' sugar a little at a time, mixing until sugar is coated with the butter.

Whisk the gin and lime juice together along with the pure lime oil and gel food coloring if using.

Once the butter and sugar mixture is creamy, slowly add the gin mixture.

Increase the speed to medium-high and whip for approximately 5 minutes until the frosting is light and fluffy.

Frost the cupcakes and garnish if desired.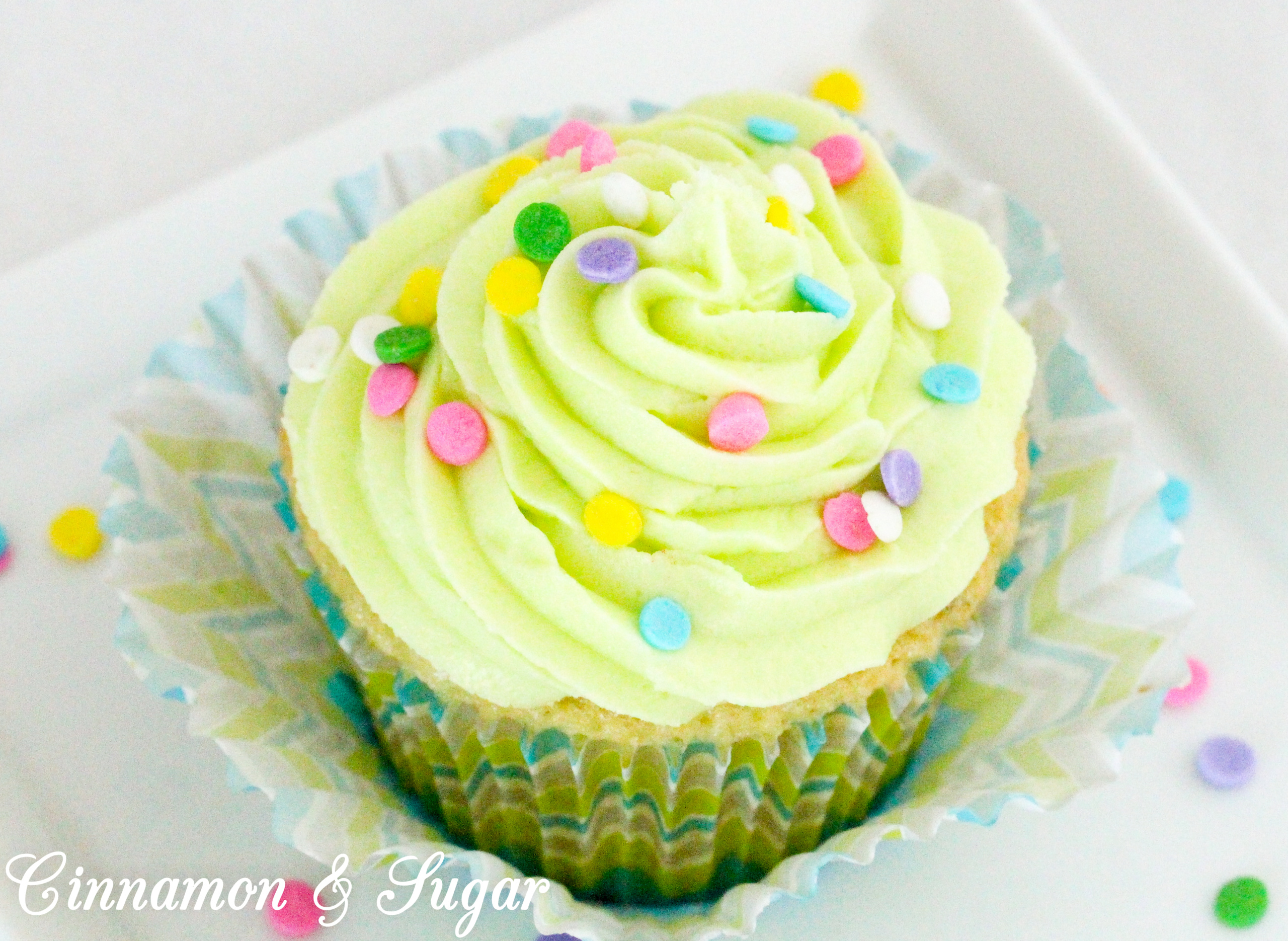 Pin to Pinterest: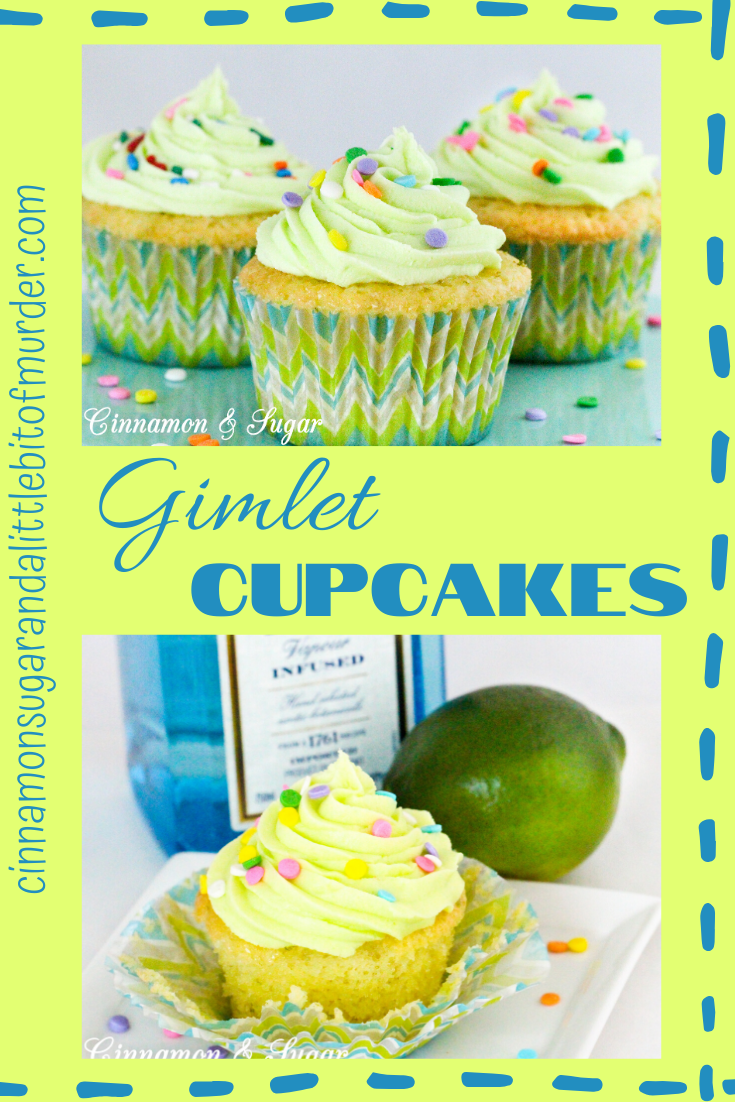 If you receive my blog post via email you will need to visit my website to view the video.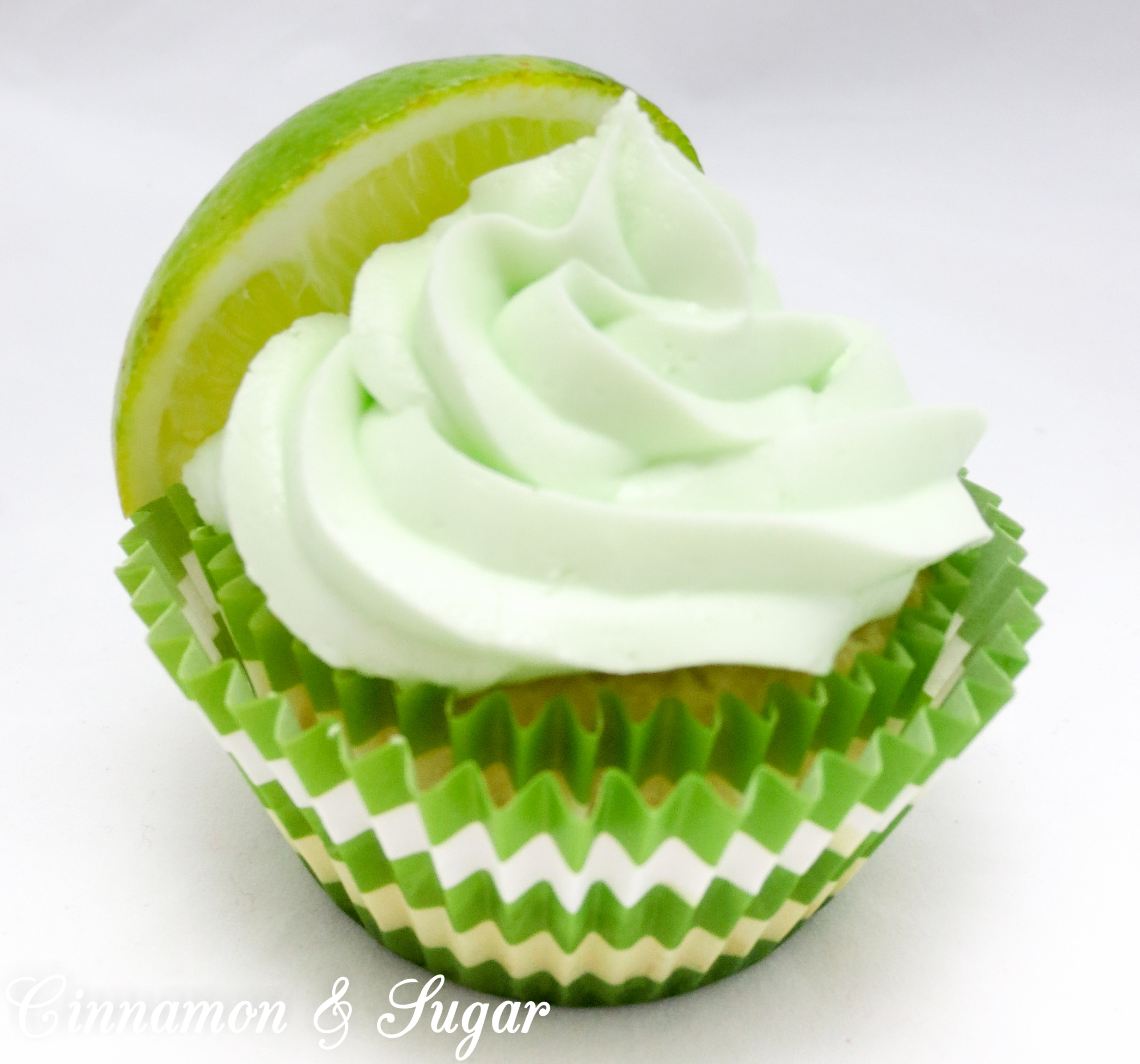 Here are some blurbs from reviews received for Sprinkles of Suspicion:
Once again, the writing is delightful and the characters are nicely and vividly fleshed out. They added 'sprinkles of delight and flavor' to this fun cozy-mystery and kept me hooked from the beginning to finish, for sure!
~Diary of a Book Fiend
Her (Emory) trusting nature definitely gets her into sticky situations and makes her an easy mark. The pace is steady and her cluelessness adds a touch of humor. An enjoyable read.
~Christa Reads and Writes
Sprinkles of Suspicion kept me on the edge of my seat. The revelations make you go "Say whaattt????" The identity of the killer was surprising.
~The Book Decoder
. . . .a fun debut. . . Sprinkles of Suspicion sets up a promising new series. You'll enjoy meeting Emory here and be anxious to find out where cupcakes and murder take her next.
~Carstairs Considers….
Wow!! This book started off with a bang . . . This is a well-written, fun mystery and the reader is bound to have a good time with this one!! Highly recommend.
~Moonlight Rendezvous
This story moves along at a great pace and doesn't lag anywhere. There is always something happening, drama, twists, and yes, cupcakes. So well-plotted, I was totally taken in by the entire story and flabbergasted when the real killer was revealed.
~Escape With Dollycas Into A Good Book
Emory is a hilarious character with a true flair for baking which really brings the story to life. Looks to be a fun series that I will thoroughly enjoy.
~Books a Plenty Book Reviews
This new series is just amazing! . . . Very enjoyable new series that checks off all the boxes for me. There are also many recipes and I might have to give some of the cupcake ones a whirl. We give this book 5 paws up.
~Storeybook Reviews
Your basic cozy mystery only with the sweetness of cupcakes galore and some yummy recipes for us to try! I love both the cozy mystery and a book with recipes sprinkled inside so this was a win win situation!
~Gimme the Scoop Reviews
Near the end, as Emory finds respite, I finally find a character I love. Tillie steals the show, bringing humor and fun to the book. Hopefully, she's be able to teach Emory a thing or two.
~Cozy Up With Kathy
My favorite character is Tillie – she is a hoot and I hope we see a lot more of her in future books. You're never quite sure what she's going to do or say next, and her heart is genuine.
~Reading Is My SuperPower
A good first in a series, SPRINKLES OF SUSPICION was a story that had me so absorbed that I didn't even realize the sun had gone down until I could no longer see the words. With a lamp flipped on, I finished this mystery to its satisfying conclusion, and am already anxiously awaiting the next book in the series.
~Lisa Ks Book Reviews