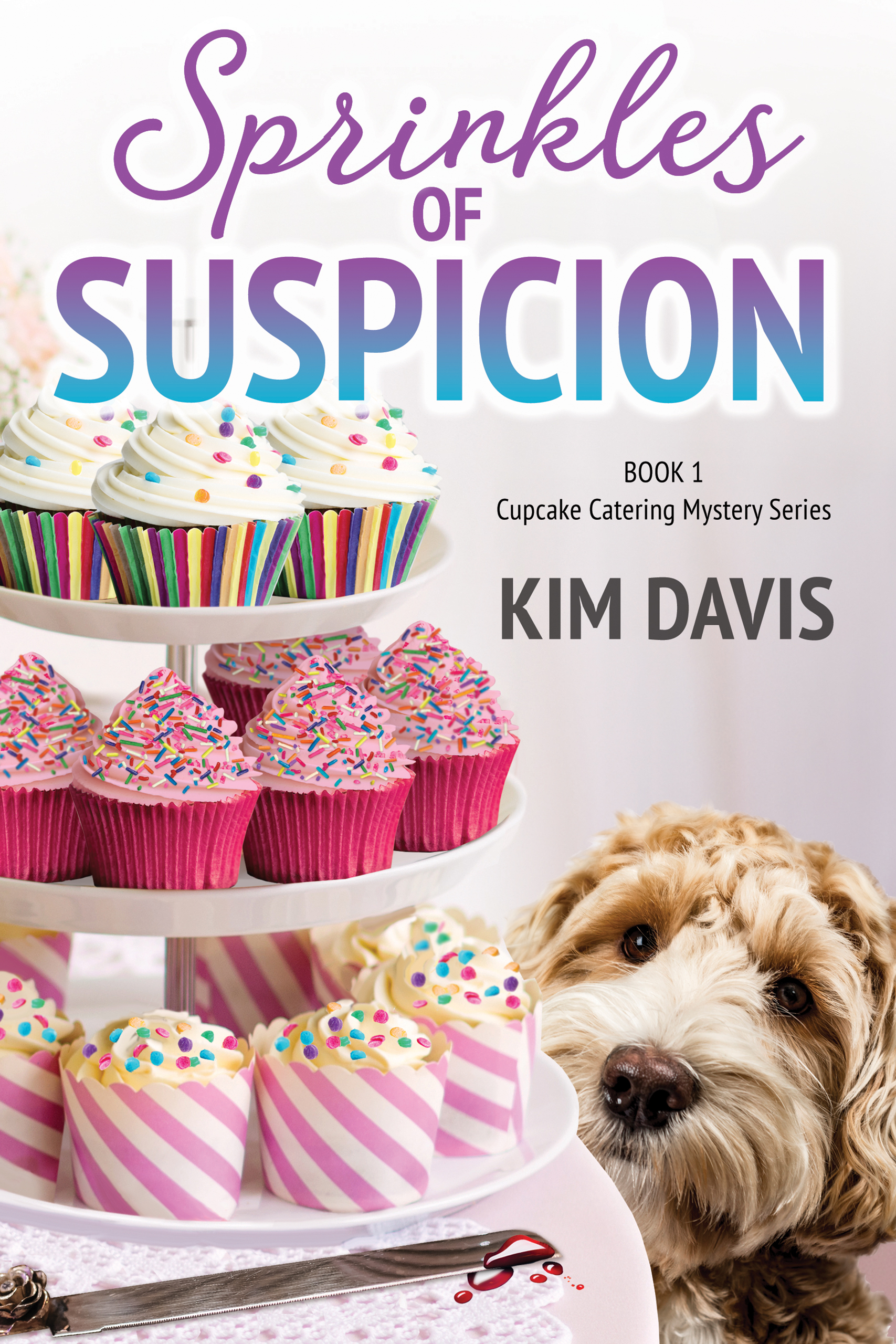 I'm still celebrating the release of SPRINKLES OF SUSPICION with another giveaway and recipe from my book! Today I'm sharing the recipe for Potluck Rootin' Tootin' Beans which were served at a western-themed party my protagonist helped cater with her sister. My dear friend, Janet, always served these Potluck Beans as a side dish at her delicious barbecues where friends gathered to enjoy a fun evening or watch a major sporting event together. (I miss those days where it was safe to hang out with friends!) She kindly allowed me to share her recipe, which I've slightly adapted. My family loves to eat this as an entrée with warm cornbread muffins served alongside.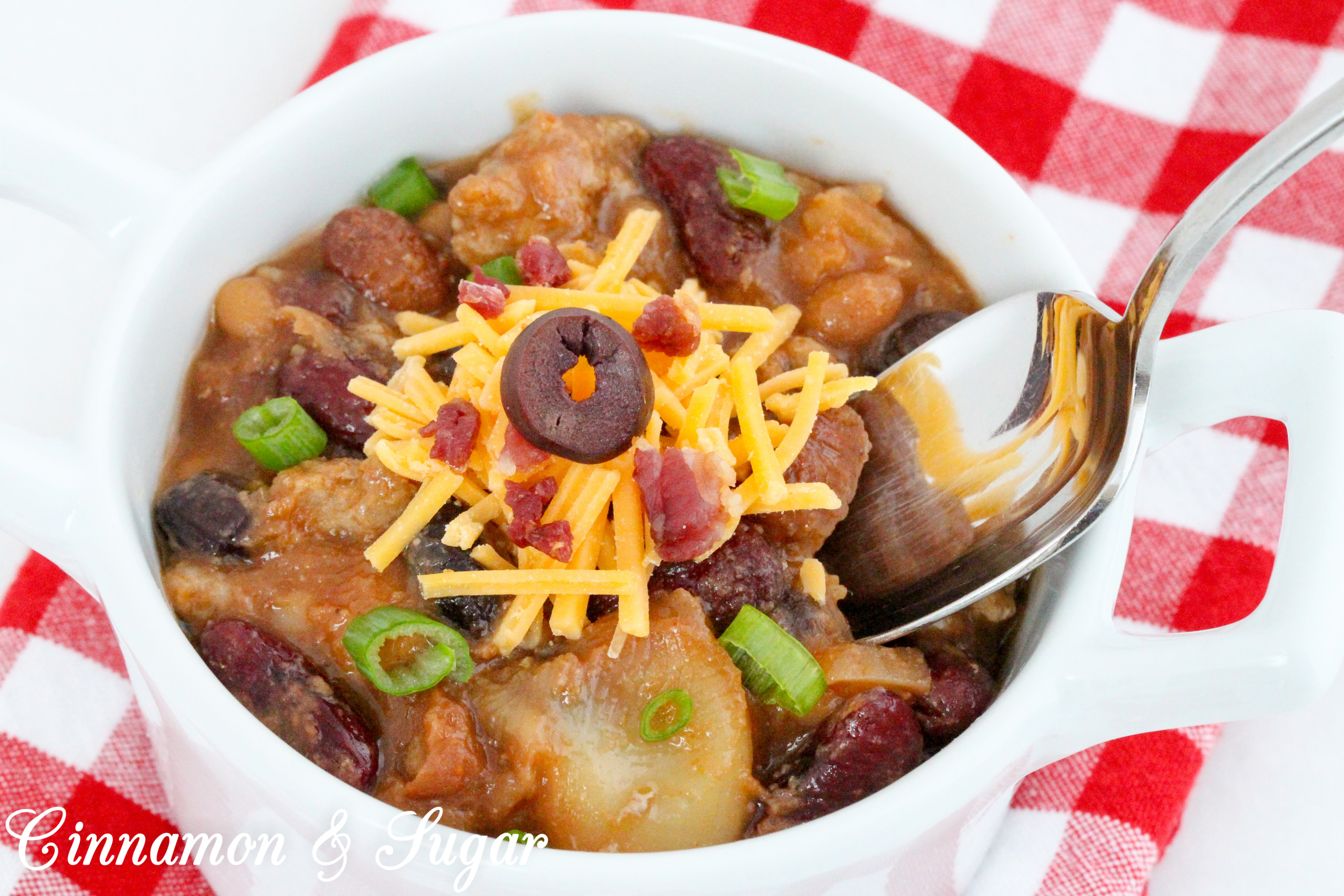 Amazon Synopsis
One glass of cheap California chardonnay cost Emory Gosser Martinez her husband, her job, and her best friend. Unfortunately, that was only the beginning of her troubles.
Distraught after discovering the betrayal by her husband and best friend, Tori, cupcake caterer Emory Martinez allows her temper to flare. Several people witness her very public altercation with her ex-friend. To make matters worse, Tori exacts her revenge by posting a fake photo of Emory in a compromising situation, which goes viral on social media. When Tori is found murdered, all signs point to Emory being the prime suspect.
With the police investigation focused on gathering evidence to convict her, Emory must prove her innocence while whipping up batches of cupcakes and buttercream. Delving into the past of her murdered ex-friend, she finds other people had reasons to want Tori dead, including Emory's own husband. Can she find the killer, or will the clues sprinkled around the investigation point the police back to her?
Print, ebook, and Kindle Unlimited versions are available here:
One lucky winner will win their choice of either print or an e-book copy of SPRINKLES OF SUSPICION plus a Sur La Table cupcake kitchen towel and a $5 Amazon gift card. Giveaway is limited to U.S. residents. Contest ends Sunday, June 28, 2020 at 11:59 pm PST. Please use the Rafflecopter box located below to enter. The winner will be announced on this page and on Cinnamon & Sugar's Facebook page, as well as notified by email (so check your spam folder!) For those outside the U.S., I'm happy to offer the winner e-book copies of both my books SPRINKLES OF SUSPICION and A GAME OF DECEIT via BookFunnel instead.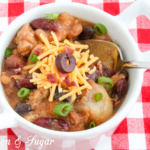 Potluck Beans
Ingredients
1

pound

lean ground beef (or substitute ground turkey)

1

medium-sized onion, chopped

1

(3-pound) can pork & beans

1

(15-ounce) can chili beans

1

(15-ounce) can butter beans, drained

1

(15-ounce) can kidney beans, rinsed and drained

1

(15-ounce) can black beans, rinsed and drained

1

cup

ketchup

3

tablespoons

white vinegar

1/4

cup

brown sugar

1

tablespoon

liquid smoke (optional)

2

cloves garlic, minced

1

teaspoon

freshly ground pepper

Salt to taste (I don't add but some people might think it necessary)
Garnish Suggestions
Crisply cooked bacon, crumbled

Chopped red or green onions

Grated cheddar cheese

Sour cream

Sliced black olives

Pickled jalapeño slices
Instructions
In a large soup pot or Dutch oven, cook the ground meat with the chopped onion over medium-high heat until the meat is no longer pink. Drain off any grease.

Add the remaining ingredients, except the salt, and stir until thoroughly combined.

Bring to a simmer then turn to low and cover the pot. Cook an additional 30 minutes, stirring often.

Remove from heat and season with salt before serving, if desired. Allow guests to garnish their bowl of beans with a variety of choices.
Notes:
If serving for a party, place hot Potluck Beans into a slow cooker and cook on the low setting to keep hot for several hours.

This recipe makes a large batch, enough for 10 guests as an entrée or 20+ servings as a side dish. When I prepare for our family, I divide the prepared beans and freeze half of the portion to enjoy for an easy meal later on. Be sure to thoroughly chill the beans in the refrigerator before placing in the freezer. Either defrost using the microwave option or in the refrigerator overnight. Never defrost at room temperature.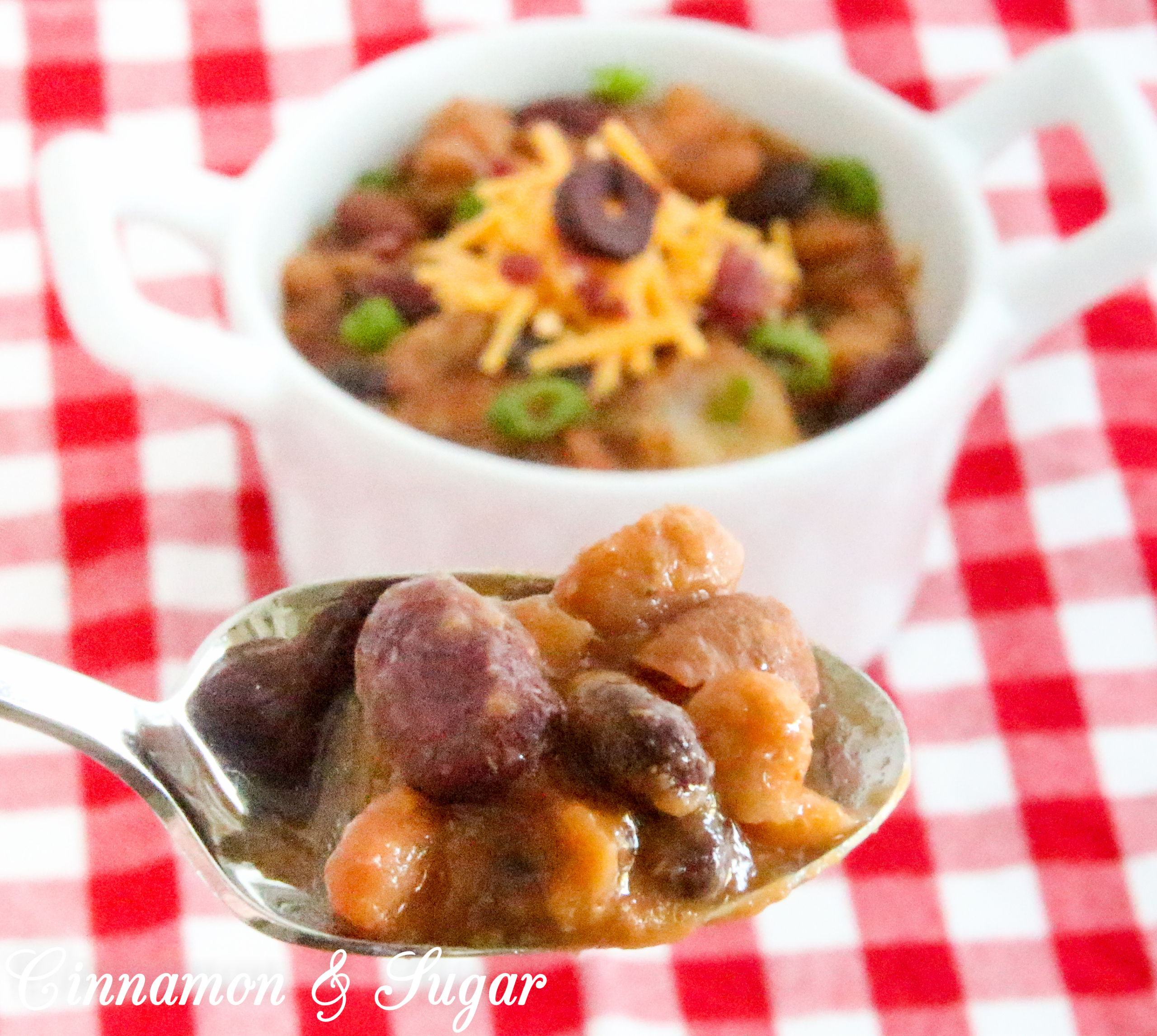 Pin to Pinterest: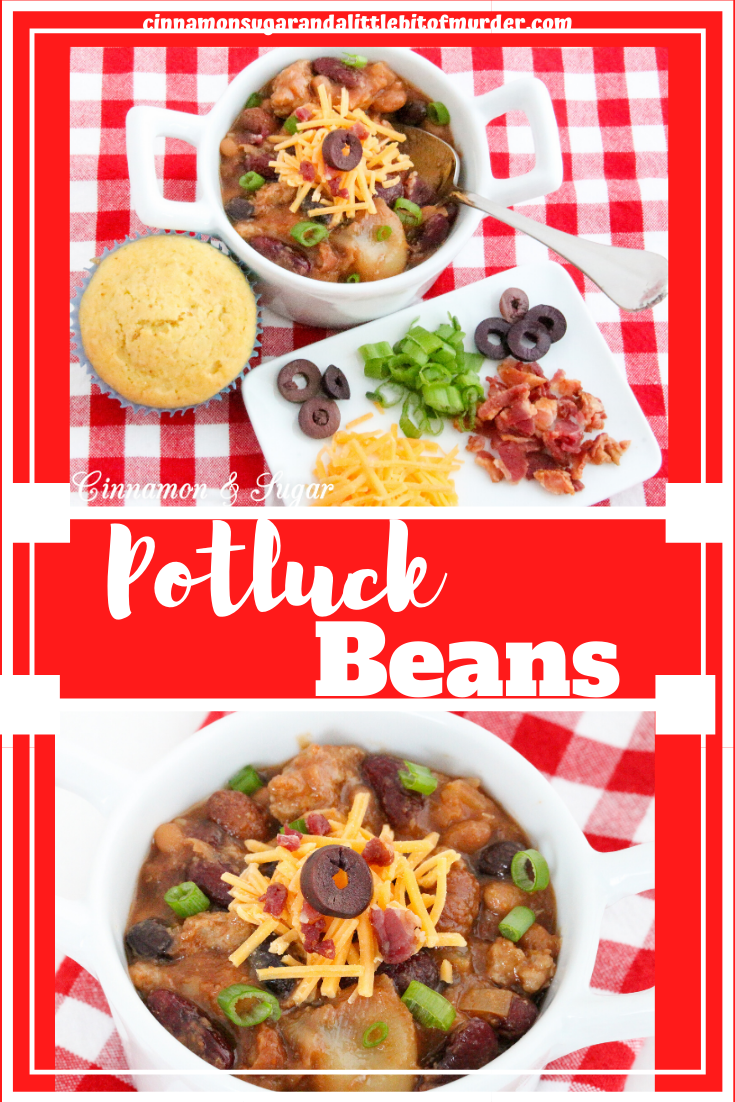 Praise for Sprinkles of Suspicion:
"…there is enough action, including a few surprises – plus baking – to maintain a steady momentum. An engaging cozy best enjoyed with a plate of cookies." – Kirkus Reviews
"You are going to love this delicious new cozy mystery! Kim Davis pens characters who come to life and a story you won't want to put down, not to mention recipes that will make your mouth water." – Paige Shelton, New York Times Best selling author of Farmer's Market, Country Cooking School, Dangerous Type, Scottish Bookshop mysteries
"Sparkling prose, a deliciously twisty plot, and a colorful cast of characters make this debut cozy a surefire winner!" – Linda Reilly, author of the Cat Lady Mysteries and Deep Fried Mysteries
"Sprinkles of Suspicion contain all the necessary ingredients for a fun culinary read – a charming heroine, an intriguing mystery and recipes to die for." – Catherine Bruns, USA Today Best Selling author of the Cookies & Chance mysteries
"A delightful cozy with a cool California setting and an imminently likable heroine." – Ellen Byron, Best Humorous Lefty Awards winner and author of the Agatha Award-winning and USA Today Bestselling Cajun Country Mysteries and The Catering Hall Mysteries
"This very well-written first-in-a-series from Kim Davis is a great read, hard to put down, and filled with intense "comeuppances" and realistic family dynamics." – Kathleen Costa, Kings River Life Magazine
"This story moves along at a great pace and doesn't lag anywhere. There is always something happening, drama, twists, and yes, cupcakes. So well-plotted, I was totally taken in by the entire story and flabbergasted when the real killer was revealed." – Escape With Dollycas Into A Good Book
"A good first in a series, Sprinkles of Suspicion was a story that had me so absorbed that I didn't even realize the sun had gone down until I could no longer see the words." – Lisa Ks Book Reviews
"This book has all the qualities of a top notch cozy mystery." – Karen Kenyon, Reviewer"…added 'sprinkles of delight and flavor' to this fun cozy-mystery and kept me hooked from the beginning to finish…!" – Diary of a Book Fiend
"This book started off with a bang… This is a well-written, fun mystery and the reader is bound to have a good time with this one!!" – Moonlight Rendezvous
"If you love cozy mysteries, murder stories, and a great plot, then Sprinkles of Suspicion is a must-read." – Trudi LoPreto, Readers' Favorite