NACHO AVERAGE MURDER, the seventh book in the Country Store Mystery series by Maddie Day, is a delightful visit to Santa Barbara, California! I was especially thrilled when I found out that the protagonist, Robbie Jordan, was making a trip from her Indiana residence back to her hometown. I grew up in the area and it was obvious that Ms. Day researched it thoroughly. She accurately captures the sights, sounds, flavors, and smells of the location, from the beaches to the mission grounds, to the restaurants and Latin-inspired food, to the quaint shops and the historical culture. I enjoyed how she infuses her story with our Southern California Latino heritage via the dishes Robbie ate and the Spanish phrases we use frequently, no matter our ethnic background. It added to the authenticity of the locale.
Robbie's visit is instigated by her tenth high school class reunion, where the mean girls are still the mean girls. I liked that Robbie feels like she's moved beyond the self-doubt they inflicted on her in high school and how she reaches out to try to connect. It shows an insight into Robbie and the growth of her character over the years. While in town, she finds some disturbing information that perhaps her mother's untimely death might have really been a murder connected to her involvement with local environmental activism. It becomes even more suspicious when her mother's friend dies in the same manner.
Ms. Day weaves an intriguing mystery that involves a possible cold case and questionable environmental agriculture practices. Robbie treads carefully as she begins to ask questions to find out what really happened to her mother and friend since her usual posse of friends and law enforcement isn't there to back her up. I did feel that Robbie took a few too many chances walking in deserted areas on her own but the author's tongue-in-cheek acknowledgement of her foolhardiness brought some humor to the scenes. As the story develops it becomes clear that people are hiding secrets and as a result, there are lots of suspects to keep the reader guessing. Plenty of clues are sprinkled throughout and I fell for the misdirection thrown in several times. But as the reveal unfolds it all begins to tie together into a cohesive, entertaining read!
While Robbie may not be doing the cooking in this newest installment, she does partake of some amazing meals while in Santa Barbara. Always on the lookout for new recipes to add to her menu at Pans 'N Pancakes in Indiana, she makes notes of the dishes and takes pictures. Ms. Day shares those recipes with a Southern California flair, at the back of the book. It's not unusual to have orange trees dotting the backyards in most neighborhoods, so I was drawn to the recipe for Orange Scones. These flaky pastries are easy to mix up and the sweet, orange glaze boosts the wow factor. Scrumptious on their own, a smear of orange marmalade would make them even more delectable!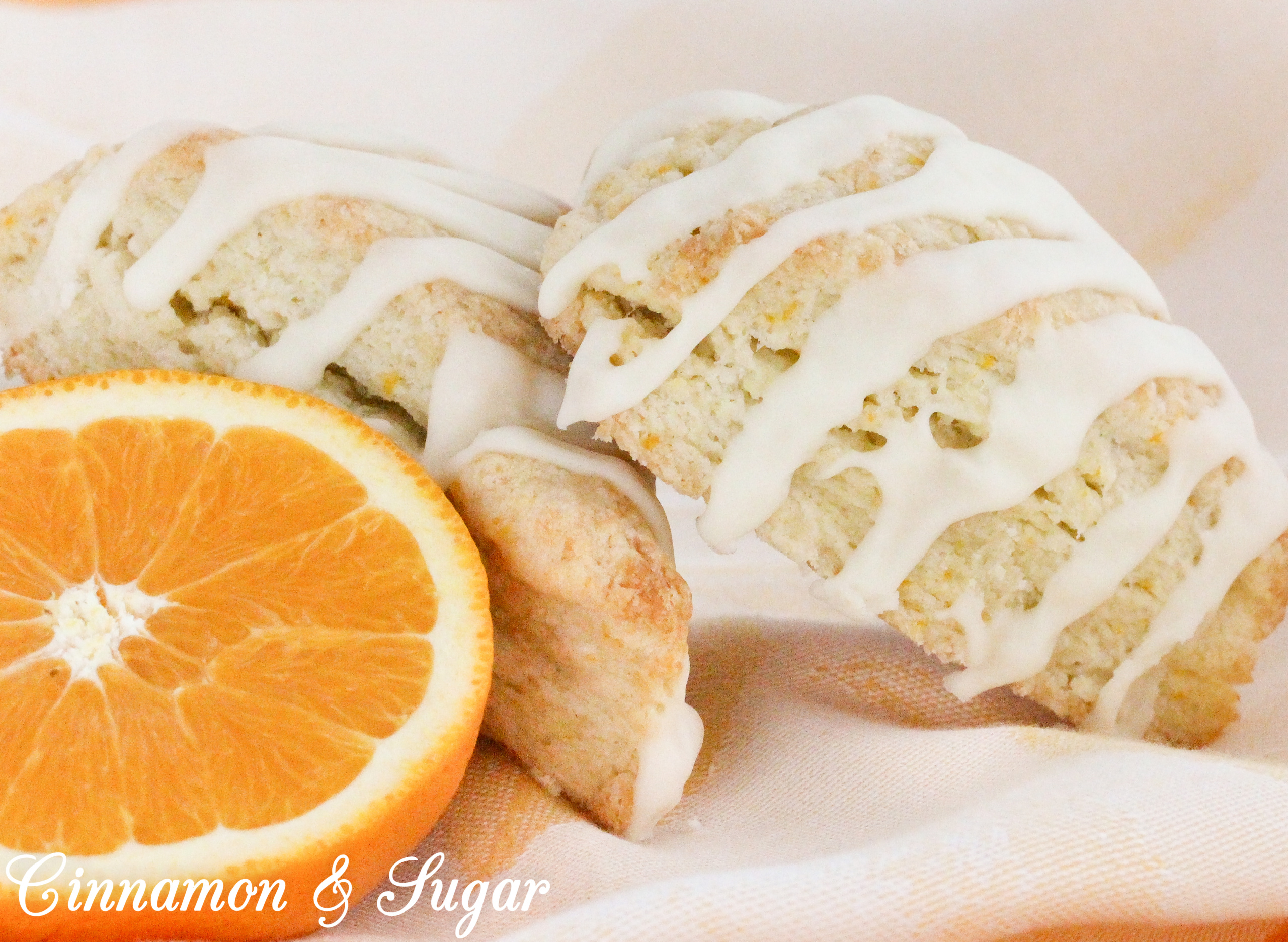 Amazon Synopsis
Robbie Jordan is temporarily leaving Pans 'N Pancakes, her country store in South Lick, Indiana, to visit Santa Barbara, California—where wildfire smoke tinges the air, but a more immediate danger may lie in wait . . .
 
While looking forward to her high school reunion back in California, Robbie's anticipation is complicated by memories of her mother's untimely death. At first, she has fun hanging out with her old classmates and reuniting with the local flavors—avocados, citrus, fish, and spicy Cali-Mex dishes. But then she gets wind of rumors that her mother, an environmental activist, may not have died of natural causes. With the help of friends, Robbie starts clearing the smoke surrounding the mystery—but what she finds could make it hard to get back to Indiana alive . . .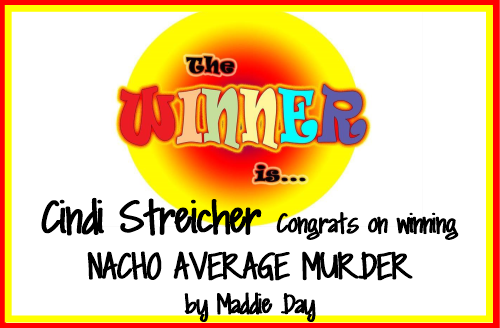 A special thanks to Maddie Day for providing one lucky winner with a print copy of NACHO AVERAGE MURDER! Giveaway is limited to U.S. residents. Contest ends Wednesday, July 1, 2020 at 11:59 pm PST. Please use the Rafflecopter box located below to enter. The winner will be announced on this page and on Cinnamon & Sugar's Facebook page, as well as notified by email (so check your spam folder!)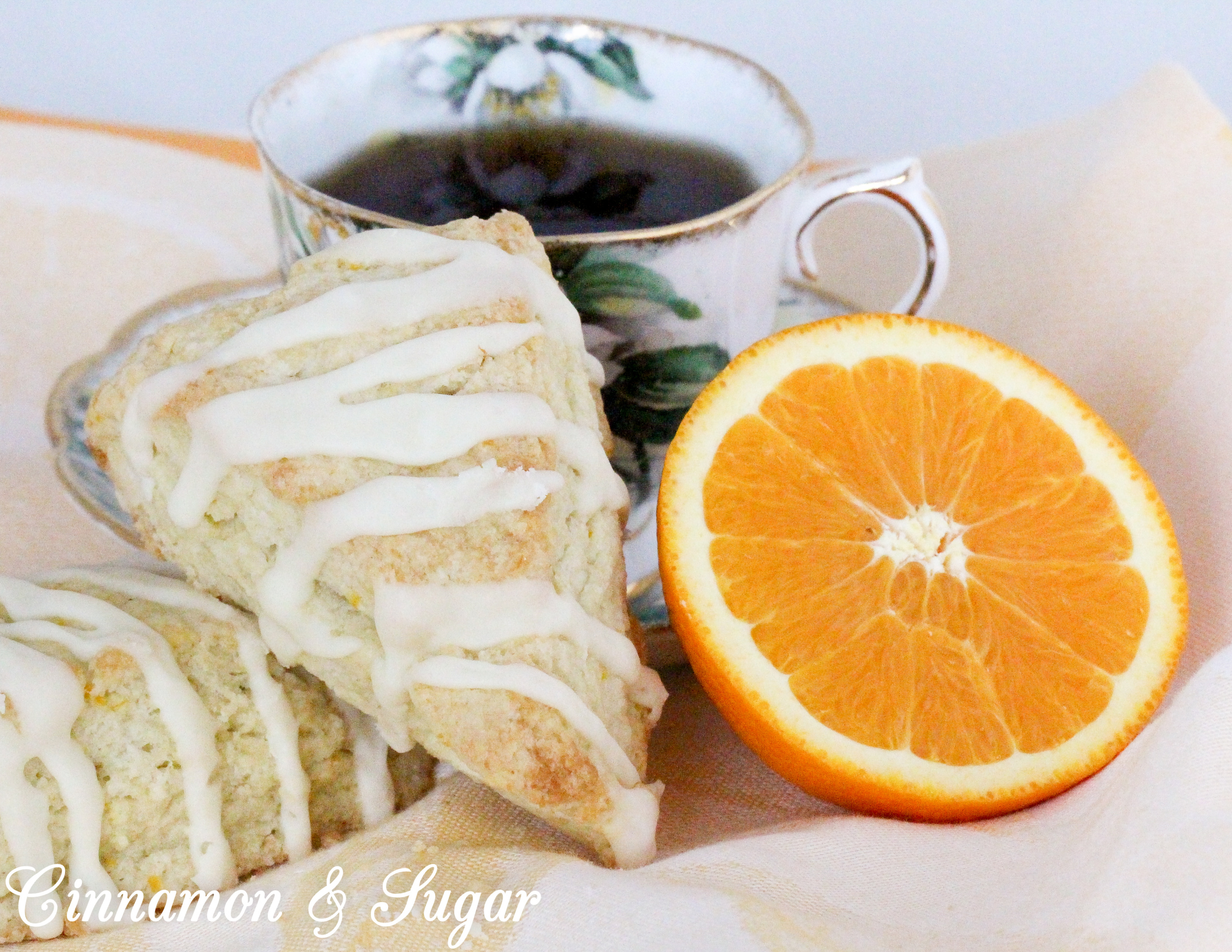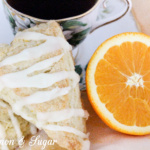 Orange Scones
Ingredients
Scones
1/3

cup

sugar

Zest of one large orange

2

cups

unbleached flour

1

teaspoon

baking powder

1/4

teaspoon

baking soda

1/2

teaspoon

salt

1/2

cup

unsalted butter, frozen

1/2

cup

sour cream

1

egg
For the glaze
1-1/2

tablespoons

unsalted butter

1/2

cup

powdered sugar

1/2

teaspoon

vanilla extract

2

tablespoons

freshly squeezed orange juice (from the orange you just zested)
Instructions
Scones
Preheat oven to 400 degrees (F) and set oven rack to the middle position. Line a baking sheet with parchment paper and set aside.

In a medium-sized bowl, gently toss flour, baking powder, baking soda, and salt. Set aside.

In a separate small bowl, whisk sour cream and egg until completely smooth. Set aside.

In a large bowl, stir sugar and orange zest together until sugar is moistened and zest is evenly distributed. Pour in flour mixture and toss to combine.

Grate frozen butter into mixture using a medium grater. Using your hands, work in the butter until the mixture resembles a coarse meal. Gently stir in sour cream mixture until just about combined. Do not overwork the dough.

Very gently press the dough against the sides of the bowl a few times and form a ball. The dough will be sticky at first but will come together as you form it.

Place dough on a lightly floured surface and gently pat into an 8-inch circle about 3/4-inch thick. Use a very sharp knife to cut into eight triangles (like a pizza). transfer triangles onto prepared baking sheet, leaving about 1 inch between.

Bake scones for 15 - 17 minutes or until the tops begin to turn golden. Don't take them out too early or they will be too soft. Allow them to cool for 10 minutes on the baking sheet before transferring to a wire rack to finish cooling completely.
For the glaze
While the scones bake, prepare the glaze. Melt butter in a glass dish in the microwave for 30 seconds. Whisk in the powdered sugar, vanilla, and orange juice until smooth.

Once completely cooled, drizzle the glaze on the scone tops and sides with a spoon.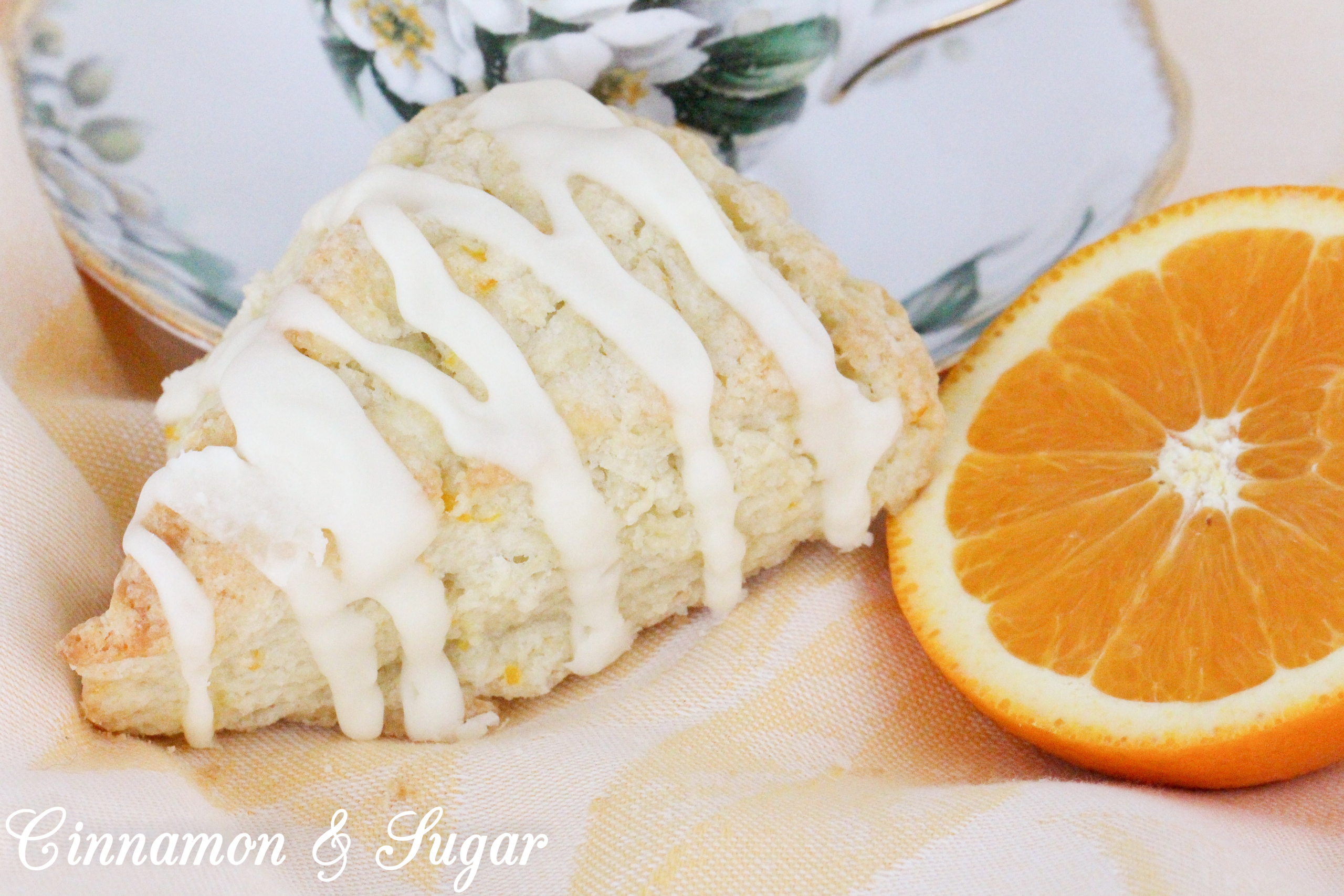 Pin to Pinterest: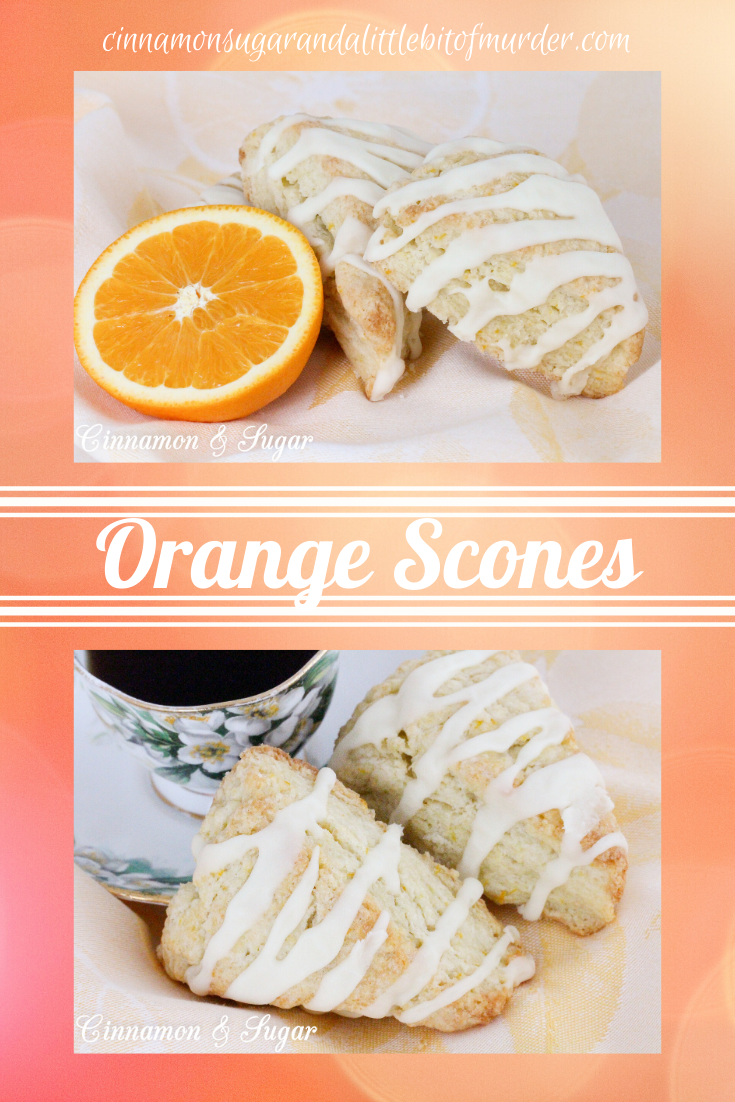 I was provided an advance copy. All thoughts and opinions are my own.