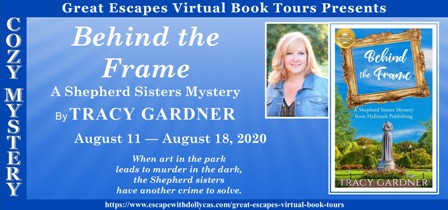 I'm excited to be participating in the Great Escapes Virtual Book Tour presenting BEHIND THE FRAME, the second book in the Shepherd Sisters Mystery series by Tracy Gardner. Published by Hallmark Publishing, this entertaining cozy mystery has all the ingredients that you would expect from Hallmark. Well-developed characters that have charming personalities, close family relationships in which they can rely on each other, a sweet love interest, and a charming setting. Protagonist, Savanna Shepherd is an art expert turned elementary art teacher and I enjoyed the details the author interjected into the story about planned art projects with her cute students. I also appreciated that Savanna couldn't drop everything and leave her students to go sleuthing. Instead she devoted her time to her students and sleuthed around the school schedule, at least until school let out for the summer. This brought a realistic quality to the book. Sharing the spotlight with the protagonist, Savanna, are her two sisters, Sydney and Skyler. I'll admit I had a bit of trouble keeping the "S" names straight at times of which sister was which, but it wasn't too much of a distraction. Again the author interjects a dose of reality between the three girls with their squabbles and gentle teasing. It made them seem completely relatable and brought to mind my own childhood growing up with two sisters.
As the town gears up to host the Art in the Park festival, spearheaded by Savanna, a vandal seems to be targeting the venue. Could someone be trying to sabotage the event? And when a murderer targets one of the committee members and one of Savanna's friends is a suspect, she can't help but get involved. She not only wants to clear her friend's name but also needs to save the festival which will bring much needed business to the townspeople. As she ask questions around town, she discovers the victim wasn't what he seemed. There were plenty of suspects to keep me guessing and the clues sprinkled throughout made the unfolding of the mystery entertaining as I tried to follow the twists and turns. With a satisfying conclusion which wrapped up the threads of the plot and subplots, this character-driven cozy mystery has me looking forward to reading additional books by Ms. Gardner.
Savanna's family has a long-standing tradition of gathering together for a weekly meal, taking turns to prepare a feast. There are plenty of delicious dishes mentioned, including individual rhubarb pies for dessert. I was happy to see that the author includes a recipe for the mini rhubarb pies at the back of the book. Rhubarb pie is one of my husband's favorite pies and brings very special memories of his mother making them each time we traveled from California to Illinois to visit her. While an entire pie is great for a large family, it's not great for only 1 or 2 people. The book's recipe calls for making 4 pies, but it was quite easy to halve the recipe and make 2 pies, which is the perfect amount during this era that limits spending time with friends and large family gatherings. The ease of pre-made pie crust made this quick to make and the lattice pie crust topping made the dessert feel extra special. Juicy and sweet/tart, the pretty and delicious pink rhubarb filling and flaky crust made me wish I'd made the 4 pies after all!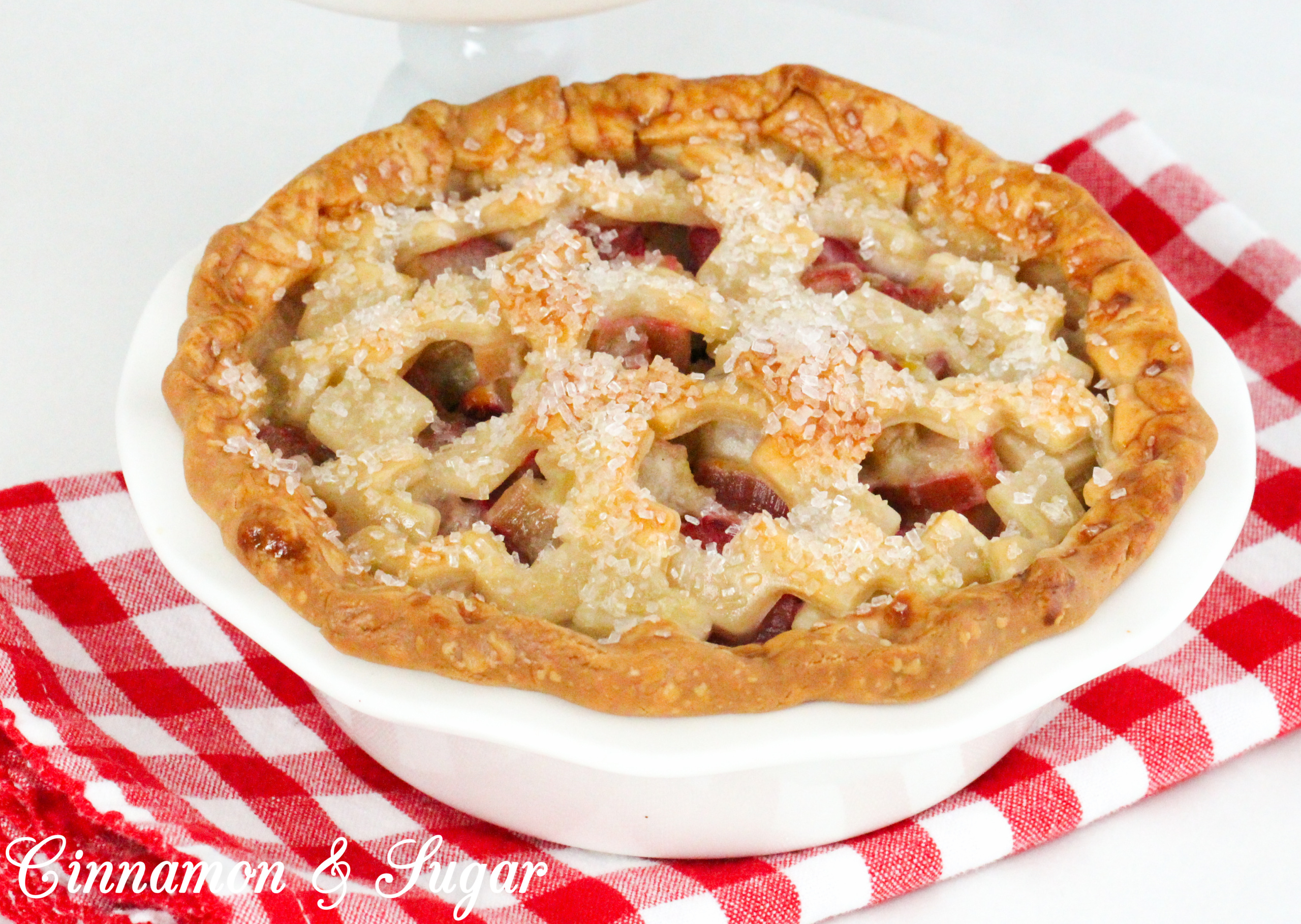 Amazon Synopsis
When art in the park
leads to murder in the dark,
the Shepherd sisters
have another crime to solve.
Savanna Shepherd, an art expert turned elementary art teacher, is planning the Art in the Park festival for her hometown of Carson. But apparently, someone isn't happy that Carson got to host the event: the beloved statue in the park is destroyed. Not long after, Savanna finds the dead body of one of the people on the planning committee.
Savanna and her sisters are convinced that the arrested murder suspect didn't do it, despite strong evidence to the contrary. With the help of Dr. Aidan Gallager, Savanna's new romantic interest, they uncover hidden resentments and intrigue. Several people in Carson had a motive for the murder. Can they find out which one of them is behind the framing of an innocent person?

A special thanks to Tracy Gardner for providing one lucky winner with a $20 Amazon gift card. Contest ends August 18, 2020 at 11:59 pm PST, and is administered by Great Escapes Virtual Book Tours. Please use the Rafflecopter box located below to enter. The winner will be announced on this page and on Cinnamon & Sugar's Facebook page, as well as notified by email (so check your spam folder!)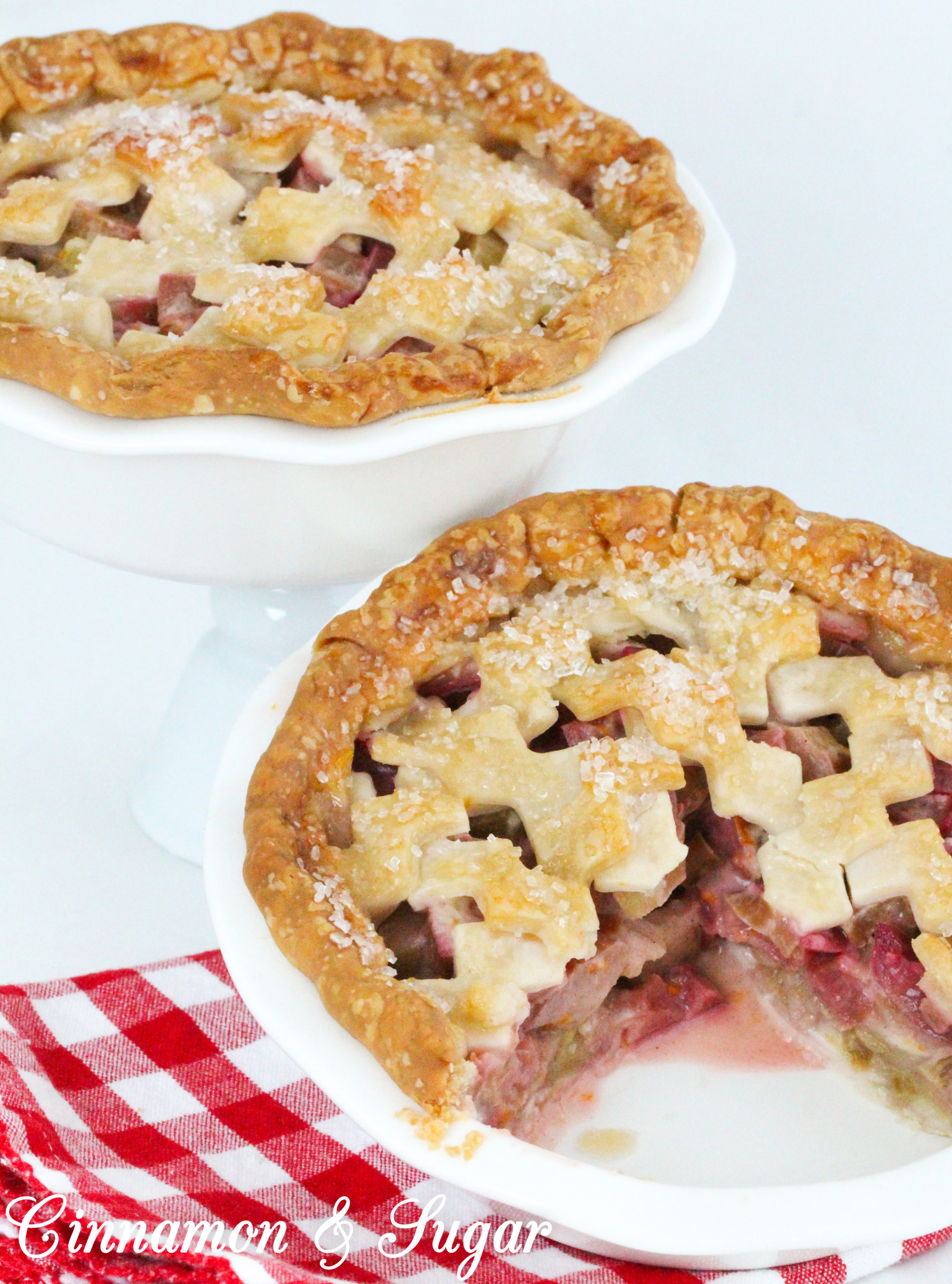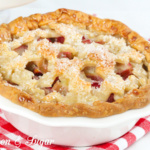 Mini Rhubarb Pies
Bubbling with rosy rhubarb and scented with orange, these mini pies are an indulgent treat that makes everyone feel like the guest of honor. Cooking in individual pie dishes is a beautiful way to skip the tricky task of gracefully serving a pie, piece by piece. Frozen rhubarb is a great option when you're making a pie and rhubarb is out of season. While it is in season, though, you'll want to take advantage of its abundant ruby stalks and pile it high in every pie. Top each pie with a scoop of vanilla ice cream if you want to really send your guests over the edge.
Ingredients
4

10-inch

pie crusts, refrigerated, unbaked

8

cups

fresh rhubarb cut in 1/2-inch pieces

1

cup

sugar

1/2

cup

all-purpose flour

Pinch

of cardamom

1/2

teaspoon

freshly ground nutmeg

1

tablespoon

orange zest

1/4

cup

freshly squeezed orange juice

1

egg, lightly beaten
Instructions
Preheat oven 375 degrees F.

From each pie crust, cut a small circle to fit as the bottom crust in each of four 5.5'pie plates. Cut long strips out of remaining pie dough about 1/2 an inch in width.

Chill both while preparing filling.

In a large bowl, combine rhubarb, sugar, flour, cardamom, nutmeg, orange zest and juice. Stir to distribute ingredients evenly.

Fill each pie dish with filling, mounding each one full. Using chilled strips, criss-cross them over each pie making a lattice pattern. Trim excess dough from sides of pies and then crimp the edges together.

Brush outsides of pies with beaten egg. Bake 50 minutes or until crust is golden and filling is bubbling. Let cool and serve.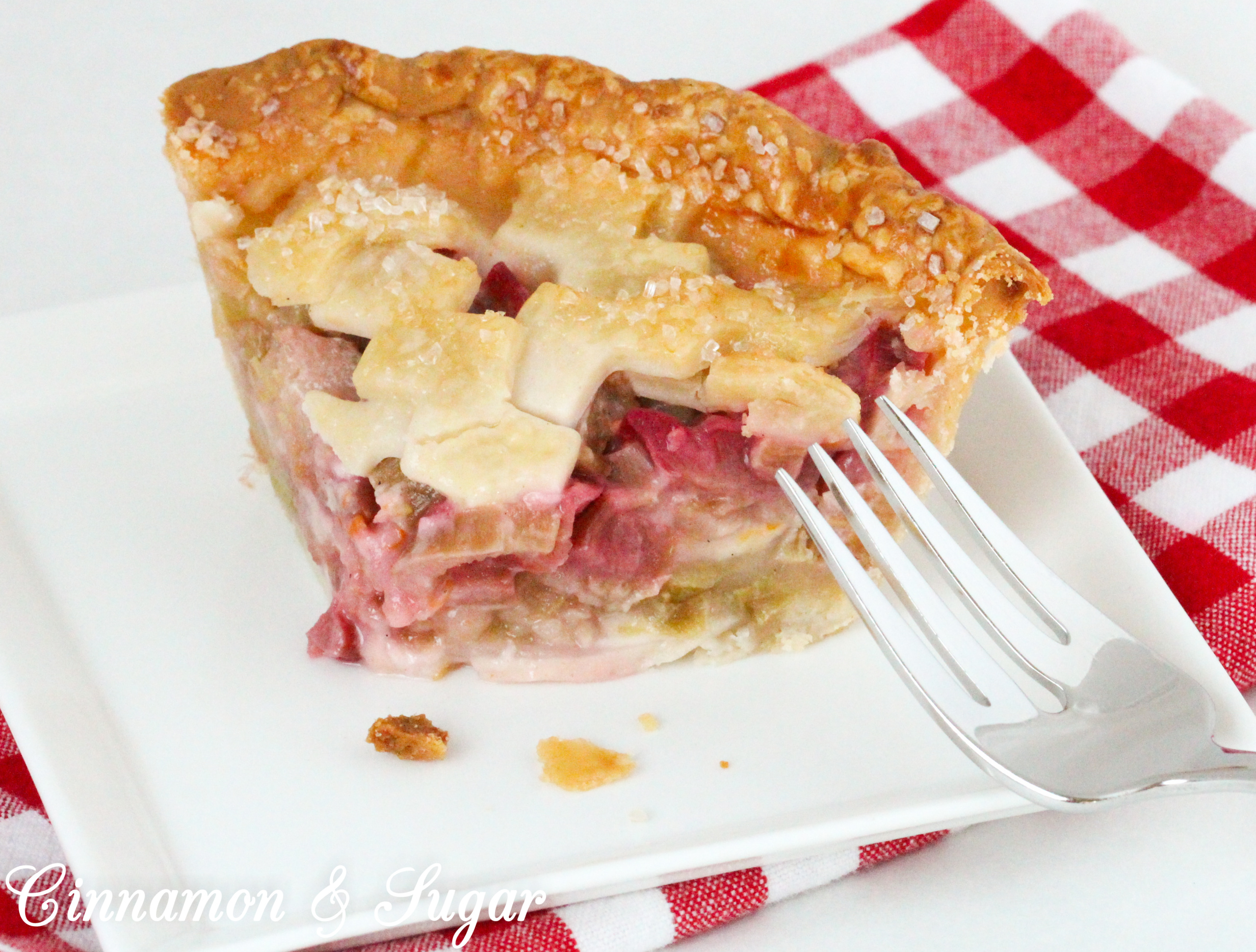 Pin to Pinterest: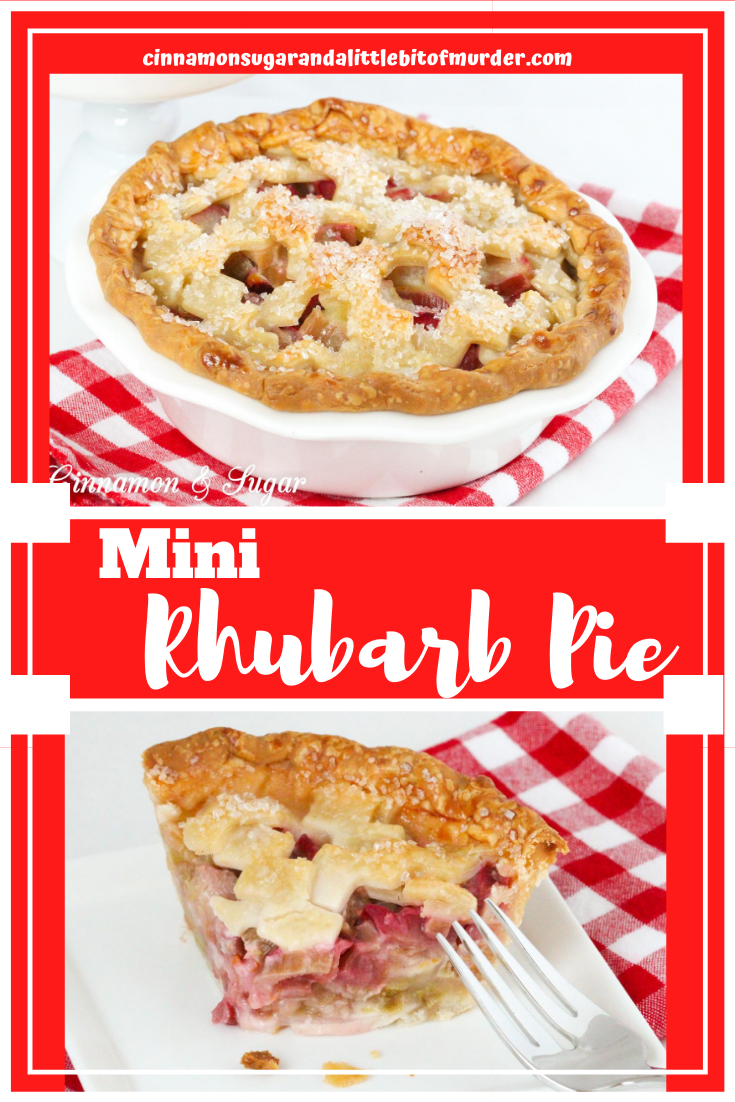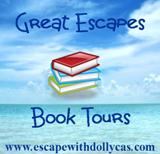 TOUR PARTICIPANTS
August 11 – The Pulp and Mystery Shelf – AUTHOR INTERVIEW
August 11 – Reading Is My SuperPower – REVIEW
August 11 – Literary Gold – SPOTLIGHT
August 12 – Island Confidential – SPOTLIGHT
August 12 – Diane Reviews Books – SPOTLIGHT
August 13 – The Avid Reader – REVIEW
August 13 – Ruff Drafts – AUTHOR INTERVIEW
August 14 – I'm All About Books – SPOTLIGHT
August 14 – Socrates Book Reviews – SPOTLIGHT
August 14 – Celticlady's Reviews – SPOTLIGHT
August 15 – Baroness' Book Trove – REVIEW
August 15 – Reading, Writing & Stitch-Metic – SPOTLIGHT
August 15 – Christa Reads and Writes – REVIEW
August 16 – Christy's Cozy Corners – REVIEW, GUEST POST
August 16 – Maureen's Musings – SPOTLIGHT
August 17 – Brooke Blogs – CHARACTER GUEST POST
August 17 – Mystery Thrillers and Romantic Suspense Reviews – SPOTLIGHT
August 18 – Cinnamon, Sugar, and a Little Bit of Murder – REVIEW, RECIPE
August 18 – Cozy Up With Kathy – AUTHOR INTERVIEW
August 18 – Readeropolis – SPOTLIGHT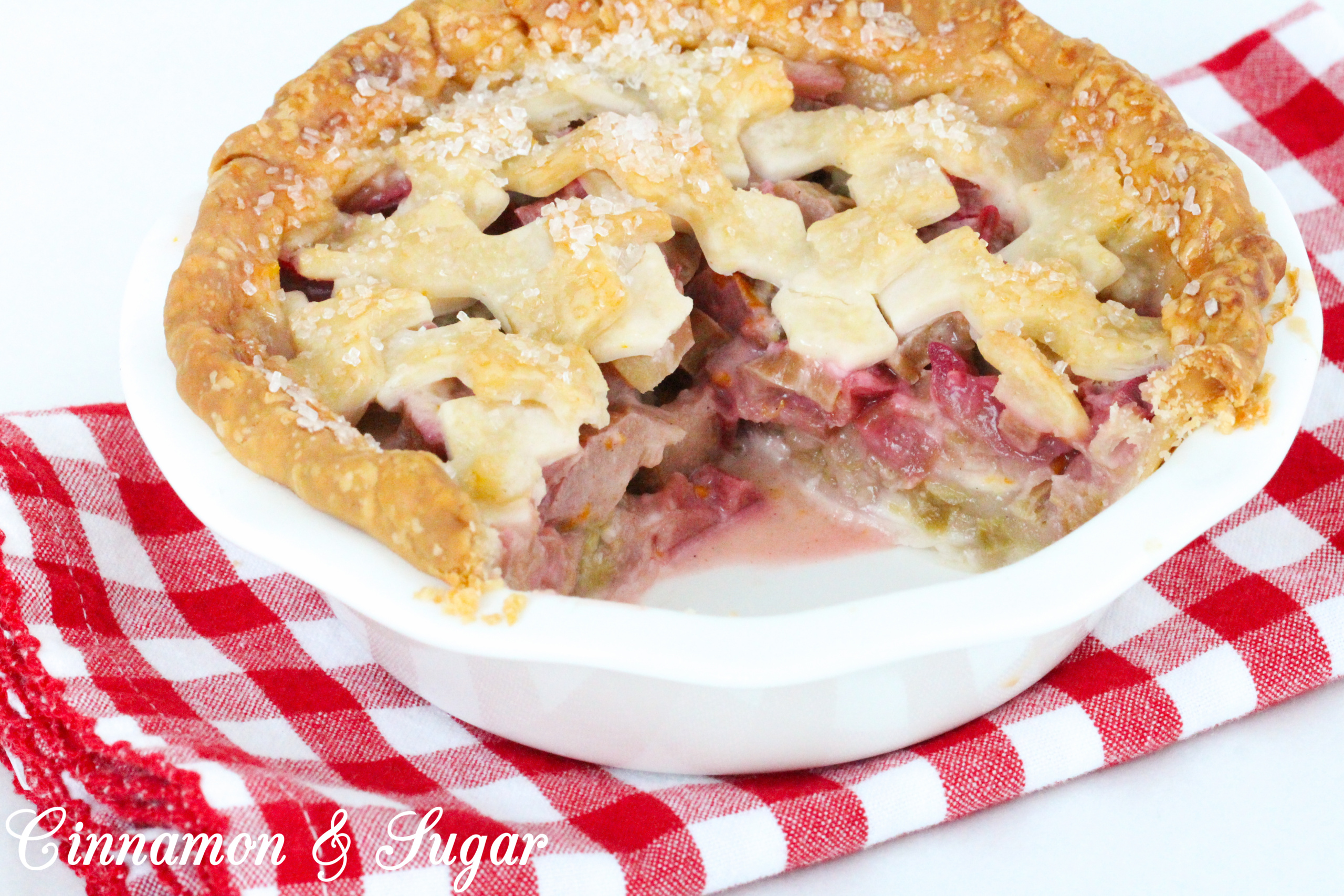 I was provided an advance copy. All thoughts and opinions are my own.