THE KEY LIME CRIME, the tenth book in the Key West Food Critic Mysteries by Lucy Burdette, is a delicious cozy read that captures the sweet flavors of the small island situated at the tip of Florida. Hayley Snow, newly married to Detective Nathan Bransford, is a food critic for Key Zest Magazine. She's tasked with covering the key lime pie extravaganza arranged by super star chef and author, David Sloan, which also includes lots of taste testing of delectable key lime pies. Given what our entire world has experienced with social distancing and the "stay at home" orders, KEY LIME CRIME truly is an armchair tourist destination. I love how Ms. Burdette saturates the story with the sights, sounds, smells, and tastes of the location, allowing the reader to fully immerse themselves in the story without detracting from the plot. Her descriptive voice brings the setting to life.
With Nathan's mother, Helen, swooping into town to meet Hayley for the first time, Hayley finds herself stressed as she tries to juggle her workload, meet deadlines, and figure out how to thaw her frosty mother-in-law. To make matters worse, Hayley and Helen stumble upon a murdered pastry chef not long after meeting. I greatly enjoyed the introduction of Helen Bransford into the story since Nathan has mostly been on the periphery in the series with Hayley taking central stage. Ms. Burdette's use of Nathan's mother to bring his backstory into the theme of the mystery is quite impressive and allows the reader to feel more connected to Hayley's new husband. It also helps the reader get a glimpse into Nathan's personality and what makes him tick especially when Hayley gets involved in trying to solve murders. The crime itself was well plotted and the pace kept me turning pages. The twists and turns kept me guessing until the final, edge-of-your-seat reveal. Ms. Burdette is a terrific storyteller and I always look forward to escaping in the pages for a visit Key West!
Given Hayley's assignment to sample all the key lime pies entered into the contest, the reader will be salivating over the descriptions of the delectable concoctions. Ms. Burdette offers several recipes at the back of the book and I was drawn to the recipe for Key Lime Parfait. Basically it's a layered key lime pie served in a fun glass, such as a wine goblet or martini glass. I always enjoy serving desserts in individual portions and the presentation makes it elegant. These parfaits are easy to make and store well for a day or so, which makes them convenient to make ahead for guests. Now I'll have to confess to my big goof in making this virtually fool-proof dessert… I had ordered whipping cream to be delivered with my weekly groceries at the beginning of the pandemic shutdown. It arrived and I began making the recipe for this blog post. When I went to whip the cream, I found the contents of the carton had curdled. I didn't have time to run to the store (nor did I want to stand in long lines to enter the store, or mask and glove up to go) since my immediate family was coming over for dinner. So I defrosted a container of Cool Whip and used that, except I didn't take into consideration that 2 cups of whipping cream whipped makes considerable more than the 2 cups of Cool Whip I had. While the parfait was on the tart side from my mistake, it was still delicious and quite refreshing. As an added bonus to my mistake, I had more graham cracker crumbs to layer between the key lime cream. And one of these days I'll prepare it the correct way when we can celebrate in person with a large group of friends and family!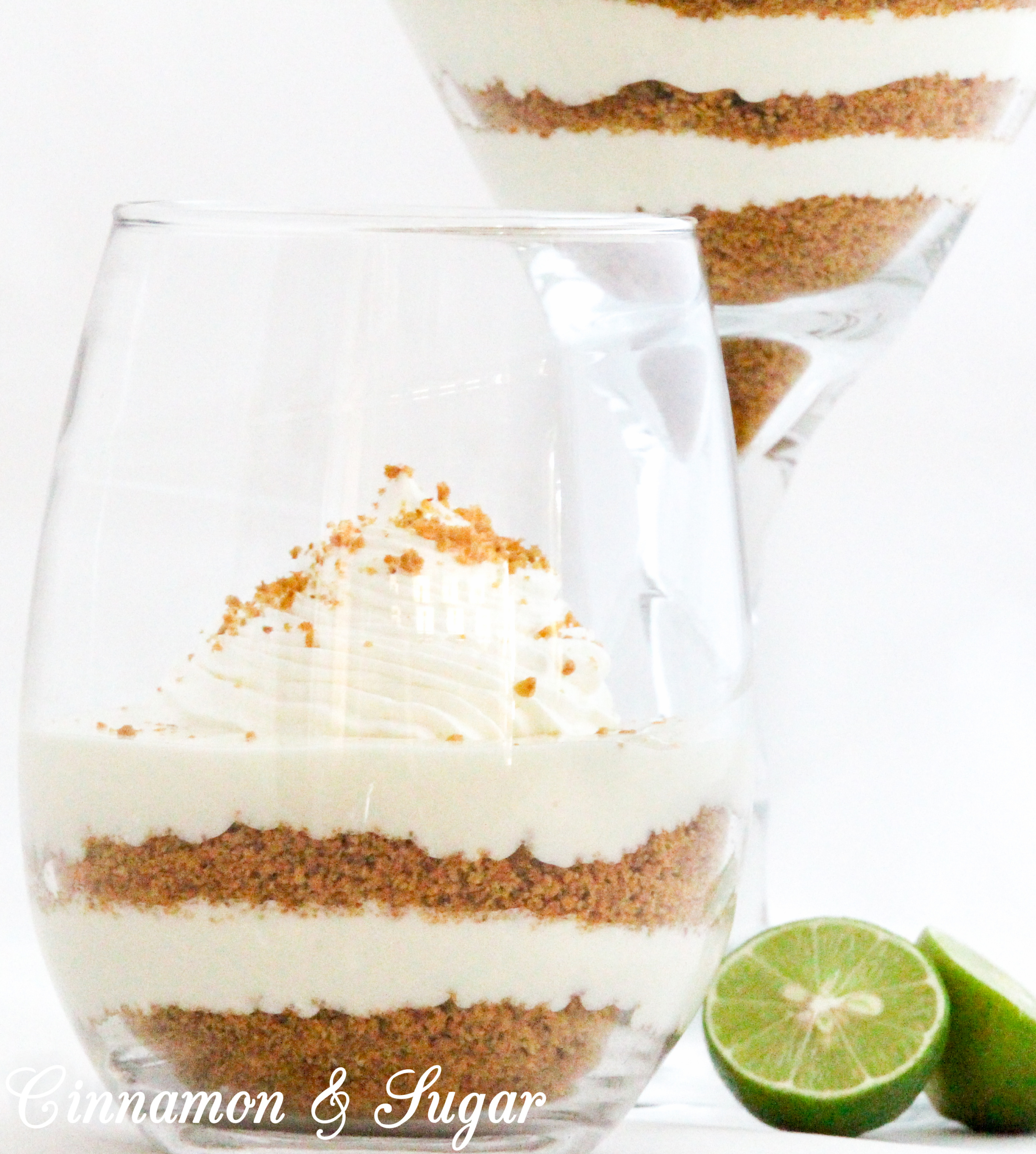 Amazon Synopsis
When a fierce rivalry between key lime pie bakers leads to a pastry chef's murder, food critic Hayley Snow is fit to be pied.
During the week between Christmas and New Year's, the year-round population of Key West, Florida, faces a tsunami of tourists and snowbirds. It doesn't help that outrageously wealthy key lime pie aficionado David Sloan has persuaded the city to host his pie-baking contest. Every pie purveyor on the island is out to win the coveted Key Lime Key to the City and Key Zest food critic Hayley Snow is on the scene to report it.
Meanwhile, Hayley's home life is turning more tart than sweet. Hayley's new hubby, police detective Nathan Bransford, announces that her intimidating mother-in-law is bearing down on the island for a surprise visit. Hayley offers to escort Nathan's crusty mom on the iconic Conch Train Tour of the island's holiday lights, but it becomes a recipe for disaster when they find a corpse among the glittering palm trees and fantastic flamingos. The victim–Au Citron Vert's controversial new pastry chef–was a frontrunner in Sloan's contest.
It's bad enough that Hayley's too-curious mother-in-law is cooking up trouble. Now, the murderer is out to take a slice out of Hayley. Can she handle the heat of a killer's kitchen?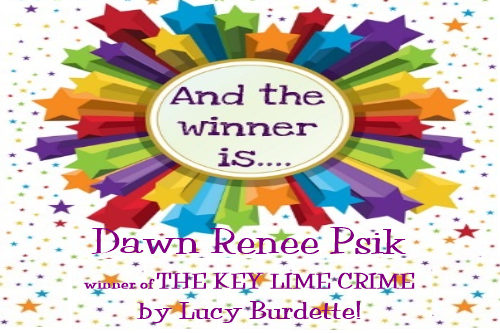 A special thanks to Lucy Burdette for providing one lucky winner with a print copy of THE KEY LIME CRIME! Giveaway is limited to U.S. residents. Contest ends Wednesday, August 19, 2020 at 11:59 pm PST. Please use the Rafflecopter box located below to enter. The winner will be announced on this page and on Cinnamon & Sugar's Facebook page, as well as notified by email (so check your spam folder!)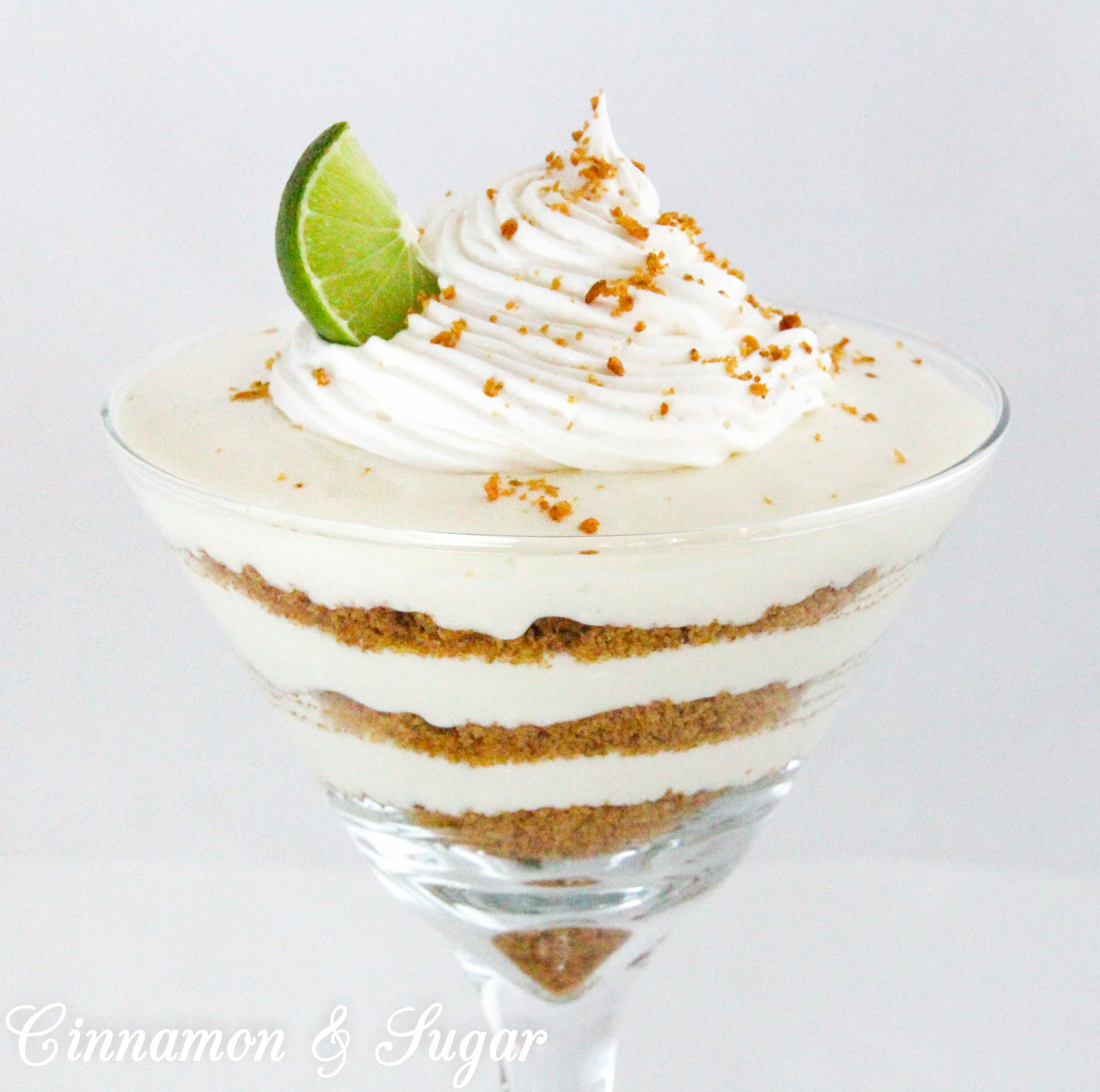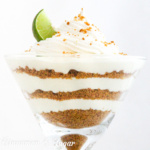 Lucy Burdette's Decadent Key Lime Parfait
Ingredients
5

whole graham crackers, crushed to make about 1 cup

2

tablespoons

butter, melted

1

tablespoon

brown sugar

2

cups

whipping cream

1/4

cup

powdered sugar

1

teaspoon

vanilla

1/2

cup

key lime juice (about 1 pound key limes)

1

(14-ounce)

can sweetened condensed milk

Key Lime zest (optional)
Instructions
Preheat oven to 350 degrees (F).

Crush the graham crackers. (Easy tip: place the graham crackers in a ziplock bag and roll them to crumbs with a rolling pin.)

Mix the crumbs with the melted butter and brown sugar. Spread this on a baking sheet covered with foil or parchment paper and bake 10 minutes or until golden. Let cool, then break into crumbs again.

Meanwhile, whip the cream with the powdered sugar and vanilla. Set half of this aside for the topping.

Juice the limes and strain out any seeds.

Mix the condensed milk with the lime juice. The citrus will cause the milk to thicken. Gently stir in half the whipped cream mixture.

Layer some of the baked crumbs into eight parfait or martini glasses, then add some of the key lime mixture; repeat, setting aside a few crumbs for topping.

When all the ingredients are distributed, top with dollops of remaining whipped cream. Sprinkle remaining crumbs and zested lime of you want a stronger flavor.

Keep chilled until ready to serve.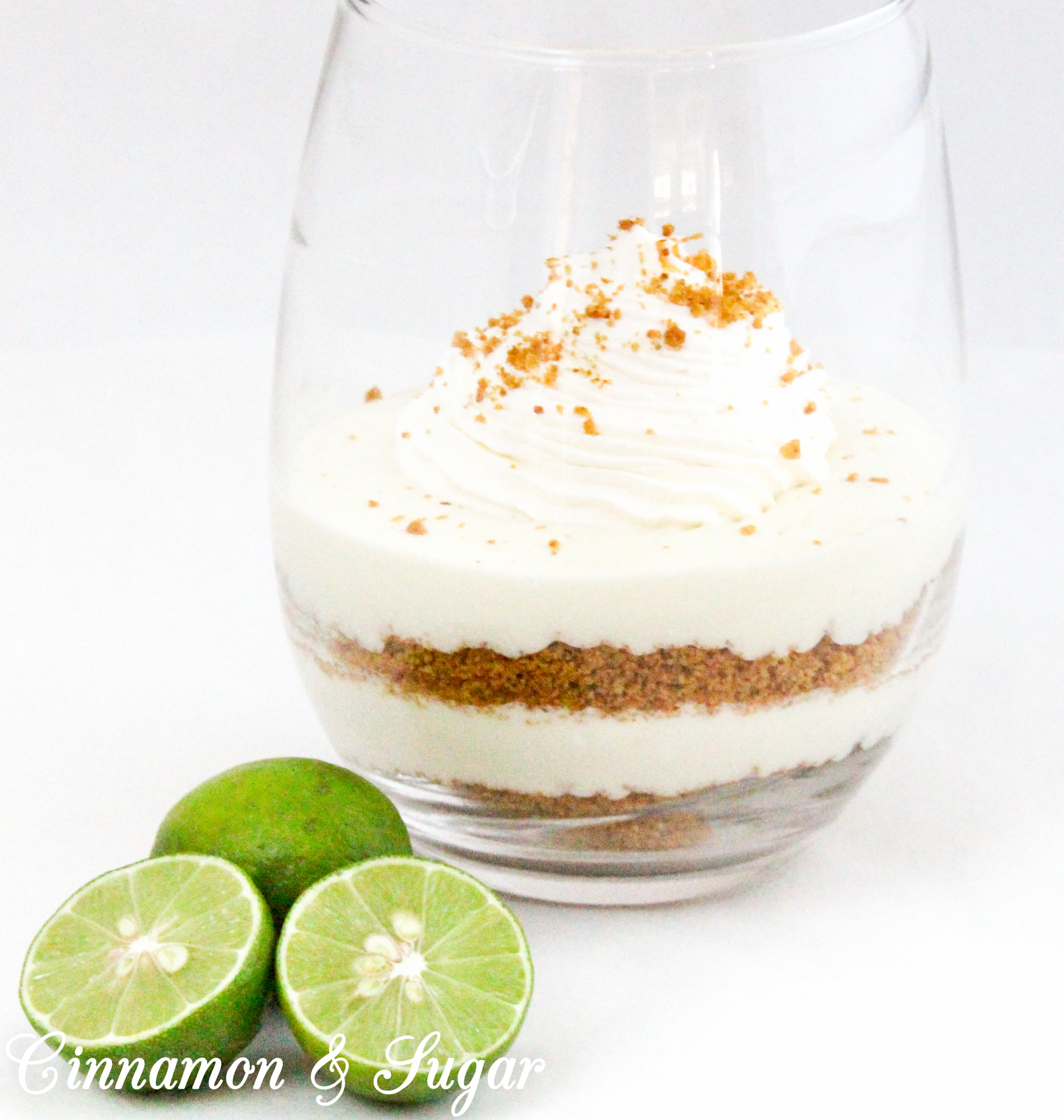 Pin to Pinterest:
I was provided an advance copy. All thoughts and opinions are my own.