TEA & TREACHERY, the first book in the brand new A Tea by the Sea Mystery series, by Vicki  Delany, is a delightful start! A Victorian B & B, a traditional English tearoom, a decrepit neighboring house, and a shady real estate developer blend together for an enjoyable cozy read. Protagonist, Lily Roberts runs the teashop, Tea by the Sea, on property holding the B & B, Victoria-on-Sea, which is owned and operated by her grandmother. I've been a longtime fan of Ms. Delany and love the way she can bring her settings and characters to life. While I've never been to the Cape Cod area, I feel like I can smell the salty air and hear the crashing waves. Lily bakes mouthwatering treats for her tearoom and the descriptions are drool worthy. I also appreciated the tidbits of tea facts woven into the story including varieties and how the tastes differ. It's obvious that much research has gone into the book, making both tearoom food and the signature beverage realistic.
Lily is a dedicated, hardworking tearoom owner and spends most of her time baking delectable goodies along with cooking for her grandmother's B & B guests. Her best friend, Bernie, is an aspiring writer – she's enthusiastic and larger than life, which brings some humor to the story, especially as she throws her writing ideas around. Lily's English-born grandmother, Rose, could be described as feisty. Lily describes her as a little too opinionated and interfering but unfortunately I found her mostly abrasive and self-centered which detracted a bit from the enjoyment of the story as it unfolded.
Despite that, the mystery plot is strong and well-paced and it doesn't come as a surprise when law enforcement fixates on Rose when the shady real estate developer is found murdered on her property. Rose doesn't help matters either as the investigation unfolds and she gets herself into deeper trouble. Lily, despite not wanting to get involved and is up to her ears in scone dough practically 24 hours a day, gets pulled into clearing her grandmother's name. After all, what does it hurt to ask a few questions around town? There are plenty of suspects and both Bernie and Rose get involved in trying to figure out the culprit. But it's Lily who ends up confronting the killer in an edge-of-your-seat reveal. Ms. Delany has proven once again to be a master storyteller and delivered an engaging cozy mystery to whet readers' appetite!
With Lily creating so many amazing tearoom treats, I would have been disappointed had there not been recipes. Fortunately, Ms. Delany delivers and they all sound fantastic! When I contacted the author about showcasing her new series on my blog, she told me she'd been working on several shortbread cookie recipes, looking for the best ever. And boy did she come through! With only five simple staple ingredients, these cookies whip up in a snap. I liked that the dough didn't need refrigeration before rolling out, which speeds up the process for those who crave a rich, buttery cookie. I added a sprinkle of coarse sparkling sugar on the tops before baking, to add visual appeal and an added crunch. These delicious shortbread cookies are ideal with a cup of fresh brewed tea or coffee along with a good book!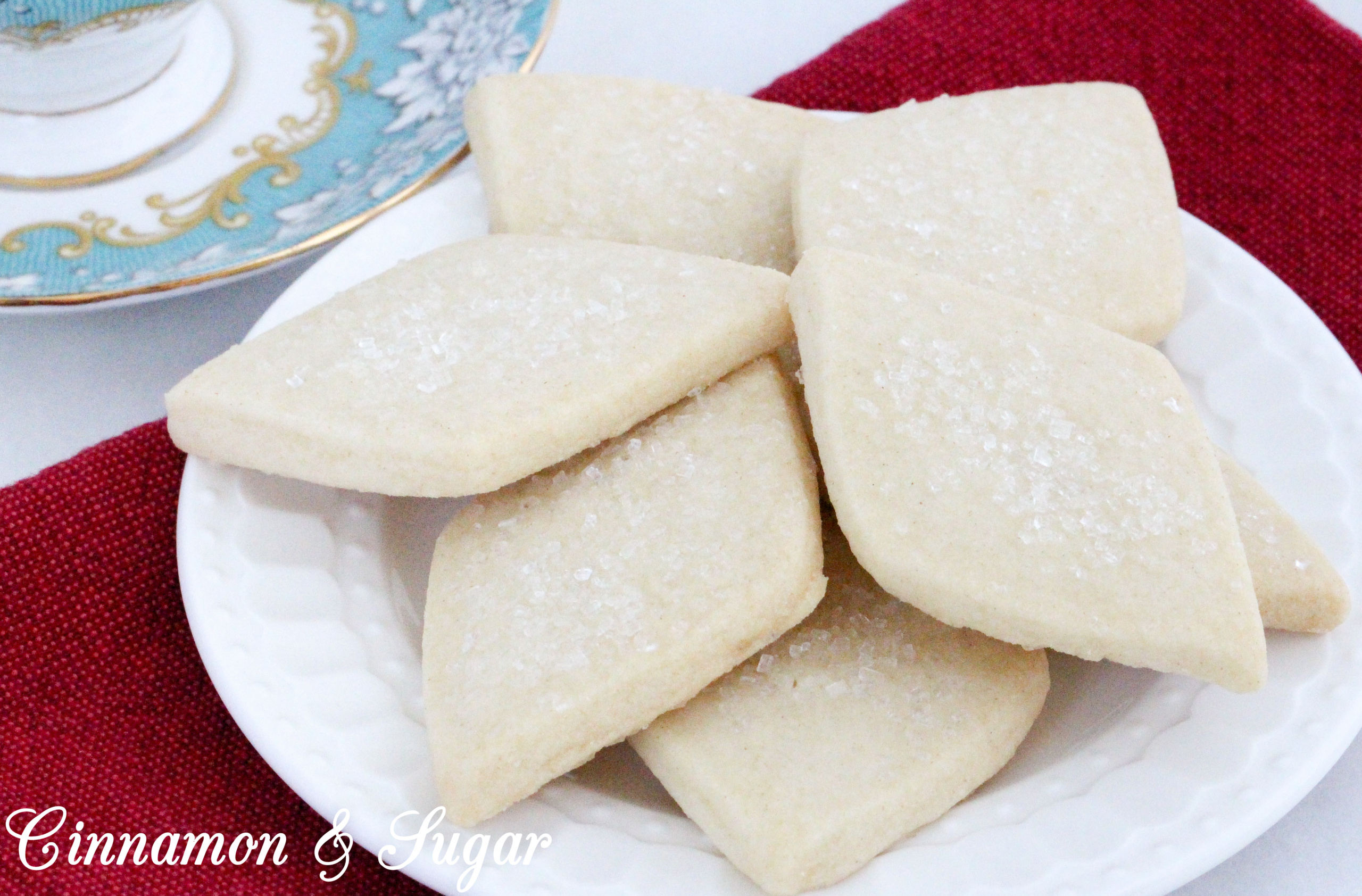 Blog extra: Back in March of 2019 I had the opportunity to travel to Vancouver, B.C. to attend the Left Coast Crime conference. While there I met up with Vicki Delany and together we went to Murchie's Tea Shop to visit with Karen Margaret of A Cup of Tea and a Cozy Mystery blog. Karen treated us to a delightful afternoon of all things tea and I was honored that I got a peek at Vicki's research for her new series. And as a bonus, I ended up with several new teas to take home for my sipping pleasure!
Amazon Synopsis
As the proud proprietor and head pastry chef of Tea by the Sea, a traditional English tearoom on the picturesque bluffs of Cape Cod, Roberts has her hands full, often literally. But nothing keeps her busier than steering her sassy grandmother, Rose, away from trouble. Rose operates the grand old Victorian B & B adjacent to Lily's tea shop . . . for now. An aggressive real estate developer, Jack Ford, is pushing hard to rezone nearby land, with an eye toward building a sprawling golf resort, which would drive Rose and Lily out of business.
Tempers are already steaming, but things really get sticky when Ford is found dead at the foot of Rose's property and the police think she had something to do with his dramatic demise. Lily can't let her grandmother get burned by a false murder charge. So she starts her own investigation and discovers Ford's been brewing bad blood all over town, from his jilted lover to his trophy wife to his shady business partners. Now, it's down to Lily to stir up some clues, sift through the suspects, and uncover the real killer before Rose is left holding the tea bag.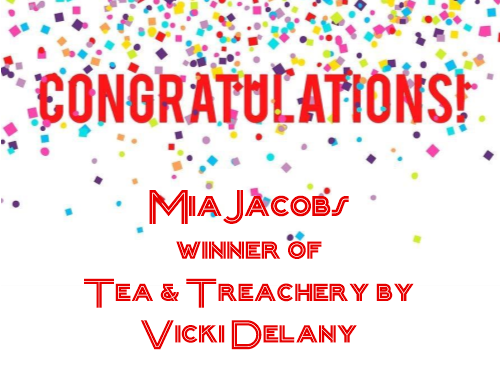 A special thanks to Vicki Delany for providing one lucky winner with a print copy of TEA & TREACHERY! Giveaway is limited to U.S. residents. Contest ends August 16, 2020 at 11:59 pm PST. Please use the Rafflecopter box located below to enter. The winner will be announced on this page and on Cinnamon & Sugar's Facebook page, as well as notified by email (so check your spam folder!)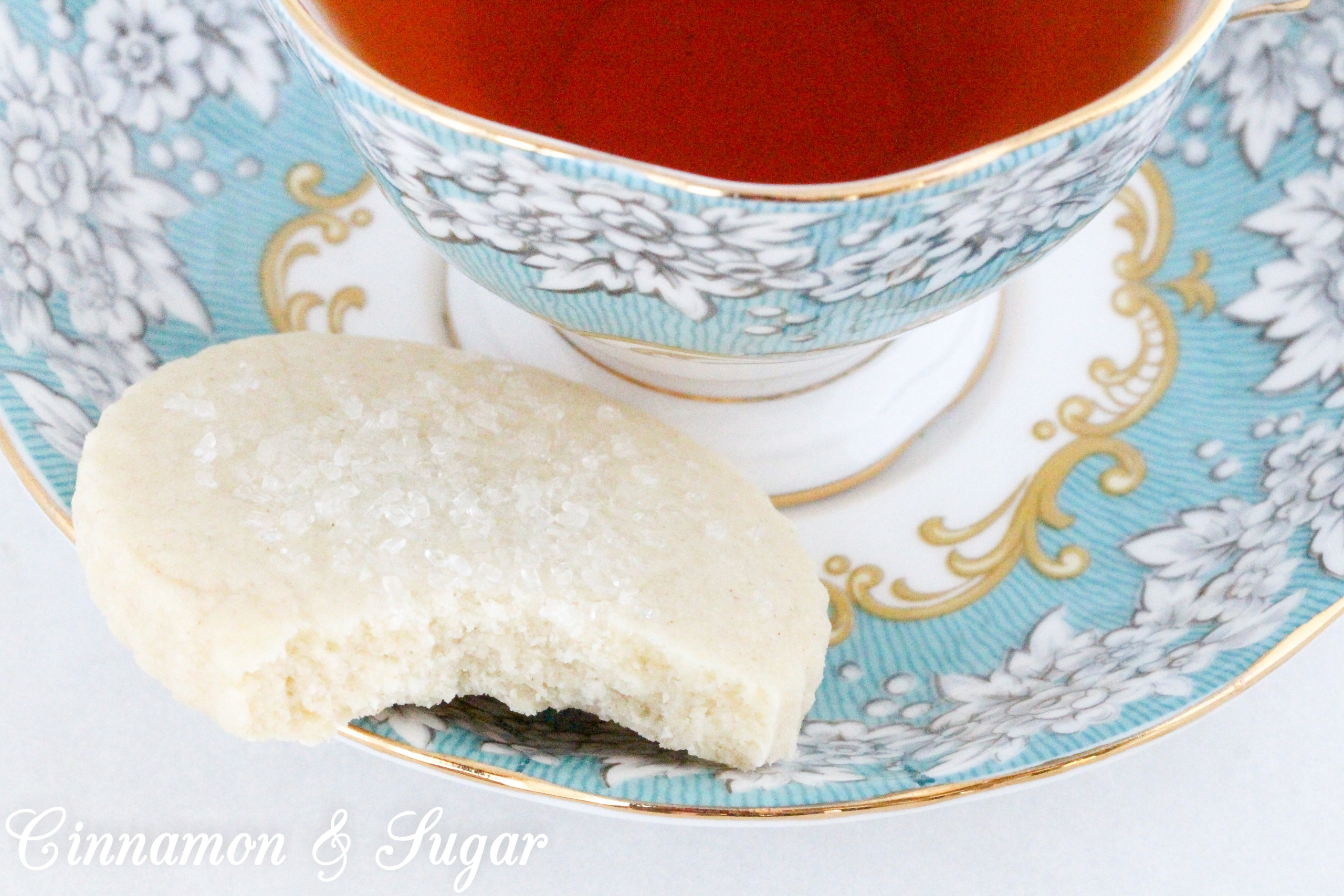 Vicki's Shortbread Cookies
This recipe makes a lot of cookies! You can make half a batch if you don't want so many.
Ingredients
1-1/2

pounds

unsalted butter, room temp

2-1/4

cups

icing sugar (powdered sugar)

1-1/2

cups

cornstarch

1/4

teaspoon

salt

4-1/2

cups

all-purpose flour
Instructions
Preheat oven to 275 degrees (F). Prepare cookie sheets (I use silicone liners or line with parchment paper).

Cream butter and sugar in electric mixer.

Combine cornstarch, salt, flour in medium bowl.

Knead flour mixture into butter mixture

Roll out dough 1/4 inch thick and cut with cookies cutters or by hand.

Place on cookie sheets and bake for 35 to 45 minutes until cookies are pale gold on the bottom.
Cinnamon & Sugar's Note
For a special presentation, sprinkle the tops of unbaked cookies with coarse white sparkling sugar before baking.

This makes a huge batch of cookies! They store well and ship well, so are ideal for sharing with friends and loved ones. You can also halve the recipe if desired.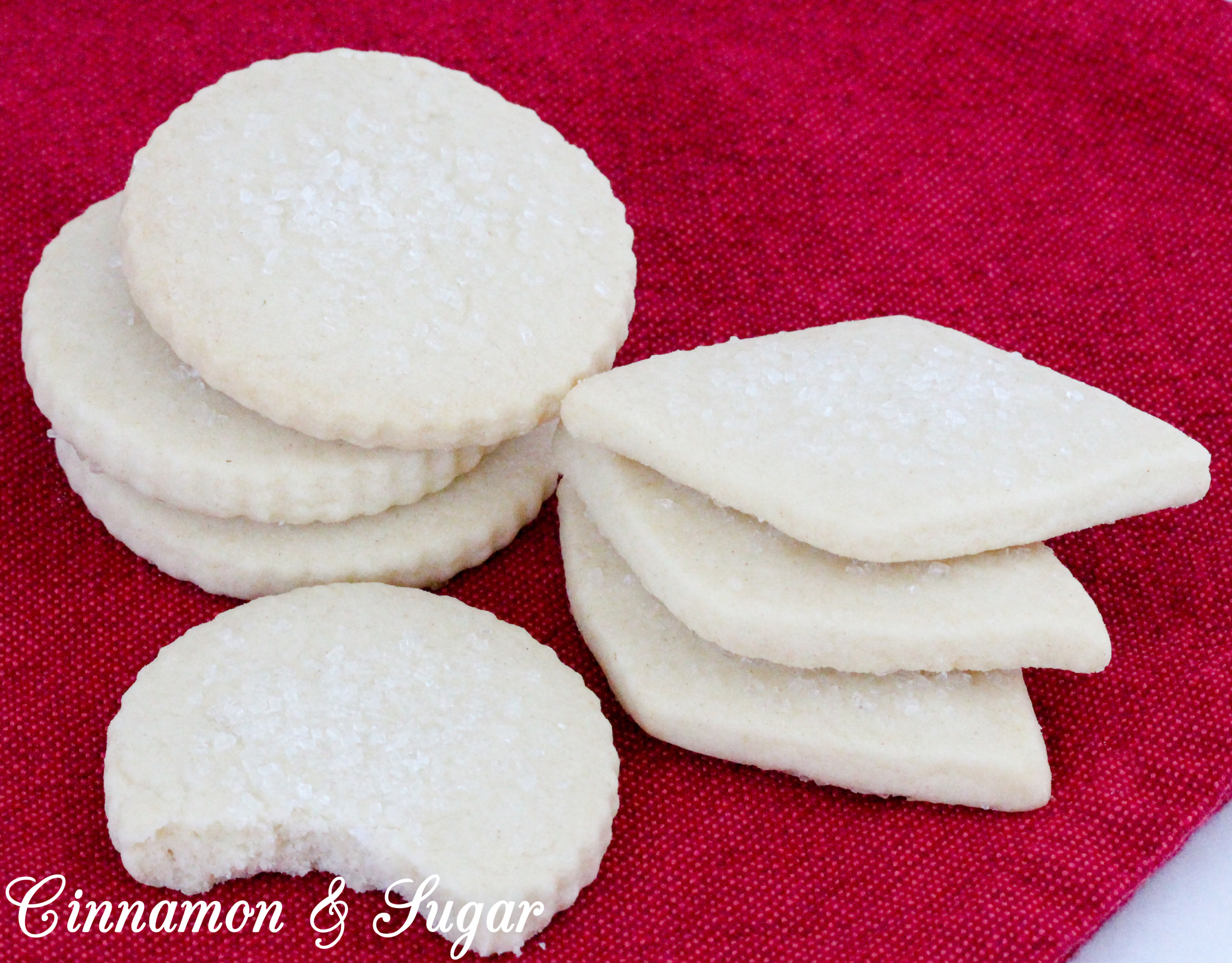 Pin to Pinterest: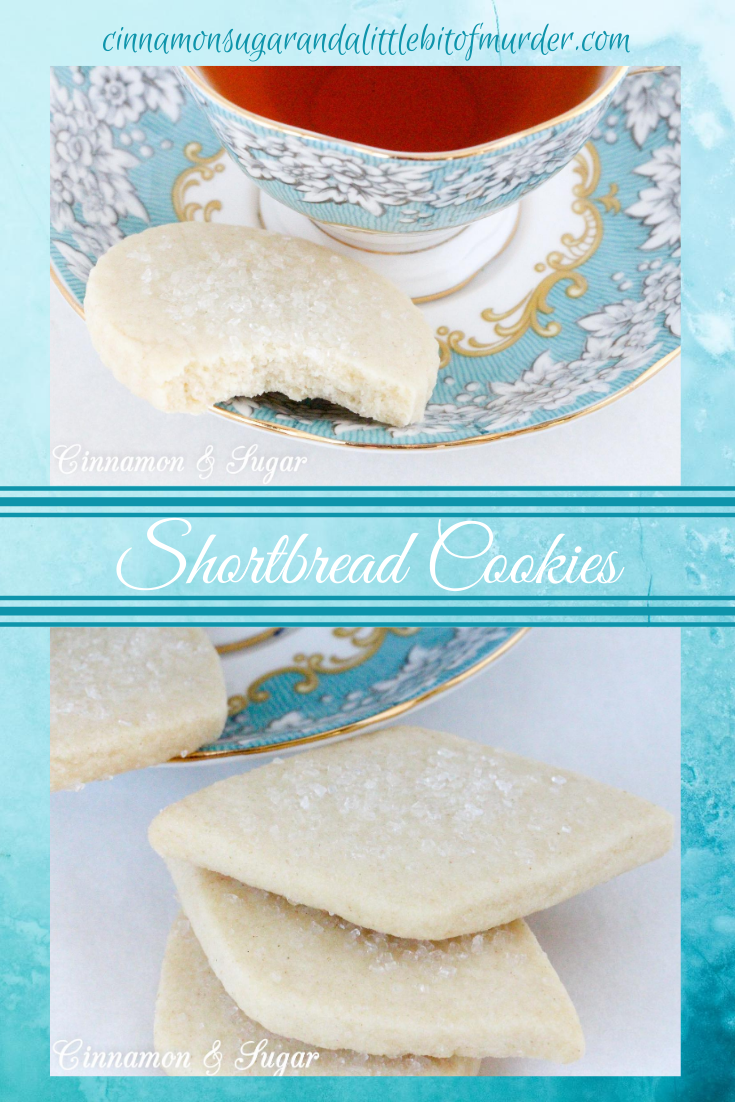 I was provided with an advance copy. All thoughts and opinions are my own.