IT CANNOLI BE MURDER, the second book in the Italian Chef Mysteries by Catherine Bruns, is another delicious addition to a delectable series. Ms. Bruns crafts an intriguing tale featuring Tessa Esposito, a fledgling Italian restaurant owner. Tessa has had a heartbreaking year after losing her husband and she's trying to recover while moving forward with their dream of opening a restaurant featuring her award winning Italian dishes. The author captures the angst of Tessa which brings an emotional element into the story. Ms. Bruns also has a strong descriptive voice that conveys the sights, sounds, aromas, and tastes of Tessa's cooking along with the setting to make the reader feel like they're right there, experiencing everything alongside her. With strong character development, Tessa and her cousin, Gabby, have great chemistry together. I greatly enjoyed watching the plot unfold as they work as a team to clear their names while their repartee brings some humor to the book.
Ms. Bruns writes a tightly plotted mystery involving Gabby's old high school mean-girl nemesis, an egotistical best-selling author, his arrogant wife, and a detective that has his sights set on Tessa and Gabby. There were suspects aplenty and the author uses a creative method for the murder. As the story unfolded I found myself drawn in and suffered from the "just one more page" syndrome until the late hours of the night. But it was well worth it as the twists and turns had me on the edge of my seat until the surprise reveal!
Tessa is a trained chef and makes all sorts of delicious foods and delectable desserts. As a reader, I was practically drooling over the yummy descriptions and I was happy that Ms. Bruns includes recipes at the back of the book. I had the honor of creating the recipe for Cinnamon Chip Biscotti for this book. The biscotti has been a long-time Christmas favorite of my family and friends. The generous amounts of ground cinnamon along with the sweet-spicy bit of the cinnamon chips are complemented by the crunchy cookie base. While these might take some extra time to double bake the biscotti, the batch makes a plentiful amount to share with grateful friends. These store well in an airtight container for three weeks, so you can enjoy them dipped in tea, coffee, or hot cocoa for a sweet treat.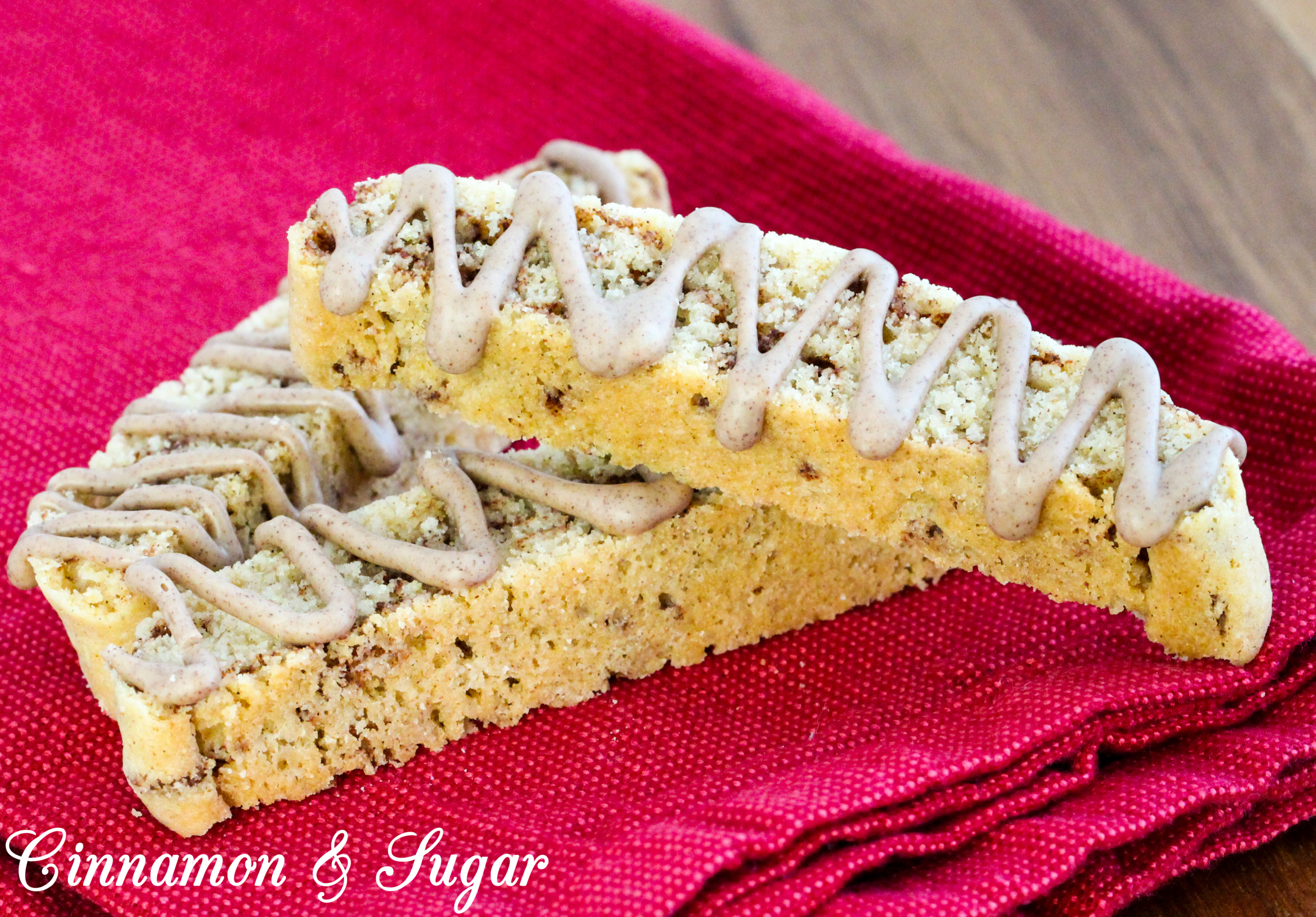 Amazon Synopsis
Six months after her husband's death, Tessa Esposito is hoping to drum up reservations for her restaurant's grand opening. And since a signing with bestselling author, Preston Rigotta, is sure to draw a crowd, Tessa agrees to cater her cousin's bookstore event—whipping up some of her famous Italian desserts. But the event soon takes a sour turn when Preston's publicist, an old high school rival, arrives and begins to whisk up their old grudges.
That night, a fight breaks out in front of the crowd, and it becomes clear there's bad blood in Harvest Park. And when the publicist is found dead on the bookstore floor the next morning, a stray cannolo at her side, Tessa knows who will be framed as the prime suspect.
To clear both her cousin's and her own name, Tessa must investigate the murder. But Preston's publicist has many secrets to hide, and in the end, the truth is bittersweet…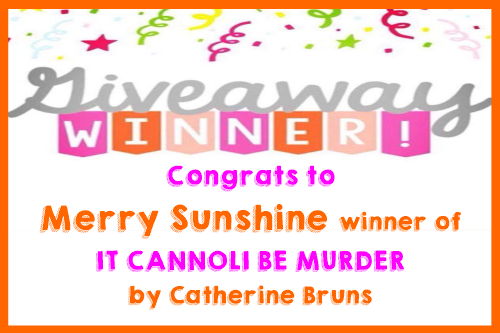 A special thanks to Catherine Bruns for providing one lucky winner with a print copy of IT CANNOLI BE MURDER! Giveaway is limited to U.S. residents. Contest ends Sunday, August 9, 2020 at 11:59 pm PST. Please use the Rafflecopter box located below to enter. The winner will be announced on this page and on Cinnamon & Sugar's Facebook page, as well as notified by email (so check your spam folder!)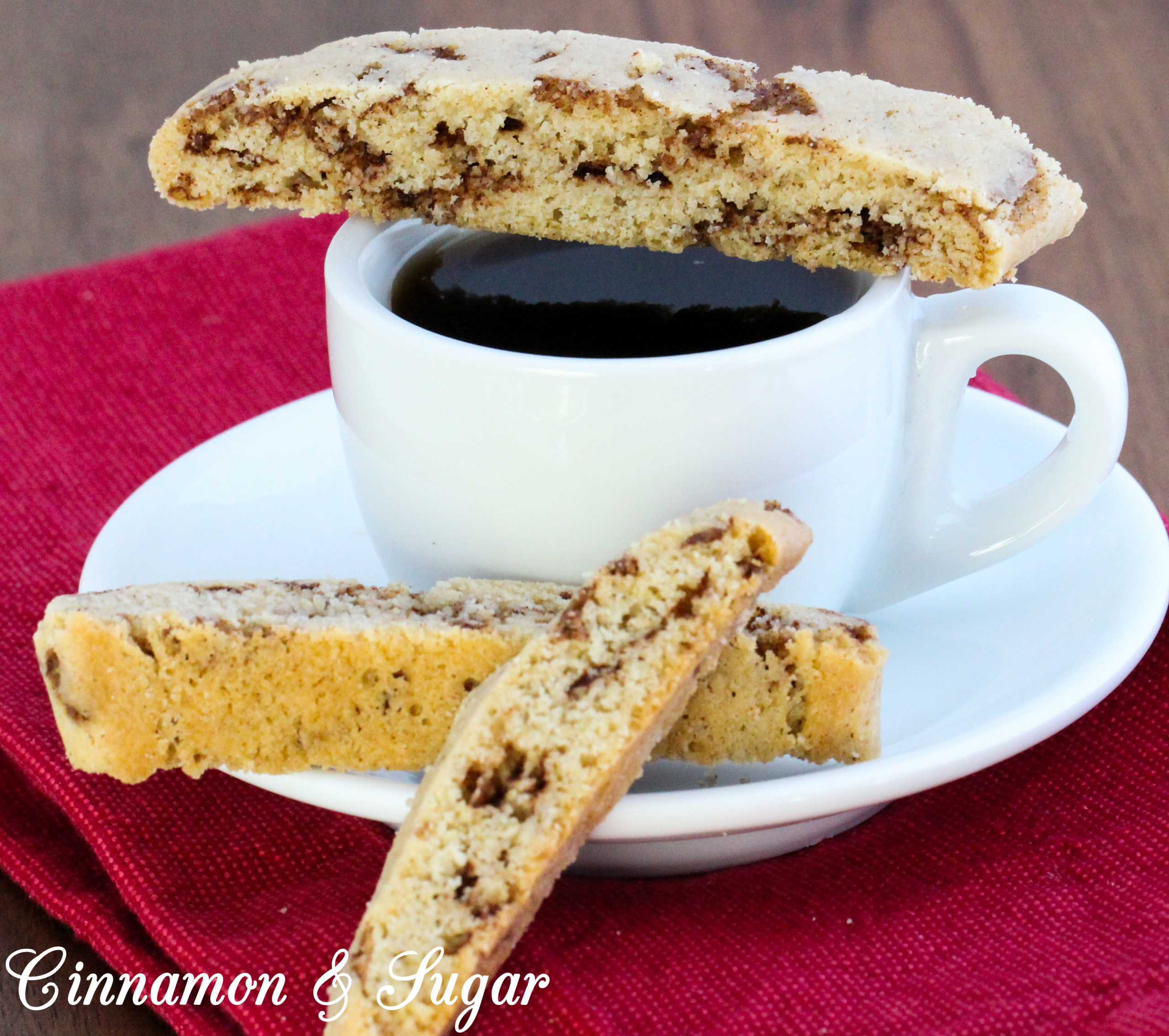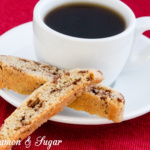 Cinnamon Chip Biscotti
Ingredients
Biscotti:
1/2

cup

(4 ounces) butter, room temperature

1

cup

(7 ounces) granulated sugar

2

eggs, room temperature

1

teaspoon

vanilla

2-1/2

cups

(11 ounces) all-purpose flour (use the lightly spoon & level method)

1-1/2

teaspoons

ground cinnamon

1-1/2

teaspoons

baking powder

1/2

teaspoon

salt

1

cup

cinnamon chips
Optional Drizzle:
1/2

cup

cinnamon chips*

1

teaspoon

vegetable shortening
Instructions
Biscotti:
In the bowl of a standing mixer beat butter and sugar together until fluffy. Add eggs, one at a time, and beat until thoroughly blended. Add vanilla and blend.

In a separate bowl, whisk flour, salt, cinnamon and baking powder together. Slowly add to butter mixture and mix on low speed until thoroughly incorporated.

Stir in the cinnamon chips.

Leaving the dough in the mixing bowl, cover with plastic wrap and place in the refrigerator for 30 minutes.

Preheat oven to 325 degrees (F).

Divide dough into four equal pieces and shape into logs about 8 – 10 inches long. Long & skinny logs are better than short & wide logs since the dough spreads while baking. If needed, spritz your hands with non-stick cooking spray while handling the dough.

Place on parchment lined baking sheets, 2 logs per sheet approx. 8 inches apart. Slightly flatten the logs then bake 25 – 30 minutes until a toothpick inserted in center comes out clean. Be aware if you prick a cinnamon chip it won't give you an accurate read. Try to get the dough only.

Remove from oven and let cool on baking sheet at least 30 minutes. Transfer to a cutting board and cut logs crosswise into 1/2 inch wide slices. A serrated bread knife works best.

Place slices, cut side down, on a parchment lined baking sheet. Return to oven and bake 6 minutes at 325 degrees (F). Turn each slice over and bake an addition 7 to 9 minutes, until slightly golden brown. Remove from oven and let cool 5 minutes on baking sheet then remove and let completely cool on wire rack. Biscotti will harden as they cool.
Optional Drizzle:
Be sure to use cinnamon chips for this. Cinnamon Sweet Bits* won't work.

In a small, microwave-safe bowl, melt cinnamon chips with 1 teaspoon vegetable shortening for 30 seconds. Stir until smooth. If necessary, heat in additional 10 second increments, stirring well each time. (Be careful not to overheat.) Pour the cinnamon chip mixture into a piping bag fitted with a small circle tip (or use a small zipper seal bag with the corner cut off). Drizzle over the biscotti. Allow the drizzle to set before storing in an airtight container.

Without drizzle, biscotti will last for 2 weeks if stored in an airtight container away from heat. If drizzle is added, consume within 3 days.
Note:
*Hershey's makes cinnamon chips but I typically only find them during the holidays at my local grocery store. King Arthur Flour carries Cinnamon Sweet Bits and can be mail ordered year-round.

These sturdy cookies are excellent for shipping to family and friends!
Pin to Pinterest: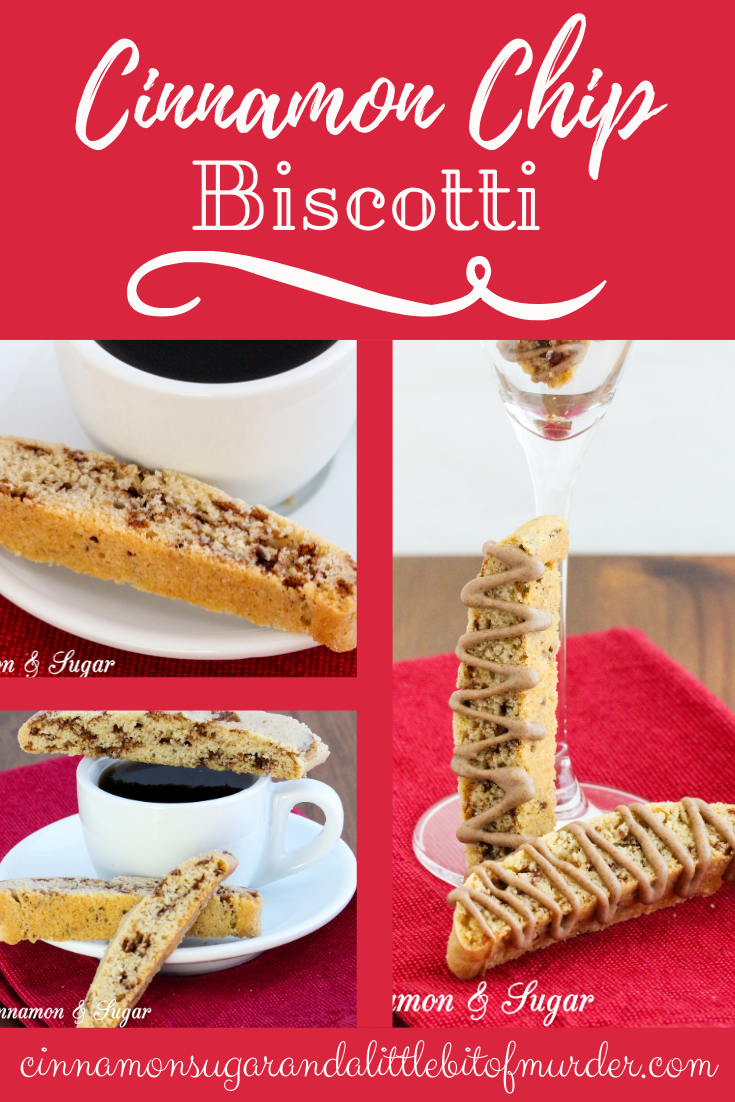 I was provided an advance copy. All thoughts and opinions are my own.