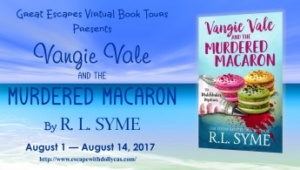 I'm very happy to be a part of the Great Escapes Virtual Book Tour introducing VANGIE VALE AND THE MURDERED MACARON. To be honest, the author, R.L. Syme, had me at the mention of macaron and her cover made me eager to dive into the book and try her cookie recipe! Aside from finding a delectable macaron cookie recipe that I couldn't stop eating (more about that later) I found a story that left me salivating for more! Ms. Syme creates a refreshing, unique protagonist in Vangie Vale and sets up situations that allows both the character and the plot to shine. I love that not only is Vangie a part-time baker, she is a matchbaker AND the part-time pastor of the town's community church. The matchbaking business was dreamt up by her sister as a marketing tool, but Vangie has a knack for matching up a patron to a drink, pastry, or a sandwich. She claims she's not psychic but some might disagree. Being the pastor gives Vangie the inside track on the residents and because of her compassionate nature, people open up to her which helps in her investigation when brutal murders rocks her town.
As the reader delves into the book, the layers of complexity in both Vangie's personal life and the plot are slowly revealed with intricate twists and turns that kept me turning pages. In addition to a suspenseful plot, I found the dialog and interaction between Vangie and the characters highly entertaining. Ms. Syme comes up with some delightful sentences that are spot on, such as "So much L.A. in one little package," to describe an actress. And her perfectly delectable descriptions of the shop's macarons are drool worthy and made me want to visit the town of St. Agnes, Montana for a taste testing!
The recipe at the back of the book, The Murdered Macaron Recipe is a Matcha green tea macaron with ginger buttercream filling. Yes, it is a unique flavor combination but I loved the earthy, delicate green tea flavor that melded with the spiciness of both fresh and crystallized ginger. The flavors were even more enhanced the day after making them and I had a hard time sharing the batch with a variety of people… I wanted them all for myself! Naturally gluten-free, these delectable cookies rely on egg-whites whipped into a meringue and sweetened with both confectioners' sugar and granulated sugar. Instead of wheat flour, fine ground almond flour is used. The ginger buttercream filling was amazing and I'm already dreaming of other ways to use it!
Amazon Synopsis
Small towns and gossip go together like flaky crust and sweet pastry cream. Between the police scanners, the coffee ladies, and the senior center, no secret is safe for long. But Vangie Vale wants nothing more than to stay under the radar…especially the police radar. So when her new bakery is linked to a murder investigation, nothing will stop the gossip mill from connecting her to the dead body. Can't have that. In order to clear her good name and keep her face off the front page, this bakery owner becomes extra nosy…with a little side of breaking-and-entering… But when she comes face-to-face with the Sheriff, Vangie can't ignore the fact that one of her macarons was involved in a murder. She has to find the real murderer.

A special thank you to R. L. Syme for providing some yummy macaron treats for the giveaway! This giveaway is administered by Great Escapes Virtual Book Tours and you can use the Rafflecopter box located below the recipe to enter. Contest ends August 14, 2017 and is limited to U.S. residents only. Winner will be announced on this page and on Great Escapes Virtual Book Tours site, as well as notified by email (so check your spam folder!)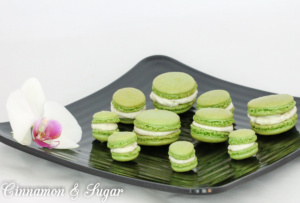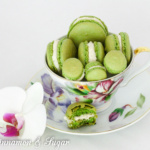 Matcha Green Tea Macarons with Ginger Buttercream Filling
Ingredients
For the cookies:
142

grams

confectioner's sugar

115

grams

fine almond flour

1

tablespoon

matcha green tea powder

89

grams

room temperature egg whites

71

grams

granulated sugar

pinch

cream of tartar
For the filling:
3

ounces

softened butter

1-1/2

cups

confectioner's sugar

2

ounces

sour cream

1-1/2

teaspoons

grated ginger

1/2

teaspoon

ground cardamom

1/2

teaspoon

ground cinnamon

1/2

cup

finely chopped crystallized ginger
Instructions
For the cookies:
Make sure you weigh all the ingredients (even the egg whites), instead of using cups and teaspoons as measurement. Those are less precise than weight measurements, and precision is super important with these cookies.

In a food processor, combine the almond flour, confectioner's sugar, and matcha powder. Grind together until it's a fine, incorporated powder.

Sift into a large bowl (if there's a lot of material left, then grind again, and keep sifting).

In a silver mixing bowl, begin whipping the egg whites and cream of tartar, starting on low speed and gradually increasing.

Slowly pour in the granulated sugar, allowing them to incorporate together.

If you'd like your macarons to be more green than they will be with matcha only, put a couple drops of green gel food coloring in the mix (not liquid coloring -- gel only). I like the light green color, so it's up to you.

Once the egg whites form stiff peaks, put the dry ingredients in and fold them, until they are just incorporated, and there are no streaks left. But don't over-fold. It's a delicate balance.

Transfer to a piping bag and pipe out little 1/2-inch circles (with about an inch between them) either on parchment paper or a silicone baking mat.*

Once they're all piped out, smack the cookie sheet onto your counter a few times to get rid of any air bubbles in the cookies, then leave the cookies out on the counter for about 20 minutes, until the cookies have a bit of a crust.**

Preheat the oven to 350 degrees (F). ***

Once cookies have formed their crust, cook for 10 - 12 minutes, watching not to over-bake. (Be careful of altitude--if you're at higher altitude, the air is thinner, so that affects your baking time.) Take out the cookies and let them cool. Do not fill before they're completely cool.
For the filling:
Whip the butter in a standing mixer until it's creamy.

Add the confectioner's sugar slowly, until it's thick, then add the sour cream.

Add the grated ginger, cardamom, and cinnamon. Mix until incorporated.

Stir in the crystallized ginger.

Pipe the filling into the center of the cookies and sandwich them together, check for size fit with each cookie.
Tips
*I like a variety of sizes so made large (up to 1-1/2"), medium, and small-sized cookies. For the larger cookies I added 1 - 2 minutes extra baking time.


**If you live in a humid environment, it may take longer for the cookie to develop a crust. I've had it take close to an hour with other recipes on hot summer days, but be patient. The "crust" is what keeps the cookie top from cracking during baking. If the crust has developed properly, the cookie should not feel sticky when touched.

***You don't want these cookies to brown, so I would recommend baking at 325 degrees (F).

After the cookies have baked, remove the parchment paper (with the cookies still attached) to a wire rack to cool completely before filling.

Store leftovers in an airtight container in the refrigerator. I thought the cookies were still very good the following day, after the flavors had melded together.
My Note:
I took the liberty of adapting the author's ginger buttercream recipe by only making half the original but adding additional confectioners' sugar to make it thicker. The filling recipe above is the one that I made and proved to be sufficient to generously fill the macarons.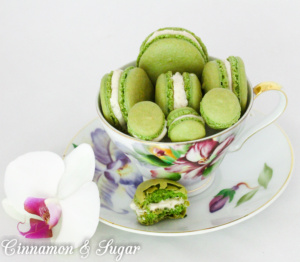 Pin to Pinterest: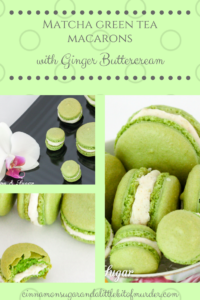 If you receive my blog post via email you will need to visit my website to view the video.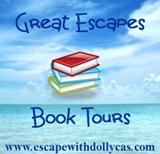 Tour Participants:
August 1 – Blogger Nicole Reviews – SPOTLIGHT
August 1 – Island Confidential – INTERVIEW
August 2 – Babs Book Bistro – REVIEW
August 2 – A Holland Reads – SPOTLIGHT
August 3 – Bibliophile Reviews – REVIEW, GUEST POST
August 3 – Varietats2010 – REVIEW
August 4 – My Reading Journeys – REVIEW, INTERVIEW
August 5 – Bookworm Cafe – REVIEW
August 5 – My Funny View of Life – REVIEW
August 6 – Texas Book-aholic – REVIEW
August 6 – Valerie's Musings – REVIEW, INTERVIEW
August 7 – Sleuth Cafe – CHARACTER GUEST POST
August 7 – StoreyBook Reviews – REVIEW
August 8 – Celticlady's Reviews – SPOTLIGHT
August 8 – Teresa Trent Author Site – INTERVIEW
August 8 – Escape With Dollycas Into A Good Book – REVIEW
August 9 – The Power of Words – SPOTLIGHT
August 9 – A Blue Million Books – INTERVIEW
August 10 – Socrates' Book Reviews – REVIEW
August 10 – 3 Partners in Shopping, Nana, Mommy, &, Sissy, Too! – SPOTLIGHT
August 11 – Cozy Up With Kathy – REVIEW, INTERVIEW
August 11 – Book Babble – REVIEW
August 12 – Brooke Blogs – GUEST POST
August 12 – A Chick Who Reads – REVIEW
August 13 – Cinnamon, Sugar, and a Little Bit of Murder – REVIEW
August 13 – Girl with Book Lungs – CHARACTER GUEST POST
August 14 – Melina's Book Blog – REVIEW
August 14 – Jane Reads – REVIEW, GUEST POST
I was provided a copy of this book with the hopes I would review. All thoughts and opinions are my own.