When I was offered the chance to read an advance copy of DEADFALL, the 19th book in the Alexandra Cooper series by Linda Fairstein, I jumped at the chance. A longtime fan, I've looked forward to each and every release and this newest book didn't disappoint. Ms. Fairstein takes the reader to a variety of New York area landmarks in each book and DEADFALL focuses on the zoos, specifically the Bronx Zoological Park. I truly enjoy each location and the bits and pieces of history and facts that are woven into the plot. With the zoo and its conservation efforts towards saving endangered species as the backdrop, the protagonist, Alexander (Alex) Cooper sets out to clear her name in the assassination of her boss, District Attorney Paul Battaglia, and bring the perpetrator to justice. I appreciated the attention brought to a variety of endangered species and reminds us of our responsibilities towards preserving these magnificent creatures, both great and small.
The reader is treated to a variety of settings in this new story, including a Montana wild game hunting ranch, as Alex pieces together conspiracies that touch on the mystery surrounding the death of Supreme Court Justice Scalia. There is a tangled web of intrigue that involve a secretive fraternity of wealthy, influential men who belong to private hunting reserves. Ms. Fairstein skillfully weaves the threads of the story together, building the pieces of evidence together to entice the reader and draw them in until you can't put the book down. The thrilling conclusion left me breathless and turning pages late into the night to read the final page.
Being a suspense thriller book, DEADFALL does not contain recipes. However, the protagonist and her friends have to eat. I was happy to see that Alex is recovering from her kidnapping ordeal and her appetite is coming back in this new book, so she frequents a few restaurants for a bite to eat now and then during the story. At one of the restaurants she enjoys some Zucchini Strips so I decided to create a recipe… especially since zucchini is almost too plentiful this time of the year for those who are lucky enough to have summer gardens! I tried several different methods for cooking the Zucchini Strips: baking and frying; salting the zucchini before cooking and skipping that step; regular flour and panko bread crumbs and gluten-free versions. It's a good thing I love zucchini! My takeaway? Pre-salting added a better flavor while frying produced the best overall crispness. Baking the zucchini strips turned out better than I expected and if I make these often I would go that route for health reasons. And I was very happy with the gluten-free version. Bottom line? I think I found a new favorite way to use up some of summer's bountiful zucchini crop!
Amazon Synopsis
A wild heart beats within New York City. Amid concrete and skyscrapers, the Wildlife Conservation Society works to preserve and protect the animal kingdom both within and beyond the borders of the five boroughs. But dangerous creatures don't always have claws and fangs, as Assistant DA Alexandra Cooper and NYPD detectives Mike Chapman and Mercer Wallace know all too well. Predators lurk close to home, and in the aftermath of the shocking assassination of an iconic public figure—someone Alex has worked with for years—the trio must unravel the motive behind the shooting to discover who is the bigger snake: the killer or the victim.

The murder investigation provides more questions than answers, as a tangled mess of secrets slowly comes to light. From street gangs to secret societies, from big-game hunting to the illegal animal trade, from New York City zoos to the highest offices in city government, Alex has her work cut out for her—especially since the task force handling the investigation, led by the US Attorney, seems to be more against her than with her. As tensions rise between Alex and the feds, she must determine just how far she is willing to go to uncover the truth—and uphold the integrity of the office she has so proudly served.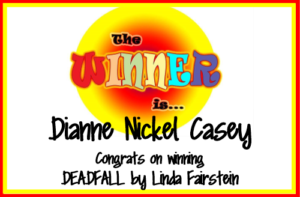 Thanks to Dutton Publishing, I am able to offer a hardcover copy of DEADFALL for one lucky winner! Contest ends Monday, August 14, 2017 at 11:59 pm PST and is limited to U.S. residents only. Please use the Rafflecopter box located below the recipe to enter. The winner will be announced on this page and on Cinnamon & Sugar's Facebook page, as well as notified by email (so check your spam folder!)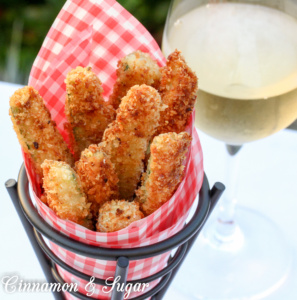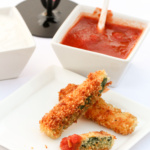 Crispy Zucchini Strips
Ingredients
1-1/2

lbs

zucchini (about 4)

1

teaspoon

kosher salt

1/2

cup

flour

1/2

teaspoon

garlic powder

1/2

teaspoon

dried Italian seasoning

1/4

teaspoon

freshly ground white pepper

2

large eggs

2

tablespoons

milk

1-1/2

cups

panko crumbs

1/2

cup

freshly grated Parmesan or Romano cheese
Instructions
Trim the ends from the zucchini, cut them in half crosswise, then cut each piece into lengthwise wedges about 1/2-inch thick.

Toss the zucchini strips with kosher salt then lay them in a single layer on a paper towel-lined baking sheet. Cover with a layer of additional paper towels. Let rest for 30 minutes then blot excess moisture from the zucchini.

Mix the flour, garlic powder, Italian seasoning and pepper in a large plastic bag. Place a handful of zucchini strips in bag and shake to cover them with the flour mixture. Place flour-coated zucchini on a plate and repeat with the remaining strips.

Whisk the eggs and milk together in a shallow dish. Set aside.

Combine the panko crumbs and grated cheese in a shallow dish.

Using one hand, dip a zucchini strip in the egg mixture, coating on all sides.

Next, place the dipped zucchini strip into the panko-cheese mixture. Using your opposite (clean hand) toss the crumb mixture over the zucchini strip and gently press to adhere.

Transfer the panko crumb-coated zucchini to a baking sheet. Repeat with remaining strips.

Once all the strips are coated, pour vegetable oil into a skillet, 1/4-inch deep. Heat the oil over medium heat until it reaches 350 degrees (F). A panko crumb dropped into the hot oil should immediately sizzle and start to brown.

Very carefully place several zucchini strips into the hot oil and fry until the coating turns golden brown. Flip fries over as needed to brown all sides. Once fries are golden brown, remove to a wire rack while you cook the remaining fries.

Serve immediately with marinara sauce and/or ranch dressing.
To bake the Zucchini Fries:
Preheat the oven to 400°F.

Heavily spray 2 baking sheets with non-stick cooking spray. Set aside.

Coat the zucchini strips as indicated in the above directions and place on the sprayed baking sheets.

Spritz the tops of the zucchini with non-stick cooking spray.

Bake until the zucchini is tender, about 12 to 14 minutes, rotating the pans half way through the baking time. Be careful to not overcook; you don't want them mushy.

If the coating hasn't browned enough, remove pans from oven and turn the broiler on.

Broil one pan at a time, flipping zucchini fries as necessary until coating is golden brown. Keep a very close watch as they broil since the coating can burn quickly.

Transfer hot zucchini fries to a plate and enjoy!
Tips
If you want to make these gluten-free, substitute cornstarch for the all-purpose flour and use gluten-free panko-style bread crumbs or crushed Rice Chex cereal.

If you don't want to go through the extra steps of salting the zucchini then skip that step and add 3/4 teaspoon sea salt to the flour mixture. I found that salting the zucchini allowed excess moisture to release which resulted in more flavorful fries that are tender without overcooking.

You can reheat the zucchini strips by either re-frying in a skillet with a bit of added oil or placing on baking sheet and reheating in a 450 degree oven for a few minutes. I successfully reheated using my toaster oven and toasting for 6 - 7 minutes, flipping the strips over once.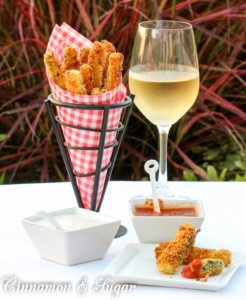 Pin to Pinterest:
If you receive my blog post via email you will need to visit my website to view the video.
I was provided a copy of this book with the hopes I would review. All thoughts and opinions are my own.