Somehow I missed out on the first book in Peg Cochran's Farmer's Daughter mystery series, but am thankful that her second book, SOWED TO DEATH, found its way onto my Kindle! This delightful cozy features protagonist, Shelby McDonald, a blog writing farmer who is also a widow, trying to raise her two children. I enjoyed that Shelby is a bit older with a unique family situation different than the typical heroine. She has a lot of stressful responsibilities that the author weaves in to the murder mystery surrounding a neighboring farmer. Shelby's blog, The Farmer's Daughter, effectively gives the reader an entertaining peek into what it takes to run a farm along with growing and preserving their own food. Shelby also struggles to raise her children, one of whom is a young teenage girl. Peg's description of the drama involving the mother and her daughter struck home, and left me chuckling at times, as my family is entering that stage with my own granddaughter.
The character development in SOWED TO DEATH draws the reader in and made me want to spend time with Shelby, her family, and friends. But it is the carefully crafted mysteries that kept me turning pages wanting to see what happens next and how the various threads of plot were going to weave together. There are several believable suspects and I found it a unique twist with Shelby's brother-in-law being both the investigating detective and a potential suitor. Now having missed the first book (and I'll be remedying that) I found book two easy to jump in to and didn't feel like I was missing out on too much information. The story flows with a good pace and kept me entertained!
Peg Cochran includes a few delicious recipes at the back of the book along with mentions of several things that Shelby prepares that I'd love recipes for as well. Peg has graciously allowed me to share her recipe for Apple Crisp. Sometimes simplicity is best and in this case it holds true. The fresh flavors of apples are allowed to shine with a simple light crust topping of flour, sugar, cinnamon and butter. With a dollop of vanilla ice cream along side the warm crisp, dessert doesn't get any better!
Amazon Synopsis
The county fair is the highlight of the year for the small town of Lovett, Michigan—especially for food-and-lifestyle blogger Shelby McDonald, who writes as the Farmer's Daughter. She's submitting jams and jellies she's created from the produce she grows at Love Blossom Farm in hopes of harvesting a blue ribbon.
But the townspeople get more than just the excitement of hayrides, tractor pulls, and cotton candy when Shelby's neighbor and volunteer fireman, Jake Taylor, extricates the body of Zeke Barnstable instead of a dummy during a demonstration of the Jaws of Life. The fact that Jake and Zeke were known to be at odds plants suspicion in the minds of the police. As evidence against Jake grows, Shelby knows she has to plow through the clues to weed out the true killer and save her friend.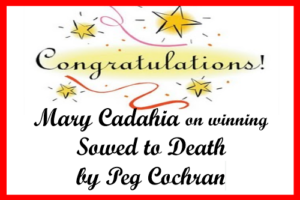 A special thanks to Peg Cochran for offering a signed copy of SOWED TO DEATH for one lucky winner! Contest ends Monday, August 21, 2017 at 11:59 pm PST and is limited to U.S. residents only. Please use the Rafflecopter box located below the recipe to enter. The winner will be announced on this page and on Cinnamon & Sugar's Facebook page, as well as notified by email (so check your spam folder!)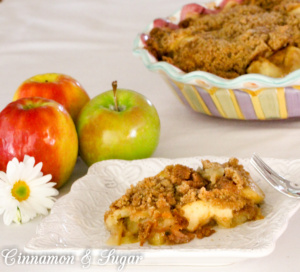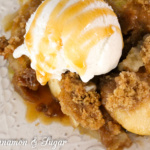 Farmer's Daughter Apple Crisp
Ingredients
6 - 8

apples, peeled and quartered

1/2

cup

white sugar

1/2

cup

brown sugar

3/4

cup

flour

1

teaspoon

cinnamon

1/2

cup

unsalted butter, cold
Instructions
Preheat oven to 350 degrees (F).

Arrange apples in a greased casserole dish or 10-inch pie plate.

Mix sugars, flour, and cinnamon and cut in butter.

Pack sugar and flour mixture over apples

Bake for 45 minutes or until golden on top.

Serve warm with vanilla ice cream.
Tips
We thought the apples should be cut a little smaller than quarters, especially if you have large apples like ours were.

Best eaten warm, the same day it is baked. It's still good the following day but the crisp topping does get a bit soggy the longer it sits.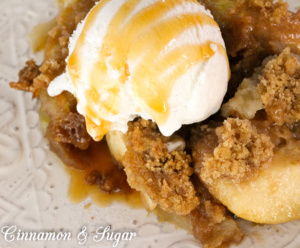 Pin to Pinterest: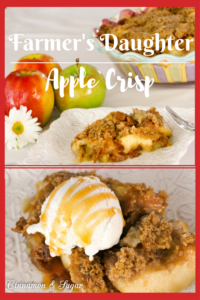 If you receive my blog post via email you will need to visit my website to view the video.
I was provided a copy of this book with the hopes I would review. All thoughts and opinions are my own.