I always enjoy getting the chance to start a brand new cozy series from the very beginning. Such was the case of THE FIESTA BURGER MURDER by Rosie A. Point. This novella cozy finds the protagonist, Christie Watson (love that her mother named her after Agatha Christie), moving back to Sleepy Creek, Ohio while placed on leave from her job. She didn't mean to get overly aggressive "interviewing" a senator's daughter in her capacity as a homicide detective in Boston but her enthusiasm made her get carried away. Christie hasn't been back "home" for quite a long time, avoiding it in order to avoid the mystery surrounding her mother's death. Ms. Point draws on that mystery to weave as a theme throughout the book and beyond. While Christie's mother's death may be unsolved, Christie gets involved almost immediately in the death of a man she got into a semi-altercation with the first day back in town. When her best friend, Griselda aka "Grizzy" becomes a suspect, despite the warning to not get involved in anything or lose her job, Christie knows she must find the real killer.
THE FIESTA BURGER MURDER has a fast-paced plot with likeable and quirky characters. I enjoyed the dialog especially between Christie and the two senior citizen twin sisters who frequent Grizzy's Burger Bar. Named after states, Mississippi (known as Missi) and Virginia can dish it out which provides entertainment. There could be sparks flying between Christie and the lead detective, Liam Balle. However, her friend Grizzy and second detective on the case, Detective Cotton brings smiles to the reader with their humorous, sweet interaction as they "crush" on each other but either don't know it or won't admit it. Being a short (novella) cozy, the ending felt a bit rushed, but the plot was wrapped up for a satisfying conclusion except for the mystery surrounding Christie's mother's death. I'm not faulting that… in fact given the time frame that has passed since the mother's death, I think the author is smart to spread out the clues for a long term discovery on Christie's part into investigating the mystery. Christie has both an emotional investment and a professional investment in her investigation. I look forward to seeing how the story unfolds.
Grizzy's Burger Bar has a talented chef and as such there are some nice breakfast and "bar" type recipes at the back of the book. When I go out to brunch, the first thing I head for is the made-to-order omelet bar. I chose to make Grizzy's Go-To Omelet recipe from the book. Perfect for breakfast, brunch or even a quick dinner. I also love the versatility of omelets: you can add whatever you have on hand or make individual omelets according to family members' tastes. But the author's combination of mushrooms, ham, and cheddar cheese are one of my favorites and I took the liberty of adding some avocado because, well, that's what we do here in California 🙂 I truly enjoyed her method of cooking the mushrooms. They turned out perfectly flavored and tender. I'll be pre-cooking mushrooms this way for a variety of dishes, such as pizza, burgers, pasta, etc. As I was working on this blog post, my granddaughter saw the photos of the omelet and decided she needed to learn how to make them right then and there… I foresee lots of omelets in our future when she spends the night!
Amazon Synopsis
Boston Homicide Detective, Christie Watson, wants nothing less than to bury her head in the sand in her hometown, Sleepy Creek, Ohio. Placed on sabbatical for a little 'over-enthusiasm,' Chris has to stay out of trouble or risk losing her job for good, and Sleepy Creek, with its clapboard homes and peaceful milieu, seems just the place to do that. But returning to Sleepy Creek means facing the one cold case she's never solved: her mother's murder. The past becomes the least of her worries, however, when a man is murdered in her best friend's back yard. Griselda, awesome human being all-round and owner of the local Burger Bar – serving scrumptious delights like the Mexican Fiesta Burger – is the prime suspect. To make matters worse, the handsome detective in charge of the case won't quit asking questions or drop the icy professionalism whenever Chris counters with her own. Det. Watson can't let this one slide – sabbatical or not, she won't let her friend wind up behind bars for a crime she didn't commit. Equipped with her cop skills, and that thirst for truth, she sets off to solve the murder before it's too late.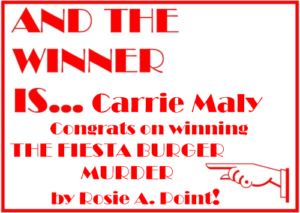 A special thanks to Rosie A. Point for offering an e-book copy of THE FIESTA BURGER MURDER for one lucky winner! Contest ends Saturday, August 26, 2017 at 11:59 pm PST. Please use the Rafflecopter box located below the recipe to enter. The winner will be announced on this page and on Cinnamon & Sugar's Facebook page, as well as notified by email (so check your spam folder!)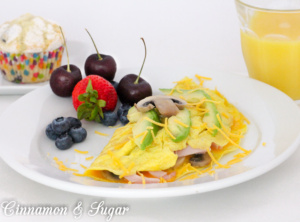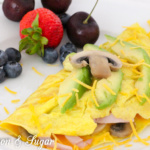 Grizzy's Go-To Omelet
Serves 1 but you can double up on the ingredients and make 2
Ingredients
2

large

eggs

Olive oil or coconut oil

2

ounces

button mushrooms

1

tablespoon

soy sauce

1

cup

water

2

slices

ham (from your local deli)

1

slice

cheddar cheese (or 1/4 cup grated cheddar cheese)

Salt and pepper to taste
Instructions
Crack the eggs into a mixing bowl and whisk until evenly mixed

Slice the button mushrooms up, place them in a small bowl, add the soy sauce, then add the cup of water.

Place the mushrooms in the microwave and cook for two minutes on high. Remove with care thereafter - the bowl will be hot!

Slice up the ham into thin strips.

Heat up a non-stick skillet on the stove. Add in oil once hot.

Pour the eggs into the skillet. Use your spatula and draw the egg away from the sides of the pan. Allow the egg mixture to rush in and fill those gaps - tilt the pan to encourage if necessary.

As the egg starts to cook, place your cheese, ham, and mushrooms on the left half of the omelet.

Allow to cook until you're able to flip the right half of the omelet onto the left.

Wait for the cheese to melt, then remove from the heat and serve with salt and pepper to taste.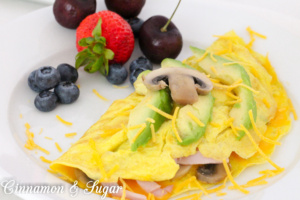 Pin to Pinterest: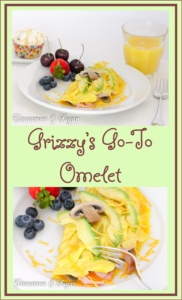 If you receive my blog post via email you will need to visit my website to view the video.
I was provided a copy of this book with the hopes I would review. All thoughts and opinions are my own.