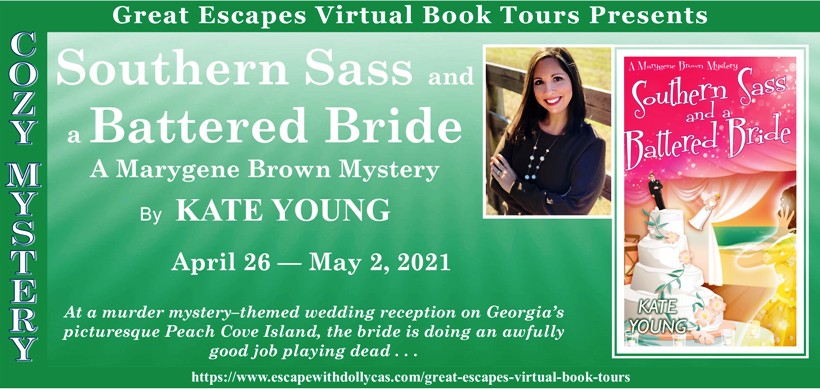 I'm delighted to be participating in the Great Escapes Virtual Book Tour presenting SOUTHERN SASS AND A BATTERED BRIDE! This third book in the Marygene Brown Mystery series by Kate Young, grabbed my attention from the very first and captivated me until the last page was read. The quirky, loveable characters pulled me in and the twisty-turvey plot made this book a "just one more chapter" read through the night story. Protagonist Marygene, is as southern as they come. Despite her longtime sweetheart marrying her detested nemesis, Marygene and her sister agree to cater the wedding after being asked and do so with more grace than what seemed possible. When the bridezilla is found murdered, just after the ceremony, Marygene and her best friend/cousin, Betsy, become prime suspects. To make the scenario even more intriguing is Marygene's ghostly mama, who shows up to lend support and an occasional clue in solving the crime. I've enjoyed watching the growth of the characters over the course of this series, and that includes Marygene's Mama's ghost. The creative and quirky twists on the characters adds to the overall entertainment.
The plot flowed at a quick pace which kept me turning pages. With action galore and snippets of humor to lighten the scenes, Ms. Young weaves in clues to keep the reader guessing. While I had my suspicions about the culprit, I wasn't quite sure and I waffled back and forth as I was sucked in by misdirection. The heart pounding reveal contained another unexpected twist and has me waiting impatiently for the next book in this Southern Sass cozy series!
Marygene and her sister own the Peach Diner and whip up multitudes of mouthwatering dishes and desserts. With Marygene's father experiencing some health issues, she's determined to bake up healthier treats so he doesn't feel deprived. I couldn't help but be intrigued by the author's recipes at the back of the book, which incorporate some of her healthier desserts. In particular, I had to try her recipe for Healthy Fudgy Brownies. Using sweet potatoes as the base, these brownies utilize honey for the sweetener instead of refined sugar. And instead of non-nutritional white flour, oat flour is used instead. And of course, everyone knows that chocolate is already healthy and there's a double dose in the brownies via cocoa powder and chocolate chips. I actually loved these enough to make them several times (wrapped individually and stored in the freezer, these make for a quick on-the-go healthy snack) but substituted peanut butter for the almond butter and walnuts for the pecans for a different variation on occasion. The small amount of honey used allowed the natural chocolate flavor to shine and I decided that mini chocolate chips provided greater coverage so you get a bit of sweet chocolate with every nibble. Whatever tweaks you choose, these fudgy brownies are healthy without making you feel deprived.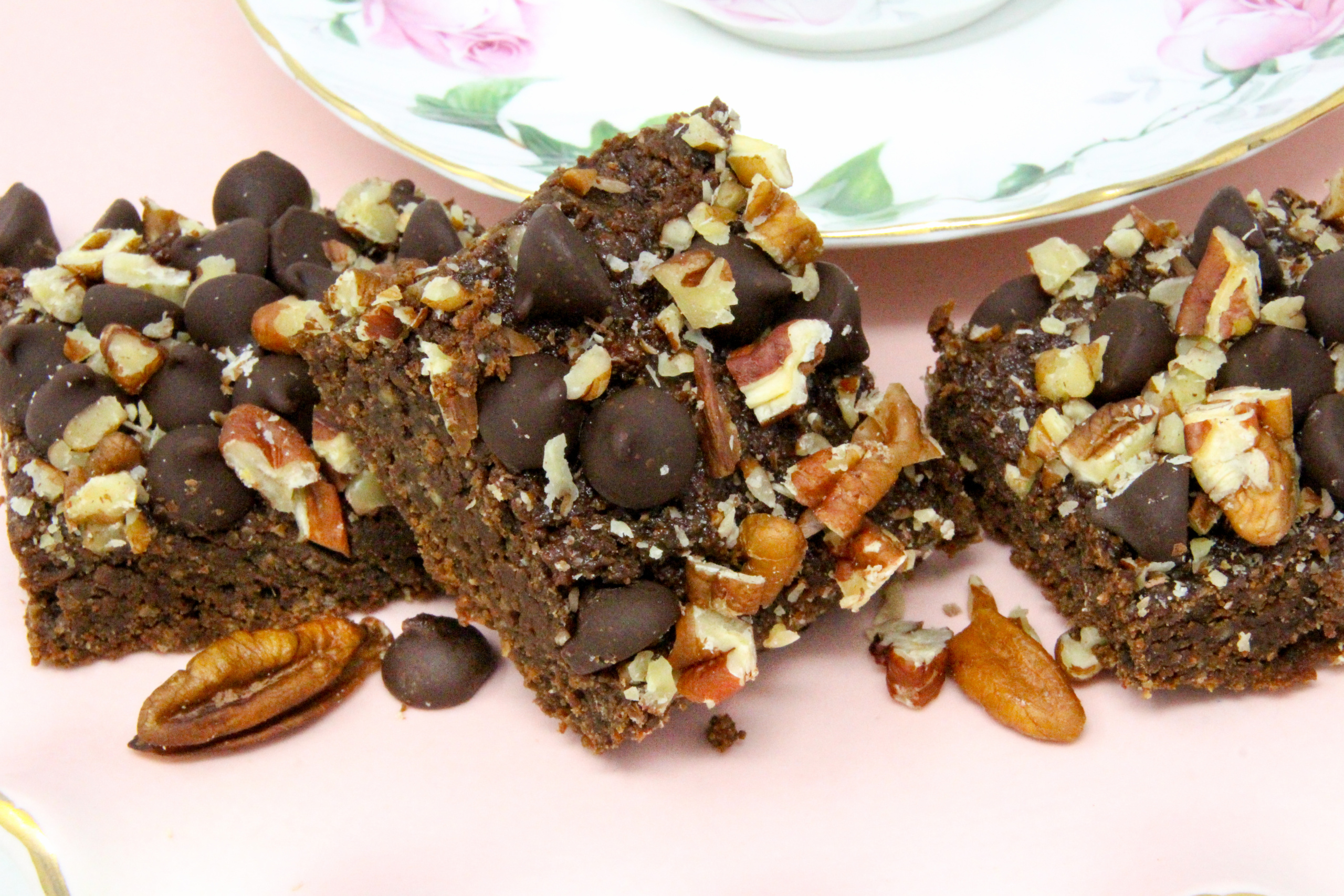 Amazon Synopsis
At a murder mystery–themed wedding reception on Georgia's picturesque Peach Cove Island, the bride is doing an awfully good job playing dead . . .
Marygene Brown always figured she'd marry her childhood sweetheart, Alex Myers, not cater his wedding. But the Peach Diner could use the exposure. Most of the island is showing up—although more for the role-playing murder game at the reception than for the widely loathed bridezilla, Lucy Carmichael. Marygene may have to smile through the festivities, but Mama doesn't have to hold her peace—especially since only Marygene can hear her mother's ghost. Mama says she sees an aura of darkness around the wedding.
So when Marygene finds Lucy lying beside the wedding cake, buried in batter, with no pulse, it looks like Mama called it. This is no game. And when the bride's body simply vanishes, it's up to Marygene and her best friend Betsy (cousin to the groom and no fan of the bride) to solve a real-life mystery—with a little help from Mama's sassy spirit . . .
A special thanks to Kate Young for providing a lucky winner with a $20 Amazon gift card! Contest ends May 2, 2021 at 11:59 pm PST, and is administered by Great Escapes Virtual Book Tours. Please use the Rafflecopter box located below to enter. The winner will be announced on this page and on Great Escapes website, as well as notified by email (so check your spam folder!)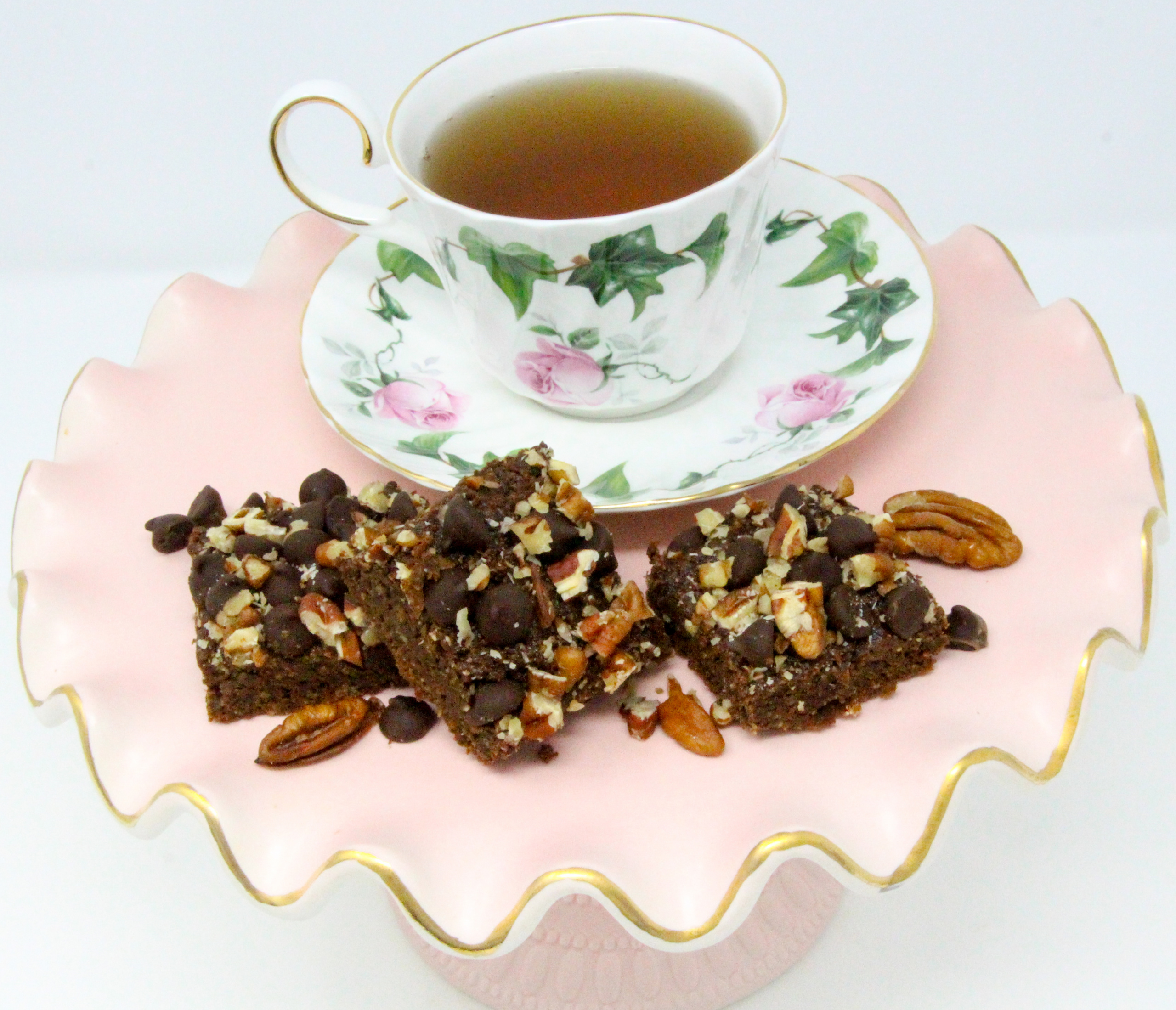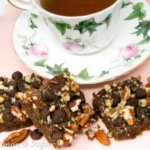 Healthy Fudgy Brownies
Ingredients
1

medium-sized sweet potato (baked, cooled, and peeled)

1/4

cup

raw honey (if you like sweeter chocolate, use 1/3 cup)

1/2

cup

almond butter

1

teaspoon

pure vanilla extract

1/4

cup

cocoa powder (the higher quality the better)

1/4

teaspoon

sea salt

1

teaspoon

baking powder

2/3

cup

oat flour

1/2

cup

chopped pecans

1/3

cup

chocolate chips (optional)
Instructions
Preheat the oven to 350 degrees (F).

Line an 8 x 8-inch baking pan with parchment paper. Set aside.

In a food processor, add sweet potato, honey, almond butter, and vanilla extract. Pulse until smooth and pour into mixing bowl.

Add cocoa powder, sea salt, and baking powder and stir to combine. then add oat flour and stir until a thick batter is achieved. Transfer batter to your parchment-lined baking dish and spread into an even layer using a spoon or rubber spatula. Then top with pecans and chocolate chips (optional).

Bake on the center rack for 28 to 32 minutes. The brownie edges should appear slightly dry and a toothpick inserted into the center should come out mostly clean with a few crumbs. Remove from the oven and let cool in the pan for 30 minutes to 1 hour.

Lift out of pan and slice. If you like a denser brownie, refrigerate for an hour or so before cutting. Store leftovers covered at room temperature up to 3 days, in the refrigerator up to 7 days, or in the freezer up to 1 month.
Cinnamon & Sugar's Notes
The sweet potato I used was 6.5 ounces after being cooked and peeled.

If you need these fudgy brownies to be gluten-free, whirl 2.6 ounces of gluten-free oats in the food processor to make oat flour, then proceed with the recipe.

You can substitute peanut butter for the almond butter and any nuts for the pecan topping.

I preferred mini chocolate chips rather than regular chocolate chips.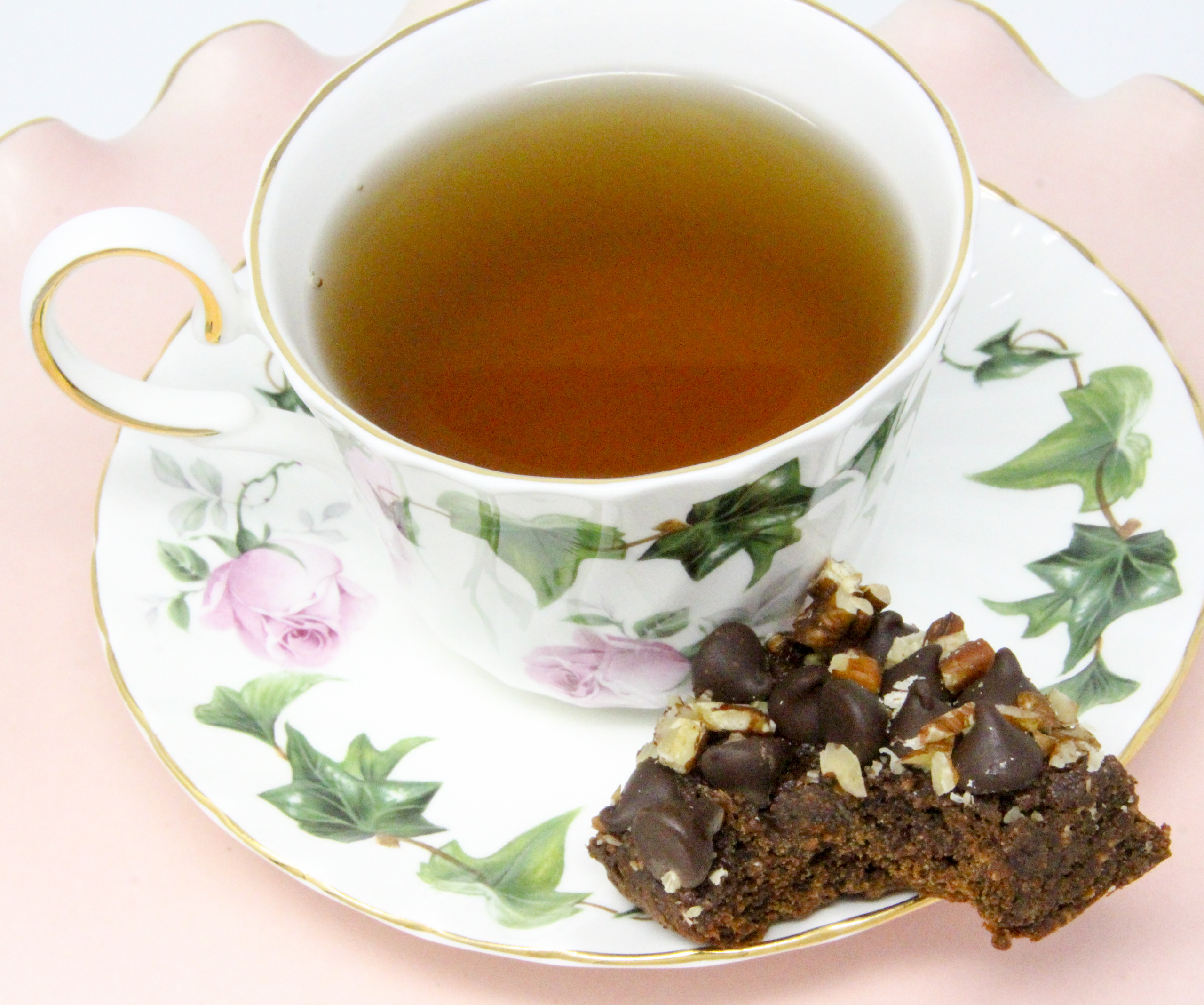 Pin to Pinterest: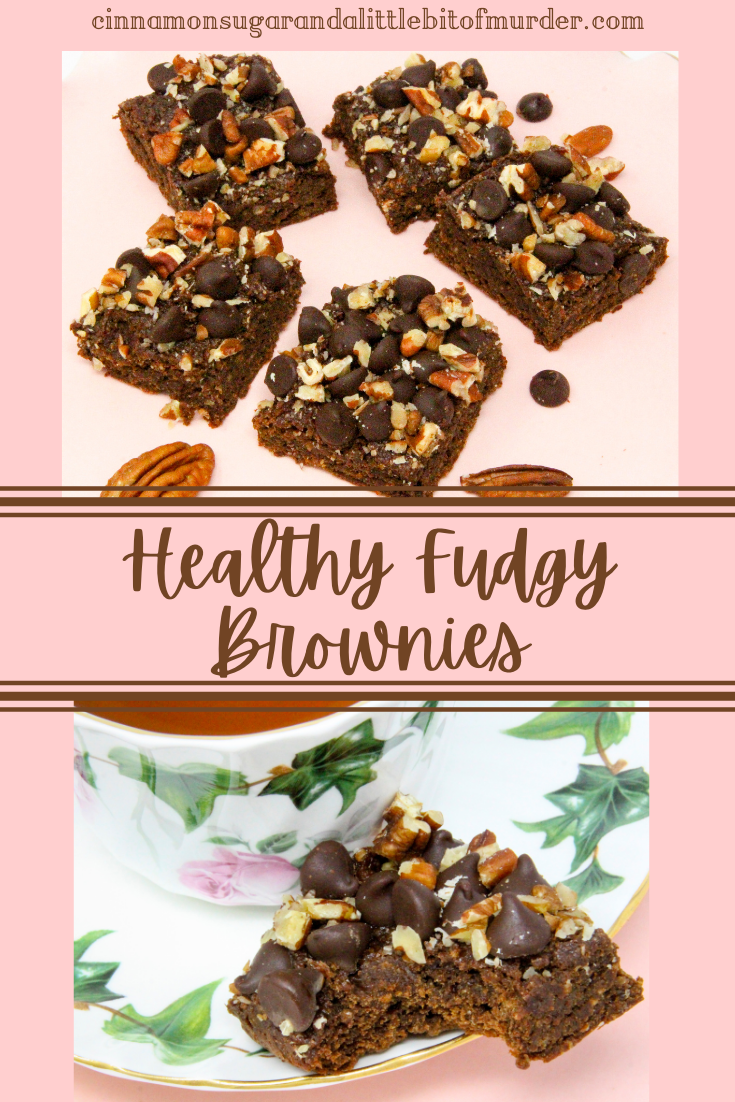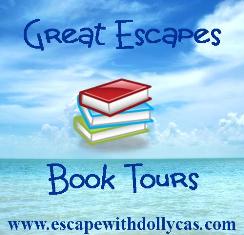 April 26 – I'm All About Books – SPOTLIGHT
April 26 – Cinnamon, Sugar, and a Little Bit of Murder – REVIEW, RECIPE
April 26 – Angel's Guilty Pleasures – CHARACTER INTERVIEW
April 26 – FUONLYKNEW – SPOTLIGHT
April 27 – Christy's Cozy Corners – REVIEW
April 27 – Ruff Drafts – SPOTLIGHT, RECIPE
April 27 – I Read What You Write – REVIEW, AUTHOR INTERVIEW
April 28 – Author Elena Taylor's Blog – CHARACTER INTERVIEW
April 28 – Escape With Dollycas Into A Good Book – REVIEW
April 28 – My Journey Back the Journey Back – CHARACTER GUEST POST
April 29 – Celticlady's Reviews – SPOTLIGHT
April 29 – Literary Gold – REVIEW
April 29 – Thoughts in Progress – SPOTLIGHT
April 29 – Baroness' Book Trove – REVIEW
April 30 – A Wytch's Book Review Blog – REVIEW
April 30 – Maureen's Musings – SPOTLIGHT
April 30 – My Reading Journeys – REVIEW
April 30 – Books a Plenty Book Reviews – REVIEW
May 1 – Paranormal and Romantic Suspense Reviews – SPOTLIGHT
May 1 – ebook addicts – SPOTLIGHT
May 1 – Sapphyria's Book Reviews – SPOTLIGHT
May 2 – Cozy Up With Kathy – REVIEW
May 2 – Diane Reviews Books – REVIEW
May 2 – Tea Book Blanket – SPOTLIGHT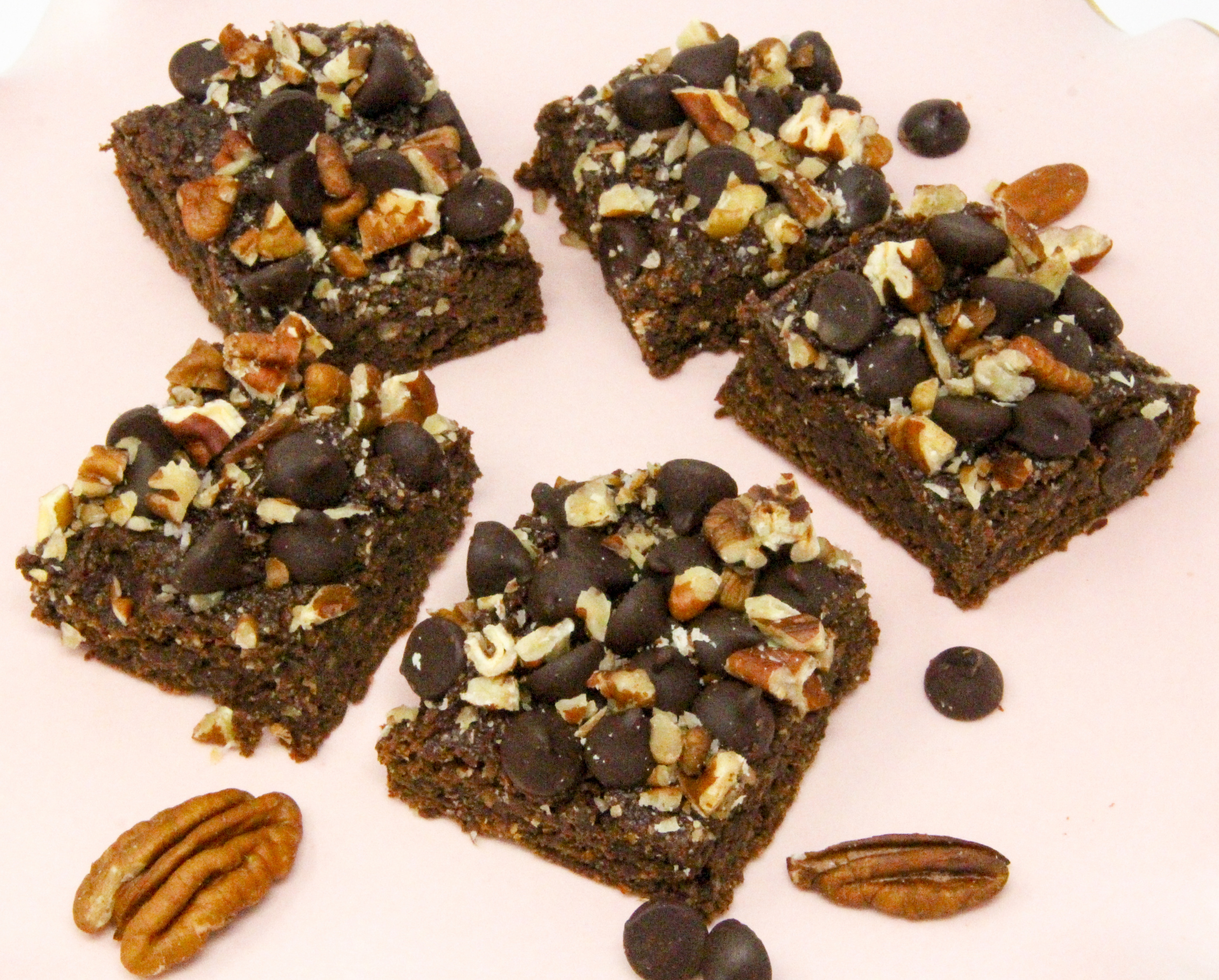 I was provided with an advance copy. All thoughts and opinions are my own.