I recently had the good fortune of reading an advance copy of A TALE OF TWO COOKIES by Eve Calder! The publisher, St. Martin's Press, kindly provided both a giveaway copy of this brand new release along with a yummy excerpt from the book to tempt your taste buds. Scroll through for my review, the excerpt, and the Rafflecopter link to enter.
Review
A TALE OF TWO COOKIES, the third book in the Cookie House Mystery series by Eve Calder, is a page-turning addition to a yummy series! In this newest release, protagonist bakery owner Kate McGuire finds herself embroiled with a runaway groom, a jilted bride, a contentious reality show, and endangered sea turtles. With so much going on, the author does an admirable job of building the plot and weaving the threads of the story together to build tension and intrigue. Central to keeping the pace on track are the delightful characters that inhabit the small island, Coral Cay. Kate is not only friendly, but she has a knack for making everyone feel welcome and wanted. I especially enjoyed how she knows just what kind of cookie to give to customers to fit their tastes without any input from them, even after only meeting the customer for the first time. Her sidekicks, best friend, Maxi (a fiery Cuban florist) and the adorable dog and town mascot, Oliver, are on hand to assist no matter what situation pops up. As the mystery progresses, I loved that Kate also calls upon the Coral Cay Irregulars, the local mystery readers book club, to hunt for clues. I find it appealing that Kate doesn't try to investigate on her own, and doesn't willfully put herself into danger. It lends a greater sense of reality to the book.
The mystery itself is quite intriguing. Without providing any spoilers, it centers on a groom who disappears the night before his wedding. All appearances point toward him jilting his bride-to-be, but the bride thinks foul play was involved. As the story progressed, the clues presented had me guessing all over the place and not once was I right. The clever diversions kept me turning pages and I couldn't put the book down until I'd read the last page. With all the various subplots wrapped up together in a cohesive story, I closed the book, hungry for cookies and hungry to see what comes next for Kate and her friends!
Amazon Synopsis
Pastry chef Kate McGuire is loving life on the laid-back island of Coral Cay, Florida. As junior partner in a bakery renowned for luscious desserts—especially her cookies—life is pretty sweet. So when an old friend arrives and announces a spur-of-the-moment beach wedding, that's just the icing on the wedding cake.
But the groom vanishes right as a television crew descends on the town to film a hot, new realty show. Is there a connection? Is her friend Desiree somehow involved? Or did groom Judson simply get cold feet? The bride and groom were paired better than warm cookies and cold milk, so Kate doesn't buy it.
As the show's cast runs amok on the island and the investigation into Judson's disappearance heats up, Kate and her pal Maxi, along with town dog Oliver, will brave the rambunctious world of reality TV and a wedding weekend gone awry, in an all-out effort to find the missing groom.
Excerpt from the publisher, St. Martin's Press
Pastry chef Kate McGuire, pal Maxi Más-Buchanan, and Kate's old friend Desiree Goldsmith rendezvous at the Cookie House bakery to compare notes in their quest to find Desiree's missing fiancé, marine biologist Judson Cooper. Desiree is stunned to discover a slew of Post-it Notes—each bearing various clues—pasted across the front of the kitchen's over-sized refrigerator: 
"What does this one mean?" Desiree asked, pointing at the refrigerator. "'Dirty coolers'?"
"Sounds like a band," Maxi said. "One that plays club music super loud."
Kate recounted Howie's story about the stolen ice chests.
"That's just weird," Maxi said.
"That's pretty much what Howie thought," Kate agreed. "Apparently he's now keeping them under lock and key. Literally."
"There's something about that that seems familiar," Desiree said. "But it's not coming to me right now. It's like the memory is close, but I just can't seem to grab ahold of it."
"When's the last time you ate?" Maxi asked.
"I sort of got caught up revisiting a lot of the places Judd and I saw while we've been here on Coral Cay," Desiree said. "Trying to get a lead on where he might be now."
"Why don't I make us a couple of omelettes, while you tell us what you discovered," Kate offered, opening the back door and leaving it ajar.
As Desiree recounted her travels, Kate chopped spring onions and diced Swiss cheese and ham. She cracked the eggs and whisked them to a frothy yellow, adding salt, pepper, and a generous pour of cream.
The pastry chef put four skillets on the stove and sliced a pat of butter into each.
"Four at a time?" Maxi asked. "And why four?"
"You'll see. We used to do omelette stations in the restaurants all the time. For the customers—and for the staff, when we'd missed a meal."
"Remember Omelette Surprise?" Desiree asked.
"That was fun," Kate said, swirling each pan in turn, as the smell of warm butter drifted across the kitchen.
"What's that?" Maxi asked.
Kate smiled. "It was something we'd do at the hotel when the staff was hungry, and we couldn't get home anytime soon. Basically, it's what we're doing now. You look in the fridge or the pantry. And what ever you have left over, that's what goes in the  omelette.  Some days it was beef bourguignon, other times it might be baked apples. That was the surprise."
Kate poured eggs into two pans. A half a minute later, she filled the other two. With a wooden spatula, she worked the first  pans, tilting them as needed. She finished up by giving them liberal helpings of ham, cheese, and scallions.
Then she moved to the second two pans, working them in tandem. While the last two omelettes cooked, she folded the first  two with her spatula and plated them.
She added two thick slices of fresh tomato to each, and slid the  plates in front of Maxi and Desiree. "Just let me know what you think," she said proudly.
As they tucked in, Kate finished the second two omelettes. One with all the trimmings, the other simply with ham and cheese.
Oliver appeared at the back door, as if summoned.
Kate cut the ham and cheese omelette into quarters, and again into eighths, sliding the pieces into the pup's bowl. As he gave the offering his undivided attention, she grabbed her own plate and joined her friends at the table.
"OK, this is seriously the best omelette I've ever had," Maxi said. "You better not let Bridget and Andy know you can cook like this. They'll hire someone to come over and break all your frying pans."
"Bridget and Andy's pub has nothing to worry about. Besides, the secret is butter and cream. And somehow, I have a feeling they already know that one."
"This is scrumptious," Desiree agreed. "You always had talent. But I think you've risen to a whole new level."
"It's just a few eggs," Kate said, between bites.
"It's more than that," Desiree said. "You're happy here. And it comes out in your food."
Oliver looked up, and if Kate didn't know better, she'd have sworn he winked.
 From A Tale of Two Cookies by Eve Calder. Used with the permission of the publisher, St. Martin's Press. Copyright © 2021 by Eve Calder.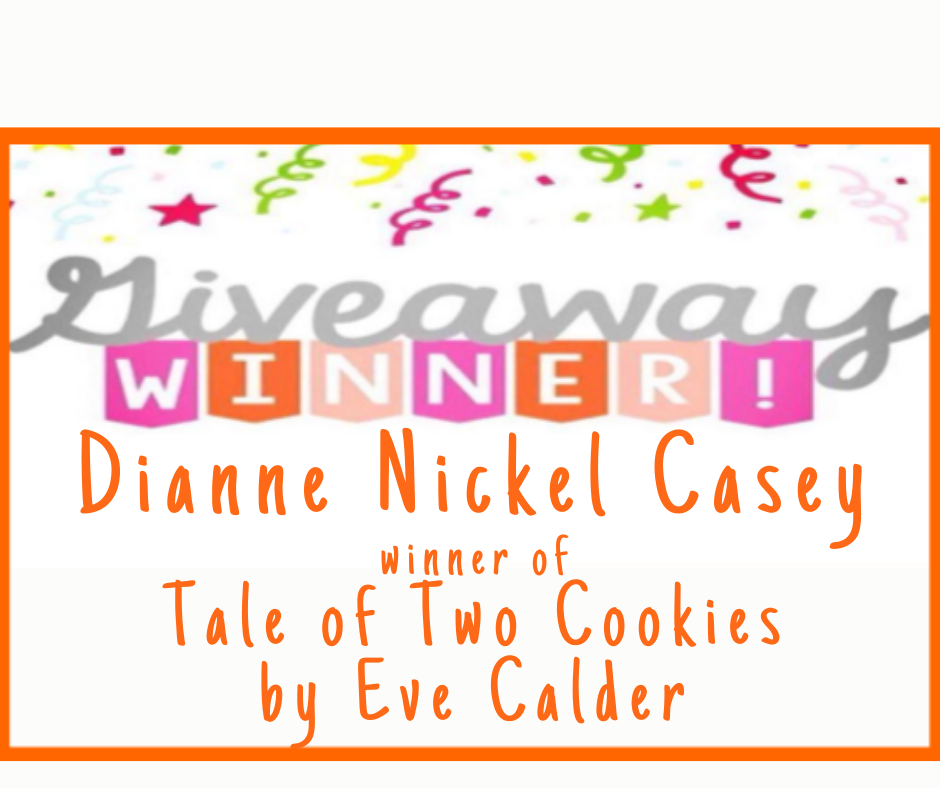 A special thanks to St. Martin's Press for providing a winner with a print copy of A TALE OF TWO COOKIES! Contest ends Sunday, May 2, 2021 at 11:59 pm PST and is limited to U.S. residents. Please use the Rafflecopter box located below to enter. The winner will be announced on this page and on Cinnamon & Sugar's Facebook page, as well as notified by email (so check your spam folder!)
If you crave cookies like I do, check out my blog's Cookie Collection here: