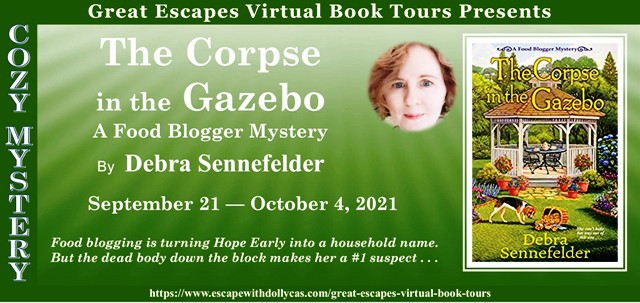 I'm delighted to be participating in the Great Escapes Virtual Book Tour, introducing THE CORPSE IN THE GAZEBO, the fifth book in the Food Blogger Mystery series by Debra Sennefelder. With a cast of realistic characters, chief amongst them protagonist, Hope Early, a successful food blogger, the reader is treated to a delicious mystery. I have so enjoyed watching Hope and her friends and family grow over the series and, as in real life, they face life changing events. In addition, Hope gives back to the community by teaching women, coming out of troubled situation, how to start their own online business. Not only does this help the reader get a glimpse into the kind and generous woman Hope is, but showcases social issues that might be overlooked. Even when a curmudgeonly neighbor, Birdie Donovan, tries to force Hope into moving out of the neighborhood, Hope bakes and delivers muffins to the woman instead of planning revenge!
Ms. Sennefelder expertly sets the scene up for the victim's murder. Birdie seemed to go out of her way to wreak havoc on her neighbors' lives and as such, there are a lot of suspects to consider. The police zero in on Hope, since it was her muffins that caused Birdie's death. Instead of plain curiosity spurring Hope to investigate, this time it's her freedom and her livelihood that's at stake. With her sense of urgency to find the truth, I felt Hope crossed the line a few times in her attempt to find evidence and she was much pushier with people than in previous books. Despite that, the author does an admirable job of planting clues and throwing in some twists and turns to keep the reader guessing. The surprising reveal had me revisiting the clues and admiring how Ms. Sennefelder pulled it all together.
As a food blogger, Hope is constantly working on perfecting recipes to showcase on her blog. Be prepared to repeatedly drool as you read! And be prepared to be tempted by all the recipes included at the back of the book! With autumn upon us, I couldn't help but be drawn to the unique flavor combination of Gingerbread Chocolate Chip Cookies. Plus, it's a gingerbread cookie that doesn't have to be rolled out and cut into shapes, making it much easier to whip up. I'll be honest, my taste testers were divided: half really enjoyed the flavor combination and the generous amount of chocolate chips, while the other half would have preferred it without the chocolate. The next time I make these, I'll satisfy both by baking half the dough sans chocolate chips and then adding in half the amount of chips to the remaining dough. It's like getting two different cookies in one batch!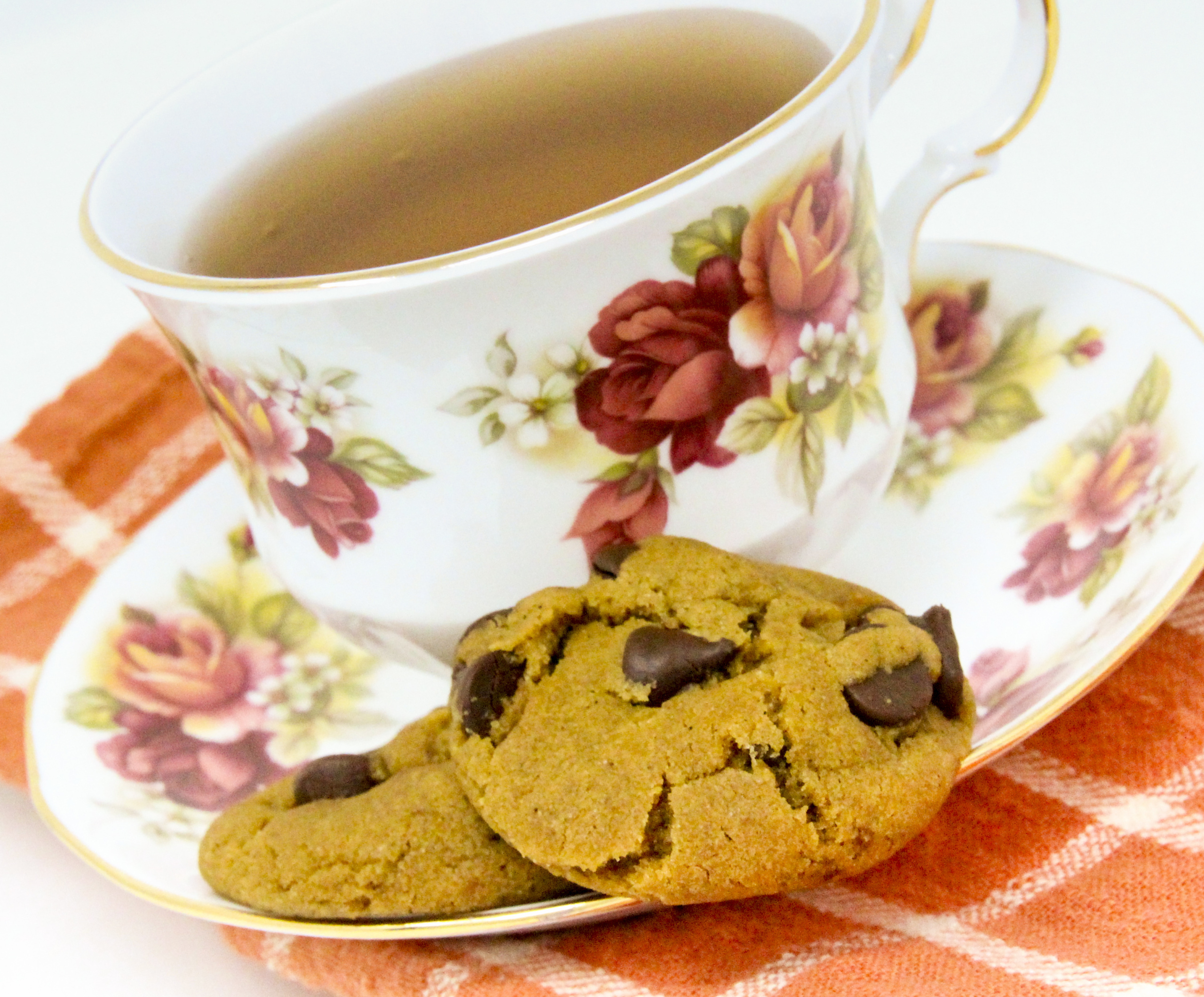 Amazon Synopsis
It seems everyone loves Hope's blog these days, and she's busier than ever volunteering to help other women create their own paths to success. So she's shocked when a neighbor petitions to run Hope right out of her small Connecticut town! Set in her ways, apparently Birdie Donovan doesn't like the chaos Hope's sleuthing creates, the police activity and crime scenes, and it's happening way too often lately. Eager to make amends, Hope bakes Birdie a batch of her best muffins. The delicious treats might have smoothed things over—until Hope discovers Birdie dead in her gazebo the very next day . . .
Now instead of worrying about holding on to her beloved home, Hope is trying to stay out of jail. Because suddenly she's the lead suspect in the case. Not even her boyfriend, Police Chief Ethan Cahill, is promising he can clear her name, much less discuss the investigation with her. It's up to Hope to get to bake new ground on the case before the lifestyle brand she's created—and her whole life—crumbles . . .

A special thanks to Debra Sennefelder for providing one lucky winner with a (1) Grand Prize – Prize Package including a signed copy of The Corpse in the Gazebo. Giveaway is limited to U.S. residents. Contest ends October 4, 2021 at 11:59 pm PST. Please use the Rafflecopter box located below to enter. The winner will be announced on this page as well as notified by email (so check your spam folder!) Contest is administered by Great Escapes Book Tour.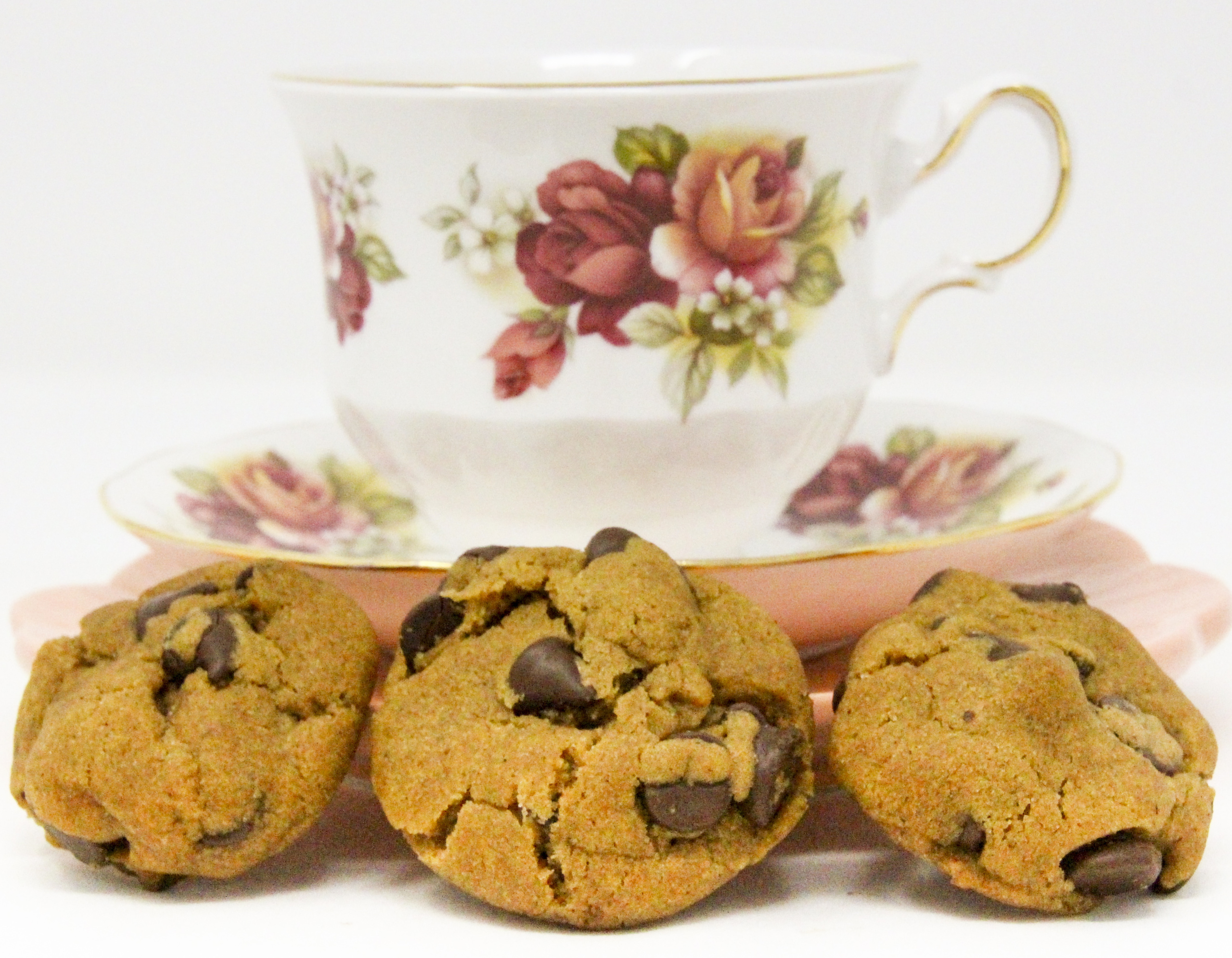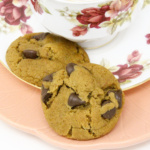 Gingerbread Chocolate Chip Cookies
Posted by Hope Early
Hold onto your Christmas stocking, because this soft gingerbread cookie packs a wallop of flavor and all the cozy holiday feels. The soft gingerbread is filled with chocolate chips, so every bite is a flavor combination like none other. According to the girls, this would be the perfect cookie to leave Santa. I think they're right. These are also perfect when you want a gingerbread cookie but don't want to deal with rolling and cutting out the dough. They're also ideal when you want a gingerbread cookie but also a chocolate chip cookie. Come on, you know you've been there. I know I have. Now you have the recipe that will take care of that craving. Ready to bake a new favorite cookie?
Ingredients
10

tablespoons

unsalted butter, softened

1/2

cup

granulated sugar

1/2

cup

light brown sugar

6

tablespoons

molasses

1-1/2

teaspoons

pure vanilla extract

1/2

teaspoon

salt

1/2

teaspoon

cinnamon

1/4

teaspoon

nutmeg

3/4

teaspoon

ginger

Pinch of ground cloves

3/4

teaspoon

baking powder

1/2

teaspoon baking soda

2

cups

all-purpose flour

1-1/2

cups

semisweet chocolate chips
Instructions
In a large bowl, beat together the butter and sugars. With the mixer on slow speed, add in molasses and vanilla.

Add in the dry ingredients, reserving the chocolate chips until later. Mix until the dough comes together and is smooth.

Remove from mixer or set aside hand mixer and stir in chocolate chips by hand.

Cover bowl and refrigerate for at least one hour, making sure it's chilled through but not firm

Preheat oven to 350 degrees (F). Line cookie sheets with parchment paper or silicone mats.

Using a medium cookie scoop, scoop out cookies and space 2 inches apart on baking sheets. Bake for 10 - 11 minutes.

Let cookies res on baking sheet for 1 minute, then transfer them to a wire rack to cool completely.

Store in an airtight container.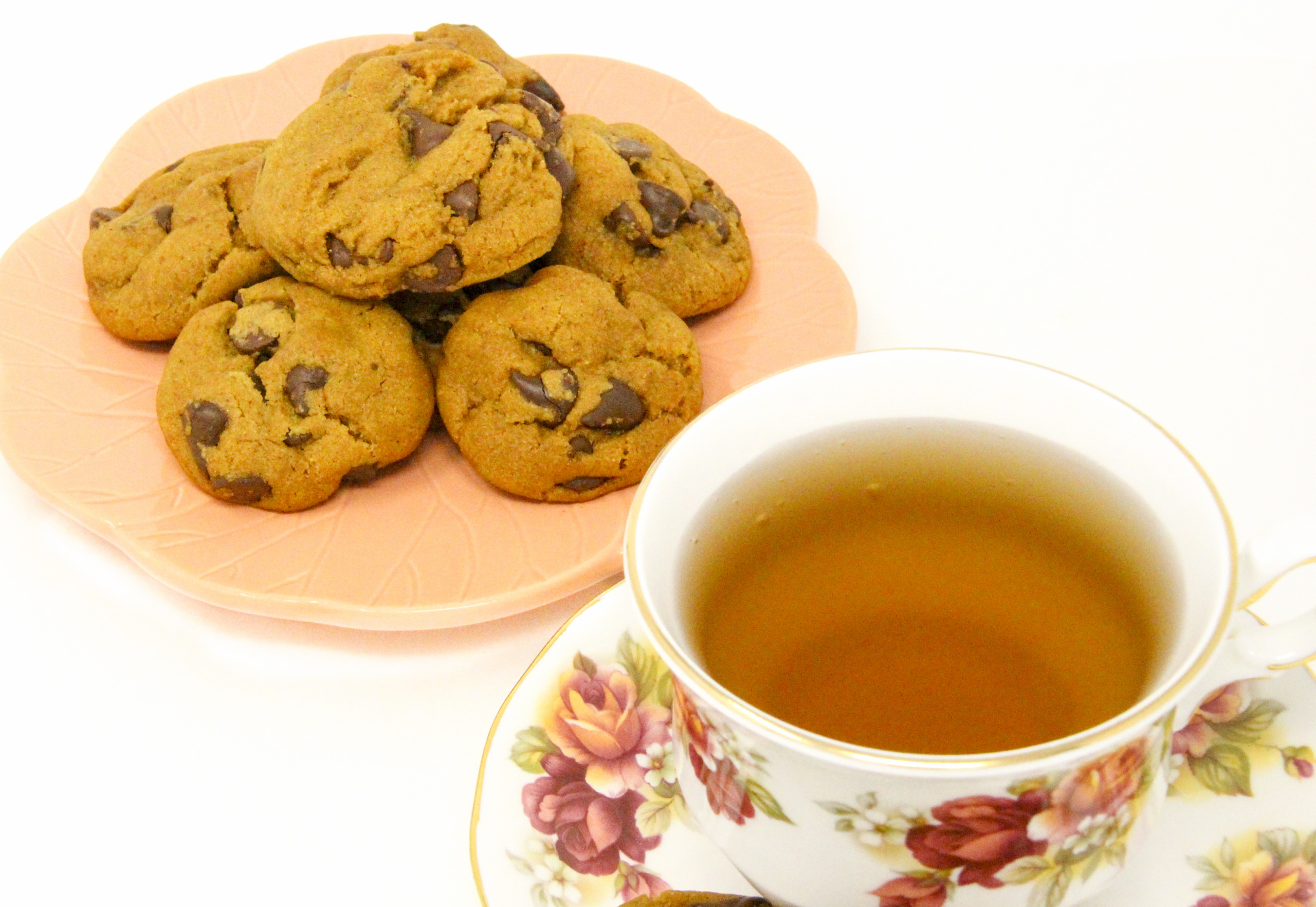 Pin to Pinterest: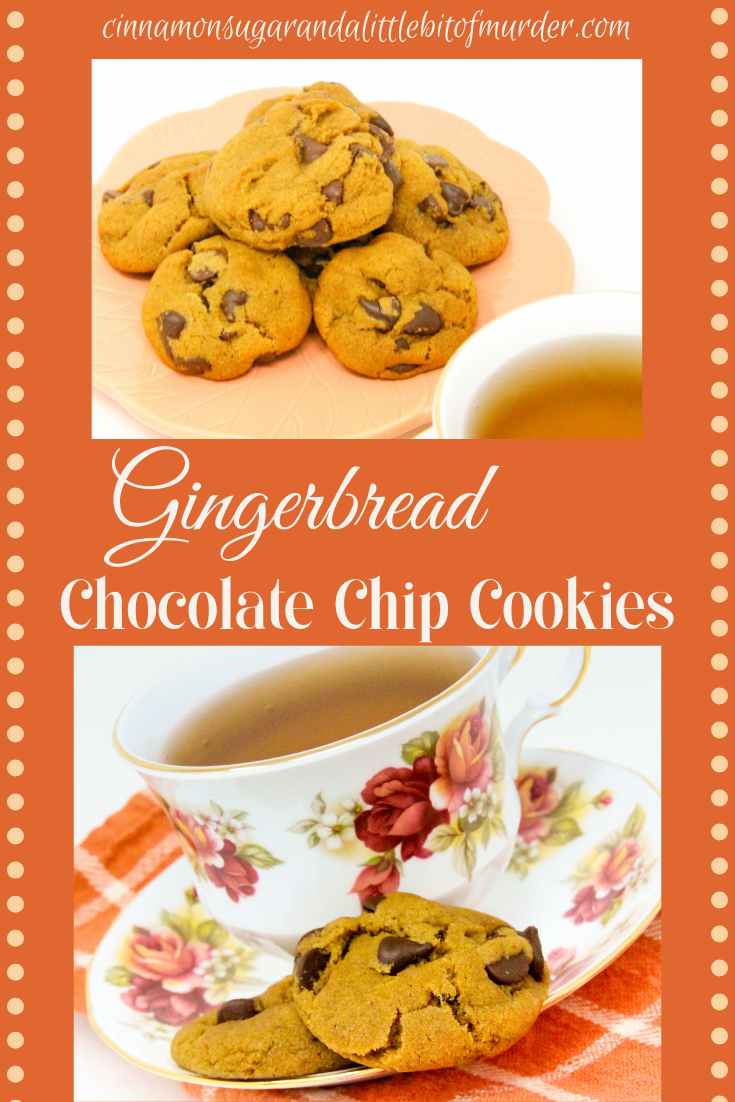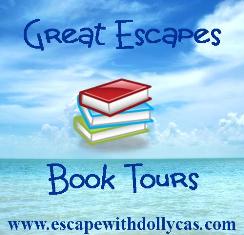 TOUR PARTICIPANTS
September 21 – Author Elena Taylor's Blog – AUTHOR INTERVIEW
September 21 – Novels Alive – GUEST POST
September 22 – Cinnamon, Sugar, and a Little Bit of Murder – REVIEW, RECIPE
September 22 – Maureen's Musings – SPOTLIGHT
September 23 – Escape With Dollycas Into A Good Book – REVIEW
September 23 – Christy's Cozy Corners – AUTHOR INTERVIEW
September 24 – Celticlady's Reviews – SPOTLIGHT
September 24 – My Reading Journeys – REVIEW
September 25 – Books a Plenty Book Reviews – REVIEW, GUEST POST
September 25 – Baroness' Book Trove – REVIEW
September 26 – Brooke Blogs – RECIPE POST
September 26 – Lisa Ks Book Review – REVIEW, AUTHOR INTERVIEW
September 27 – Literary Gold – SPOTLIGHT
September 27 – I Read What You Write – AUTHOR INTERVIEW
September 28 – I'm All About Books – SPOTLIGHT
September 28 – FUONLYKNEW – SPOTLIGHT
September 29 – Hearts & Scribbles – SPOTLIGHT
September 29 – Christa Reads and Writes – SPOTLIGHT
September 30 – Socrates Book Reviews – SPOTLIGHT
September 30 – Sapphyria's Book Reviews – SPOTLIGHT
October 1 – Ascroft, eh? – CHARACTER INTERVIEW
October 2 – Laura's Interests – GUEST POST
October 3 – Cassidy's Bookshelves – GUEST POST
October 3 – Reading Authors Network – SPOTLIGHT
October 4 – BookishKelly2020 – SPOTLIGHT
October 4 – Melina's Book Blog – REVIEW
I was provided with an advance copy. All thoughts and opinions are my own.