DESSERT IS THE BOMB, by Catherine Bruns, is the eleventh book in the Cookies & Chance Mysteries. I think this series keeps getting better and better with each installment, which is saying a lot since I've loved it from the very first book. At the center is protagonist Sally Muccio Donovan and her zany, loveable family. The characters are what keeps me coming back to the series and this newest addition is no different. While Dessert is the Bomb can be read as a standalone, starting at the beginning will give the reader a greater appreciation of the author's skills in developing and growing the characters. Each of the core characters are expertly penned with their own individual personalities and mannerisms. I'm especially drawn to Sally's endearing, always misspeaking common clichéd sayings, grandmother. Some of them have me laughing out loud! Her funeral-home owning, Father of Death blogging father also adds a level of wacky humor.
When Sally's cookie shop is threatened by Celeste Delgado, the owner of the new It's the Bomb bakery right across the street, sparks fly. It gets even worse when Celeste inserts herself in between Sal's parents creating a rift where there had only been unity before. Tempers flare and Sally and her best friend, Josie, are arrested for the murder of Celeste on Halloween night. A new detective in town seems to have it in for the pair. Joining in the effort to find the killer and clear Sally and Josie, are Sally's grandmother and her elderly Sicilian friend, Nicoletta, who usually has a vendetta against Sally. Twists and turns keep the mystery fast-paced and clues are sprinkled throughout to keep a sharp reader on their toes. With several viable suspects, I was kept guessing throughout the story. As usual, Ms. Bruns has penned an entertaining read that keeps me coming back for more!
Sally and Josie bake up all sorts of tempting treats for the bakery and both agreed that their competitor, It's the Bomb, also sold delectable desserts before the owner was brutally killed. Luckily for the reader, there are several enticing recipes included at the back of the book to try at home. I was honored when Catherine asked if I would like to come up with a recipe for chocolate smash bombs for the book. I was doubly honored when her designer was able to use my photos of the finished dessert for the cover of DESSERT IS THE BOMB! I stuck to a simple candy smash bomb and decorated it to fit the Halloween theme using candy melts, fondant cutouts, and colored sprinkles. Using your imagination to decorate for any holiday or event and filling with whatever treats you want, makes these a versatile and fun dessert.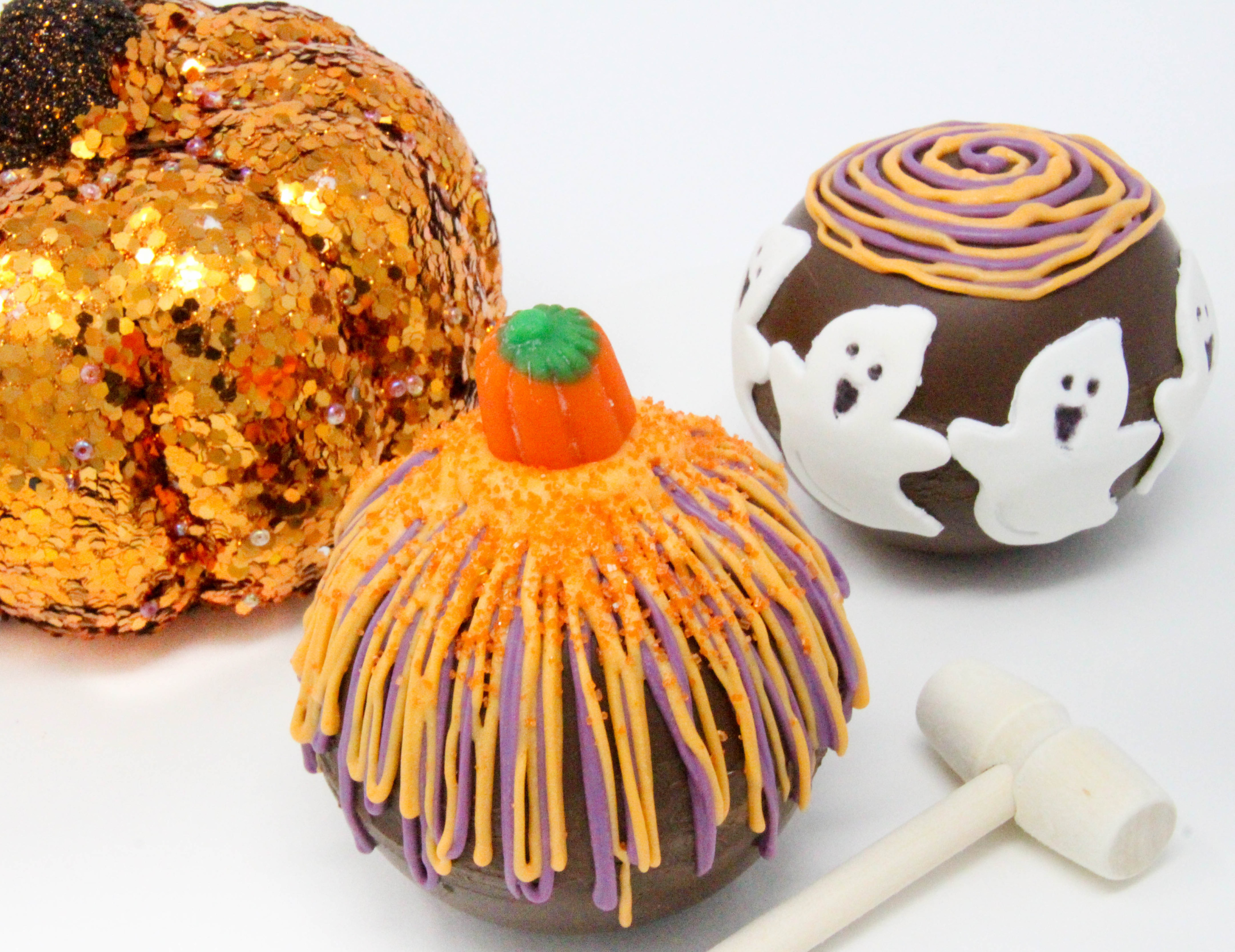 Amazon Synopsis 
Baker turned sometimes-sleuth Sally Muccio has always loved Halloween, but this year she has more on her mind than ghosts and goblins. In addition to catering a party at her wacky father's funeral home, a competing bakery has just moved in across the street from Sally's Samples. The new owner, Celeste Delgado, seems intent on burying Sal's novelty cookie shop into the ground with her sensational smash cake bombs. Suddenly, the homemade fortune cookies that Sal and her best friend Josie create with loving care are predicting an ominous future for their business.
Before Sal can discover what's behind Celeste's grudge, the woman is killed by an explosion. To take the cake, Josie was heard threatening Celeste shortly before her death. A night in the slammer, another deadly explosion, and dangerous family secrets all add to Sal's growing list of concerns. Like an oven timer, precious minutes of her life are ticking away. Can she find Celeste's killer before everything blows up in her face?
A special thanks to Catherine Bruns for providing one lucky winner with a print copy of DESSERT IS THE BOMB. Giveaway is limited to U.S. residents. Contest ends Sunday, October 3, 2021 at 11:59 pm PST. Please use the Rafflecopter box located below to enter. The winner will be announced on this page and on Cinnamon & Sugar's Facebook page, as well as notified by email (so check your spam folder!)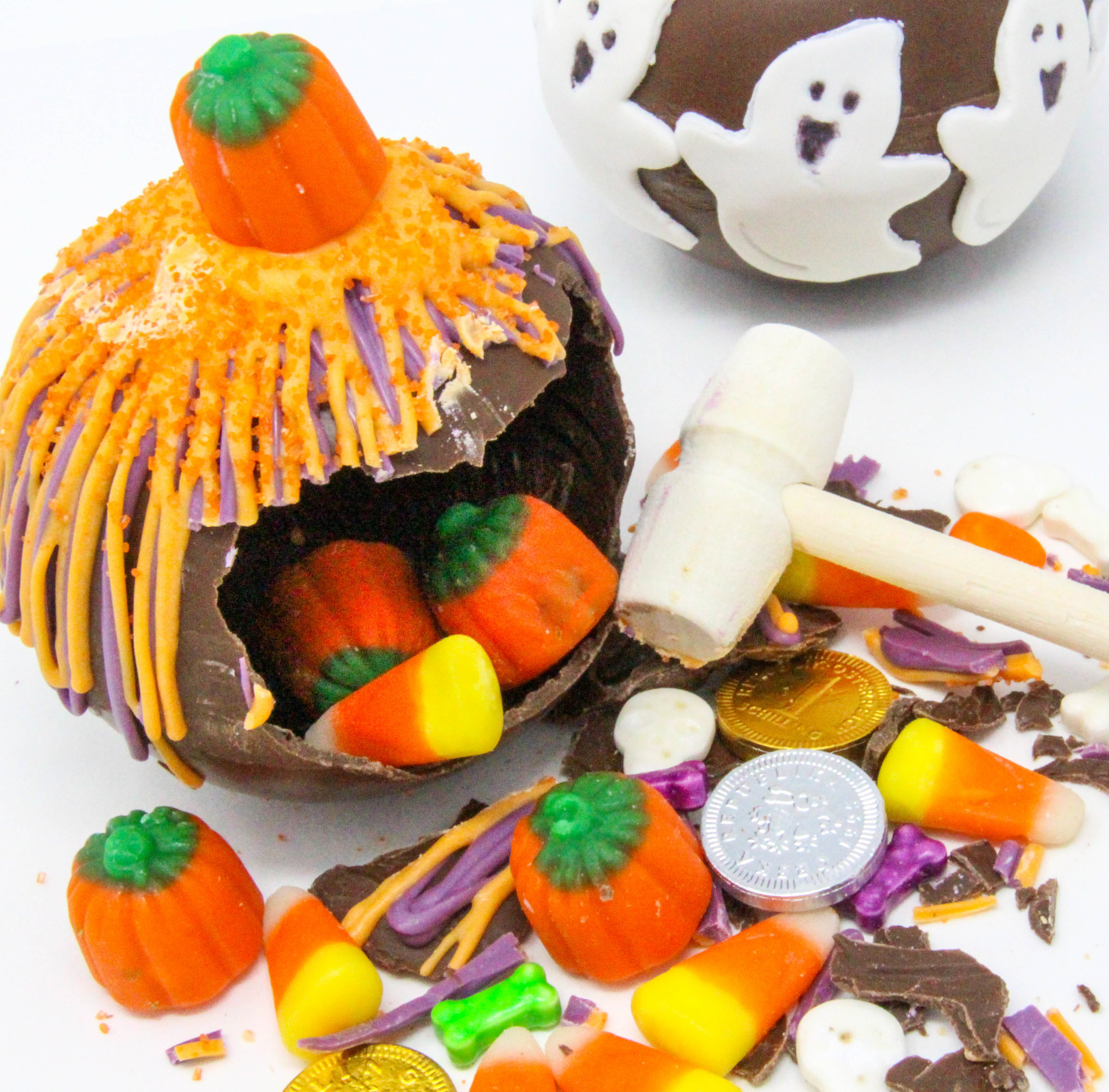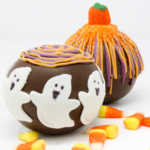 Chocolate Smash Bombs
Ingredients
Equipment needed:
Small round bowls (equally sized) or specialty small ball pan such as from Wilton

Small wooden or rubber food-safe mallets

If using fortunes: paper and fine tip edible black pen
For the smash bombs:
2-1/2

ounces

chocolate candy melts for EACH 3-inch smash bomb

Assorted candies to fit the theme of the holiday or event
For decorating use an assortment:
Candy melts in colors to fit the theme of the holiday or event

Sparkling sugar in colors to fit the theme

Fondant cut out in mini shapes to fit the theme
Instructions
If desired, cut small fortune cookie-sized strips of clean paper. Using a fine tip edible pen, write out fortunes or messages. Set aside.

Melt the chocolate candy melts in a microwave-safe bowl at 50% power in 30 second increments. Stir well after each heat cycle. As they begin to melt, stir to use the residual heat of the bowl to smooth out the chocolate, as much as possible. Do not overheat the chocolate or it will become thick and clumpy. If this happens, try adding a 1/4 teaspoon of vegetable oil at a time, stirring in well to smooth the chocolate out. It sometimes helps.

Using a spoon, spread a thick layer of the melted chocolate into the cavities of the bowls. You will need 2 half spheres per smash bomb. Refrigerate for 10 minutes until chocolate is firm.

If needed, re-melt the leftover chocolate (using the method above) then, using a pastry brush, spread a thin layer over the set chocolate. Refrigerate 5 minutes until firm.

Carefully remove the chocolate half spheres from the molds. Fill half with your choice of candy and a fortune.

Re-melt the leftover chocolate (using the method above) then, using a pastry brush, carefully brush the rim of the empty half sphere with the chocolate. Immediately press into the filled half sphere and align the halves together. If gaps are visible, use your finger or pastry brush to apply extra melted chocolate to fill them in. Refrigerate for 5 minutes until set. Repeat with remaining half spheres. To smooth out the seam, if necessary, dip a spoon in hot water then dry. Using the back of the heated spoon, gently smooth out the seams. Heat the spoon as often as necessary (just be sure to dry it before using) to melt the rough edges of seam into the sphere.
To decorate:
Melt a small amount of candy melt colors to fit your theme. Place in a piping bag (or small ziplock sandwich bag) and snip a small opening. Drizzle over the tops and sides of the spheres, enough to cover the seams. Repeat with additional colors to create layers if desired. Refrigerate until firm.

If desired, use coordinating sparkling sugar colors or sprinkles, and distribute over the drizzled candy melts before it sets.

Alternately, cutout holiday-themed mini shapes from fondant. Using an edible pen, embellish as desired. Moistened the back of the fondant shape with a tiny bit of water to adhere to the spheres.
The fun part:
Using a wooden or rubber food-safe mallet, smash through the chocolate sphere shell and enjoy the treats!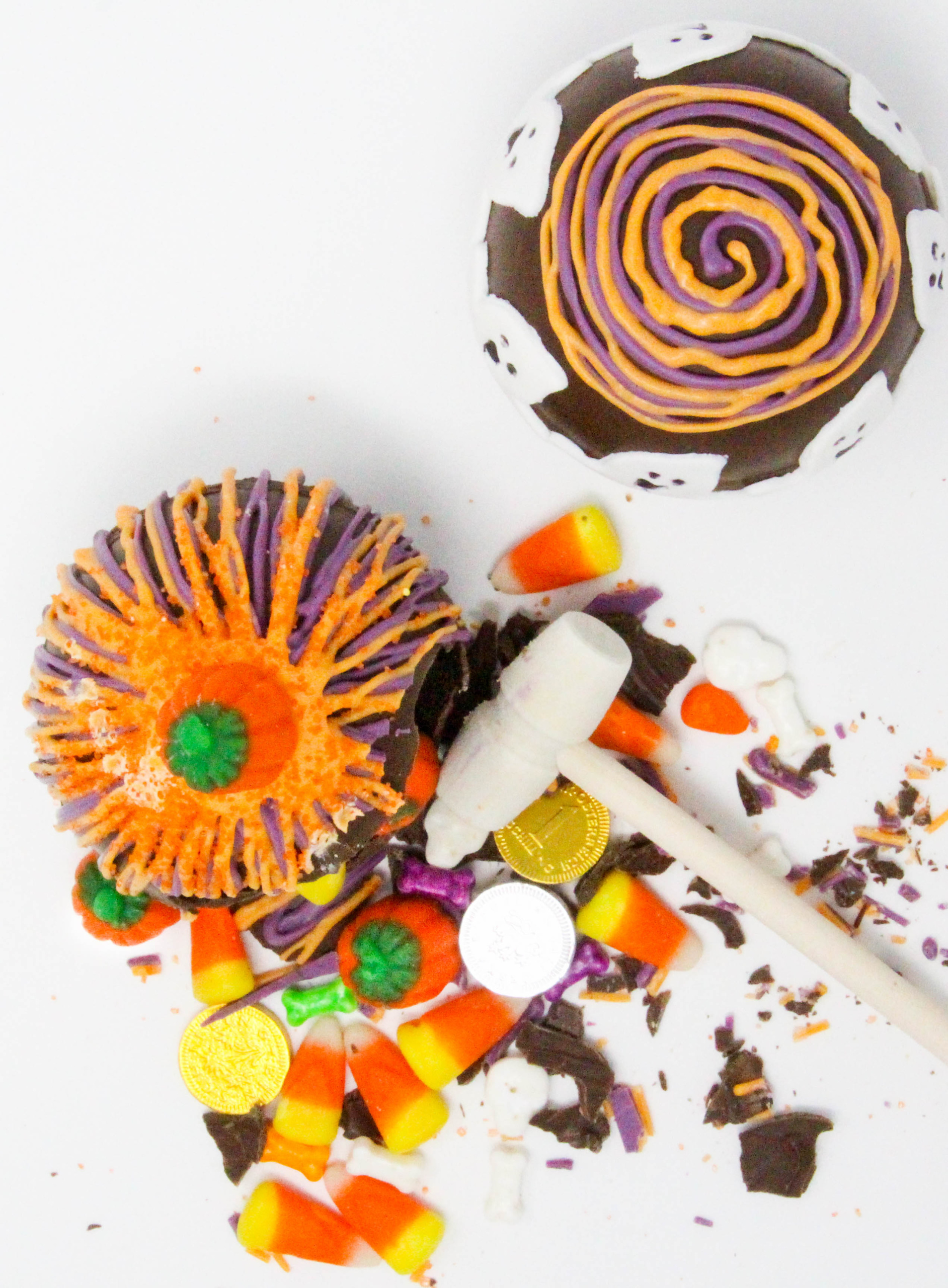 Pin to Pinterest: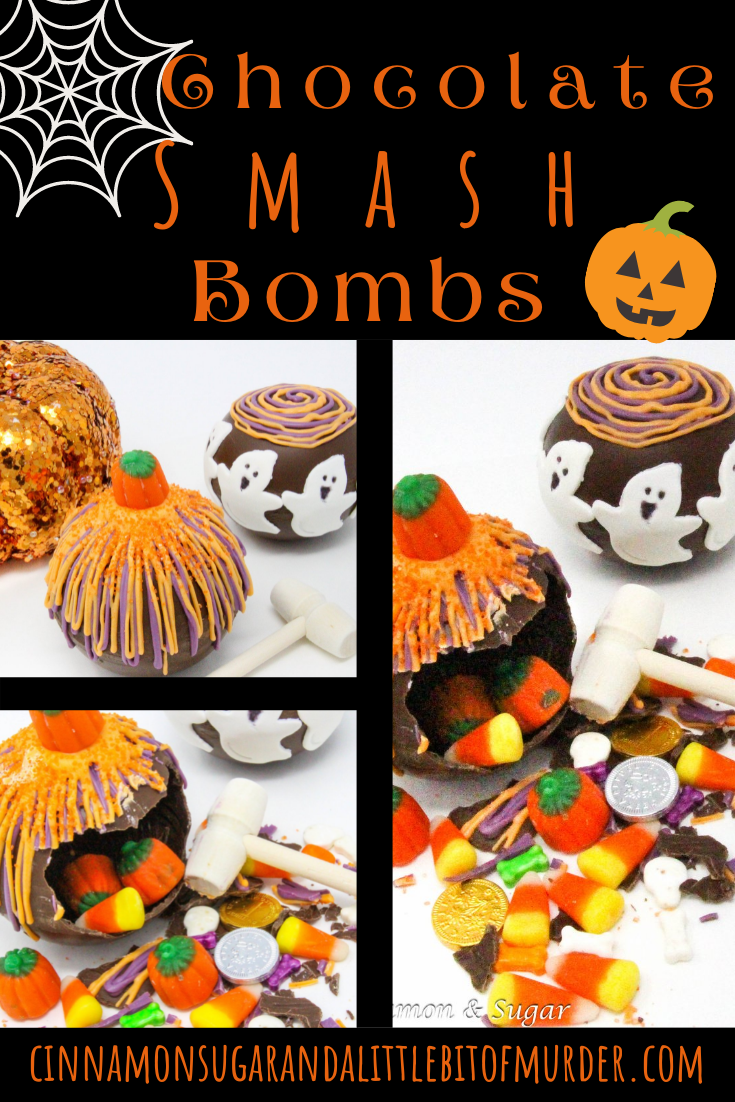 I was provided with an advance copy. All thoughts and opinions are my own.