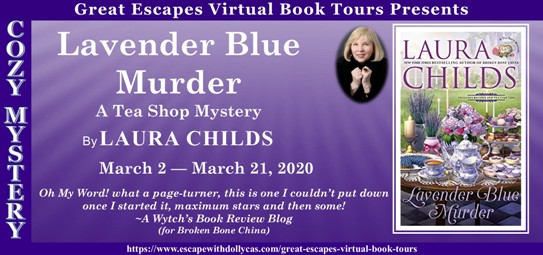 I'm thrilled to be participating in the Great Escapes Virtual Book Tours introducing LAVENDER BLUE MURDER, the twenty-first book in The Tea Shop Mysteries. This newest release is another entertaining addition to an endearing series by Laura Childs. You can always count on Ms. Childs to start her stories off with a bang, and in this newest release, it is quite a literal bang! I love the descriptive settings the author evokes, from a proper English shooting party being hosted by a local plantation, to the quaint, genteel Southern city of Charleston, to the charming Indigo Tea Shop. The reader is immediately immersed into both the atmosphere and the mystery. There is non-stop action, whether protagonist, Theodosia Browning, is hosting a themed tea party at her shop, or involved in zany antics as she tries to solve the murder of the plantation owner. With plenty of clues and suspects provided, the book progressed quickly, making it difficult to set it down for any length of time
Along with a fast-paced story, Ms. Child's creates memorable characters. While Theodosia may be a Southern genteel woman, she's also a force of nature to be reckoned with. Her sidekick, elderly tea sommelier Drayton Conneley, provides a calming influence on her while creating the perfect tea blend for the guests who come through Indigo Tea Shop. Theodosia and Drayton have a sweet relationship and I admire the respect they show for each other, no matter what kind of scrapes they find themselves in. We don't see much of Theodosia's detective fiancé in this book and I hope he has a greater presence in the next story.
Not only does the Indigo Tea Shop host themed tea party events, but each one has plenty of delicious dishes to match the theme. I appreciate that Ms. Childs includes recipes at the back of the book, along with numerous tea party tips to help plan your own. I practically drooled over the recipe for Ginger-Cardamom Tea Cookies and couldn't wait to make these shortbread-style cookies infused with English Breakfast Tea! The spices provide plenty of warm flavor while the tea gives a little kick in the specks that dot the sandy-textured cookie. White chocolate chips give a burst of creamy sweetness to each bite. These are a delicious cookies to serve for a late morning tea break or at a more formal afternoon tea. I melted some white chocolate and drizzled over the tops of each cookie to "dress" them up.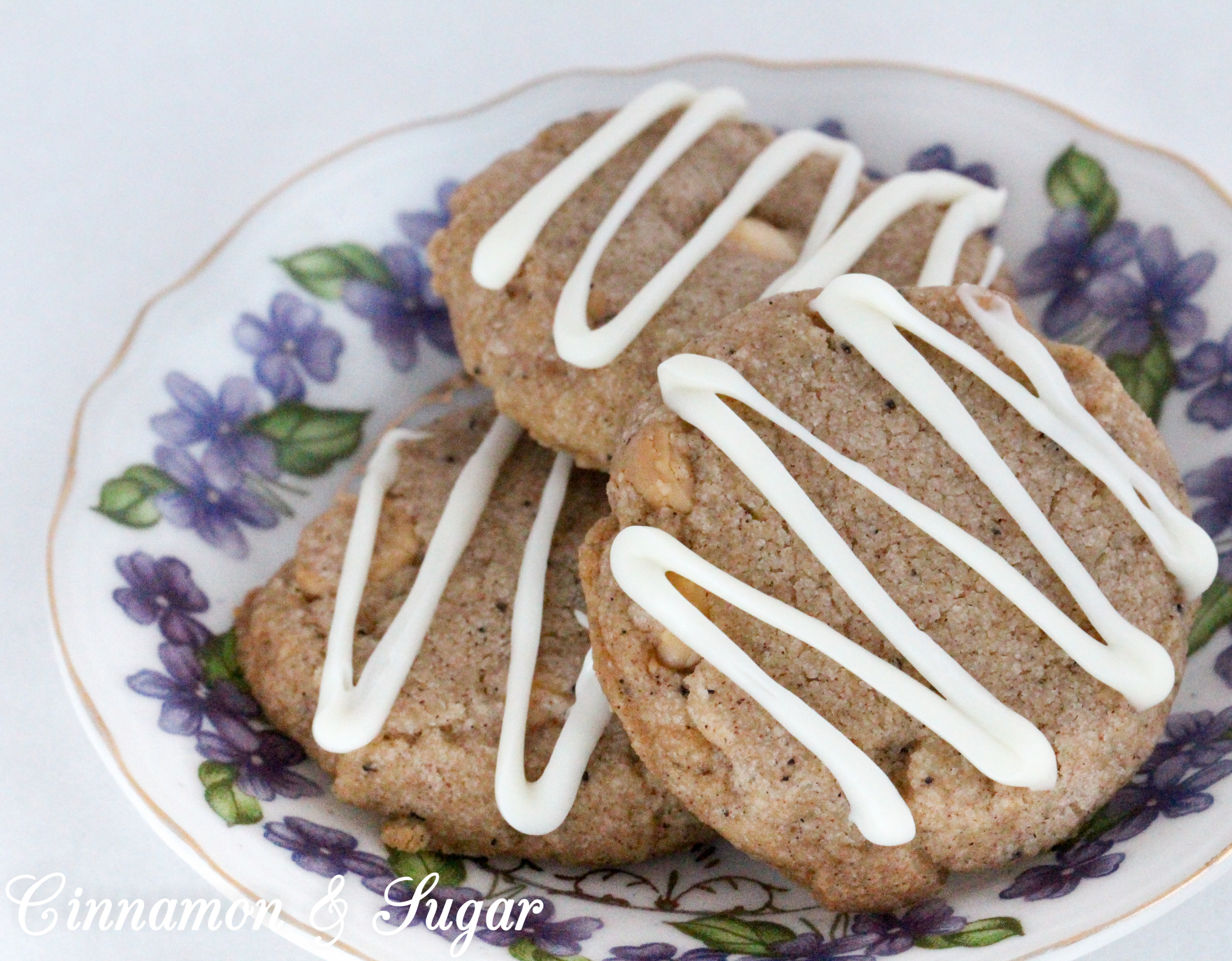 Amazon Synopsis
Tea maven Theodosia Browning and her tea sommelier Drayton Conneley are guests at a bird hunt styled in the precise manner of an English shooting party. Which means elevenses (sloe gin fizzes), gun loaders, the drawing of pegs, fine looking bird dogs, and shooting costumes of tweed, herringbone, and suede.
But as gunshots explode like a riff of Black Cat firecrackers, another shot sounds too close for comfort to Theodosia and Drayton. Intrigued but worried, Theodosia wanders into the neighbor's lavender field where she discovers their host, Reginald Doyle, bleeding to death.
His wife, Meredith, is beside herself with grief and begs Theodosia and Drayton to stay the night. But Theodosia awakens at 2:00A.M. to find smoke in her room and the house on fire. As the fire department screams in and the investigating sheriff returns, Meredith again pleads with Theodosia for help.
As Theodosia investigates, fingers are pointed, secrets are uncovered, Reginald's daughter-in-law goes missing presumed drowned, and Meredith is determined to find answers via a séance. All the while Theodosia worries if she's made a mistake in inviting a prime suspect to her upscale Lavender Lady Tea.

A special thanks to Laura Childs for providing two giveaway copies of LAVENDER BLUE MURDER. Contest ends March 21, 2019 at 11:59 pm PST. Please use the Rafflecopter box located below the recipe to enter. The contest is administered by Great Escapes Virtual Book Tours and the winner will be announced on this page as well as notified by email (so check your spam folder!)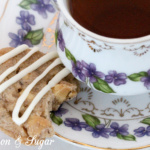 Ginger-Cardamom Tea Cookies
Ingredients
1

cup

butter, softened

1/2

cup

sugar

1

teaspoon

vanilla extract

2

cups

flour

1

tablespoon

cinnamon

1

teaspoon

ground ginger

1/2

teaspoon

ground cardamom

1/2

teaspoon

salt

Leaves from 1 English Breakfast tea bag

1

cup

white chocolate chips
Instructions
Preheat oven to 350 degrees (F).

In mixer, beat together butter, sugar, and vanilla until smooth.

In a separate bowl, stir together flour, cinnamon, ginger, cardamom, salt, and tea.

Add dry mixture to butter mixture and beat on low speed until blended.

Stir in white chocolate chips.

Drop tablespoon-sized balls of dough 1 inch apart, using 2 greased (or parchment-lined) cookie sheets. Flatten balls slightly with a floured glass.

Bake 15 to 18 minutes, switching cookie sheets around halfway through baking.

Cool on a wire rack and enjoy!
Notes
Yields 36 to 40 cookies.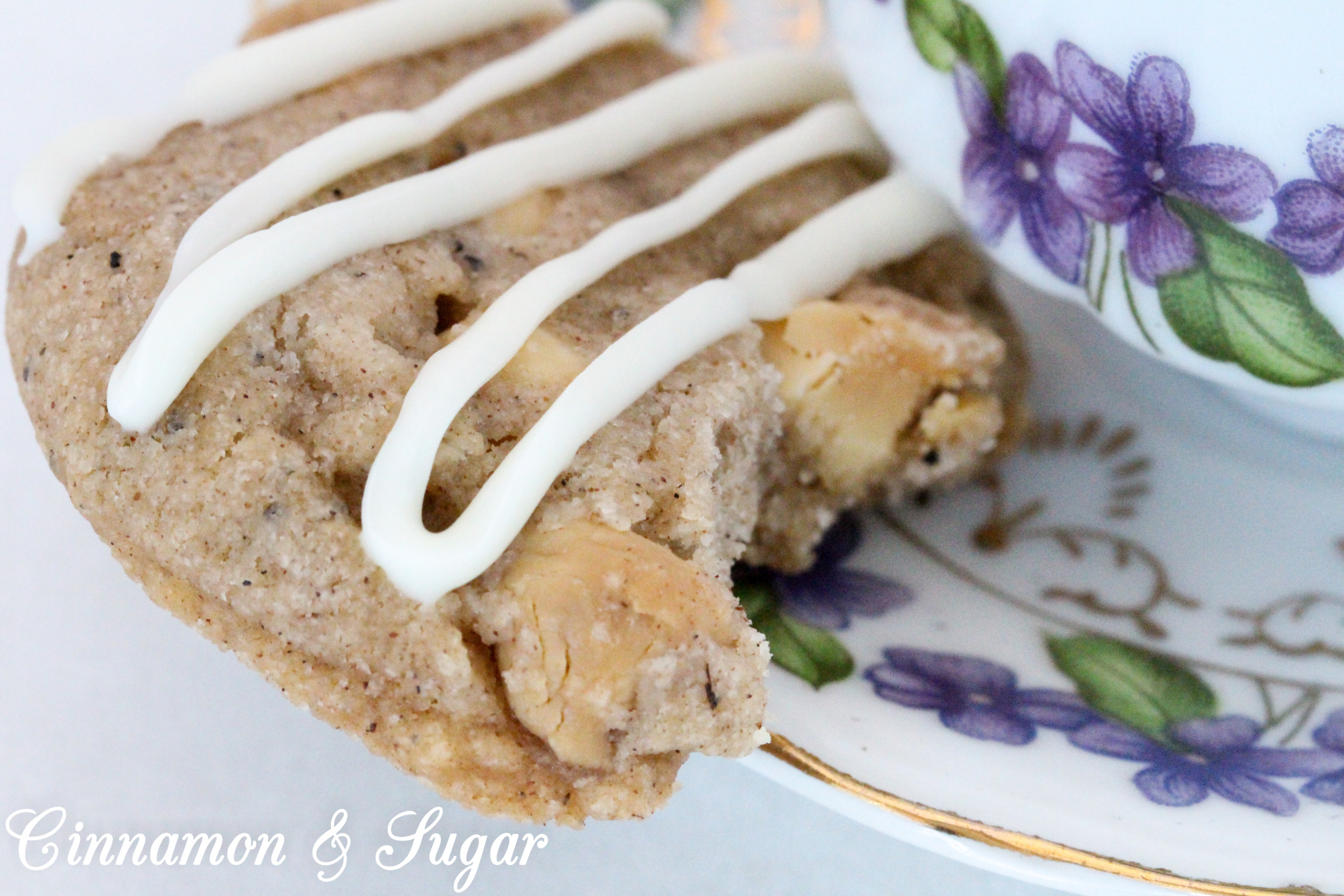 Pin to Pinterest: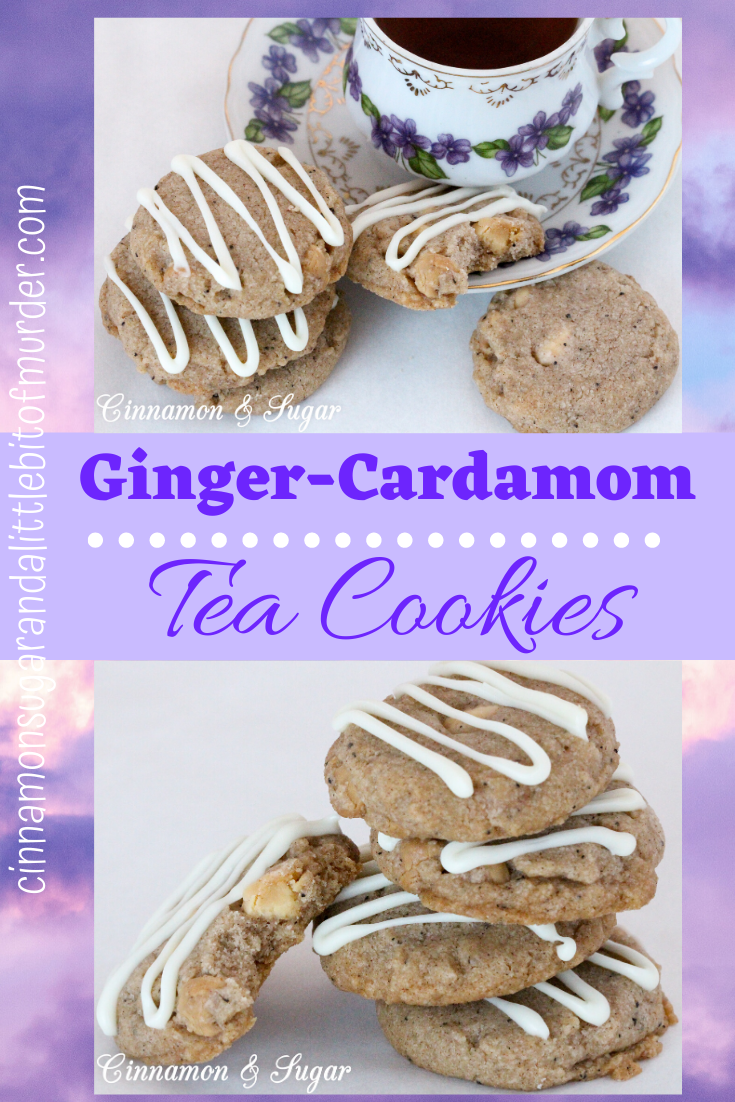 If you receive my blog post via email you will need to visit my website to view the video.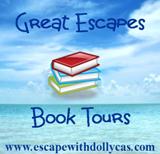 TOUR PARTICIPANTS
March 2 – The Avid Reader – REVIEW
March 2 – A Chick Who Reads – REVIEW
March 3 – A Wytch's Book Review Blog – REVIEW
March 4 – Books a Plenty Book Reviews – REVIEW
March 4 – My Journey Back – REVIEW
March 5 – Paranormal and Romantic Suspense Reviews – GUEST POST
March 5 – A Holland Reads – REVIEW
March 6 – I'm All About Books-SPOTLIGHT
March 6 – Here's How It Happened – SPOTLIGHT
March 7 – The Book's the Thing – REVIEW
March 8 – Cozy Up With Kathy – REVIEW
March 9 – Reading Is My SuperPower – REVIEW
March 9 – FUONLYKNEW – SPOTLIGHT
March 10 – The Editing Pen – REVIEW
March 10 – The Pulp and Mystery Shelf – SPOTLGHT
March 11 – Literary Gold – SPOTLIGHT
March 12 – Ruff Drafts – AUTHOR INTERVIEW
March 13 – eBook Addicts – SPOTLIGHT
March 13 – The Book Diva's Reads – GUEST POST
March 14 – Nadaness In Motion – REVIEW
March 14 – StoreyBook Reviews – SPOTLIGHT
March 15 – Christy's Cozy Corners – REVIEW
March 16 – I Read What You Write – GUEST POST
March 16 – This Is My Truth Now – SPOTLIGHT
March 17 – Mysteries with Character – AUTHOR INTERVIEW
March 17 – Escape With Dollycas Into A Good Book – REVIEW
March 18 – Lisa Ks Book Reviews – REVIEW, AUTHOR INTERVIEW
March 19 – Laura`s Interests – REVIEW
March 19 – Brooke Blogs – SPOTLIGHT
March 20 – Cinnamon, Sugar, and a Little Bit of Murder – REVIEW
March 21 – Socrates Book Reviews – REVIEW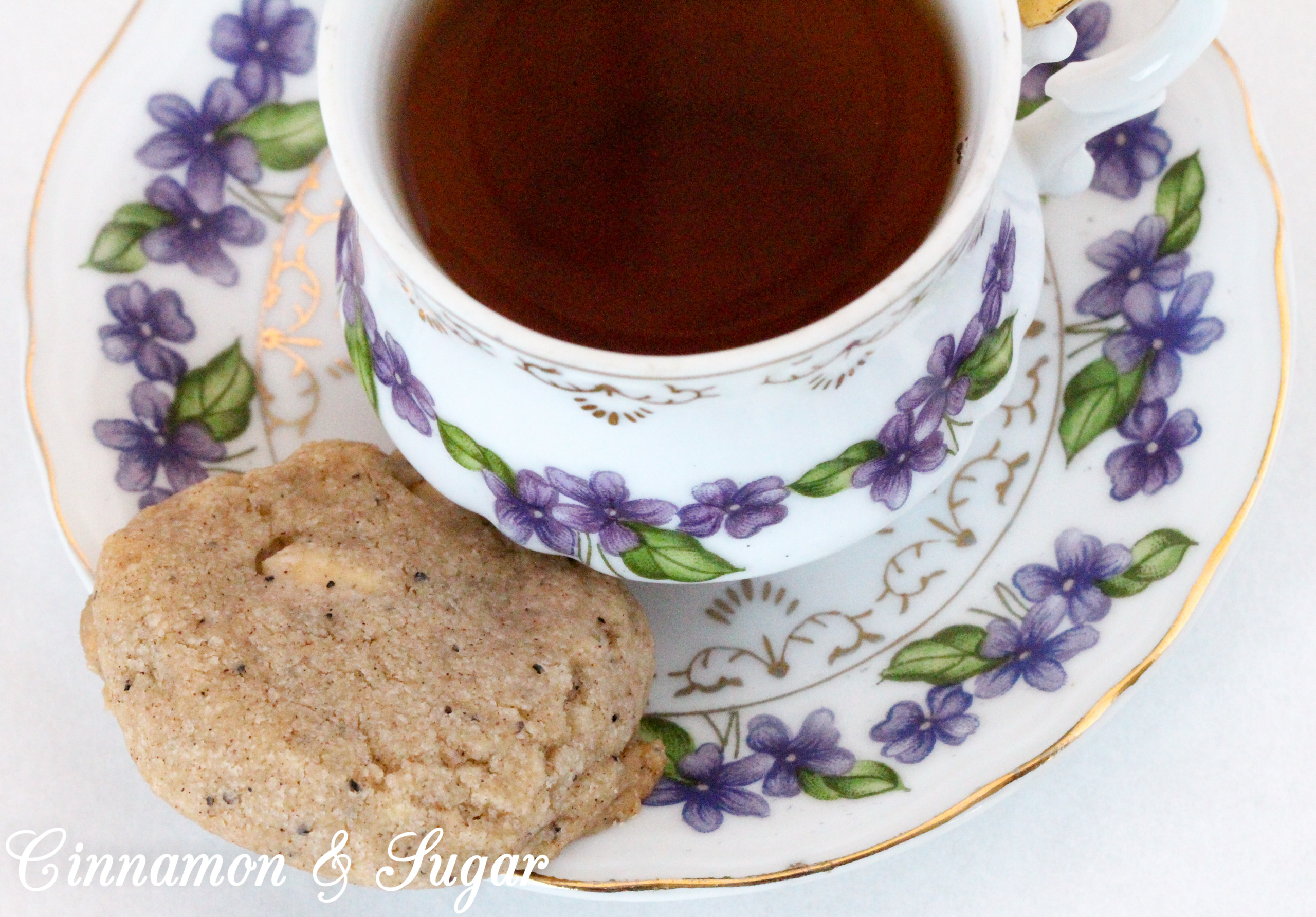 I was provided an advance copy. All thoughts and opinions are my own.