MURDER AT THE TAFFY SHOP, the second book in the Cozy Capers Book Group Mysteries by Maddie Day is another welcomed addition to a heartwarming series! Starting with the inviting cover that evokes the fun seaside tourist setting in Cape Cod, this newest release weaves together colorful characters with a well-plotted mystery to make this an engrossing read. The protagonist, Mac (Mackenzie) Almeida, owns a bicycle shop, working alongside her brother. Living just down the street is her minister father and her professional astrologer mother, along with her darling niece and feisty grandmother. Ms. Day has created strong family dynamics for this group and I love their realistic, sweet interaction. Mac's adorable African Gray Parrot, Belle, steals each scene she's in while providing many chuckles to lighten the book. There is clever dialog to keep the humor flowing in those scenes. Mac is also dating Tim, the owner of Greta's Grains. I truly appreciate the lack of a love triangle in this series, yet the author still manages to portray the relationship as a work in progress, allowing the characters to develop and grow. It's a welcome breath of fresh air that brings a sense of calmness from the core group's relationships instead of edgy conflict.
The author saves the conflict for where it really matters: the victim and the suspects. While the victim might have been a harsh, uncaring person, this is one of the few times I've seen the author go out of her way to highlight the good qualities the victim had, that the townspeople overlooked. This was meaningful to me because I like to believe that good can be found in just about everyone if we take a moment to look beneath the crusty exterior of that person and give them a chance. Despite that, the victim still died and there were plenty of suspects who didn't want to give her a second chance. The twists and turns that unfolded as Mac started asking questions kept me guessing and a truly clever reveal had me reading faster and faster. With a sweet wrap-up, I was left feeling highly satisfied and looking forward to the next book in this series!
There are so many yummy mentions of food throughout the book and thankfully Ms. Day has provided several recipes at the back of the book. I was intrigued with her recipe for Bear Claws, a flaky pastry encasing a sweet nut filling. I appreciated that the author gives the reader the opportunity to take a shortcut by using pre-made puff pastry instead of struggling with making the time-consuming homemade dough. As much as I bake, I've always been intimidated with making puff pastry from scratch. If you're adventurous, Ms. Day provides a well-written recipe and detailed instructions for making your own puff pastry but for this blog post, I opted to go with the pre-made variety. This makes the recipe quite doable for breakfast or a brunch gathering instead of spending half the day in the kitchen. I also liked that Ms. Day used pecans vs. the typical almonds found in Bear Claws. With a sprinkle of sugar and nuts on top of the pastries this yummy, crunchy treat will be appreciated by all!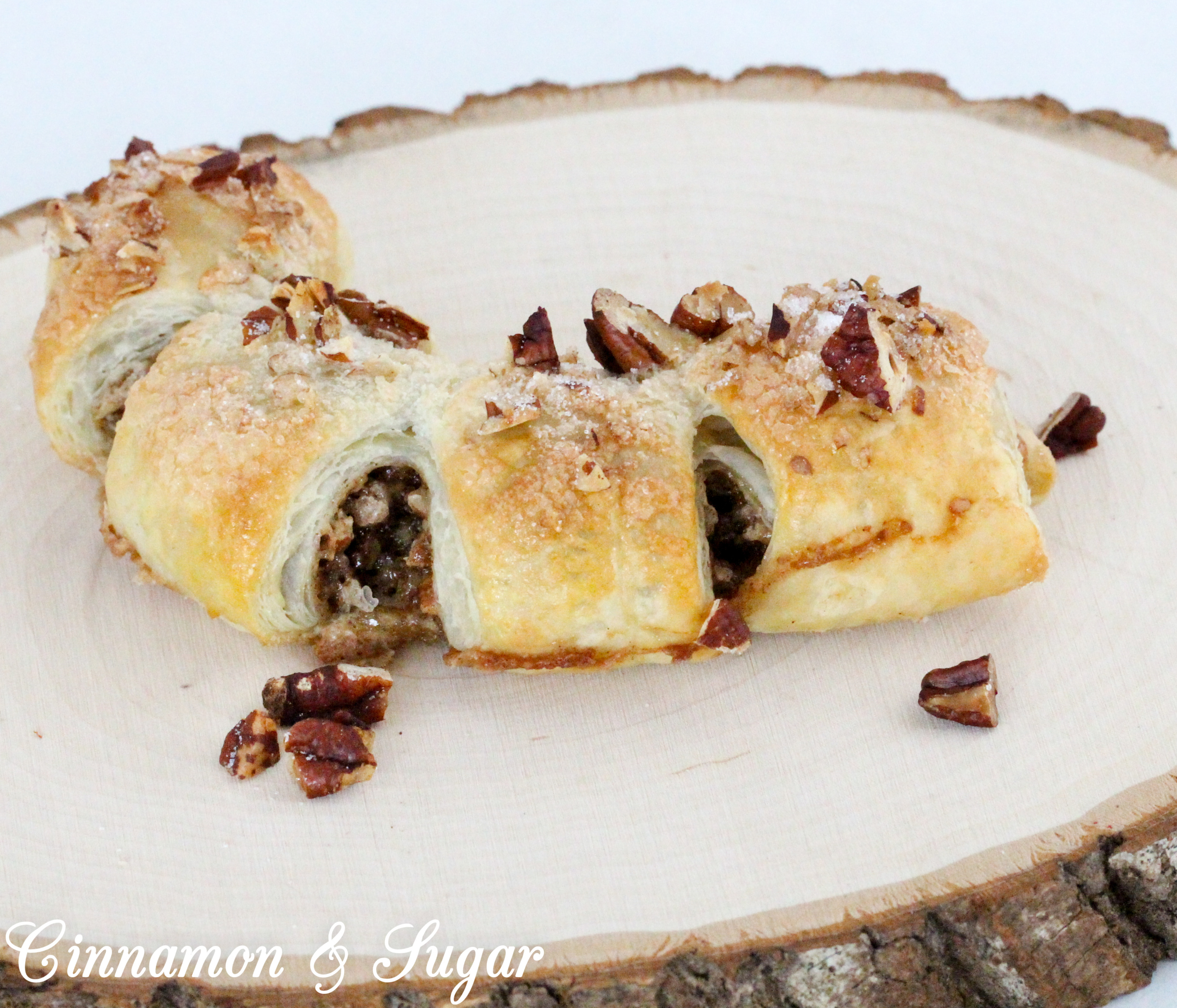 Barnes and Noble Synopsis
Cape Cod bicycle shop owner Mackenzie "Mac" Almeida and her mystery book club find a certain accusation of murder quite the stretch . . .
When your mother is an astrologist and your dad is a minister, you learn to keep an open mind. Which is just what Mac loves to do—exercise her mind by puzzling out fictional clues in the mystery novels she reads and discusses with her Cozy Capers Book Group.
But now Mac's friend Gin has found herself in a sticky situation. After wealthy genealogist Beverly Ruchart is found dead outside Gin's taffy shop, the candy maker becomes a person of interest. When it's revealed that Beverly was poisoned the night Gin brought a box of taffy to a dinner party at Beverly's house, she's bumped to the top of the suspects list. It's up to Mac and her Cozy Capers crime solvers to unwrap this real-life mystery. But this time they might have bitten off more than they can chew . . .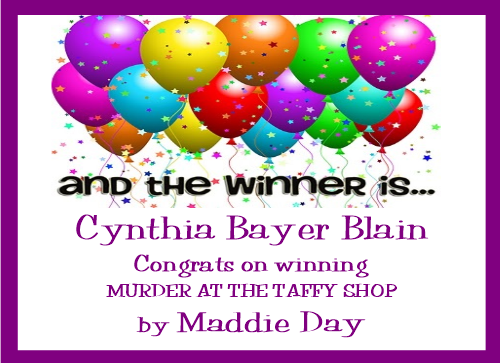 A special thanks to Maddie Day for providing a print giveaway copy of MURDER AT THE TAFFY SHOP. Contest ends Thursday, April 2, 2020 at 11:59 pm PST and is limited to U.S. residents only. Please use the Rafflecopter box located below to enter. The winner will be announced on this page and on Cinnamon & Sugar's Facebook page, as well as notified by email (so check your spam folder!)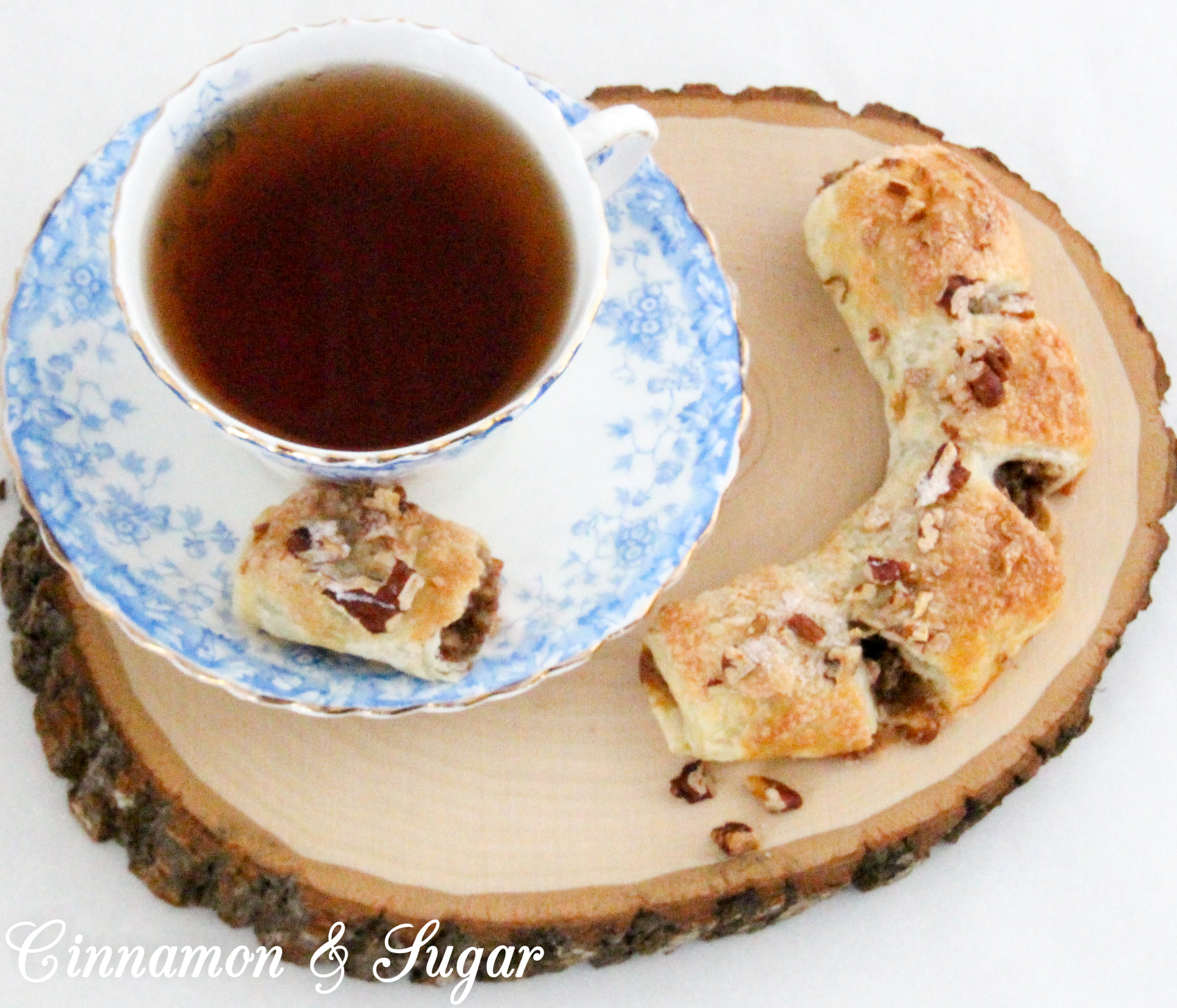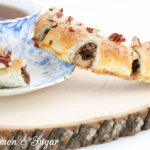 Bear Claws
Tim's alteration of the standard bear claw is better than the original. Tim's version has cinnamon and ground pecans throughout, and chopped pecans and sugar on top. You can make the yeasted dough yourself, or use puff pastry if you don't feel confident to make the dough.

Ingredients
Bear Claws
2

cups

pecans ground, plus 1 cup roughly chopped

2

eggs

1/2

cup

plus 4 tablespoons granulated sugar

1

tablespoon

cinnamon

Yeasted dough (recipe below) or 2 sheets puff pastry, thawed

1

egg beaten with 1 tablespoon water for the egg wash
Yeasted Dough
1

package (1/4 ounce) active dry yeast

1/2

cup

warm 2% or whole milk (110° to 115°)

2

tablespoons

sugar

3/4

teaspoon

salt

1

egg, lightly beaten

1-1/2

cups

plus 2 tablespoons unbleached white flour
Butter Mixture for Dough::
2

tablespoons

unbleached white flour, divided

3/4

cup

cold butter, cut into tablespoon-size pieces
Instructions
Bear Claws
Preheat oven to 350 degrees F. Line two baking sheets with parchment paper.

Mix together the nuts, eggs, and sugar until they are well-combined.

Roll half the yeasted dough or one sheet thawed puff pastry into an 8 x 16-inch rectangle (give or take) and make eight (4-inch) squares.

Apply egg wash to the top of each square.

Plop about 2 tablespoons of filling onto each square and form it into a log on the bottom end.

Roll the bottom about 1/3 of the way to the top and then fold the top down to meet it. Press gently to seal.

Make four diagonal slits into the bear claw-in-progress.

Pinch to form the traditional shape with cuts spreading apart. Brush the egg wash on the top and sprinkle with roughly chopped pecans and with sugar. Repeat with the other half of the dough or a second sheet of puff pastry. Bake for 10-15 minutes or until nicely browned.

Slide the parchment paper and claws from the baking sheet onto a wire rack. Serve warm with coffee or mimosas.
Yeasted Dough
In a large bowl, dissolve yeast in warm milk. Stir in sugar, salt, and egg and mix well. Add the flour all at once, stirring until mixed. Set aside.

For butter mixture, sprinkle 1 tablespoon flour on a work surface; place butter on surface and sprinkle with 1 teaspoon flour. Press and roll out with a rolling pin. Scrape butter from rolling pin and continue to work the butter until it forms a smooth mass without any hard lumps. Knead in remaining flour, working quickly to keep butter cold.

Place butter mixture on a sheet of plastic wrap and shape into a small rectangle. Cover with another sheet of plastic wrap; roll into a 9x6-inch rectangle. Refrigerate for twenty minutes.

Turn dough onto a floured work surface; roll into a 14x10-inch rectangle, with a 10-inch side toward the bottom. Unwrap butter mixture; place on dough 1 inch above bottom edge and 1/2 inch from each side edge. Fold top half of dough over butter and pinch edges to seal.

Turn dough a quarter turn to the right; sprinkle lightly with additional flour. Lightly roll into a 16x8-inch rectangle. Fold bottom third of rectangle up and top third down, as when folding a business letter, making a 5-1/2x8-inch rectangle (this is called one turn). Rotate dough a quarter turn to the right. Lightly roll into a 16x8-inch rectangle and again fold into thirds, finishing the second turn. Repeat rotating, rolling and folding two more times for a total of four times. Cut in half, wrap loosely in plastic wrap, and refrigerate for thirty minutes or up to overnight before making the Bear Claws.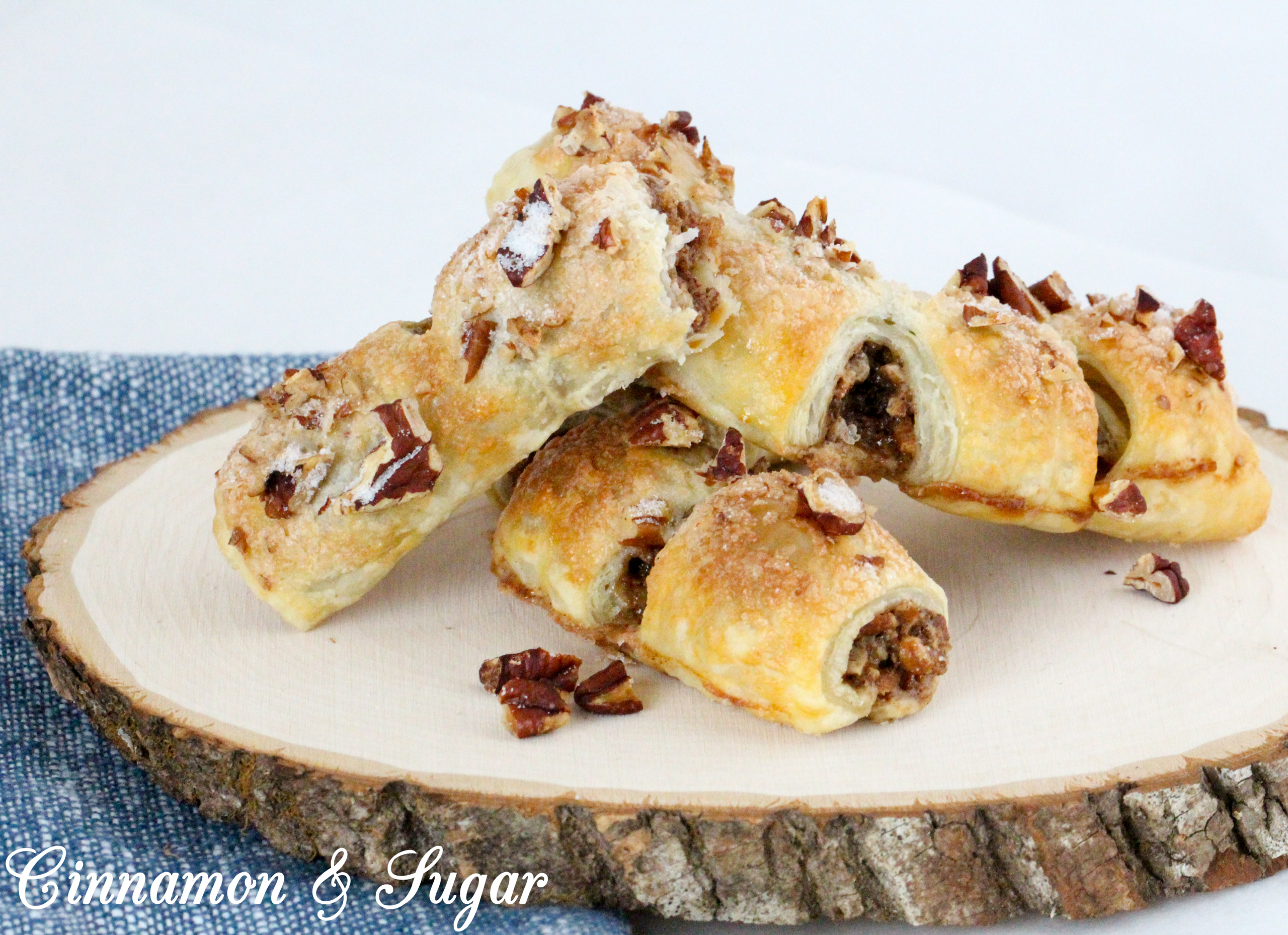 Pin to Pinterest: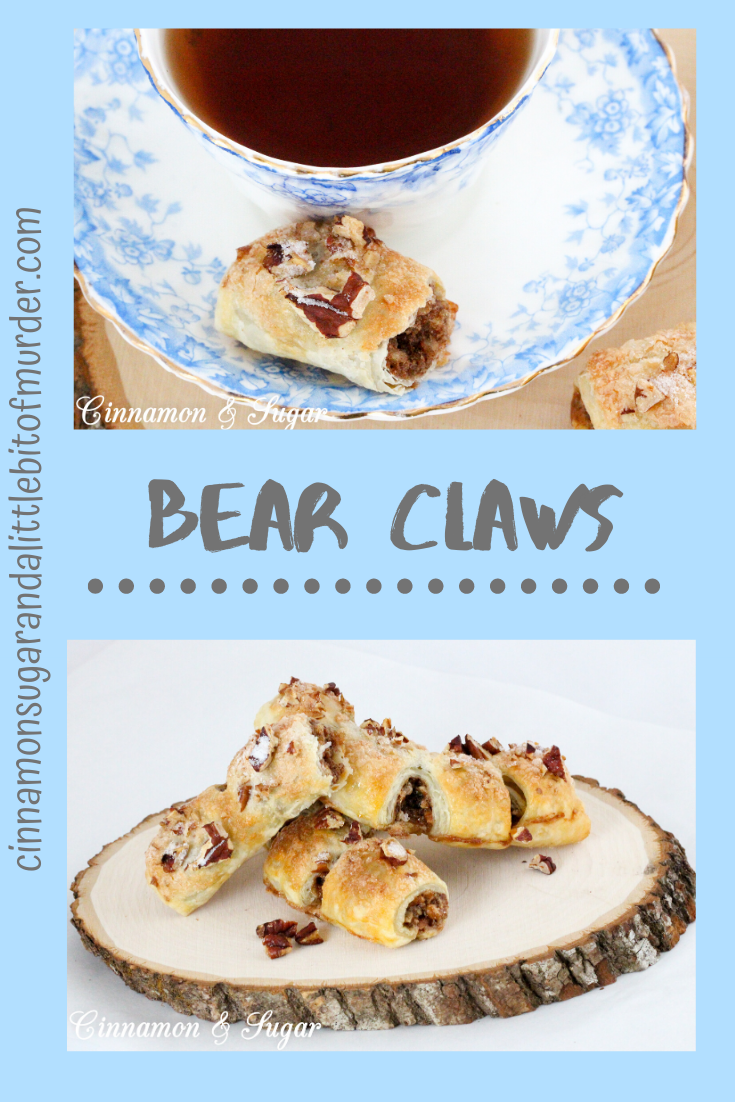 If you receive my blog post via email you will need to visit my website to view the video.
I was provided an advance copy. All thoughts and opinions are my own.