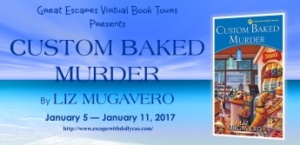 I'm delighted to be a part of the Great Escapes Virtual Book Tour for CUSTOM BAKED MURDER by Liz Mugavero! This new release is the fifth book in her Pawsitively Organic Mystery series but can easily be read as a stand alone. From the very beginning of the book, this fast-paced mystery is full of charming pets and an entertaining protagonist, Kristan "Stan" Connor. Stan is preparing to open her Pawsitively Organic Patisserie and Cafe in Frog Ledge, Connecticut and has three short months to put it together. She's also struggling to juggle her overbearing mother, Patricia, (who is also one of her investors), along with her flaky, spoiled sister who decides to move herself and her six-year-old daughter in with Stan. Fortunately, Stan's live-in boyfriend, Jake, is a very understanding guy and does all he can to support her. But things go from bad to worse when a former co-worker of Stan's is found murdered at Patricia and the mayor's engagement party. When Stan's ex is arrested for the murder, she knows he's innocent and decides to start finding answers since it appears the local police are hiding the truth.
Even with Stan's whirlwind problems and schedule, she is still a very loyal, caring person, both towards humans and animals. She has a very contentious relationship with her distant, snobbish mother but wants more. She has also been slightly estranged from her sister so when she shows up on Stan's doorstep it provides an awkward moment. But Stan steps up to the plate and works on helping her sister and niece out, providing room for growth and the chance to mend their relationship. I enjoyed seeing the changes that came about in their family dynamics. The mystery is satisfying and there is a subplot theme of drug abuse and addiction that adds to the depth of the story.
Stan's new shop will sell organic pet treats and Liz Mugavero provides several pet recipes at the back of the book. I like that all her treats are human-grade and can be enjoyed by pets and humans alike. She has graciously allowed me to share the recipe for Blueberry Biscuits which was developed by The Big Biscuit in Franklin, Massachusetts. These whole grain treats are lightly sweetened with vanilla Greek yogurt and blueberries and are a healthy way to spoil your favorite furry friend! My grandpuppy, Piper, certainly loved these treats and gobbled them down as fast as we could feed them to her!
Amazon Synopsis
Kristan "Stan" Connor gladly turned tail on her high-flying job and moved to a quaint New England town to sell organic pet treats. But with her nose for solving murders, there's no such thing as a quiet life…

Summer is winding down in Frog Ledge, Connecticut, but Stan's love life and career are both heating up nicely. In between planning her new pet patisserie and café, Stan is settling into living-in-bliss with sexy pub owner Jake McGee. Love's on the menu for Stan's mom, Patricia, too, who's engaged to Frog Ledge's mayor, Tony Falco.

Mayor Falco's dogged ambition isn't popular among locals, but it's his executive coach, Eleanor Chang, who's inspired a dangerous grudge. When Eleanor is found dead, there's a whole pack of suspects to choose from. Stan has first-hand experience of Eleanor's unsavory business tactics. But finding out who forced her to take a fatal plunge off the corporate ladder means unearthing some shady secrets…and a killer who's too close for comfort.
A very special thank you to Liz Mugavero for providing up to 10 copies of CUSTOM BAKED MURDER! This giveaway is administered by Great Escapes Virtual Book Tours and you can use the Rafflecopter box located below the recipe to enter. Contest ends January 11, 2017 and is limited to U.S. residents only. Winners will be announced on this page and on Great Escapes Virtual Book Tours site, as well as notified by email (so check your spam folder!)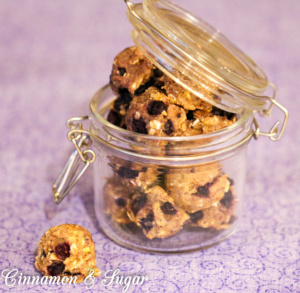 Doggie Blueberry Biscuits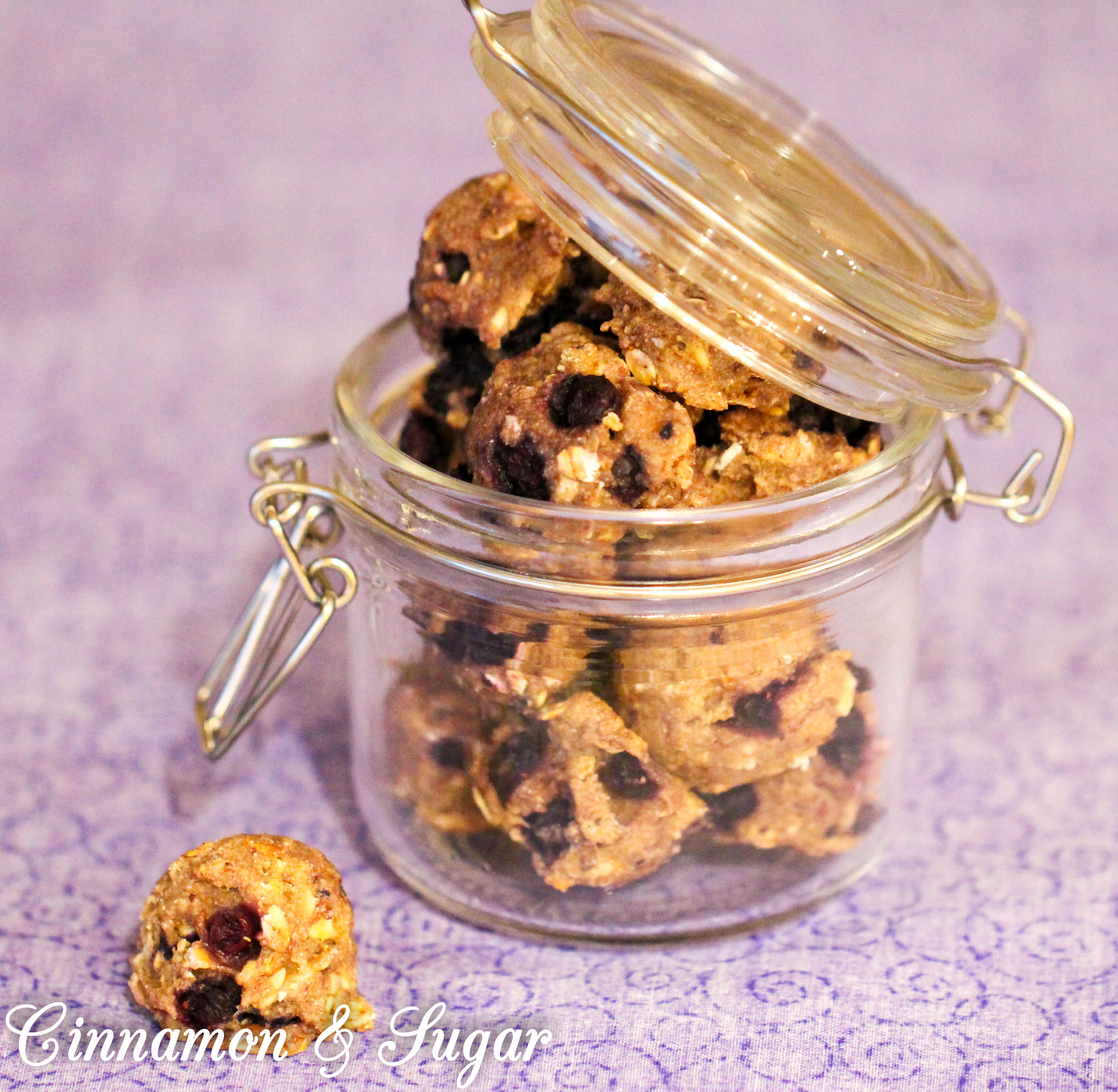 Ingredients
1-1/2 cups whole wheat flour
2/3 cup oatmeal
1/4 cup flaxseed meal
1 cup blueberries
1/2 cup vanilla Greek yogurt
1/2 cup water
Instructions
Combine all the dry ingredients in a large bowl.
Add wet ingredients and mix well.
Using a cookie scoop, drop tablespoon-size amounts of mixture onto a lightly greased or parchment paper-lined cookie sheet.
Bake at 350 degrees for 18 minutes.
Cool completely on a wire rack before storing in an airtight container in the refrigerator for a few days.
Cookies may be dehydrated for a longer shelf life.

Tip

Frozen blueberries can be used if fresh berries aren't available. No need to defrost, just mix the frozen blueberries into the dough and increase the baking time for a minute or two.
Small wild blueberries work better for these treats rather than large cultivated berries.
Extra treats can be frozen for storage. Freeze the treats on a baking sheet until solid then place in a freezer-safe ziplock bag. Remove individual treats as needed and allow to come to room temperature before serving to your furry friend.
https://cinnamonsugarandalittlebitofmurder.com/doggie-blueberry-biscuits/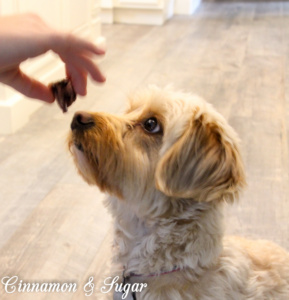 Pin to Pinterest: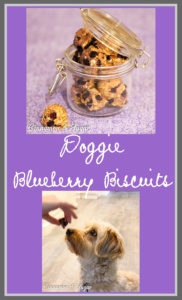 If you receive my blog post via email you will need to visit my website to view the video.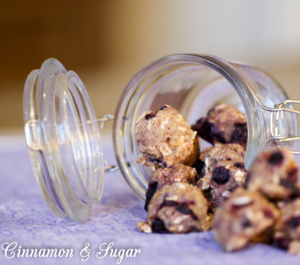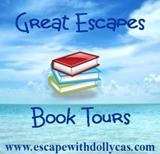 Tour Participants
January 5 – Bibliophile Reviews
January 5 – Mochas, Mysteries and Meows
January 6 – The Self-Rescue Princess
January 6 – Cinnamon, Sugar, and a Little Bit of Murder
January 6 – Melina's Book Blog
January 7 – Books,Dreams,Life
January 7 – Girl with Book Lungs
January 8 – Texas Book-aholic
January 8 – StoreyBook Reviews
January 9 – Sapphyria's Book Reviews
January 9 – Laura's Interests
January 10 – A Chick Who Reads
January 10 – Island Confidential
January 11 – Classy Cheapskate
January 11 – Melissa's Eclectic Bookshelf
I received a copy in exchange for my honest review. All thoughts and opinions are my own.