Chocolate…my most favorite flavor in all the world! It was with great happiness when I picked up Ellie Alexander's brand new release in her Bakeshop Mystery series, FUDGE AND JURY, and started reading about Ashland's annual Chocolate Festival! The author transports us to a world of sweet confectionery with Jules, owner of her family's bakeshop Torte, the "Queen of Sugar". I love to bake and spend time in the kitchen and Ellie Alexander beautifully captures the feelings I have being there. She writes those feelings in such descriptive language that I feel like I'm right in Torte's warm, cozy kitchen. "Food is an expression of art and love" is how Jules puts it and that expression truly shows as the theme is woven into a nice "whodunit" mystery. There are plenty of suspects to keep you guessing with the plot moving along nicely.
However, this series' greatest strength is the characters and keeps me coming back to see what happens next. Jules and her mother have a tender relationship, even if Jules was quite distant during her ten years away from Ashland. They've made up for that time and as a result share a true friendship. Jules has wonderful staff at Torte and each of them have their own story that is touched upon in each book. I'm always eager to see what creative coffee drink Andy, the college-age barrista, will come up. I'm also glad to see that the quirky character, Lance, continues to be a fixture. He adds a dose of levity to each story. And of course Jules is always creating a fabulous yummy dessert to share with her customers.
I'm grateful that Ellie includes some of those recipes at the back of the book because you most definitely will be craving chocolate as you read! Ellie has graciously allowed me to share Mom's Famous Chocolate Spice Cake with Mocha Frosting. Frankly I was torn about which recipe to try because they all sound amazing but this cake recipe won out for a couple of reasons. First, it's vegan….no eggs, no dairy and I had a dinner party I needed to bake a dessert for where a vegan friend was attending as well. Don't be put off by the word vegan because it certainly does NOT mean no flavor. My husband isn't a huge chocolate fan (yep, I married him anyway) but he loved this cake! I think the spices nicely balanced the chocolate and I fell in love with the Mocha Frosting…it will definitely be my "go-to" chocolate frosting here on out…I just couldn't stop nibbling on it! The second reason I chose this recipe is because it's EASY! No bowl and beaters to clean up for the cake since it mixes up with a fork, right in the baking dish. The crumb is very tender and moist so I recommend you bake and serve as instructed without trying to create this into a layer cake. (You can see my hilarious "goof" trying to stack layers with another vegan cake from long ago at the bottom of the page.) I did add some piping with the generous amount of frosting and added gold and silver star sprinkles to dress the cake up for the party, where it was gobbled up by vegans and non-vegans alike!
Amazon Synopsis
Welcome to Torte―a friendly, small-town family bakery where the pastries are delicious…and, now, suspicious.
It's almost spring in Ashland, Oregon, and the town is preparing for the Shakespeare and the annual Chocolate Festival. Business is cookin' at Torte, and the store is expanding as Jules' team whips up crèpes filled with mascarpone cheese and dark chocolate. Torte stands a chance of being this year's confectionery belle of the ball! Life couldn't be sweeter―unless murder taints the batter.
Evan Rowe, of Confections Couture, makes a chocolate fountain that would put Willy Wonka to shame, and his truffles are to die for―literally? Yes, the world-renowned chocolatier has just turned up dead…right after sampling a slice of Jules' decadent four-layer chocolate cake. Now all eyes are on Jules as she tries to find the mysterious ingredient in her own recipe. Can she sift out the truth before another contestant bites the buttercream?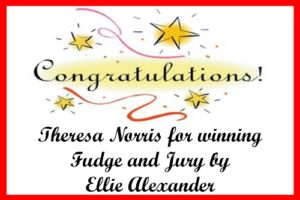 A huge thank you to Ellie Alexander for providing an autographed copy of FUDGE AND JURY for one lucky winner! Limited to U.S. residents only. Contest ends Thursday, January 5, 2017 at 11:59 pm PST. Please use the Rafflecopter box located below the recipe to enter. The winner will be announced on this page and on Cinnamon & Sugar's Facebook page, as well as notified by email (so check your spam folder!)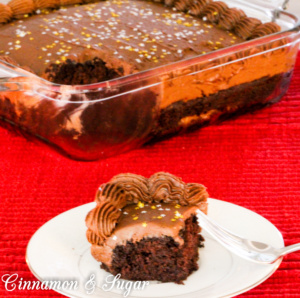 Mom's Famous Chocolate Spice Cake with Mocha Frosting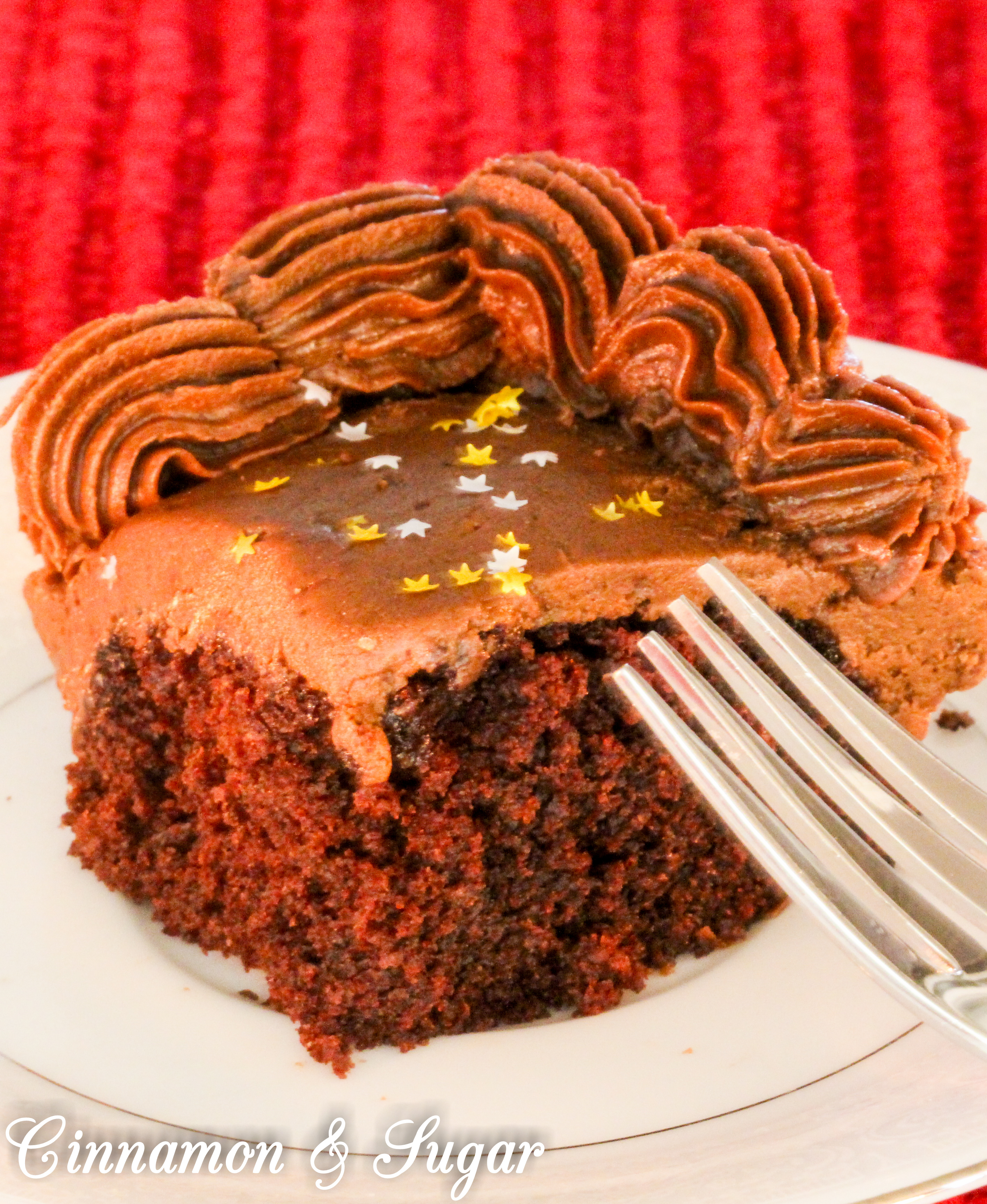 Ingredients
Cake

1-1/2 cups flour
1 cup sugar
1/2 teaspoon salt
3 tablespoons cocoa powder
1 teaspoon baking soda
1 teaspoon cinnamon
1/2 teaspoon ginger
1/2 teaspoon nutmeg (you can omit if you're not a fan)
6 tablespoons vegetable oil
1 teaspoon vinegar
1 teaspoon vanilla
1 cup water

Mocha Frosting

1/2 cup butter (or vegan margarine)
6 tablespoons cocoa powder
2-3/4 cups powdered sugar
1/2 teaspoon cinnamon
1/2 teaspoon allspice
5 tablespoons of strong brewed coffee
Instructions
Cake

Preheat oven to 350 degrees (F).
Sift flour, sugar, salt, cocoa powder, baking soda, cinnamon, ginger, and nutmeg into an 8x8-inch glass pan.
Make three wells-pour oil in one, vinegar in another, and vanilla in the last well.
Pour water over entire pan and mix with a fork.
Bake for thirty-five to forty-five minutes.
Allow to completely cool and frost with mocha frosting below.

Mocha Frosting

Whip butter in mixer.
Sift cocoa powder, sugar, and spices together.
Slowly alternate adding powdered mixture and coffee.
Once incorporated, beat until creamy and fluffy.
Spread generously on chocolate spice cake.
https://cinnamonsugarandalittlebitofmurder.com/chocolate-spice-cake/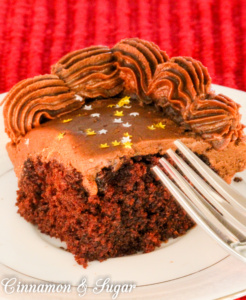 Pin to Pinterest: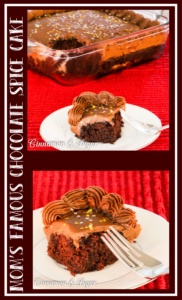 If you receive my blog post via email you will need to visit my website to view the video.
Years ago, when I was starting to experiment with fondant in cake decorating I volunteered to create a "piggie" cake for a vegan friend. Vegan cakes are made without eggs or dairy but I never appreciated the stability eggs bring to cakes until I tried stacking the vegan cake and covering with fondant. I was in tears as the cake toppled and tore until my husband said to just tell the birthday girl and party goers that the big bad wolf blew the house down…I did and everyone had a good laugh then ate the cake because it still tasted great.
I received a copy in exchange for my honest review. All thoughts and opinions are my own.