Ever since I saw the cover of ICED UNDER by Barbara Ross, the fifth book in her Maine Clambake Mystery series, I've been on pins and needles waiting to read it! And when Barbara released her novella in the Christmas book, EGGNOG MURDER, featuring Julia Snowden in October, my appetite for this series was whetted even more. So it was with great glee that I poured a steaming mug of tea, curled up on the couch with a fluffy blanket, and lost myself in the snowy world of Busman Harbor, Maine and Boston!
Barbara weaves a tight tale of Julia's family history while unraveling the secrets the family has closely guarded for almost 100 years which culminates in the murder of a long lost cousin. The multi-faceted layers of the story kept me turning pages late into the night…that OMC syndrome ("one more chapter") was in full force. I so enjoyed getting to know Julia's mother, Jacqueline, more. In past books, Jacqueline has seemed exceedingly reserved and I never really warmed to her. However, in ICED UNDER, we learn the full story of what has made Jacqueline the woman she is and I now see her in a different light, and admire who she is. Julia is a strong character and it's from her dedication and love for her mother, that she involves herself in solving the mystery.
Both the setting and the plot are well developed, and Barbara's descriptive language pulls me in, making me feel like I'm right there with the characters. She includes an especially touching sentiment when the murdered cousin's caretaker tells Julia, "When you are needed most, that is when the work is most rewarding." I have seen that type of dedication first hand with the people who work with my special needs granddaughter. I am always astounded at their capacity for caring and it is definitely at the forefront this time of the year! Barbara manages to capture the emotional impact of that kind of dedication in the book, which adds to the strength of the story. She also utilizes true historical events as the basis for Julia and Jacqueline's ancestors building…and losing…their family fortunes. I was fascinated with the "Ice Kings" and appreciated the list of books the author provides at the back of the book for reading further on this subject.
As with the previous books, Barbara also includes recipes in ICED UNDER. She graciously allowed me to share her maternal grandmother's recipe for Beef Stew. One of my husband's favorite dishes, he couldn't wait for me to make this recipe! Easy to put together (I loved that you don't have to brown the beef) it's hands off baking for several hours, filling the house with mouthwatering aromas. The addition of lemon juice and cocktail pearl onions adds a depth to the flavor. Vee's Beef Stew will become a regular in my dinner rotation, especially during cold winter months!
Amazon Synopsis
The snow is deep in Maine's Busman's Harbor and the mighty rivers are covered in ice. Snowden Family Clambake Company proprietor Julia Snowden and her mother, Jacqueline, are hunkered down for the winter when a mysterious package arrives—heating up February with an unexpected case of murder . . .

Inside the mystery package is an enormous black diamond necklace that once belonged to Julia's great-grandmother and disappeared in the 1920s. Who could have sent it—and why? Julia's search for clues takes her on a perilous journey through her mother's troubled family history, from a squabble over the family fortune in "frozen water" to the recent unexplained death of Jacqueline's long-lost cousin Hugh—who'd been missing and presumed drowned for more than forty years. To protect her mother's inheritance, Julia must fend off a small army of feuding relatives, solve the mystery surrounding Hugh's demise, and get back home before the next blizzard buries them all . . .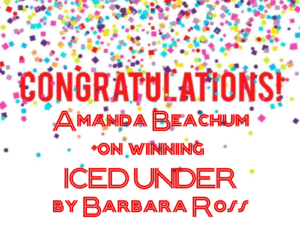 A huge thank you to Barbara Ross for providing an autographed copy of ICED UNDER for one lucky winner! Limited to U.S. residents only. Contest ends Monday, January 2, 2017 at 11:59 pm PST. Please use the Rafflecopter box located below the recipe to enter. The winner will be announced on this page and on Cinnamon & Sugar's Facebook page, as well as notified by email (so check your spam folder!)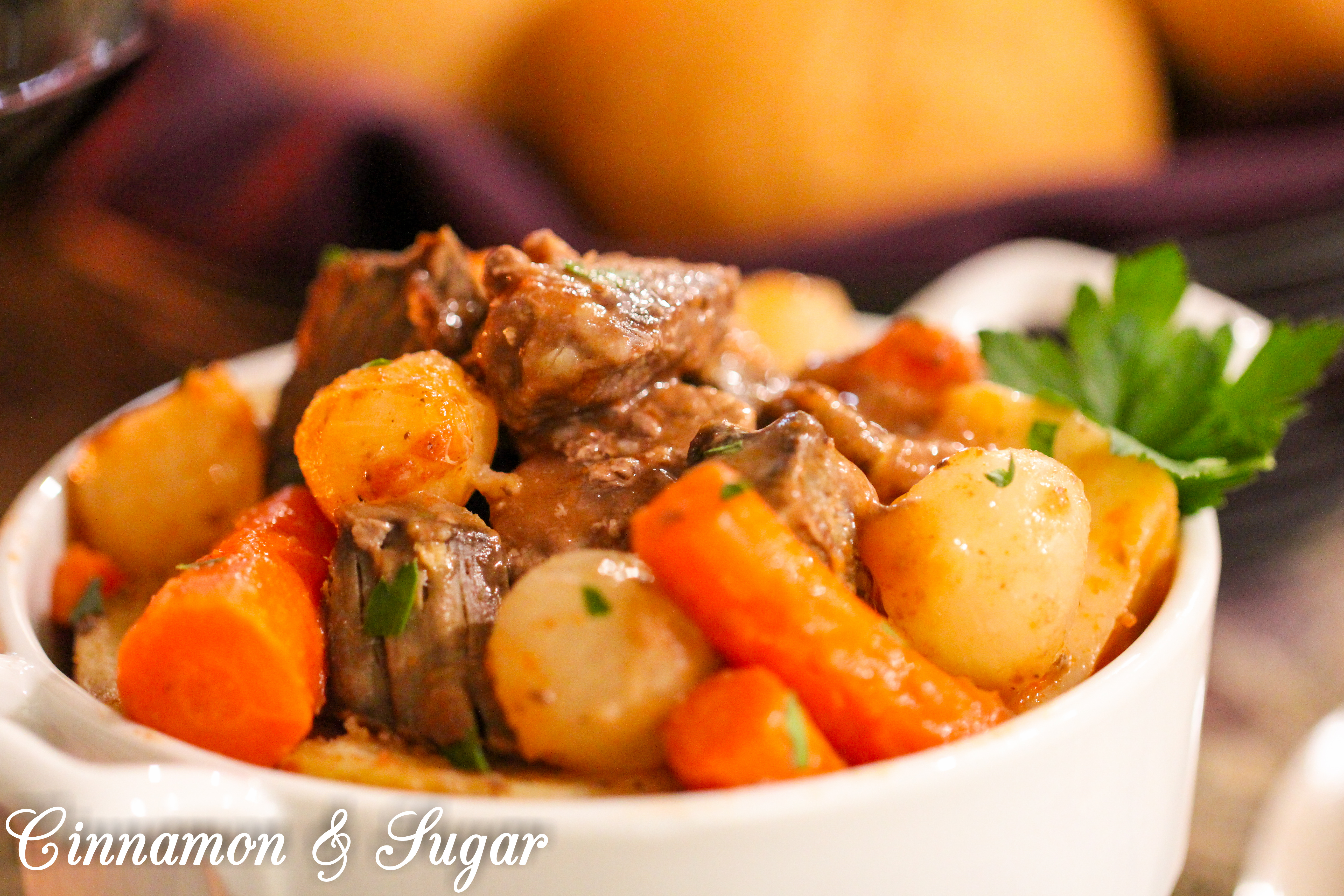 Ingredients
Author's Note:

One of my most precious possessions is a book of handwritten recipe cards given to me by my maternal grandmother Ethel McKim. When I planned for Julia and her mother to be snowed in, I knew I would turn to this book full of comfort foods for many of the recipes. This one is made by Vee Snugg in the book, and it's as homey and delicious as you might imagine. I have provided amounts for the vegetables, though according to my grandmother's note, you can use as many or as few as you please.

Ingredients

2 pounds of beef, cubed
6 carrots, cut in three-inch chunks
4 medium potatoes, peeled and cut in half
1 (15-ounce) jar pearl onions drained
1 (8-ounce) can tomato sauce
3 ounces water
1 teaspoon sugar
Juice of 1/2 lemon
3 tablespoons instant tapioca
6 drops Worcestershire Sauce
Salt and pepper to taste
Instructions
In a bowl, mix well tomato sauce, water, sugar, lemon juice, instant tapioca, and Worcestershire Sauce.
In a casserole dish, pile meat in the center.
Place all the vegetables around the edges.
Pour tomato mixture over all.
Cover and cook in a preheated oven at 225 degrees for 6 to 7 hours.
Can be prepared in advance and reheated.
Makes a delicious brown sauce.
Serves 4 to 6.

My Notes:

The next time I make this, I will swap out the water and add 1 cup beef broth. Plus, I will stir it a few times during the baking time to make sure the top pieces of beef stay covered with the gravy to keep the beef extra moist and tender.
The only potatoes I had were huge and soaked up a lot of the gravy. If you have a lot of potatoes, I would recommend adding an additional 1/2 cup liquid.
https://cinnamonsugarandalittlebitofmurder.com/vees-beef-stew/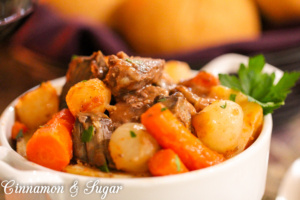 Pin to Pinterest: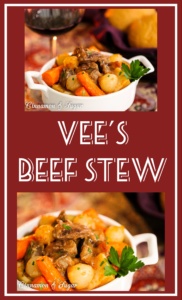 If you receive my blog post via email you will need to visit my website to view the video.
I received a copy in exchange for my honest review. All thoughts and opinions are my own.