One of the small pleasures in life is starting a brand new series when it first releases and then anticipating the next installment. Such is the case with Kristi Abbott's Popcorn Shop Mystery series and I've been eagerly waiting for her newest release, POP GOES THE MURDER. Her protagonist, Rebecca Anderson, is adorably sassy and the clever, snappy dialog kept me entertained. At times I wondered if the author had been a stand-up comedienne in a former life… she certainly knows how to deliver one-liners! The mystery starts off with a bang from the very beginning and the pace never lets up. The story is well plotted with plenty of suspects that kept me guessing and turning pages and I devoured the book like it was a bowl of buttery popcorn. The cast of supporting characters are also well developed and add depth to the subplots. Rebecca's evolving relationship with her very pregnant sister (who brings added humor to the story) is sweet to watch as it unfolds. Rebecca also seems to be finding her place in the small Ohio town. After her ex-husband brings the world and drama of celebuchefs to the quiet town, it appears she embraces her choice even more.
Rebecca owns POPS, a gourmet popcorn shop and there is plenty of food mentioned to make you hungry. Fortunately, Kristi provides a couple recipes at the back of the book. She graciously allowed me to share her recipe for Bacon Pecan Popcorn….oh my! When I read through the recipe I thought it sounded good. But when I made it and started sampling this delightful concoction I literally could not stop eating it. I had it for snack, then I munched on it for lunch, and by the time I was back nibbling on it for another snack I decided I'd better share with other family members. The salty bacon, buttery pecans, and crunchy popcorn combine beautifully together with a generous amount of praline style caramel sauce. So mix yourself up a batch of this Bacon Pecan Popcorn and sit down and enjoy POP GOES THE MURDER!
From the Publisher
Gourmet popcorn entrepreneur Rebecca Anderson and her poodle, Sprocket, are back on the case, in the second Popcorn Shop Mystery from the author of Kernel of Truth.
Despite Rebecca Anderson's best efforts to distance herself from her ex-husband, the guy keeps popping up. When Antoine offers to feature her breakfast bars and popcorn fudge on his popular cooking show, she suspects he's once again trying to butter her up—but the TV exposure for her gourmet popcorn shop, POPS, is too good to turn down.

Things take a shocking turn when the crew comes to Grand Lake to film in her shop, and Rebecca discovers Antoine's assistant electrocuted in a hotel bathtub. Now the police want Antoine to come clean. Her ex may be a pain, but he's no killer. So Rebecca decides to bag the real culprit. If she isn't careful, however, she may be the next one getting burned.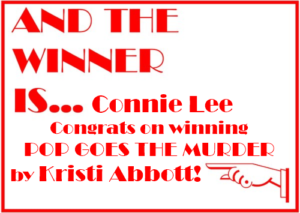 A huge thank you to Kristi Abbott for providing an autographed copy of POP GOES THE MURDER for one lucky winner! Limited to U.S. residents only. Contest ends Thursday, January 12, 2017 at 11:59 pm PST. Please use the Rafflecopter box located below the recipe to enter. The winner will be announced on this page and on Cinnamon & Sugar's Facebook page, as well as notified by email (so check your spam folder!)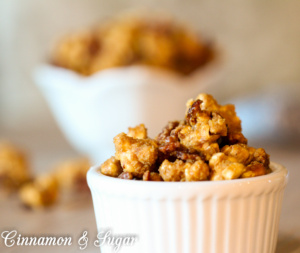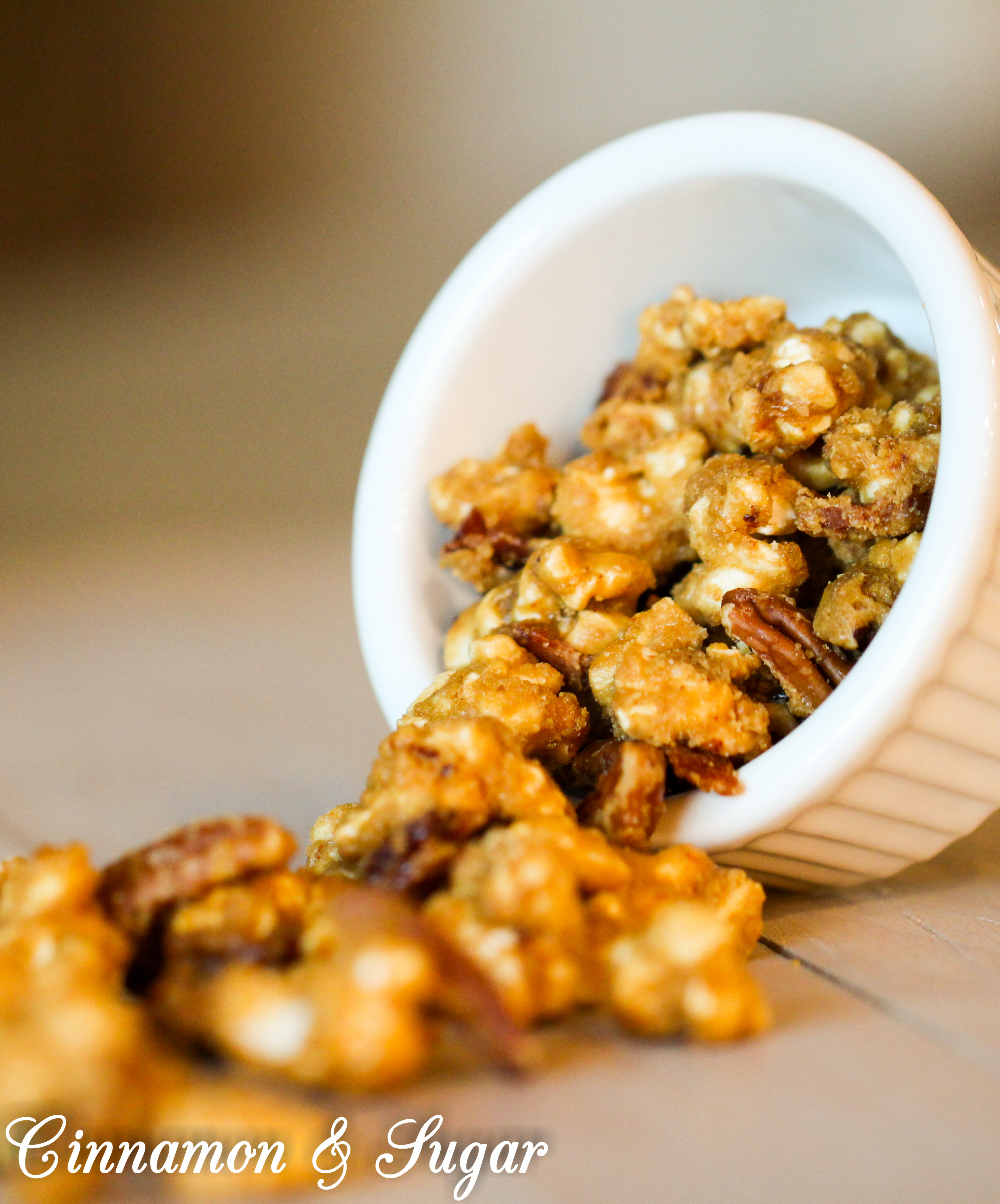 Ingredients
4 cups popped popcorn (Pop 1/3 cup kernels in 1/4 cup oil)
1/2 cup butter
2 cups brown sugar
1/2 cup Karo syrup
1 teaspoon salt
1/2 teaspoon baking soda
1 teaspoon vanilla
1 pound bacon, cooked and chopped into bite-sized pieces
1 cup pecans
Instructions
Preheat oven to 250 degrees (F).
Melt butter in a medium sauce pan.
Add in the brown sugar, Karo syrup, and salt.
Bring to a boil, stirring. Then set the timer!
Let it simmer for 5 minutes without stirring.
Remove from heat, add in baking soda and vanilla.
Pour over the popcorn and mix. Add in the bacon and pecans.
Pour popcorn mixture into a shallow pan lined with parchment and bake for 1 hour, stirring occasionally.
Let cool, then break apart.
Store in an airtight container, if there's any left to store!

Tips

I used pre-popped Skinny Pop for this recipe since I always have a bag...or two on hand.
Instead of frying bacon you can bake it. Much easier and less cleanup! Simply line a baking sheet with foil then arrange the bacon in a single layer. Bake in a preheated 400 degree (F) oven for 15 to 20 minutes until crispy. Place the cooked bacon on a paper towel-lined plate to drain and allow to cool before using.
https://cinnamonsugarandalittlebitofmurder.com/bacon-pecan-popcorn/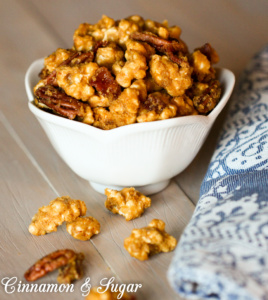 Pin to Pinterest: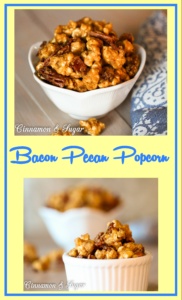 If you receive my blog post via email you will need to visit my website to view the video.
I received a copy in exchange for my honest review. All thoughts and opinions are my own.