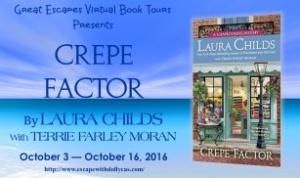 I am very excited to be a part of the Great Escapes Virtual Blog Tour for the release of CREPE FACTOR by Laura Childs with Terrie Farley Moran! Even though this is the fourteenth book in the Scrapbooking Mystery series, I am embarrassed to say it has somehow missed my attention. However, now that I've read this one book, I am thrilled I have thirteen more to catch up on in this very fun series!
Synopsis
Carmela Bertrand is owner of Memory Mine, a scrapbooking shop, in the French Quarter of New Orleans. Carmela and her best friend, Ava, (owner of Juju Voodoo), are attending the Winter Market to shop, eat, and drink and get into the holiday spirit. They run into Quigg, Carmela's former boyfriend, who gets into a violent argument with Martin Lash. Lash writes restaurant reviews for food website Glutton for Punishment and gave Quigg's star restaurant a very nasty review and refuses to retract. Not long after the fight breaks up, Martin Lash is stabbed with a restaurant fork and left for dead in the middle of Winter Market.
Quigg becomes a suspect in the murder when Detective Edgar Babcock is put in charge of the investigation. The only problem is, Detective Babcock is dating Carmela and is jealous of her past involvement with Quigg. Carmela worries about his objectiveness since she knows Quigg is innocent. When both Ava and Quigg beg her to do her "Nancy Drew thing" she can't say no, even though she worries it will jeopardize her relationship with Edgar. Can Carmela juggle the demands of her shop while peeling off the layers of deceit and secrecy surrounding the dead man? Can she balance her quest for justice and keep her relationship with Edgar intact? The more questions she asks, the more the truth becomes as murky as the bayou swamp.
My Review
CREPE FACTOR is truly a fun, fun read! Even though I was unfamiliar with the characters starting out, they quickly became people I wanted to read more about and enjoyed getting to know them and their quirky personalities. There is a lot of humor sprinkled throughout the book, making it a lighthearted, entertaining read that kept me turning pages wanting to see what new mischief Carmela and Ava would get themselves in to. There were plenty of suspects and red herrings to keep the mystery appealing and me guessing. The authors captured the setting of New Orleans perfectly and I could see, smell, and taste that amazing city on the pages. I also loved that there are facts about New Orleans woven into the story along with "local" words that had me opening a dictionary to find out what they meant. I so enjoy learning while being entertained!
One of my (many) hobbies is scrapbooking. I used to scrapbook a lot when my granddaughters were very young, but other hobbies and interests have intruded. I still have a cupboard full of beautiful papers and embellishments and whenever I see them, wish I could find time to take it up again (and do something with the hundreds of photos I have of the girls). CREPE FACTOR is not only a fun, madcap romp through New Orleans and the bayou with memorable characters, the book provides inspiration and tips for scrapbooking along with several delicious recipes. Terrie Farely Moran has graciously allowed me to share her recipe for Mini Cranberry Crab Cakes, a very tasty yet easy appetizer to put together for upcoming holiday gatherings! The gorgeous jewel tones of the cranberry sauce brings elegance to an appetizer platter while the creamy crab filling provides a satisfying bite.

A very special thank you to Laura Childs and Terrie Farley Moran for providing 2 hardcover copies of CREPE FACTOR! This giveaway is provided by Great Escapes Virtual Book Tours and you can use the Rafflecopter box located below the recipe to enter. Contest ends October 16, 2016 and is limited to U.S. residents only. Winners will be announced on this page and on Great Escapes Virtual Book Tours site, as well as notified by email (so check your spam folder!)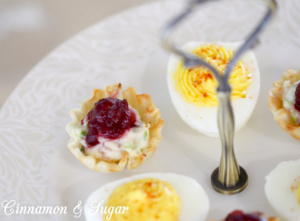 Mini Cranberry Crab Cakes
Ingredients
1/3 cup cream cheese, softened
1/4 cup crabmeat, drained, flaked, cartilage removed
1/2 teaspoon sugar
2 tablespoons scallions, finely chopped
1 (1.9-ounce) package frozen miniature phyllo tart shells
1/3 cup whole-berry cranberry sauce
Instructions
Preheat oven to 375 degrees (F).
In a small bowl, combine cream cheese, crab, sugar, and scallions until thoroughly blended.
Place tart shells on an ungreased baking sheet.
Fill each shell with 1 tablespoon crab mixture.
Top each crab mound with 1 teaspoon cranberry sauce.
Bake for 12 to 14 minutes or until heated through.
Makes 15 mini crab cakes.
https://cinnamonsugarandalittlebitofmurder.com/cranberry-crab-cakes/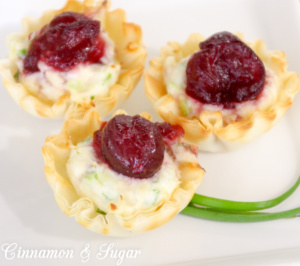 Pin to Pinterest:
If you receive my blog post via email you will need to visit my website to view the video.
Tour Participants
October 3 – Lisa Ks Book Reviews
October 3 – Cinnamon, Sugar and a Little Bit of Murder
October 3 – View from the Birdhouse
October 4 – A Holland Reads
October 4 – 3 Partners in Shopping, Nana, Mommy, &, Sissy, Too!
October 5 – Celticlady's Reviews
October 5 – The Power of Words
October 6 – I Wish I Lived in a Library
October 6 – Sleuth Cafe
October 7 – Mallory Heart's Cozies
October 7 – The Girl with Book Lungs
October 8 – Shelley's Book Case
October 8 – Community Bookstop
October 9 – A Blue Million Books
October 10 – Melina's Book Blog
October 10 – StoreyBook Reviews
October 11 – MysteriesEtc
October 11 – Island Confidential
October 12 – Grace. Gratitude. Life. by Marie McNary
October 12 – Babs Book Bistro
October 13 – Socrates' Book Reviews
October 13 – fundinmental
October 14 – LibriAmoriMiei
October 14 – deal sharing aunt
October 15 – Brooke Blogs
October 15 – Mystery Thrillers and Romantic Suspense Reviews
October 16 – Laura's Interests
October 16 – Booklady's. Booknotes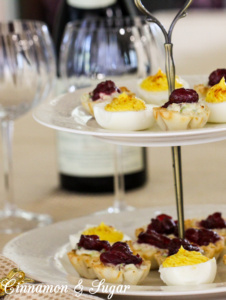 I received a copy of this book in exchange for my honest review. All thoughts and opinions are my own.