I so enjoy visiting Seattle's Pike Place Market vicariously through the Spice Shop Mystery series by Leslie Budewitz! The smells and tastes of this landmark is a food lovers' dream and I was delighted to have the chance to read KILLING THYME, Leslie's newest release in this series. The author knows how to flavor her book with a mesmerizing plot and interesting characters, making me want seconds!
Synopsis
Pepper Reese is owner of the Seattle Spice Shop and has her hands full with her mother visiting from Costa Rica. She's also preparing for a party hosted by her childhood friend, Kristen, at the community house they both grew up in with their hippie-activist parents. While browsing through the daystallers with her mother, Lena, they come across beautiful pottery by the newcomer, Bonnie Clay. Pepper is stunned that her mother knows the potter under the name Peggy, and believed her to be dead for numerous years. Pepper gets the feeling that her mother and Peggy/Bonnie have issues but her mother won't confide. Several witnesses see the two women in a very loud argument and when Peggy/Bonnie turns up dead, Lena becomes a suspect.
Pepper can't help but ask questions, digging into Peggy/Bonnie's past and piecing together why she disappeared when Pepper was just a young child. But will she find clues to exonerate her mother or will the past tear her family and friendships apart?
My Review
Starting out at the beginning of the book is a handy list of the characters involved in the story. I liked the convenience of having it there, especially since I had to put the book down for several days while I drove to Oregon to see my sister. (Let me tell you, it was very difficult putting the book down too!) Quickly rereading the list of characters immediately brought me right back to the story. I think it is also very helpful for those who haven't started reading with the very first book in the series. While this is the third book in the series, it is easily read as a standalone.
Leslie has created some very strong characters and I enjoyed seeing how Pepper Reece has grown and developed from the first book. Her supporting cast of characters are personable and her mother, Lena Reese, adds a depth to the story and to Pepper's personal life. I love when plots can combine old crimes with present day crimes and KILLING THYME effortlessly does that. It's like getting two mysteries in one. She also provides some fun facts such as it takes eight years from start to finish to create vanilla, which is part of the orchid family…I love learning as I read!
Of course a Spice Shop book series must have recipes and the author generously provides several delicious ones! I made her lovely Lemon Thyme Cookies. These delicately scented shortbread style cookies melt in your mouth providing a refreshing taste for a simple dessert. I love the author's recommendation to serve with lemon sorbet, which is the perfect pairing. Thank you, Leslie, for allowing me to share your delectable recipe!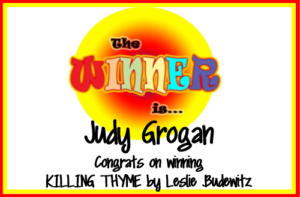 I am pleased to offer the winner a choice of either print or an e-book copy of KILLING THYME. Print limited to U.S. residents only. Please use the Rafflecopter box located below the recipe to enter. Contest ends Monday, October 3, 2016 at 11:59 pm PST. Winners will be announced on this page and on Cinnamon & Sugar's Facebook page, as well as notified by email (so check your spam folder!)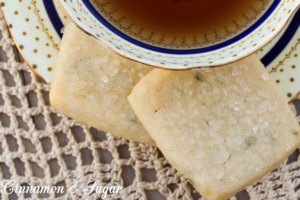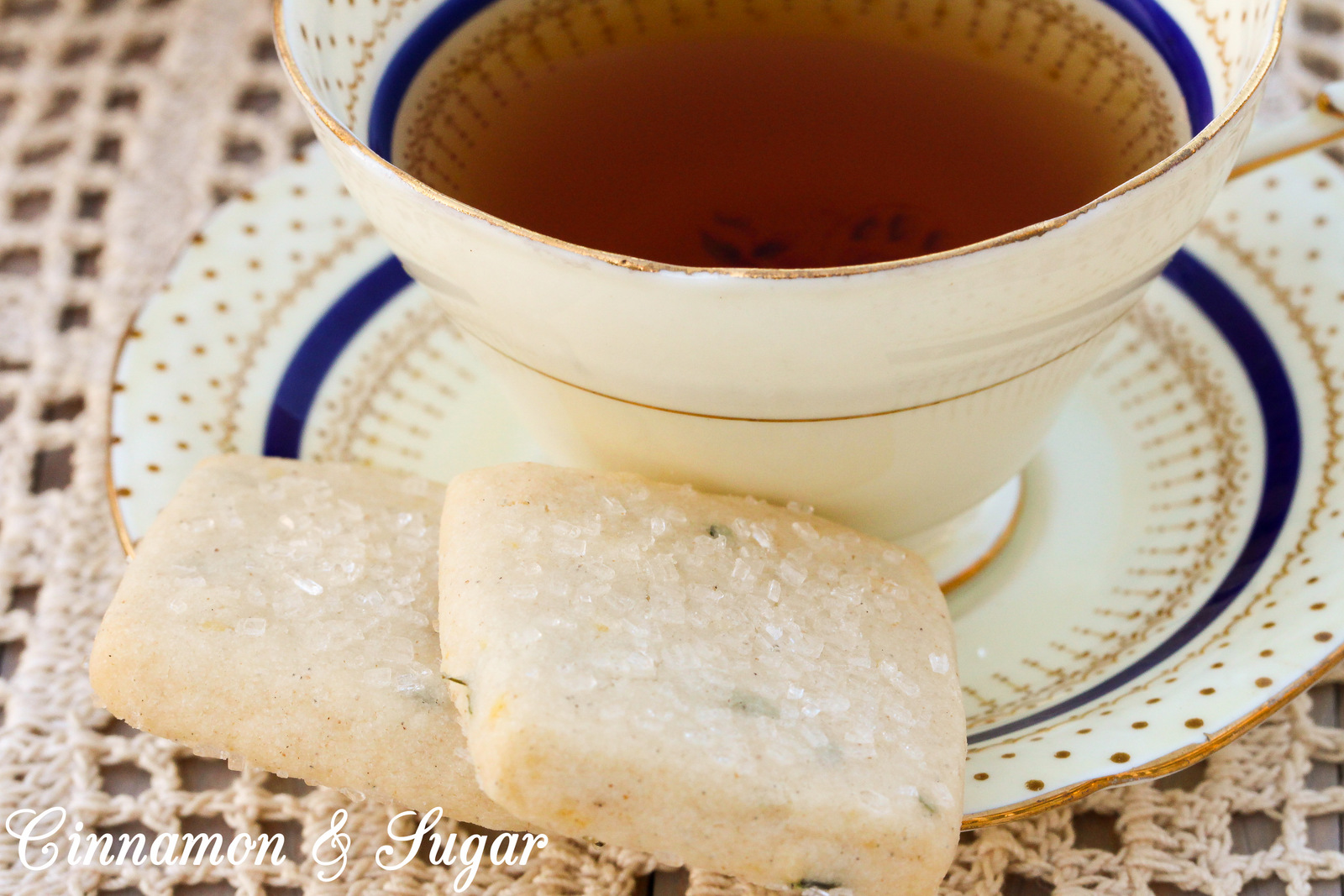 Ingredients
1/2 cup butter, softened
1/4 cup white sugar
1 tablespoon fresh thyme or lemon thyme leaves
2 teaspoons finely grated lemon zest
1 tablespoon fresh lemon juice
1/4 teaspoon ground cardamom
1-1/4 cups all-purpose flour
Coarse white or granulated sugar, for topping
Instructions
Preheat oven to 350 degrees (F).
Beat butter with an electric mixer on medium speed for 30 seconds.
Add 1/4 cup white sugar and mix until combined.
Add thyme, lemon zest, lemon juice, and cardamom, scraping the sides of the bowl if necessary to get all ingredients combined.
Gradually stir in the flour and mix.
Form the dough into a ball.
To make it easier to work with, divide dough into 3 equal portions.
Roll each out on a floured surface into a 6-by-4-1/2 inch rectangle, about 1/4 inch thick.
Cut into 1-1/2 inch squares with a knife or a serrated pastry wheel.
Sprinkle with coarse or granulated sugar.
Place squares on ungreased cookie sheets.
Bake 12 to 15 minutes, until edges and bottom are golden.
Cool on a wire rack.
https://cinnamonsugarandalittlebitofmurder.com/lemon-thyme-cookies/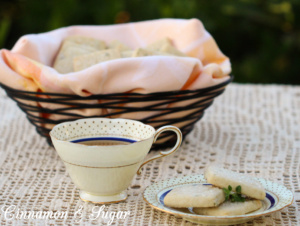 Pin to Pinterest: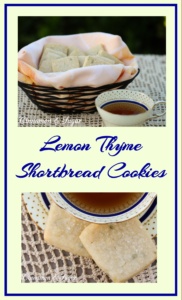 If you receive my blog post via email you will need to visit my website to view the video.
I received a copy of this book in exchange for my honest review. All thoughts and opinions are my own.