I have been a fan of the mother-daughter writing team, Victoria Abbott, for quite some time. I was thrilled when I heard that not only were they coming out with a new book in their Book Collector Mystery series, but it was going to be set in San Francisco! I just love that city and spent some time there when I lived up in the wine country for a couple of years. Victoria Abbott expertly captures the flavor and feel of San Francisco while delivering their best story yet with
THE HAMMETT HEX.
Synopsis
Jordan Bingham is finally taking a vacation away from her not-quite-so-lawful uncles and her crabby employer, Vera Van Alst. Vera is against Jordan leaving, even if it's only for a week, but finally relents when Jordan agrees to track down a rare copy of Red Harvest by Dashiell Hammett. Accompanying Jordan to San Francisco for the romantic getaway is Officer Tyler "Smiley" Dekker. Smiley, it seems, is keeping a few secrets from Jordan, like reconnecting to his estranged grandmother who lives in San Francisco. Smiley is also a huge fan of Dashiell Hammett and wants to visit some of the places mentioned in his books.
However, from the very beginning of their stay in the City by the Bay, things go terribly wrong. Jordan is pushed from a cable car and then a car almost runs them over. When they meet with Smiley's grandmother an unknown person puts her in harms way. Someone seems to be following them but they have no idea why. When Jordan's Uncle Kev shows up it can only mean more bad news. Can Jordan find out what their assailant is after or will their vacation end up in tragedy? Can she learn to completely trust Smiley or will her family's unsavory background pull them apart?
My Review
THE HAMMETT HEX pulled me in from the very start and I became so engrossed in the book that I forgot to take notes for my review! The story has lots of exciting twists and turns that had me turning pages late into the night. I love the characters surrounding Jordan in Harrison Falls but the new addition of Smiley's grandmother and her helper in San Francisco adds a whole new dimension to the series. Smiley's Gram has a spunkiness and zest for life that compliments Jordan's adventurous spirit. I also enjoyed "The Kelly Rules" that started each chapter, shared by Jordan's uncles. It gives some insight in to how Jordan was raised and her outlook on life, while providing a bit of humor.
Victoria Abbott also shares several recipes, all of them sound oh so yummy! I chose to make Chocolate Chip Meringue Kisses which are naturally gluten-free. These delicately delicious cookies had me nibbling the delectable treats often over several days…and they stayed just as fresh as the first day I made them. Thank you for allowing me to share your amazing recipe, Victoria!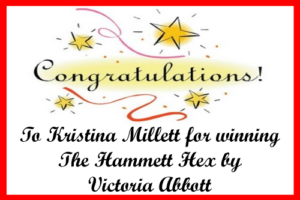 A huge thank you to Victoria Abbott for providing a signed copy of THE HAMMETT HEX to one lucky winner! Please use the Rafflecopter box located below the recipe for a chance to win. Contest ends Thursday, October 6, 2016 at 11:59 pm PST. Winner will be announced on this page and on Cinnamon & Sugar's Facebook page, as well as notified by email (so check your spam folder!) Open to U.S. and Canadian residents only.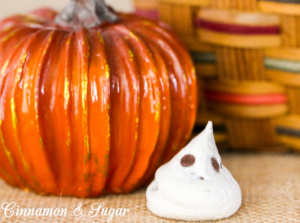 Chocolate Chip Meringue Kisses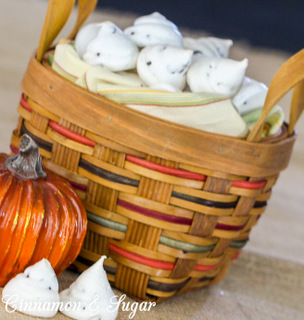 Ingredients
Author's Note

These are the meringue kisses that Smiley remembers from his childhood. They're very easy, as long as your eggs are room temperature and there's not a speck of anything greasy near bowl or beaters and that means not a single drop of yolk, according to Gram.

4 egg whites (from extra large eggs, at room temperature)
1 cup minus 1 tablespoon granulated sugar
1 teaspoon good quality vanilla
1/2 teaspoon almond extract (optional)
1/8 teaspoon cream of tartar
3/4 - 1 cup semi-sweet chocolate chips (mini chocolate chips work great!)
Instructions
Preheat oven to 225 degrees (F).
Beat the egg whites with cream of tartar until soft peaks form.
Add the vanilla and almond extract.
Slowly add sugar, tablespoon by tablespoon, beating well after every addition, until stiff peaks have formed.
Gently fold in the chocolate chips.
Line a cookie sheet with parchment paper.
Scoop out meringue and shape into "kisses".
Bake in preheated oven at 225 degrees (F) for about 50 minutes.
Turn off oven and let kisses dry for at least an hour.
Don't let them brown at the edges.
If your oven runs hot, reduce temperature.
Store in a cookie tin in a cool, dry place.
Makes about eighteen kisses, depending on size. They keep well if no one finds them. (Cinnamon & Sugar's note: I made mine "mini" and got about 80 cookies. Baking time was still the same.)

Tips

Eggs separate easier while they are cold and then allow the egg whites to come to room temperature.
Mini chocolate chips make great eyes if you want to turn the kisses into little Halloween ghosts.
https://cinnamonsugarandalittlebitofmurder.com/chocolate-chip-meringue-kisses/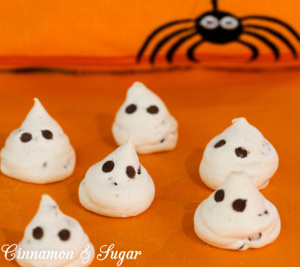 Pin to Pinterest: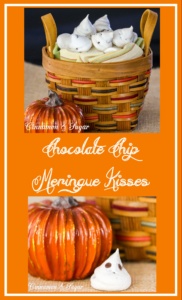 If you receive my blog post via email you will need to visit my website to view the video.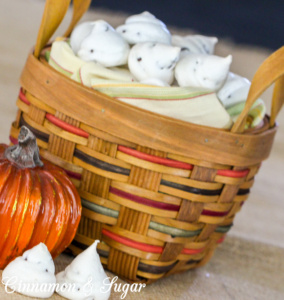 I received a copy of this book in exchange for my honest review. All thoughts and opinions are my own.