It's a great pleasure to be a part of the Great Escapes Virtual Book Tour presenting KNEADED TO DEATH, the first book in the Bread Shop Mystery series, by Winnie Archer! When I first saw the cover and the title I knew I had to read it. After all, learning to bake bread was the very first thing my grandmother taught me to make (along with several cousins) when I was about seven-years-old. My mother made all of our bread while I was growing up and once I was out on my own, I never developed a taste for mass- produced grocery store bread. So I started making my own bread too. I wish I could have found a bakery, such as Yeast of Eden, to purchase fresh, hearty bread and take classes instead of trying to develop my baking skills on my own way back when!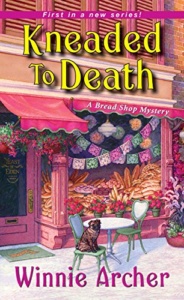 In addition to having a theme that I'm endeared to, KNEADED TO DEATH has an emotional connection that pulled me in. The protagonist, Ivy Culpepper, returned to her hometown of Santa Sofia, located on California's central coast after her mother was killed in a hit-and-run accident. The culprit was never caught. Even after six months Ivy is still floundering amidst her grief. The author includes a poignant line which I found touching for any daughter who has lost their mother, especially at a young age. "Grief has to run its course. I knew this, but the reality was that I'd never not feel the emptiness inside."
Ivy signs up for bread baking classes at Yeast of Eden, and connects with the elderly owner, Olaya Solis, who becomes a friend and mentor. When one of the class participants is found murdered in the parking lot of the bakery, Ivy decides she needs to help clear her new friend's name and find the real killer. As she starts asking questions, she finds many suspects. The author does a nice job of kneading the characters into subplots and then rolling them together in the end for a tasty, tempting read. Ms. Archer also sets the stage for subsequent books with the introduction of elderly Penny Branford, who is a wonderful sidekick in Ivy's sleuthing efforts. I look forward to the next installment in this series!
As you read through this delightful cozy, you are going to be drooling over the delectable descriptions of the breads being made at Yeast of Eden. Fortunately Ms. Archer includes recipes at the back of the book and the publisher has graciously allowed me to share her recipe for Conchas. Conchas are a well-known Mexican pastry, named for the shell patterned topping adorning each sweet bun. I've eaten Conchas purchased at small markets several times growing up but they always seemed a bit dry and not that tasty. There truly is a difference between fresh bread vs. mass market bread and this recipe showcases what is appealing about this traditional Mexican treat. The rolls are soft and rich tasting with a hint of sweetness. I especially loved the cinnamon-flavored topping for the added flavor.
I mixed and kneaded the dough using my stand mixer, which made it a breeze to make and resulted in light, airy bread. However, had I read the book before baking the Conchas, I would have kneaded the dough by hand simply because the author writes so poetically about how the art of baking bread speaks to your soul. Kneading by hand would have connected me to all the times I kneaded dough with my grandmother and my mother, both who have been gone many, many years. It's also a reminder to me to not get so busy with the task at hand that I don't take a few extra moments to fully enjoy what I'm doing.
Amazon Synopsis
Everyone swears by Yeast of Eden, the Mexican bread shop in town. But tonight, the only thing on the menu is la muerte . . .
Struggling photographer Ivy Culpepper has lots of soul-searching to do since returning to seaside Santa Sofia, California. That is, until the thirty-six-year-old enters a bread making class at Yeast of Eden. Whether it's the aroma of fresh conchas in the oven, or her instant connection with owner Olaya Solis, Ivy just knows the missing ingredients in her life are hidden among the secrets of Olaya's bakery . . .
But Ivy's spirits crumble when a missing classmate is suddenly discovered dead in her car. Even more devastating, the prime suspect is Olaya Solis herself. Doubting the woman could commit such a crime, Ivy embarks on a murder investigation of her own to prove her innocence and seize the real killer. As she follows a deadly trail of crumbs around town, Ivy must trust her gut like never before—or someone else could be toast!

A very special thank you to Winnie Archer for providing 3 print copies of KNEADED TO DEATH! This giveaway is administered by Great Escapes Virtual Book Tours and you can use the Rafflecopter box located below the recipe to enter. Contest ends March 12, 2017 and is limited to U.S. and Canada residents only. Winners will be announced on this page and on Great Escapes Virtual Book Tours site, as well as notified by email (so check your spam folder!)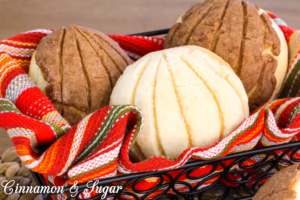 Ingredients
Dough

3 teaspoons active dry yeast
1/2 cup warm water
1/2 cup lukewarm milk
1/3 cup granulated sugar
1/3 cup unsalted butter, softened
1 egg
1 teaspoon salt
3-1/2 to 4 cups all-purpose flour
Nonstick cooking spray for greasing the cookie sheet

Cinnamon and Vanilla Topping

1/3 cup granulated sugar
1/4 cup salted butter
1/2 cup all-purpose flour
1-1/2 teaspoons ground cinnamon
1/2 teaspoon vanilla extract
Instructions
Dough

Prepare the

conchas

dough by dissolving the yeast in the warm water in a large bowl.
Add the milk, sugar, butter, egg, and salt.
Next, stir in 2 cups of the flour and mix until smooth.
Add more flour, a little at a time, until the dough is easy to handle and forms a ball.
Turn the dough out onto a lightly floured surface and knead it smooth and elastic, about 5 minutes. (Alternately, you can use the dough hook on a standing mixer.)
Place the dough in a large greased bowl, and then turn it so that the greased side is up.
Cover the bowl, place it in a warm place, and let the dough rise until it has doubled in size, about 1-1/2 hours. You'll know the dough is ready if an indentation remains after you press on it.

Topping

While the

conchas

dough is rising, prepare the topping. Beat together the sugar and butter in a medium bowl until light and fluffy.
Stir in the flour and mix until a dough with the consistency of a thick paste forms.
Divide the topping dough into 2 equal portions.
Mix the cinnamon into the first portion and the vanilla extract into the second portion.
Divide each portion of topping dough into 6 equal pieces, and then pat each piece into a 3-inch circle. Set the circles aside.

Preparing

Conchas

for baking

Grease a cookie sheet with nonstick cooking spray or line with parchment paper.
Punch the

conchas

dough down and divide it into 12 equal pieces.
Shape the pieces into balls and place the balls on the prepared cookie sheet.
Place 1 topping circle on each ball of

conchas

dough, shaping the circle so that it fits over the ball.
Make about 5 cuts across each topping circle to create a shell pattern.
Cover the dough balls and let them rise until doubled, about 40 minutes.
When 15 minutes of rising remain, preheat the oven to 375 degrees (F).
Bake the

conchas

for 20 minutes, or until lightly browned.
Cool on a wire rack and store completely cooled

conchas

in an airtight container at room temperature for a few days.
https://cinnamonsugarandalittlebitofmurder.com/conchas/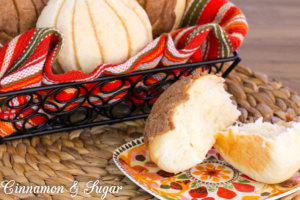 Pin to Pinterest: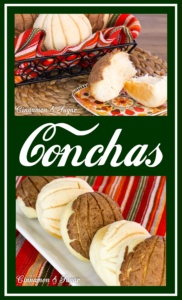 If you receive my blog post via email you will need to visit my website to view the video.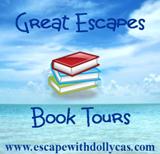 Tour Participants
February 27 – Sapphyria's Book Reviews
February 27 – Books,Dreams,Life
February 28 – Sleuth Cafe
February 28 – The Book's the Thing
March 1 – Celticlady's Reviews
March 1 – Cinnamon, Sugar, and a Little Bit of Murder
March 1 – Bookworm Mom
March 2 – Reading Is My SuperPower
March 2 – Read Your Writes Book Reviews
March 3 – Melina's Book Blog
March 3 – Rainy Day Reviews
March 4 – Shelley's Book Case
March 4 – Island Confidential
March 5 – Laura's Interests
March 5 – Bibliophile Reviews
March 6 – Valerie's Musings
March 6 – Book Babble
March 7 – Community Bookstop
March 8 – Brooke Blogs
March 8 – A Holland Reads
March 9 – StoreyBook Reviews
March 9 – Cozy Up With Kathy
March 10 – Becky's Bookcase
March 10 – Readeropolis
March 11 – Lisa Ks Book Reviews
March 11 – Mystery Thrillers and Romantic Suspense Reviews
March 12 – Moonlight Rendezvous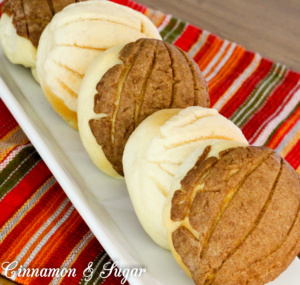 I received a copy of this book and willingly provided a review. All thoughts and opinions are my own.