Last November I highlighted the second book in the Cajun Country Mystery series by Ellen Byron even though I had not read the first book (which was sitting on my Kindle, somehow lost among the hundreds of books I seem to have collected). So I decided I should catch up and read PLANTATION SHUDDERS, and boy, am I glad I did! This debut cozy transports the reader to the bayou town of Pelican, Louisiana with the residents' local customs, colloquialisms, and manners. I enjoyed the bits and pieces of history on the Cajun and Creole families that were woven into the book. Maggie Crozat is a smart and sassy protagonist while her Grand-Mère adds charming humor and a provides a wonderful sounding board for her granddaughter. I enjoyed the close-knit family life Maggie is fortunate to have. There's a depth of emotion that is felt as you read about their tribulations and joys, both personal and in running their family plantation mansion turned bed-and-breakfast, throughout the story.
The murder mystery is unique in that first, one of the guests, a cranky, elderly man, drops dead in the middle of the Crozat's cocktail hour. Unfortunately, within minutes the man's wife drops dead too. The author creates scenes with tension and a diverse set of characters, each realistically contributing to the list of suspects. Maggie has strong motivation for finding the killer. Pelican's Chief of Police would love to see Grand-Mère take the fall for the murder since his family has had 150 years of enmity with the Crozats. He will do almost anything to see them fail. The murder investigation also places a huge financial burden on the Crozat family, who are still trying to recover from Hurricane Katrina. The ending culminates with a suspenseful reveal that will have the reader wanting more!
Ellen also shares a few recipes at the back of the book, all which sound divine. She has graciously allowed me to share her recipe for Bourbon Pecan Bread Pudding, especially fitting for celebrating Mardi Gras! While PLANTATION SHUDDERS does not take place during Mardi Gras, the story does center around the town celebrating Fete L'ete, an event which honors the end of summer. This decadent dessert includes both bourbon and pecans which have a natural affinity for each other and is a fitting end to any special occasion!
Amazon Synopsis
It's the end of the summer and Prodigal Daughter Maggie Crozat has returned home to her family's plantation-turned-bed-and-breakfast in Louisiana. The Crozats have an inn full of guests for the local food festival–elderly honeymooners, the Cajun Cuties, a mysterious stranger from Texas, a couple of hipster lovebirds, and a trio of Georgia frat boys. But when the elderly couple keels over dead within minutes of each other–one from very unnatural causes– Maggie and the others suddenly become suspects in a murder.
With the help of Bo Durand, the town's handsome new detective, Maggie must investigate to clear her name while holding the family business together at the same time. And the deeper she digs, the more she wonders: are all of the guests really there for a vacation or do they have ulterior motives? Decades-old secrets and stunning revelations abound in Ellen Byron's charming cozy debut, Plantation Shudders.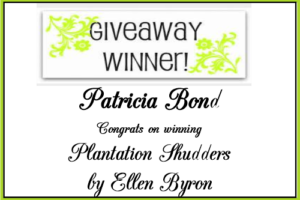 A special thank you to Ellen Byron for providing a signed copy of PLANTATION SHUDDERS and some awesome swag for one lucky winner! Contest ends Thursday, March 2, 2017 at 11:59 pm PST, and limited to U.S. residents only. Please use the Rafflecopter box located below the recipe to enter. The winner will be announced on this page and on Cinnamon & Sugar's Facebook page, as well as notified by email (so check your spam folder!)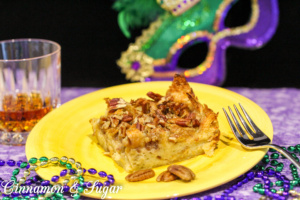 Bourbon Pecan Bread Pudding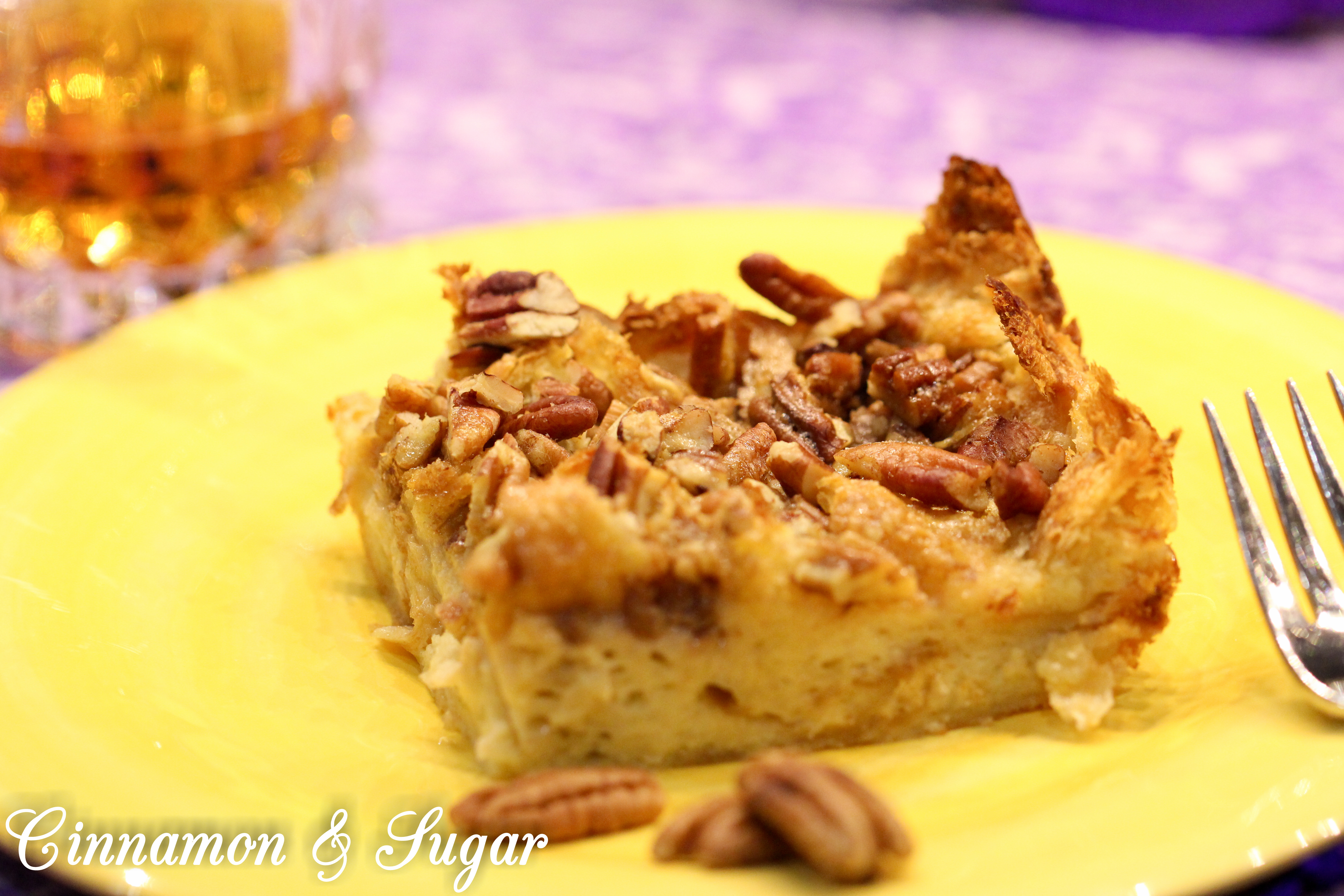 Ingredients
Bread pudding is one of those fun dishes that's easy to adapt to anyone's taste. Lia jazzes hers up with bourbon and that other Louisiana staple, pecans.

Laissiz les bons temps rouler!

Ingredients

4-1/2 cups lightly packed bite-size croissant pieces (about 4 croissants)
1 cup chopped pecans
3 large eggs
3/4 cup granulated sugar
1 cup milk
1/3 cup bourbon, plus 1 teaspoon
1/2 cup heavy whipping cream
1 teaspoon vanilla
1/4 teaspoon salt
1 tablespoon dark brown sugar
2 tablespoons unsalted butter
Instructions
Preheat oven to 350 degrees (F).
Dry bread uncovered at room temperature for 12 hours (or dry the bread in a 250-degree (F) oven for one hour.)
Butter an 8 x 8-inch baking dish
Arrange the bread in the baking dish.
Sprinkle the pecans over the bread, making sure they're evenly dispersed.
In a bowl, whisk together the eggs, sugar, milk, 1/3 cup bourbon, heavy cream, vanilla, and salt.
Pour mixture slowly and evenly over the bread.
Cream the butter with the brown sugar and 1 teaspoon of bourbon, then dot the pudding with the mixture.
(Note: you can chill the pudding, covered, for anywhere from an hour to a day before baking, but this is optional.)
Bake the pudding in the middle of the oven until it's slightly puffed and golden, and the middle has set - approximately 40 minutes.
https://cinnamonsugarandalittlebitofmurder.com/bourbon-pecan-bread-pudding/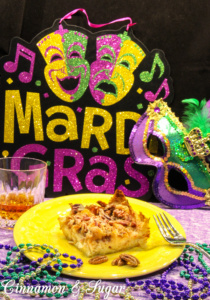 Pin to Pinterest: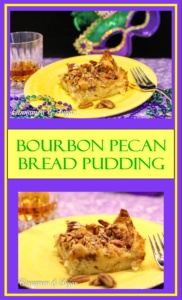 If you receive my blog post via email you will need to visit my website to view the video.