I was delighted to have the chance to read an early copy of FATALITY BY FIRELIGHT, the second book in the Cat Latimer Mystery series, by Lynn Cahoon. I love the location and premise of this series: a bed-and-breakfast writers' retreat tucked away in the mountains of Aspen Hills, Colorado. Cat Latimer is owner and hostess of the retreat with her good friend, Shauna Mary, providing delicious meals and snacks. Cat is also an author and runs the writing retreats to earn money so that she can write full time. Except that with her demanding guests, an unforeseen murder investigation, and one of her young, sweet guests a suspect, she doesn't have much time on her hands. I admired that even though Cat is an introvert, she pushes herself to spend time socializing with her guests and takes it upon herself to help clear the romance writer's name. After moving back to Aspen Hills, Cat has also reconnected with her old flame, Seth. She's struggling to move forward in their relationship due to the uncertainty surrounding her ex-husband's death…who, by the way, bequeathed the huge house to her. The author allows us glimpses of Cat's emotions that make her seem real and builds a connection to her.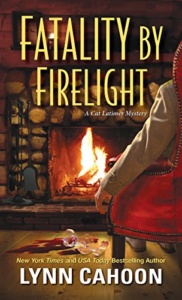 The main murder plot of discovering who killed local bad boy, Tommy, is also woven around several subplots. The enigma of Cat's ex-husband's untimely demise is a mystery that first started in the first book, continues in FATALITY BY FIRELIGHT, and will be continued in the next book. Cat also gets involved in trying to help figure out who is stealing rare books from the town's college library. Could the tall, dark, and handsome mysterious stranger, who just so happens to know her name, have anything to do with the turmoil surrounding Cat? The author expertly juggles, tangles, and weaves the various threads of the story into one cohesive read that had me turning pages faster and faster!
While the book does not contain recipes, Shauna bakes up many mouth-watering treats for all the writers and you'll definitely get hungry while reading! I was honored when Lynn asked if I would like to create a recipe for Pumpkin Cream Cheese-Filled Muffins to go along with the book. I had fun experimenting and came up with this rich, flavorful pumpkin muffin that combines a sweet, yet tangy creamy center with streusel topping adding extra texture and visual appeal. I hope you enjoy it as much as my family has!
Amazon Synopsis
Cat Latimer's Colorado bed-and-breakfast plays host to writers from all over. But murder is distinctly unwelcome . . .
To kick off a winter writing retreat, Cat and her handyman boyfriend, Seth, escort the aspiring authors to a nearby ski resort, hoping some fresh cold air will wake up their creative muses. But instead of hitting the slopes, they hit the bar—and before long, a tipsy romance novelist named Christina is keeping herself warm with a local ski bum who might have neglected to tell her about his upcoming wedding.
Next thing Cat knows, her uncle, the town sheriff, informs her that the young man's been found dead in a hot tub—and Christina shows up crying and covered in blood. Now, between a murder mystery, the theft of a rare Hemingway edition, and the arrival of a black-clad stranger in snowy Aspen Hills, Cat's afraid everything's going downhill . . .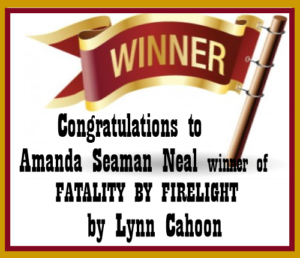 A special thanks to Lynn Cahoon for providing a signed copy of FATALITY BY FIRELIGHT for one lucky winner! (Please be aware that it is an Advanced Readers Copy.) Contest ends Monday, February 27, 2017 at 11:59 pm PST, and limited to U.S. residents only. Please use the Rafflecopter box located below the recipe to enter. The winner will be announced on this page and on Cinnamon & Sugar's Facebook page, as well as notified by email (so check your spam folder!).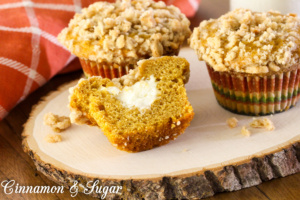 Pumpkin Cream Cheese-filled Muffins with Streusel Topping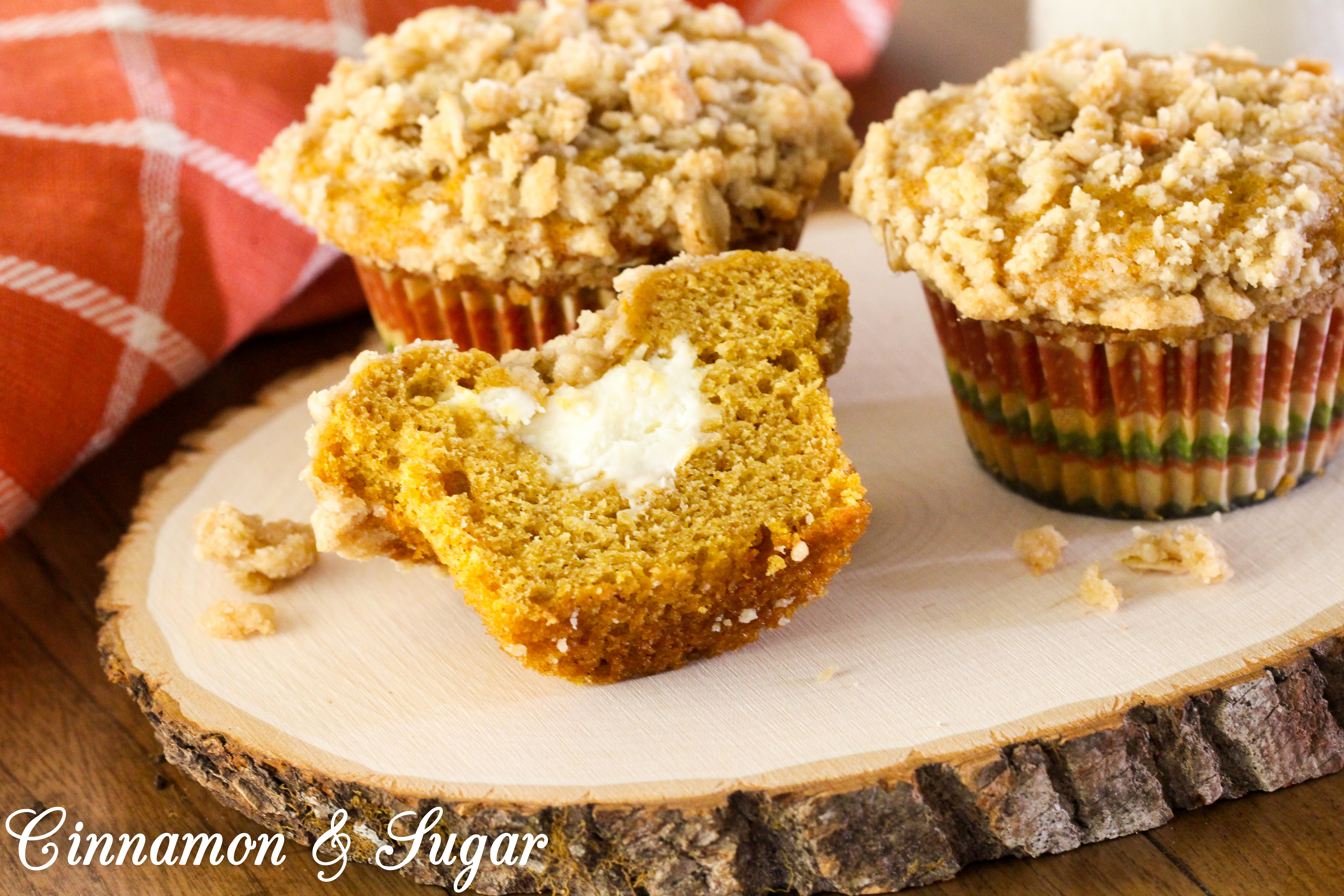 Ingredients
Muffins

1-2/3 cups all-purpose flour
1/2 teaspoon baking powder
1 teaspoon baking soda
1/2 teaspoon salt
1 teaspoon cinnamon
1/2 teaspoon ginger
1/4 teaspoon cloves
1/2 cup unsalted butter, room temperature
1-1/3 cups granulated sugar
1 teaspoon vanilla extract
2 eggs, room temperature
1 cup canned pumpkin
1/3 cup milk (2% or whole)

Filling

1 cup (8-ounce package) cream cheese, room temperature
1/3 cup granulated sugar
1 teaspoon vanilla extract

Topping

1/2 cup all-purpose flour
1/4 cup brown sugar (packed)
1/4 cup rolled oats (not instant!)
1/4 teaspoon salt
1/4 cup unsalted butter, slightly cold
Instructions
Preheat oven to 350 degrees (F).
Line a 12-cup muffin tin with paper liners and spritz the liners with non-stick cooking spray. Set aside.

Topping

In a small bowl, mix the flour, brown sugar, oats, and salt together. Using your fingers or a pastry blender, work in the butter until coarse crumbs appear. Set aside.

Filling

Beat the softened cream cheese together with the sugar and vanilla until creamy and no lumps remain. Set aside.

Muffins

Sift together the flour, baking powder, baking soda, salt, cinnamon, ginger, and cloves. Set aside.
In the bowl of a standing mixer, cream together the butter and sugar on medium speed, about 1 minute.
Mix in the eggs, one at a time, beating well after each addition.
Mix in the pumpkin and vanilla until well combined. (It's okay if it looks a bit curdled.)
Add half the flour mixture to the pumpkin mixture, beating until mostly incorporated.
Stir in the milk and then add remaining flour mixture and mix until well combined.
Fill each muffin cup 1/3 way full with batter.
Add 1 heaping tablespoon of cream cheese filling to center of each muffin cup and top with remaining pumpkin batter, filling cup at least 3/4 full.
Add a generous amount of streusel mixture to each muffin.
Bake muffins 18 - 20 minutes. A wooden skewer inserted at the side of the muffin should come out mostly clean.
Remove from oven and allow to cool in muffin tin for 5 minutes before transferring to a wire rack to cool.
Eat within 2 - 3 hours and refrigerate any leftovers in an airtight container for up to 3 days. The muffins can also be well-wrapped and frozen for up to a month.
https://cinnamonsugarandalittlebitofmurder.com/pumpkin-cream-cheese-filled-muffins/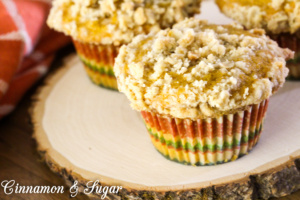 Pin to Pinterest: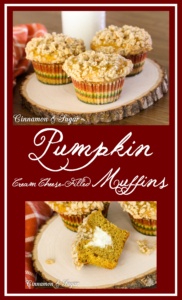 If you receive my blog post via email you will need to visit my website to view the video.
I received a copy of this book and willingly provided a review. All thoughts and opinions are my own.