I was happy when A MEASURE OF MURDER, the second book in Sally Solari Mystery series, by Leslie Karst was released earlier this month. I've been looking forward to it for several months and I found this to be a nice addition to the series. Leslie combines a clever murder mystery (even the police think it's a tragic accident) with a tenacious restaurateur, and inspiring music. Sally Solari is a very energetic protagonist…I wish I had half of her energy! But despite how much she's involved in, Sally finds time for her family and friends while creating new friendships, showing she is a very caring person. The characters surrounding and supporting Sally add to the appeal of the book. The murder plot provides plenty of viable suspects to keep the reader guessing but interspersed in the plot is a lot of detailed information about performing in a choral performance of Mozart's Requiem. I found it interesting (I enjoy learning new things while reading cozy mysteries) and it inspired me to search out a YouTube video of the piece. I've included a link to this classical piece at the bottom of the page for your listening pleasure. The author brings a passion for music and how it speaks to your soul.
With Sally owning her own restaurant and working in her family's Italian restaurant, A MEASURE OF MURDER has many mouthwatering mentions of delectable dishes! Fortunately for the reader, Leslie includes several recipes at the back of her book. She has graciously allowed me to share her recipe for Grilled Salmon with Papaya and Avocado Pico de Gallo. Rich, buttery salmon is topped with a tropical, slightly spicy, super fresh salsa, and tastes just as delicious as it is lovely to look at! In my opinion, the pico de gallo would be perfect as an appetizer served with tortilla chips and a chilled tropical cocktail as well.
Amazon Synopsis
Sally Solari is busy juggling work at her family's Italian restaurant, Solari's, and helping Javier plan the autumn menu for the restaurant she's just inherited, Gauguin. Complicating this already hectic schedule, Sally joins her ex-boyfriend Eric's chorus, which is performing a newly discovered version of her favorite composition: the Mozart Requiem. But then, at the first rehearsal, a tenor falls to his death on the church courtyard–and his soprano girlfriend is sure it wasn't an accident.
Now Sally's back on another murder case mixed in with a dash of revenge, a pinch of peril, and a suspicious stack of sheet music. And while tensions in the chorus heat up, so does the kitchen at Gauguin–set aflame right as Sally starts getting too close to the truth. Can Sally catch the killer before she's burnt to a crisp, or will the case grow as cold as yesterday's leftovers?
In a stew of suspects and restaurateurs, trouble boils over in the second in Leslie Karst's tasty and tantalizing Sally Solari mystery series, A Measure of Murder.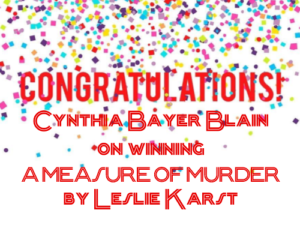 Thanks to the publisher, I have a print copy of A MEASURE FOR MURDER for one lucky winner! Please be aware this is an advanced readers' copy. Contest ends Thursday, February 23, 2017 at 11:59 pm PST, and limited to U.S. residents only. Please use the Rafflecopter box located below the recipe to enter. The winner will be announced on this page and on Cinnamon & Sugar's Facebook page, as well as notified by email (so check your spam folder!)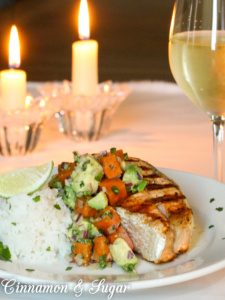 Grilled Salmon with Papaya and Avocado Pico de Gallo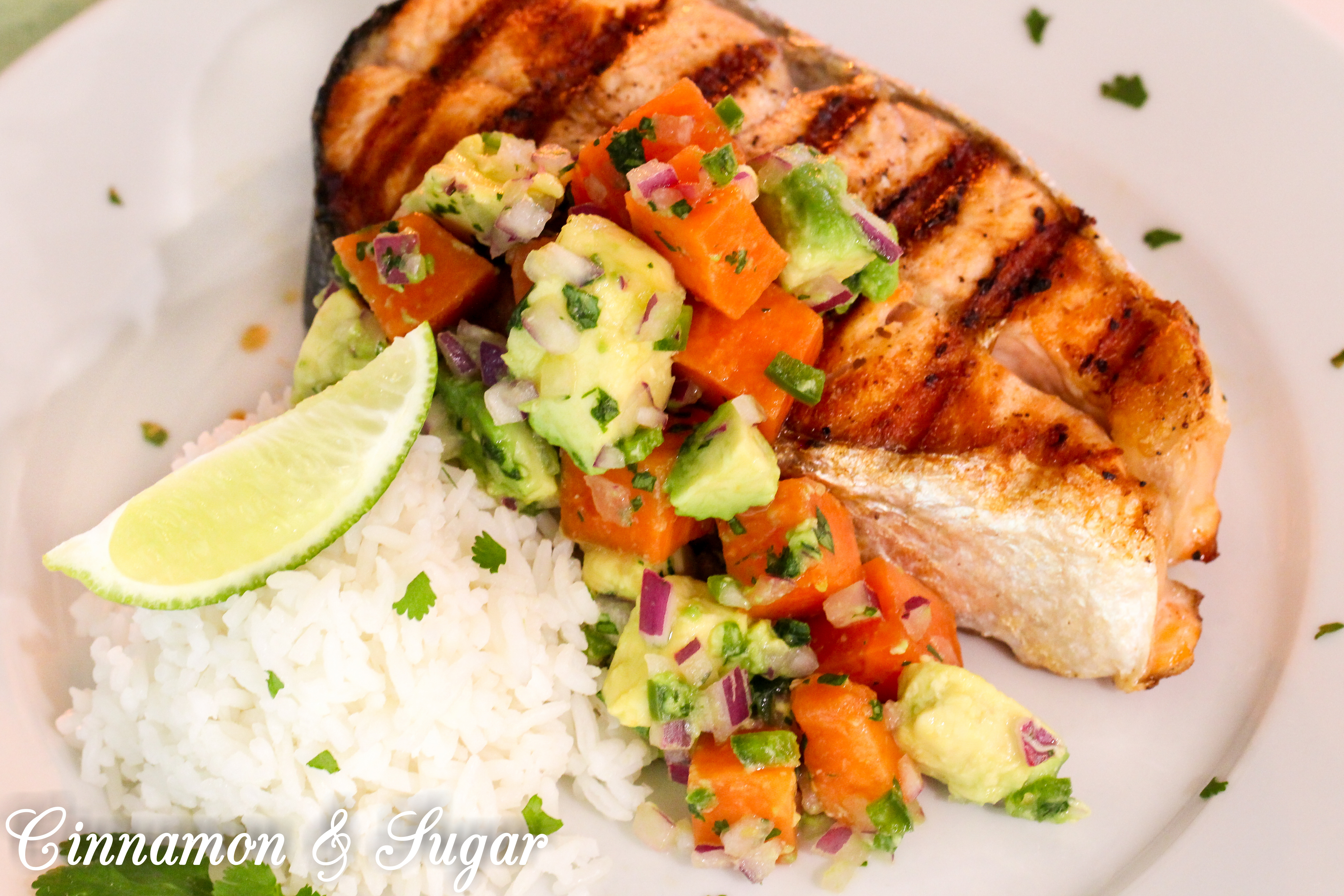 Ingredients
Pico de gallo means "rooster's beak" in Spanish and refers to the fact that this is a spicy condiment, i.e., a salsa picante. What differentiates a pico de gallo from other Mexican salsas is that rather than being cooked, it's made from fresh, chopped ingredients.

The traditional pico de gallo is made with tomatoes, onions, chiles, and cilantro, but in many parts of Mexico, the fruit varieties such as this one are also popular. I encourage you to experiment with combinations of fruit and vegetables other than the ones in this recipe, such as pineapple, jicama, cucumber, watermelon, orange, cantaloupe - whatever strikes your fancy.

At Gauguin, we use papaya for this pico de gallo, but a ripe mango can be substituted if no fresh papayas are available. The salsa can be prepared in advance and kept in the refrigerator, but if you make it more than an hour before the meal, wait to cut and add the avocado until shortly before service, lest it turn brown.

Serve this entree with either Spanish rice or traditional Mexican white rice and refried beans - along with warm tortillas to mop up your plates, of course!

Ingredients

Pico de Gallo

1 cup papaya or mango, cut into 1/2" cubes
1 cup avocado, cut into 1/2" cubes
1/2 medium red onion, diced (about 3/4 cup)
1 jalapeno pepper (stemmed and seeded) finely chopped
2 tablespoons cilantro, chopped (plus extra for garnish)
2 tablespoons fresh lime juice (plus 1 extra lime, cut into wedges, for garnish)
1/2 teaspoon salt

Salmon

1 tablespoon olive oil
1 clove garlic, minced
4 salmon steaks (or filets)
salt and freshly ground black pepper
Instructions
Pico de gallo

Place all the pico de gallo ingredients in a bowl, and stir gently (so the avocado and papaya don't get mashed) to mix.
Refrigerate covered until service (see note above about avocado).

Salmon

Mix the garlic with the olive oil in a small bowl, and brush it onto the salmon steaks, then sprinkle them with salt and freshly ground pepper.
Preheat grill for medium heat, and lightly oil the grill grate.
Grill salmon for 4 minutes and then carefully flip with a spatula.
Continue cooking until browned on the outside but still moist and slightly pink in the middle (3-6 minutes, depending on thickness of steaks and heat of the grill) and the internal temperature reaches 120 - 125 degrees (F).
Serve each salmon steak with a large scoop or two of pico de gallo (an ice cream scoop full makes for lovely presentation), half on and half off the fish. Garnish with extra cilantro and lime wedges.
https://cinnamonsugarandalittlebitofmurder.com/grilled-salmon/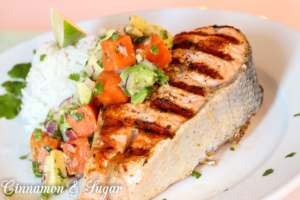 Pin to Pinterest: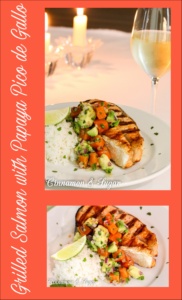 If you receive my blog post via email you will need to visit my website to view the video.
I was inspired by this book to seek out a YouTube video of Mozart's Requiem. It helped me better visualize some of the scenes and gave me a better appreciation for Sally's passion!
I received a copy of this book and willingly provided a review. All thoughts and opinions are my own.