The rugged Oregon coastline, ancient prohibition secrets, and a Bed and Breakfast for mystery authors combine to create an engaging read in SMUGGLERS & SCONES, the first book in the Moorehaven Mystery series by Morgan C. Talbot. I'll admit, I was not familiar with this author but saw a wonderful review for the book on another blogger's site and it grabbed my interest. My sister lives on the Oregon coast (complete with a view of the water!) and I visit her each summer. I love the wild beauty of the area and Morgan made the setting come alive in her book. The B & B was the home of crime mystery author A. Raymond Moore, who bequeathed it to a foundation to run as a haven for other mystery authors. Each chapter starts out with a quote from A. Raymond Moore. Ms. Talbot writes so convincingly that I was certain Moore was a real author in the early twentieth century instead of the fictionalized character she created!
The protagonist, Pippa Winterbourne, runs the 120-year-old Moorehaven Bed & Breakfast, along with her great-uncle Hilt. They have a close relationship and their interaction is a joy to see. Uncle Hilt interjects many fun expressions such as, "Criminy on a cracker," which adds to the charm of the book. Morgan has created a wealth of characters to surround Pippa. I was certainly entertained by the authors who are staying at the B & B as they try to advise Pippa and get involved in a "real-life" mystery along with the Glaze and Gossip ladies who initiate Pippa into their group. As fun as a read SMUGGLERS & SCONES is, the author has also created a strong, tightly woven mystery with such descriptive scenes building tension, I found myself holding my breath at times. I loved how she integrated a missing treasure from the Prohibition era with a modern day murder. It kept me guessing and turning pages faster and faster to see how the threads untangled to complete the story!
SMUGGLERS & SCONES includes two recipes for scones, each sounding equally delicious! Morgan has graciously allowed me to share her recipe for Blueberry Scones with Lemon Glaze. I think blueberries and lemon have a natural affinity for each other and the flavors were spot on. I especially loved the fact that instead of calorie-rich heavy cream, the author has used Greek yogurt mixed with a little milk to moisten the dough. Even though about half the fat is cut, you'd never know it. These tasted rich and flaky, bursting with sweetness from the juicy blueberries.
Amazon Synopsis
Pippa Winterbourne runs Moorehaven, the Oregon Coast's quirkiest bed-and-breakfast and former home of world-famous mystery writer A. Raymond Moore. Guests come there to write their own crime novels. When a real-life murder takes a local's life and washes a handsome boat pilot into her arms, Pippa is yanked into a deadly plot of her own. A tangle of secrets crashes past into present, and Pippa must uncover clues dating back to Seacrest's Prohibition days, including a secret Moore himself hid from the world. Juggling her book-writing guests, small-town intrigues, secret club agendas, and a possibly fatal attraction, Pippa must sort fact from fiction to know who to trust before a desperate killer claims a final revenge nearly a century in the making.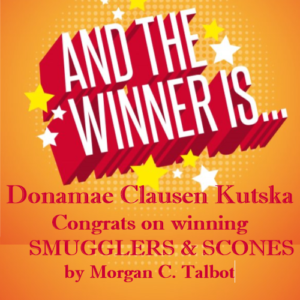 A special thank you to Morgan C. Talbot for providing an e-book copy of SMUGGLERS & SCONES for one lucky winner! Contest ends Monday, February 20, 2017 at 11:59 pm PST. Please use the Rafflecopter box located below the recipe to enter. The winner will be announced on this page and on Cinnamon & Sugar's Facebook page, as well as notified by email (so check your spam folder!)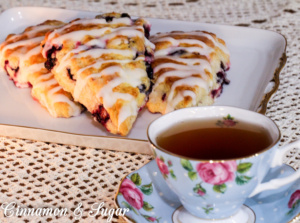 Blueberry Scones with Lemon Glaze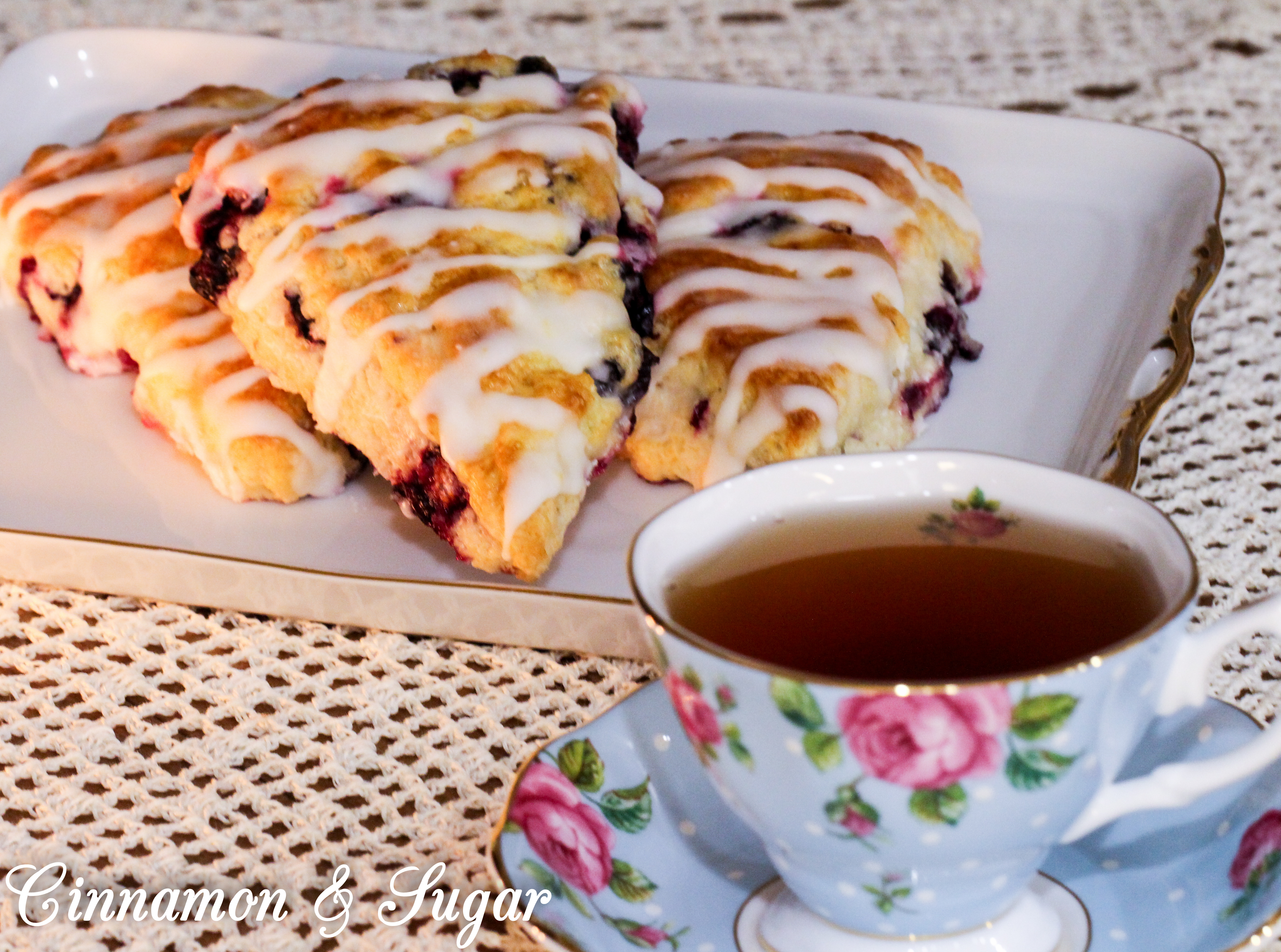 Ingredients
Scones

2 cups all-purpose flour
1/2 cup granulated sugar
2-1/2 teaspoons baking powder
1/2 teaspoon salt
Zest of 1 large lemon
1/2 cup unsalted butter, cold
1/2 cup Greek yogurt, plain (use 2% or whole)
4 tablespoons milk (for thinning yogurt)
1 large egg
1 teaspoon vanilla extract
1 cup blueberries (fresh or frozen)*

Egg wash ingredients

1 large egg, beaten
1 teaspoon milk

Glaze ingredients

1-1/4 cup confectioners' sugar, sifted**
4 tablespoons fresh lemon juice
1 teaspoon unsalted butter, melted
Extra lemon zest

Tips

*If using frozen berries, rinse them well until water runs mostly clear. Pat dry before adding to dough, otherwise it will add to much moisture to the already sticky dough.
**Add up to an additional 1/4 cup confectioners' sugar if you prefer a thicker glaze. I drizzled part of the thinner glaze over the scones, then added additional sugar to create thick icing lines.
Instructions
Preheat the oven to 400 F / 205 C.

Scones

In a bowl combine the flour, sugar, baking powder, salt, and lemon zest.
Chop cold butter into small pieces and add to flour mixture. Combine with pastry cutter or your fingers until the mixture resembles coarse meal.
In a small bowl, whisk the yogurt and milk until smooth.
Add egg and vanilla to yogurt blend and whisk together.
Drizzle over flour mixture and stir until moistened.
Fold in blueberries. Dough will be sticky.
Using a 2/3 cup measuring scoop, add dough to scone pan sections and press into corners with spatula.
If you don't want to use a scone pan, flatten dough into a 1" high circle on floured surface and cut into wedges with very sharpknife.
Place parchment paper or silicone baking mat on a baking sheet and transfer dough to it with spatula.
Brush tops with egg wash.
Bake for 20-25 minutes.
Let cool 2 minutes in the pan and then transfer to a cooling rack.

Glaze

To make glaze, whisk confectioners' sugar, lemon juice, unsalted butter, and zest together until smooth and drizzle over cool scones.

Additional Notes:

Mr. Moore made his scones with heavy cream, but I found that substituting Greek yogurt, thinned with a little milk, cuts the fat content in half while preserving the luscious flavor. Plus, Greek yogurt instead of regular plain yogurt adds a sweet tanginess
https://cinnamonsugarandalittlebitofmurder.com/blueberry-scones-with-lemon-glaze/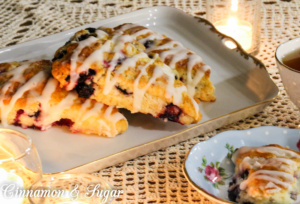 Pin to Pinterest: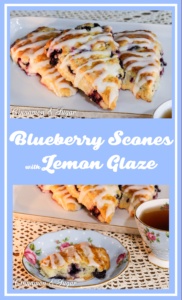 If you receive my blog post via email you will need to visit my website to view the video.