I'm pleased to be participating in the Great Escapes Virtual Book Tour presenting A CHRISTMAS CANDY KILLING, the first book in the brand-new Killer Chocolate Mysteries by Christina Romeril. From the darling mystery book and chocolates shop, Murder and Mayhem, to the "killer" chocolates named after deadly poisons used in murder mysteries (Ricin Raspberry Creams anyone?), to the identical twin sisters, of a certain age, who run the shop, this new series has an appealing premise. The main protagonist, Alex, runs the bookshop while her sister, Hanna, creates the poison-themed chocolates. The core characters are well-developed and I enjoyed seeing the interaction between the two sisters. Sometimes, in a new series, the details of getting to know the setting (which is in picturesque Montana), the townspeople, and the personalities, can slow down the plot just a bit. I found the storyline enjoyable with a solid mystery to solve, and the appealing characters whet my appetite to read more in the Killer Chocolate Mysteries.
When the organizer of the Sleuth Book Club is found murdered by one of the chocolates, Alex is thrust into the role of suspect. Using (non-poisonous) chocolates from the shop, Alex tempts townspeople into talking to her. The victim had confided in her, without naming names, that she suspected a murderer featured on a true crime show was now a resident of the town. Ms. Romeril weaves in researching the past and piecing together who might fit the bill. Needless to say, some of the secretive townsfolk aren't happy with the implications and having their past brought to light. I greatly enjoyed the potential love interests between the sisters and the two men who supported their investigation and were good sounding boards. The reveal was quite suspenseful, no matter that I had a strong suspicion who the culprit was. The author wrote a heart stopping scene that kept me engrossed until I'd read the last page.
With so many sweets and treats mentioned throughout the book, be prepared to crave something chocolaty. Ms. Romeril has thoughtfully included a couple candy recipes at the back of the book. She's also sharing her recipe for Christmas Caramel Cupcakes on the blog today and all I can say is YUMMMMYYYY! I do have to give a shoutout to my granddaughter, Em, for spending an entire afternoon making this recipe for me! And all errors that occurred while making the caramel sauce (third time was the charm, lol!) were all on me. These rich chocolate cupcakes are stuffed with creamy homemade caramel that just about made me swoon all on it's own. When topped with the fudgiest buttercream ever and drizzled with more caramel, this dessert scores 20 out of 10! But be forewarned, you'll want to make sure there's enough cupcakes so everyone can have seconds… or even thirds.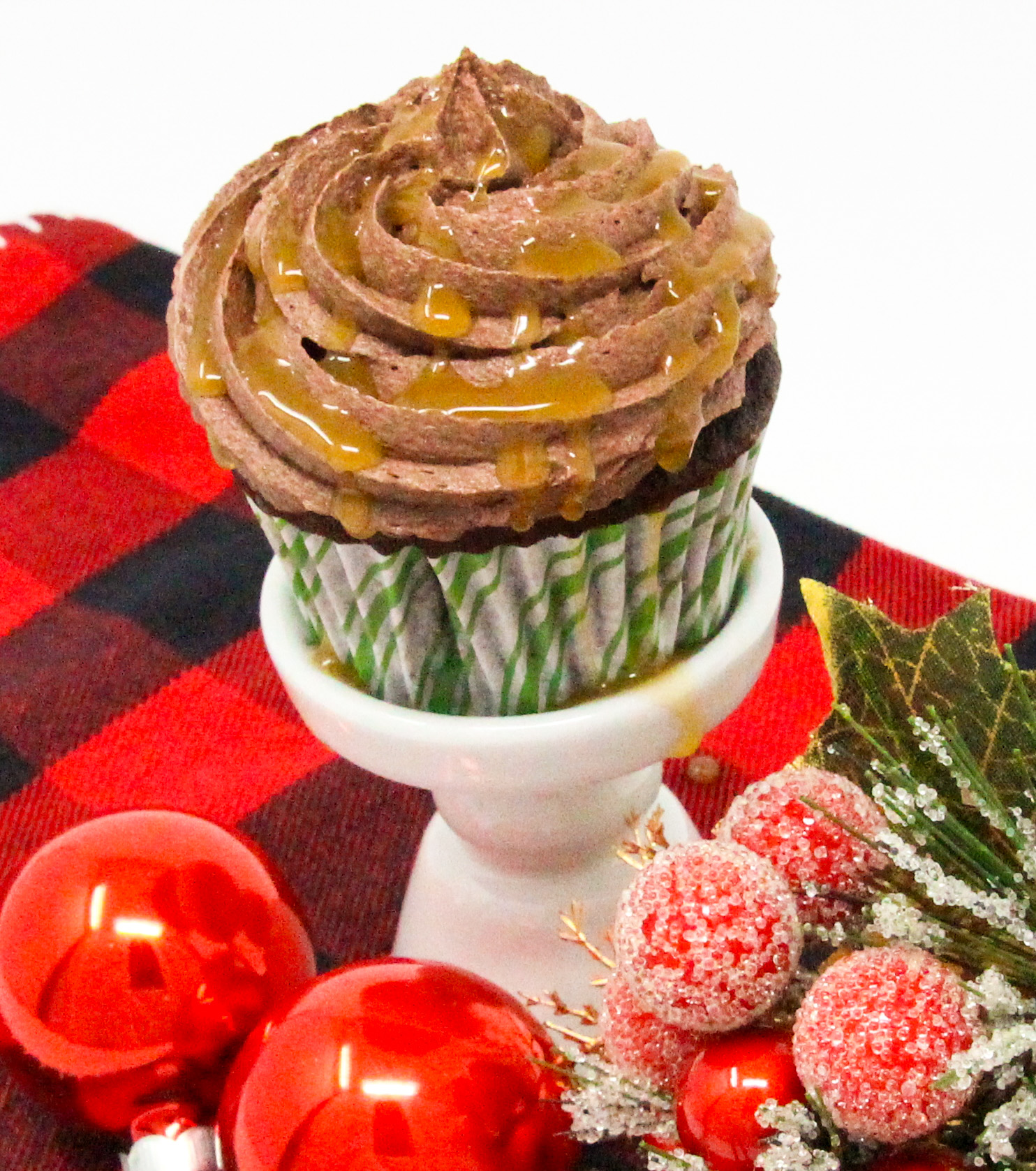 Amazon Synopsis
Identical twin sisters Alex and Hannah are the owners of Murder and Mayhem, a mystery bookshop that sells their famous poison-themed Killer Chocolates. But now, there's a real killer in their midst. Shortly before Christmas, their septuagenarian neighbor, Jane, confides to Alex that a murderer from a true-crime show has taken up residence in the village. Unfortunately, she's also shared her suspicions with town gossip Netta. The next morning, Alex shows up at Jane's house to watch the show, but instead discovers Jane's body, with a box of Killer Chocolates nearby.
The sheriff quickly zeroes in on two suspects: Alex, a beneficiary in Jane's will, and Zack, a handyman who was seen leaving the crime scene. But Alex maintains her innocence and sets out to draft a list of other potential suspects—townsfolk who'd recently been seen arguing with Jane.
When Alex gets hold of Jane's journal, she begins to understand the truth. But a bearer of ill tidings is arriving early this year—and Alex just might not make it to Christmas.

A special thanks to Christina Romeril for providing one winner with a print copy A Christmas Candy Killing, a bookmark, stickers, and chocolate! Contest ends October 26, 2022 at 11:59 pm EST. Please use the Rafflecopter box located below to enter. Contest is administered by Great Escapes Virtual Book Tour and the winner will be announced on this page and notified by email (so check your spam folder!)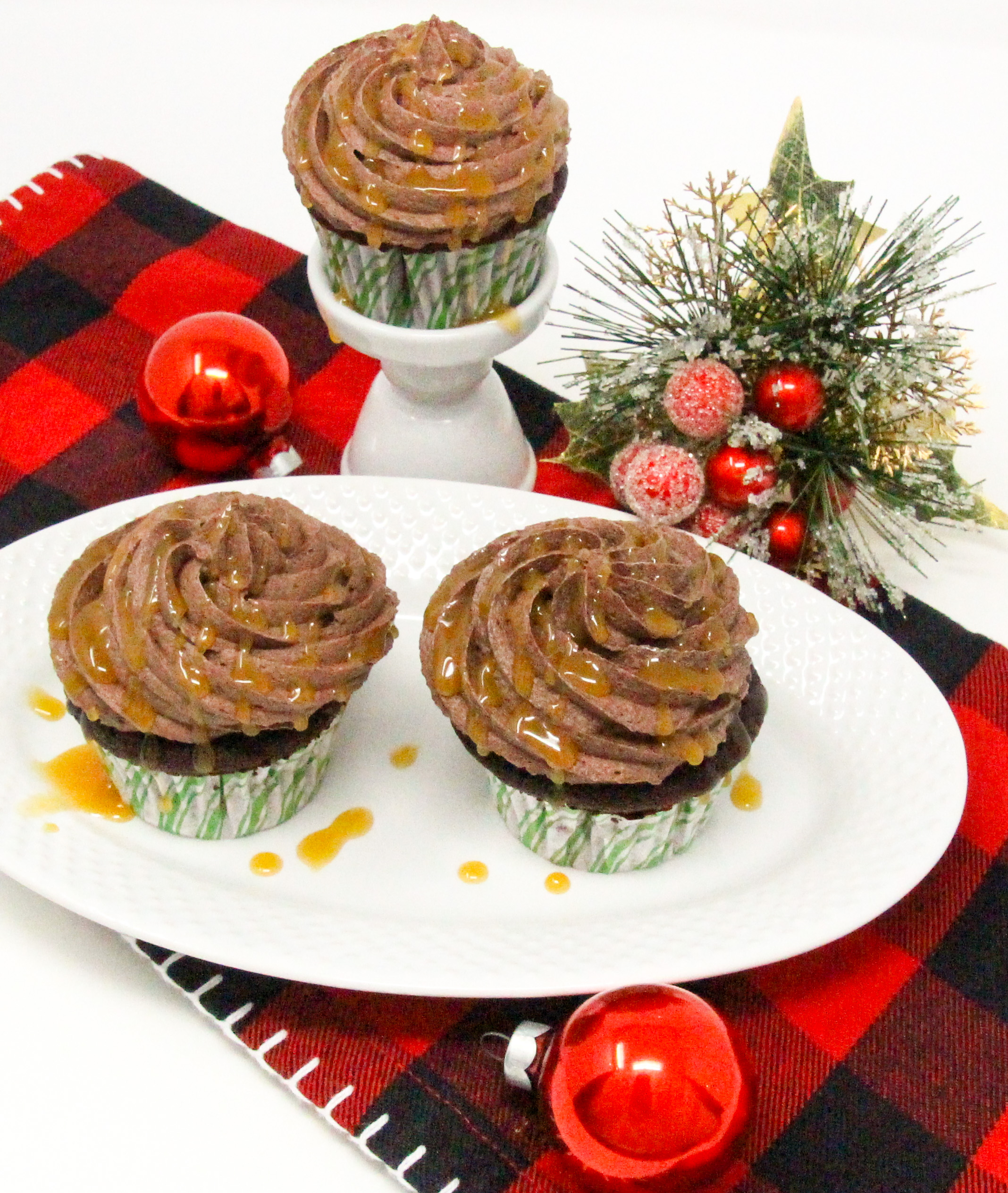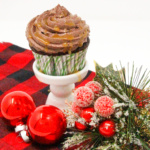 Christmas Caramel Cupcakes
Ingredients
Chocolate Cupcakes: (feel free to use your favorite box mix instead)
1

cup

all-purpose flour

1/2

cup

unsweetened cocoa powder

1/2

teaspoon

baking soda

1/2

teaspoon

baking powder

1/8

teaspoon

salt

1/2

cup

unsalted butter, softened

1

cup

sugar

2

large eggs

1

teaspoon

vanilla extract

1

cup

buttermilk
Caramel Sauce:
1

cup

granulated sugar

6

tablespoons

unsalted butter, cut in pieces

1/2

cup

heavy cream (whipping cream in Canada)

1/2

teaspoon

salt
Chocolate Buttercream Frosting:
1-1/2

cups

unsalted butter, softened

5-6

cups

powdered icing sugar

1

cup

unsweetened cocoa powder

4

teaspoons

vanilla

2-3

tablespoons

milk
Instructions
Chocolate Cupcakes:
Preheat oven to 350˚F. Line a muffin tin with muffin liners.

In a medium size bowl sift the flour, cocoa, baking powder, baking soda, and salt.

In a separate bowl, with a hand mixer or using a stand mixer (use the paddle attachment), cream together the butter, sugar on high speed for a few minutes, until the mixture is pale and fluffy.

Add the eggs, vanilla, and buttermilk and mix again until well blended.

Using a spatula, fold the dry ingredients into the wet ingredients until just combined. Don't over mix.

Divide the batter equally between 12 large muffin liners. Bake for 18-20 minutes or until toothpick comes out clean. When done, remove from oven and set aside to cool for 10 minutes then place on wire rack.
Caramel Sauce:
Heat sugar in a medium heavy-duty saucepan (try not to use non-stick) over medium heat. Stir constantly using a rubber spatula (heat resistant), or wooden spoon. *Clumps will form and eventually melt into a thick, amber-colored liquid. Continue to stir. This may take a while. Be careful not to burn it.

When sugar is completely melted, immediately stir in butter until melted and combined. Stir continuously while the butter melts and mixes with the sugar. Caution: the caramel will bubble vigorously when butter is added.

Once butter has melted and combined with caramelized sugar, slowly, stir in the heavy cream. Since the cream is colder than the caramel mixture, it will vigorously bubble when added. Continue to stir throughout.

**When the sauce is the right consistency, remove from heat and stir in the salt. Allow to cool slightly before using. Caramel will thicken as it cools.
Chocolate Buttercream Frosting:
In a large bowl, beat butter until light and fluffy.

Add powdered sugar and cocoa and mix again until well combined.

Add vanilla and mix.

Add milk, 1 tablespoon at a time, and beat on high speed until right consistency.
Assemble the Christmas Caramel Cupcakes:
Using a knife or a cupcake corer, cut out a small hole in the middle of each cupcake.

Fill with 1 – 1 1/2 teaspoons of the caramel into the cupcake holes.

***Top the cupcakes with frosting. I use Wilton's #1M open star tip.

Spoon a teaspoon of caramel over the top of the frosting and serve.
Cinnamon & Sugar's Notes:
*For the caramel sauce, watch the sugar very, very closely because it can burn quickly. As soon as it begins turning a gold color, remove from the heat and continue to stir. The carryover heat from the pan will continue to cook the sugar.

**Once you add the cream don't cook the mixture much longer. The caramel will appear "thin" but it definitely thickens a considerable amount as it cools.

***Be sure the cupcakes and caramel sauce are completely cool before piping the buttercream frosting. Don't spoon warm caramel over the tops of the buttercream because it will cause the buttercream to melt.
Pin to Pinterest: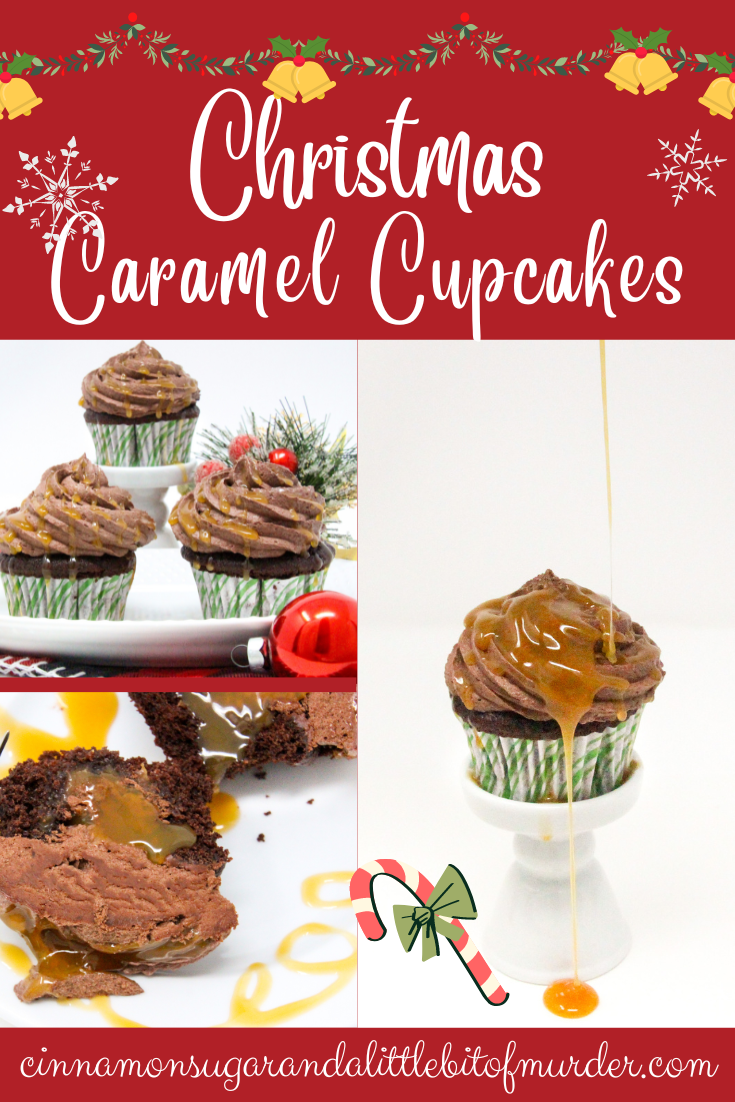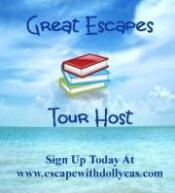 TOUR PARTICIPANTS
October 17 – Cinnamon, Sugar, and a Little Bit of Murder – REVIEW, RECIPE
October 17 – Reading Is My SuperPower – REVIEW
October 18 – Cozy Up With Kathy – REVIEW, AUTHOR INTERVIEW
October 18 – Carstairs Considers – REVIEW
October 18 – Readeropolis – SPOTLIGHT
October 19 – The Avid Reader – REVIEW
October 19 – Celticlady's Reviews – SPOTLIGHT
October 19 – Angel's Guilty Pleasures – SPOTLIGHT
October 20 – Literary Gold – SPOTLIGHT
October 20 – Hearts & Scribbles – SPOTLIGHT
October 20 – Reading Authors Network – SPOTLIGHT
October 21 – Novels Alive – REVIEW – SPOTLIGHT
October 21 – Christy's Cozy Corners – AUTHOR GUEST POST
October 21 – MJB Reviewers – SPOTLIGHT
October 22 – StoreyBook Reviews – REVIEW
October 22 – FUONLYKNEW – SPOTLIGHT
October 22 – Books a Plenty Book Reviews – REVIEW
October 23 – Maureen's Musings – SPOTLIGHT
October 23 – Lady Hawkeye – SPOTLIGHT
October 23 – Cassidy's Bookshelves – SPOTLIGHT
October 24 – Ascroft, eh? – CHARACTER INTERVIEW
October 24 – I'm All About Books – SPOTLIGHT
October 24 – Guatemala Paula Loves to Read – REVIEW, AUTHOR INTERVIEW
October 25 – #BRVL Book Review Virginia Lee Blog – SPOTLIGHT
October 25 – Escape With Dollycas Into A Good Book – REVIEW
October 25 – Sapphyria's Book Reviews – SPOTLIGHT
October 26 – BookishKelly2020 – SPOTLIGHT
October 26 – Melina's Book Blog – REVIEW
October 26 – Brooke Blogs – SPOTLIGHT
I was provided with an advance copy. All thoughts and opinions are my own.