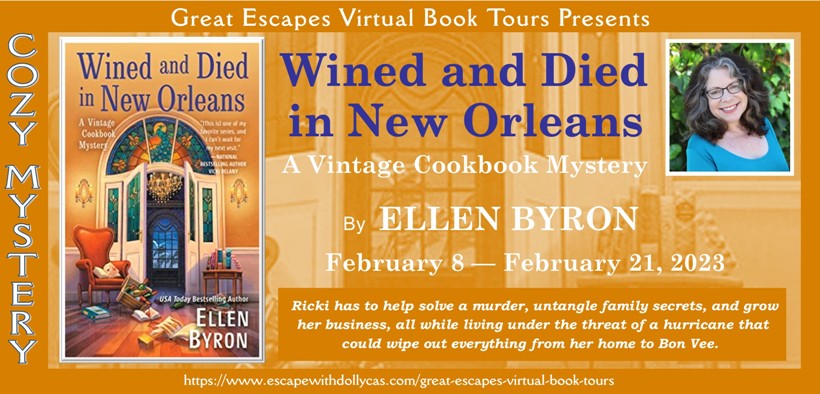 I'm delighted to be participating in the Great Escapes Virtual Book Tours introducing WINED AND DIED IN NEW ORLEANS, the second book in the Vintage Cookbook Mystery series by Ellen Byron. Charming characters, a delightful vintage cookbook and kitchenware shop, the threat of a hurricane, and a murder that might be related to a long-lost treasure trove of rare wine, kept me glued to the pages. The setting of the enticing city of New Orleans only increased the appeal in this captivating story that is sure to please cozy mystery fans. With a dual mystery going on, protagonist Ricki has her hands full. Not only does she run her vintage cookbook and kitchenware shop set in the Bon Vee Culinary House Museum (which I'd love to visit if it were real!), she's trying to unravel her heretofore unknown family tree. Adopted at birth, she's never known her true family and has decided to pursue finding them now that she's returned to the city of her birth. I love how Ricki is close to her adoptive parents and, despite them living far away, she keeps in close contact. It's obvious they were, and still are, a close family unit, which is heartwarming.
Ricki also becomes embroiled in trying to prove her mentor's innocence when a body is found on the grounds of the museum. Tying the murder into the discovery of rare vintage wine along with distant relatives coming forward to claim their share keeps the story moving at a fast pace. And thrown in for good measure is a jealous rival for Ricki's potential love interest. Ms. Byron deftly weaves the strands of the tale together, making the story come alive with a strong descriptive voice. There were plenty of twists and turns to make me second guess the culprit several times, and upon the reveal a surprise awaited me. Wined and Died in New Orleans is another wonderful addition to Ms. Bryon's delightful mysteries!
Another bonus in this series is the inclusion of mentions of vintage cookbooks along with recipes adapted from them for the home cook to try. With the theme of rare wine, it's no surprise that the theme of the vintage cookbooks and recipes is wine-based. I couldn't wait to try the recipe for Biscuit Tortoni. A fluffy, cream-based delight enhanced by coconut, macaroons, and sweet sherry makes this not overly-sweet dessert a delicious end to dinner. I decided to toast the coconut to add a bit more flavor and visual appeal. My husband, who's not a huge coconut fan, had a change of heart after trying Biscuit Tortoni and even went back for seconds. And, if you don't toast the coconut, this is a super easy no-bake dessert!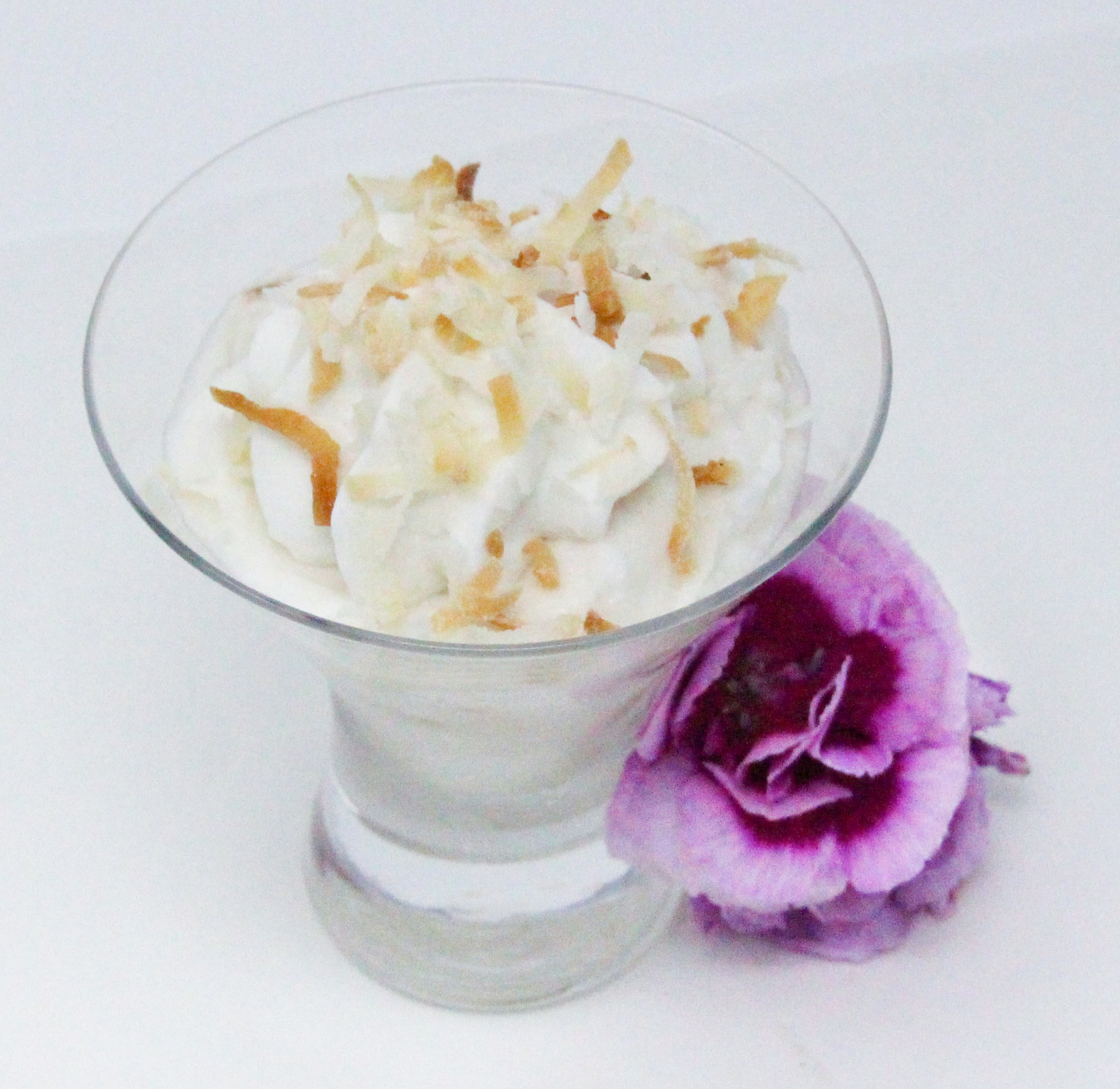 Amazon Synopsis
It's hurricane season in New Orleans and vintage cookbook fan Ricki James-Diaz is trying to shelve her weather-related fears and focus on her business, Miss Vee's Vintage Cookbook and Kitchenware Shop, housed in the magnificent Bon Vee Culinary House Museum.
Repairs on the property unearth crates of very old, very valuable French wine, buried by the home's builder, Jean-Louis Charbonnet. Ricki, who's been struggling to attract more customers to Miss Vee's, is thrilled when her post about the discovery of this long-buried treasure goes viral. She's less thrilled when the post brings distant Charbonnet family members out of the woodwork, all clamoring for a cut of the wine's sale.
When a dead body turns up in Bon Vee's cheery fall decorations, the NOPD zeroes in on Eugenia Charbonnet Felice as the prime suspect, figuring that as head of the Charbonnet family, she has the most to gain. Ricki is determined to uncover the real culprit, but she can't help noticing that Eugenia is acting strangely. Ricki wonders what kind of secret her mentor has bottled up, and fears what might happen if she uncorks it.
In the second Vintage Cookbook Mystery, Ricki has to help solve a murder, untangle family secrets, and grow her business, all while living under the threat of a hurricane that could wipe out everything from her home to Bon Vee.

A special thanks to Ellen Byron for providing one winner with a copy of BAYOU BOOK THIEF! Contest is limited to U.S. residents only and ends February 22, 2023 at 11:59 pm EST. Please use the Rafflecopter box located below to enter. Contest is administered by Great Escapes Virtual Book Tour and the winner will be announced on this page and notified by email (so check your spam folder!)
And a bonus giveaway – thanks to Berkley for giving away an additional copy of the first book in the series, BAYOU BOOK THIEF! Contest is limited to U.S. residents only and ends February 22, 2023 at 11:59 pm EST. Contest is administered by Cinnamon & Sugar.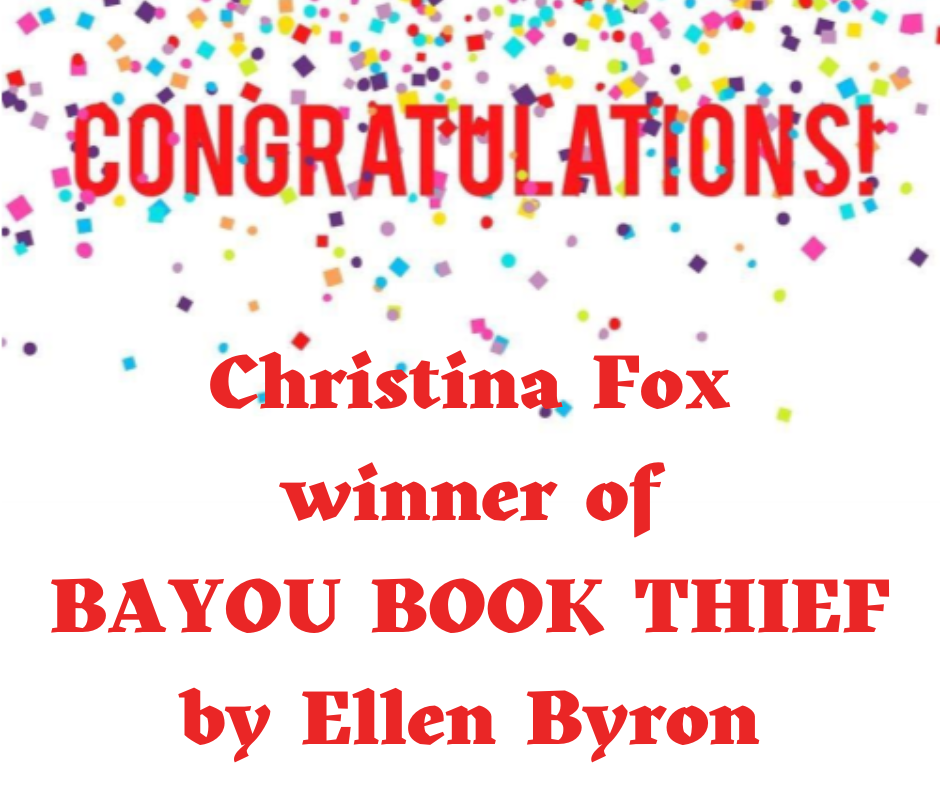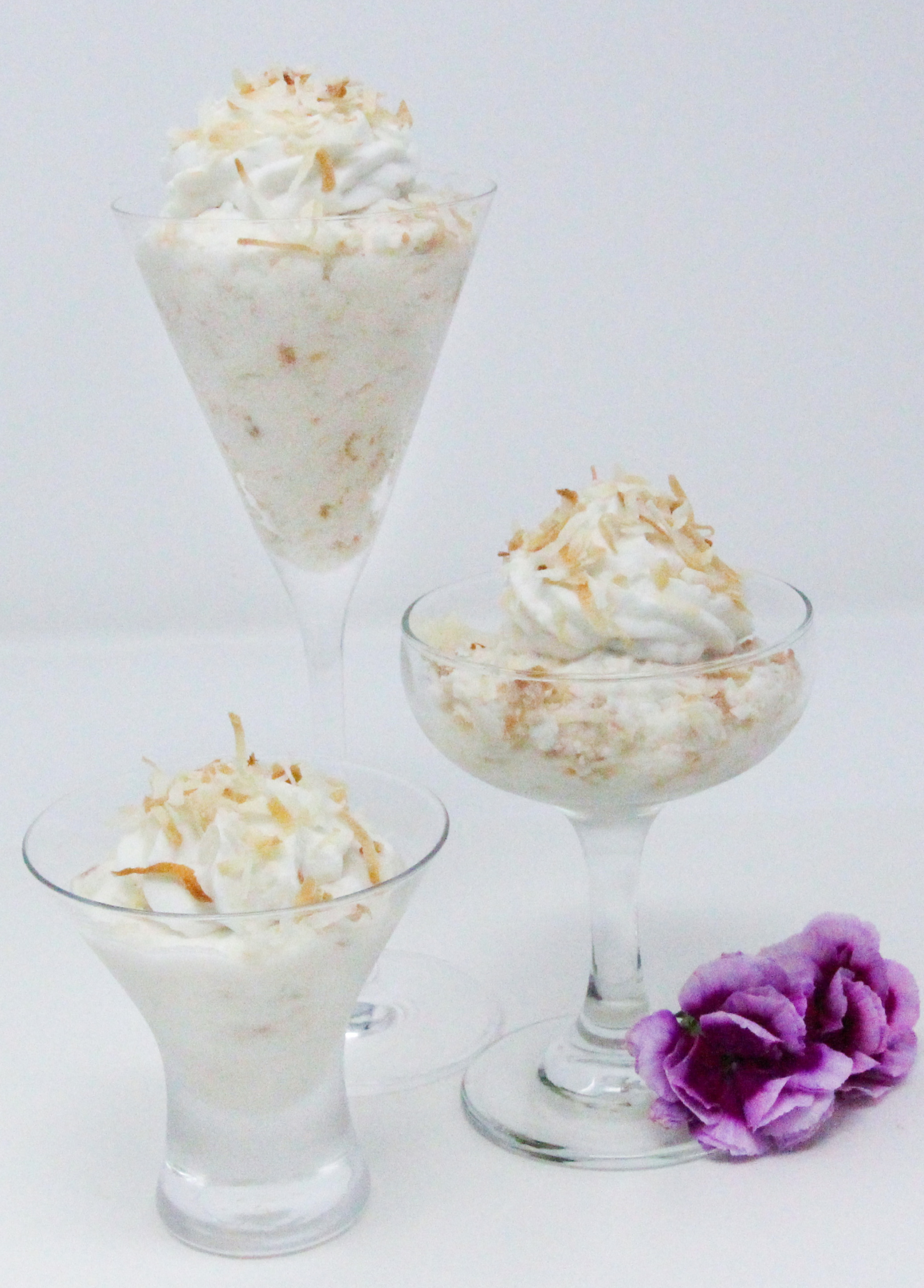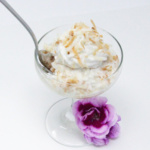 Biscuit Tortoni
Serves 6
Recipe adapted from the Adventures in Wine Cookery (1965; by California Winemakers). The Wine Advisory Board of California appears to have been an organization dedicated to promoting the state's burgeoning wine industry. According to Ellen Byron, her research has failed to turn up anything about them besides the cookbooks they published like Adventures in Wine Cookery. This particular cookbook offers a collection of recipes from vintners, family members, and employees at various Golden State wineries. What makes the recipes unique is that all incorporate a California wine in some way, like the Biscuit Tortoni.
Ingredients
1

cup

whipping cream

1/4

cup

confectioners' sugar (you can add more if you like your desserts really sweet)

2

tablespoons

sweet sherry (or for a nonalcoholic version substitute 2 teaspoons of vanilla, coconut, or almond flavoring)

1/4

cup

sweetened shredded coconut, plus 2 tablespoons

1

stiffly beaten egg white*

1

cup

cup well-crumbled macaroons
Instructions
Whip the cream until stiff. Slowly add the confectioners' sugar to incorporate, then add the sherry, and the coconut. Mix together well.

Fold in the stiffly beaten egg white, followed by the crumbled macaroons.

To serve, divide into six dessert cups and sprinkle each serving with about a scant teaspoon of shredded coconut.
Cinnamon & Sugar's Notes
*Eating unpasteurized raw or undercooked eggs poses a health risk to everyone, but especially to the elderly, young children under age 4, pregnant women and other highly susceptible individuals with compromised immune systems.

If you can't find pasteurized whole eggs at the store, you can pasteurize them at home using the following method:

Place large eggs in a saucepan and fill with enough water to completely cover them. Over medium-low heat, bring the water temperature to 140 degrees (F). A digital thermometer is the most accurate way to monitor. Maintain the water temperature at 140 degrees for 3 minutes, reducing the heat on the stove if necessary. Immediately remove eggs from the hot water and submerge in a bowl of ice cold water. Store in the refrigerator if not using immediately.

Please use your discretion when eating undercooked items.

I toasted the coconut and the macaroons. Spread on baking sheet lined with parchment paper and bake at 350 degrees (F) for a few minutes. Stir frequently and keep a close watch since coconut can begin scorching quickly. Remove coconut from baking sheet to stop the toasting, and cool on a plate before using.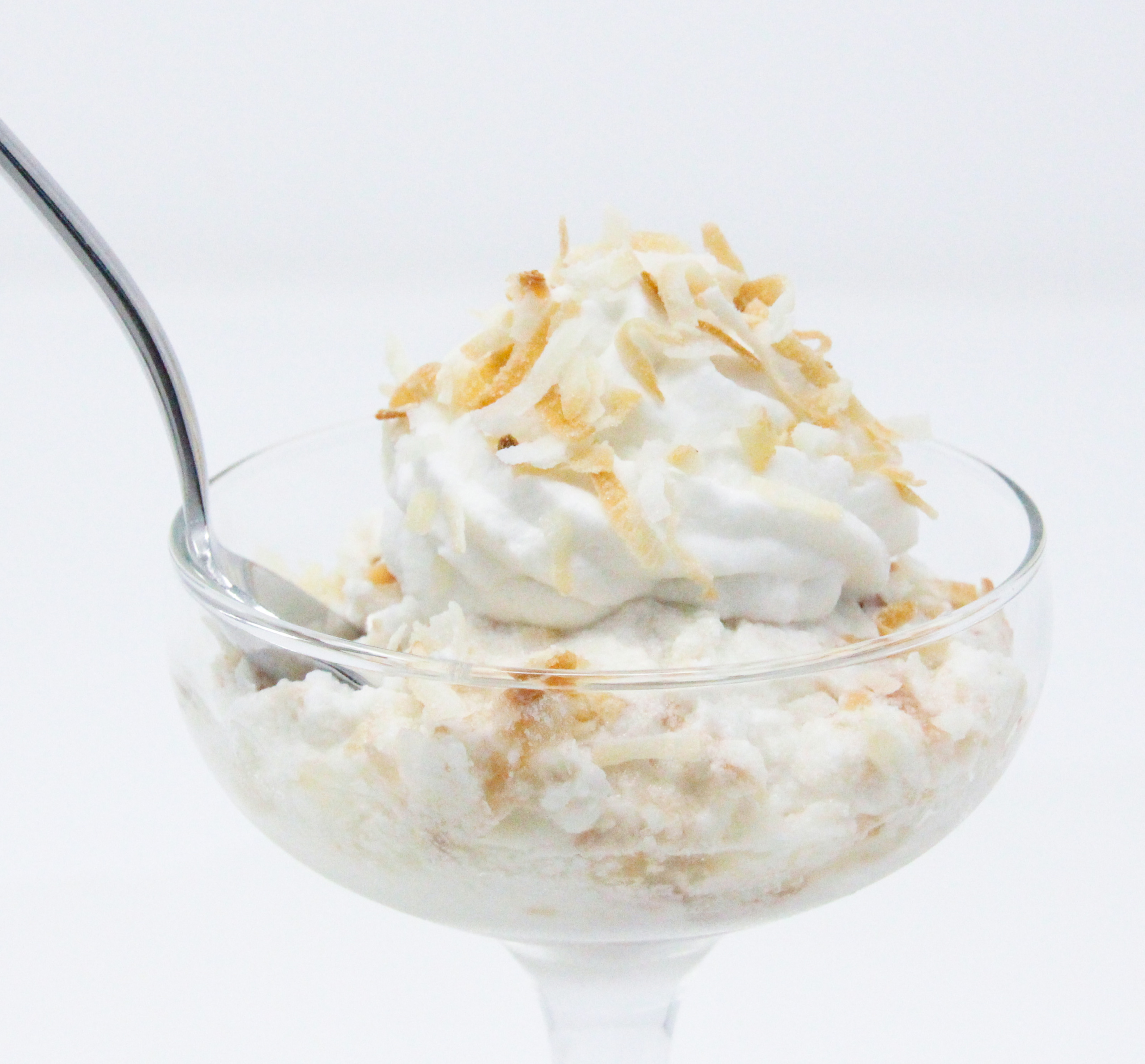 Pin to Pinterest: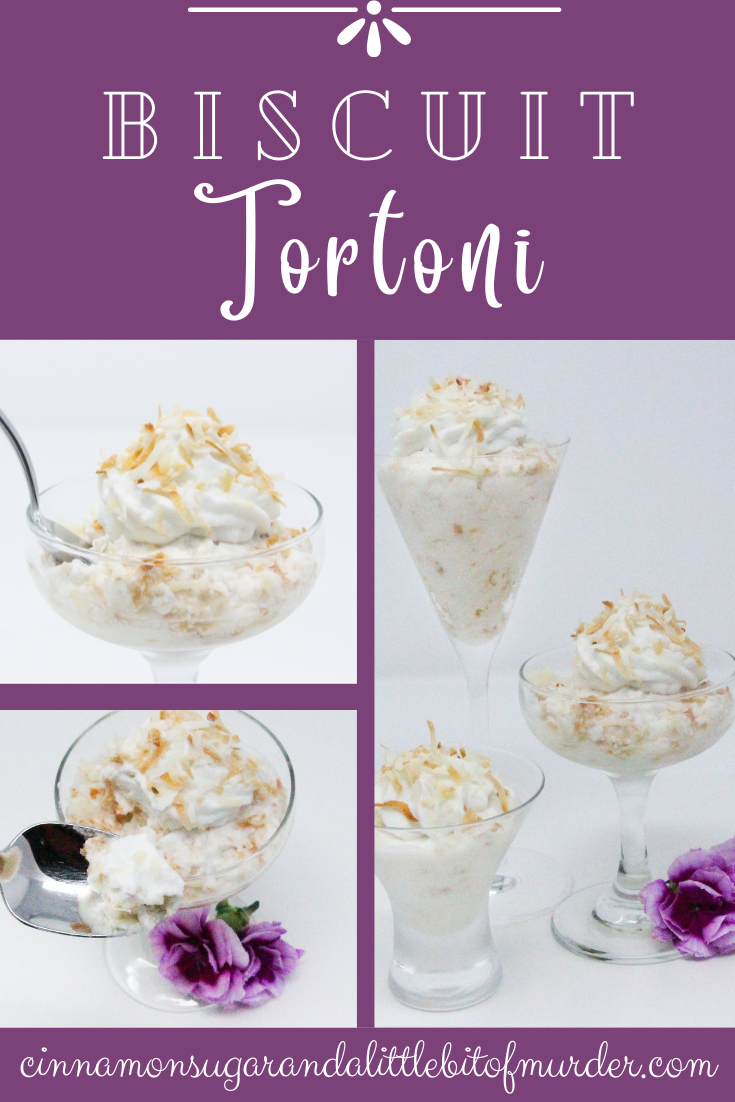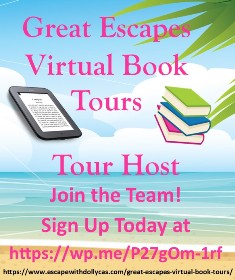 TOUR PARTICIPANTS
February 8 – Cinnamon, Sugar, and a Little Bit of Murder – REVIEW (RECIPE)
February 8 – Angel's Guilty Pleasures – SPOTLIGHT
February 8 – Maureen's Musings – SPOTLIGHT
February 9 – Christy's Cozy Corners – REVIEW
February 9 – The Mystery of Writing – AUTHOR INTERVIEW
February 10 – View from the Birdhouse – REVIEW
February 10 – Lady Hawkeye – SPOTLIGHT
February 11 – Reading Is My SuperPower – REVIEW
February 11 – StoreyBook Reviews – REVIEW
February 12 – I'm Into Books – CHARACTER GUEST POST
February 12 – Cozy Up WIth Kathy – REVIEW
February 13 – Baroness Book Trove – REVIEW
February 13 – Literary Gold – AUTHOR INTERVIEW
February 14 – The Mystery Section – SPOTLIGHT
February 14 – Escape With Dollycas Into A Good Book – REVIEW
February 15 – Island Confidential – SPOTLIGHT
February 15 – Novels Alive – REVIEW
February 16 – Celticlady's Reviews – SPOTLIGHT
February 16 – Ascroft, eh? – CHARACTER INTERVIEW
February 17 – FUONLYKNEW – SPOTLIGHT
February 17 – Guatemala Paula Loves to Read – REVIEW
February 18 – #BRVL Book Review Virginia Lee – SPOTLIGHT
February 18 – fundinmental – SPOTLIGHT
February 19 – The Book Decoder – REVIEW
February 19 – Socrates Book Reviews – REVIEW
February 20 – Sapphyria's Book Reviews – SPOTLIGHT
February 20 – The Plain-Spoken Pen – REVIEW
February 21 – Books a Plenty Book Reviews – REVIEW
February 21 – My Journey Back – CHARACTER GUEST POST  
I was provided with an advance copy. All thoughts and opinions are my own.