CHEDDAR LATE THAN DEAD is the third book in the Grilled Cheese Mysteries by Linda Reilly. One of the best things about this series is the characters. Ms. Reilly consistently makes the core characters lovable for their kindness and strong connection to each other. As the protagonist, Carly Hale sets the standard for her friends and employees, for the respect and care she shows for one and all, whether or not the person is deserving. With the backdrop of her grilled cheese shop, Carly's Grilled Cheese Eatery, in Balsam Dell, Vermont, the setting couldn't be more tempting… and mouthwatering. The author sets the stage with pun-y grilled cheese names (Sweddar Weather, Smoky Steals the Bacon, etc.) along with delightful shops, such as What A Card specialty card shop owned by her best friend, Gina. The reader might be lulled into the peaceful vibe of the idyllic town at the start of the book but, rest assured, Ms. Reilly knows how to spin a well-plotted murder and investigation that had me turning page after page.
Catering a bridal shower for Klarissa, an old high school classmate, wasn't on Carly's to-do list, but that's what she found herself doing. What should have been a joyous occasion turned out to be fraught with stress and a Bridezilla who even got into an argument with her groom for showing up uninvited. Not long after, the groom is found dead. Had the bride had second thoughts about the wedding, or did one of the shower guests have murderous intentions? Being the friendly person she is, Carly doesn't have trouble getting people to open up and provide clues as she investigates, despite the police warning her off. The pace of the book is spot-on, and I happily followed along with Carly as she hunted for the perpetrator. However, I was fooled by a couple twists and never considered the culprit until the reveal. As the book concluded, all the threads of the story wrapped up together into a delightful read that has me yearning for the next book in the series.
Be prepared to crave some ooey-gooey grilled cheese sandwiches as you read! I'm thankful that the author provides a couple recipes at the back of the book, including one for Grant's Tomato Soup, the quintessential accompaniment to a grilled cheese sandwich. My childhood memories are of canned condensed tomato soup, which made me not a fan of tomato soup. However, Ms. Reilly's recipe has changed my mind! Despite using canned San Marzano tomatoes, the addition of other fresh ingredients and sherry elevates the flavor to yum. With a bit a cream, the added richness complements the rich tang of cheese in a grilled cheese sandwich. Together, nothing could be more comforting on a chilly day, whether served for lunch or a light supper.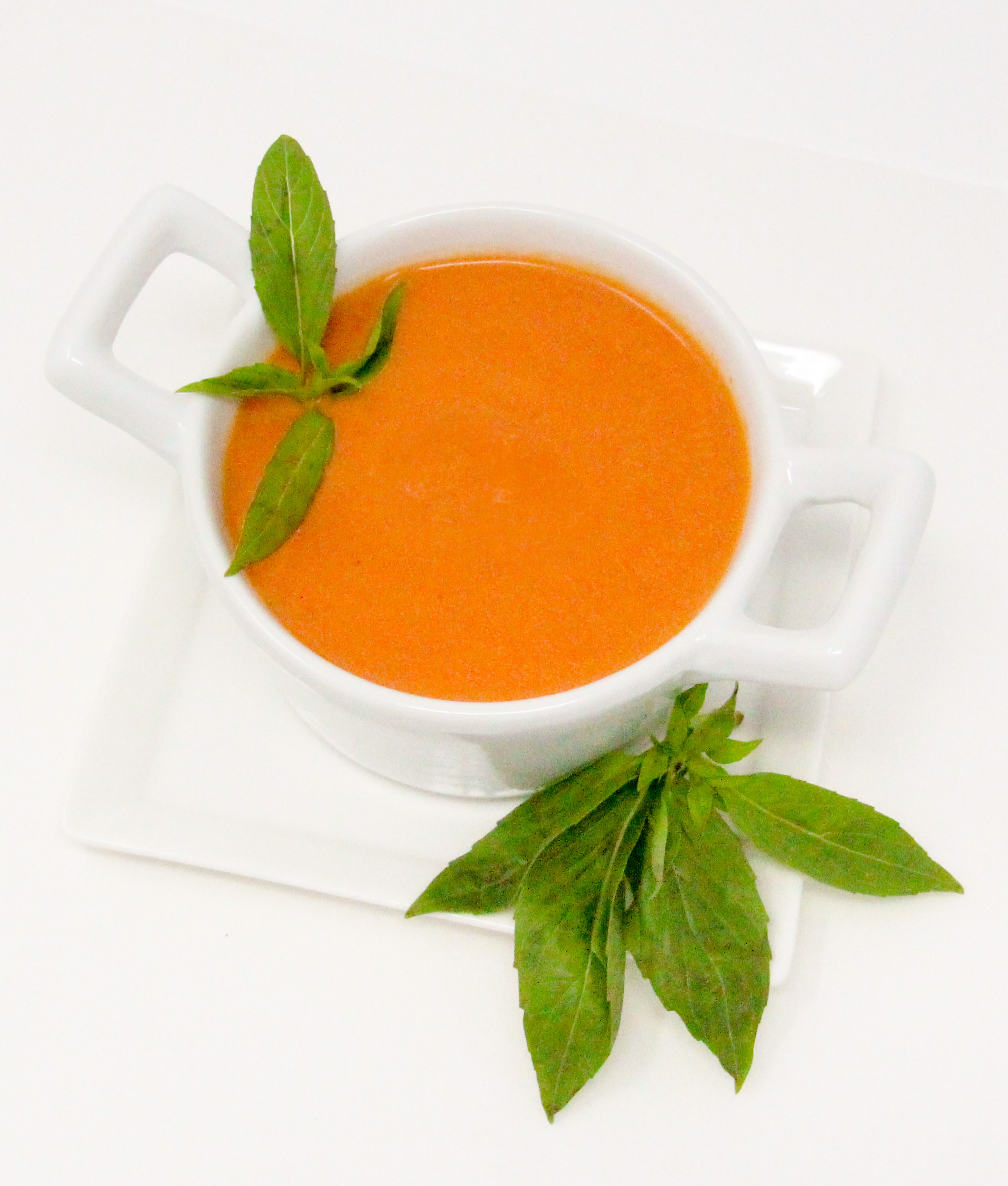 Amazon Synopsis
Winter in Balsam Dell is a snowy affair, and to add in some cheer after the holidays Carly's former classmate Klarissa Taddeo is hosting her extravagant bridal shower at the historic Balsam Dell inn. But when a double-booking throws some mold in the cheese, Klarissa is left scrambling. Dawn, the maid of honor and wedding planner, saves the day by moving the shower to her family's mansion and books Carly to cater the party. It seems the group is going to pull off the shower without a hitch.
That is, until Klarissa's fiancé crashes the event. She's furious with her groom-to-be and when a loud argument ensues, everyone is shocked by what they hear. When the groom is later found dead at the bottom of the stairs, his drink spiked with a hefty dose of poison, Carly must put her nose to the rind and save Klarissa from being suspect #1.
Because you know what they say: it's always the (almost) wife.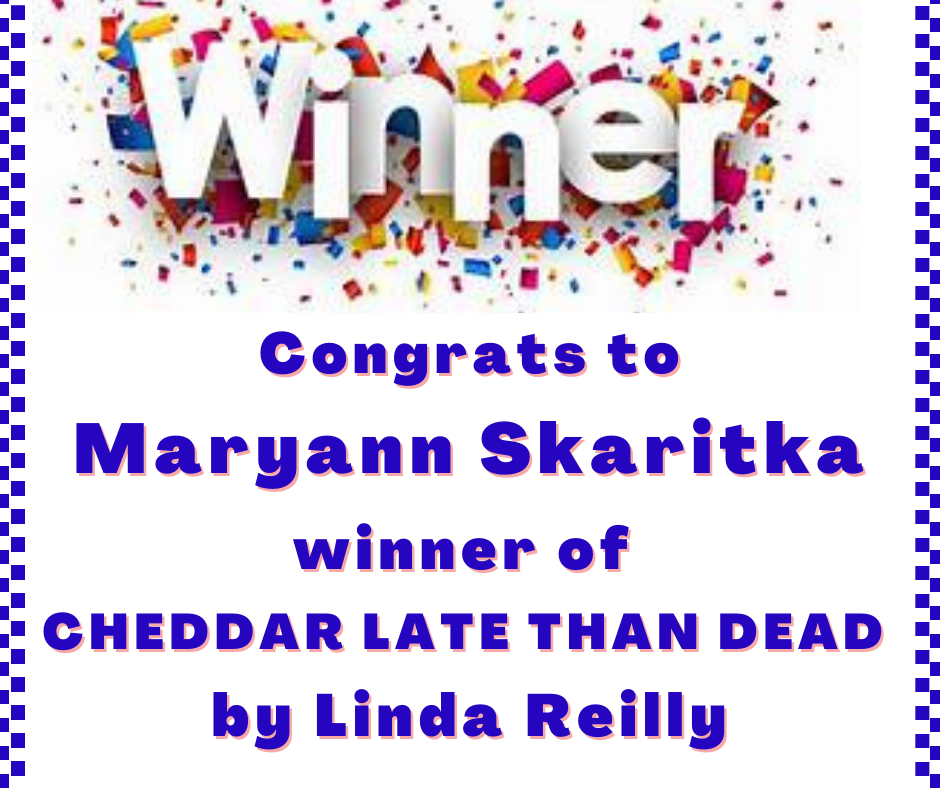 A special thanks to Linda Reilly for providing a print copy of CHEDDAR LATE THAN DEAD! Contest ends February 19, 2023 at 11:59 pm PST and is limited to U.S. residents only. Please use the Rafflecopter box located below to enter. The winner will be announced on this page and on Cinnamon & Sugar's Facebook page, as well as notified by email (so check your spam folder!)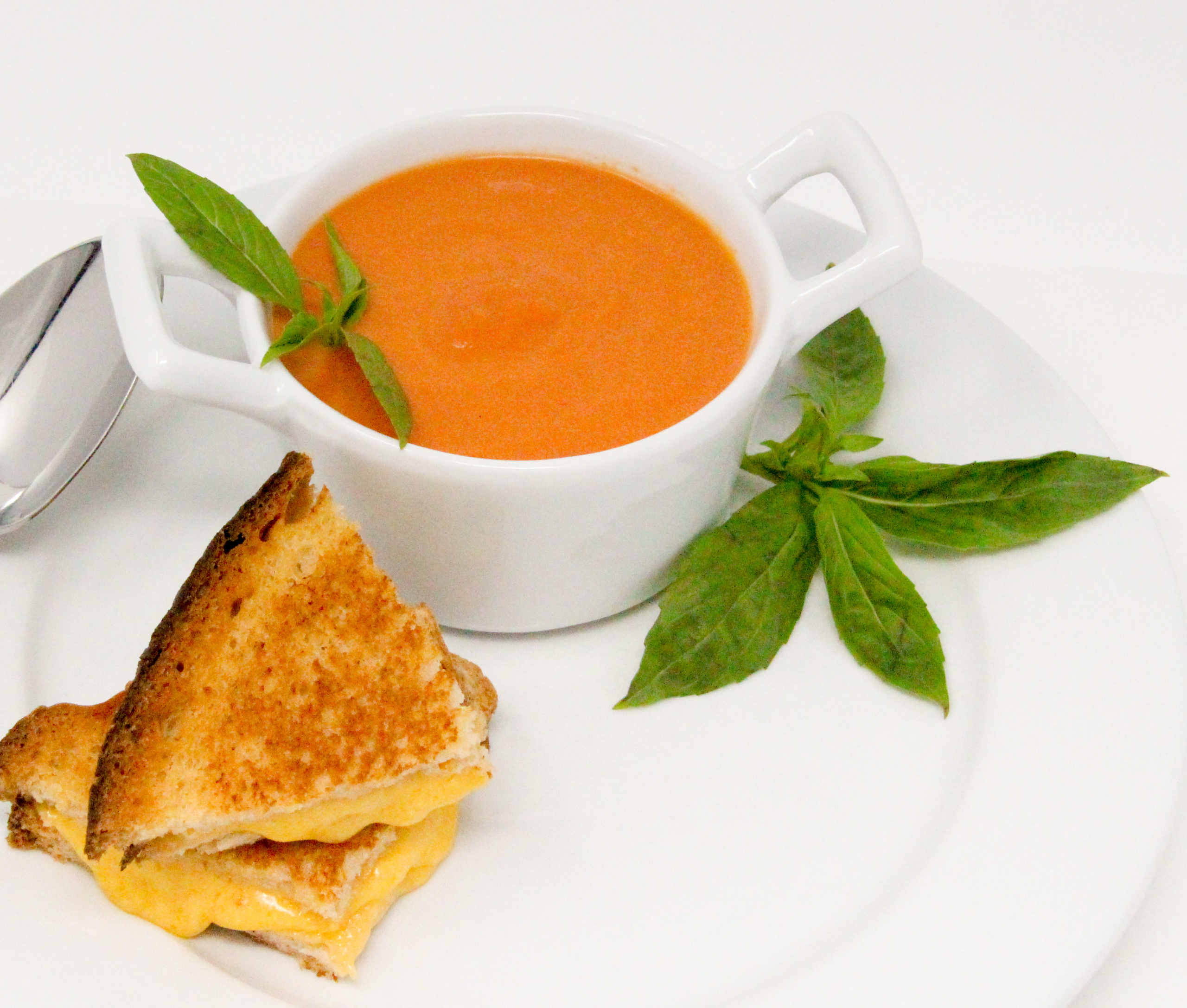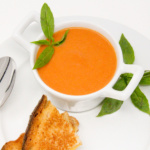 Grant's Tomato Soup
So many of the Eatery's customers have tried to pry Grant's tomato soup recipe from him! He has decided to share, but emphasizes that, like making a grilled cheese, you can add your own variations to suit your taste. And though he prepares large batches at a time for the restaurant, he created this recipe to give you 4 servings.
Ingredients
4

tablespoons

unsalted butter

1/2

large

sweet onion, sliced thick or cut into chunks

3

cloves

of garlic, minced (about a tablespoon

1

(28-ounce) can of San Marzano tomatoes, crushed (undrained)

2

cups

chicken stock

2

tablespoons

sherry cooking wine (more if desired)

1

tablespoon

sugar

1

teaspoon

sea salt

A few hearty shakes of black pepper

1/4

teaspoon

ground thyme

1/4

cup

heavy cream
Instructions
In a Dutch oven or large pot, melt the butter over medium heat and toss in the onion. Sauté for a few minutes or until the onions soften, then add the minced garlic. Sauté only for another minute to ensure that you don't burn the garlic.

Add the tomatoes, chicken stock, sherry cooking wine, sugar, sea salt, black pepper, and thyme.

Bring to a boil and then simmer, uncovered, for about 40 minutes, stirring occasionally.

Add the heavy cream. Stir in and then remove from the burner.

Blend until smooth in a regular blender or using an immersion blender, taking care not to splatter the hot mixture.

After tasting, add more salt and pepper if needed. Ladle into a bowl and enjoy either along or with a scrumptious grilled cheese!
Carly's Tips:
If it suits your fancy, top with a sprig of fresh thyme, a few sliced basil leaves, or a hefty sprinkling of Parmesan cheese.

Want croutons? Make your favorite grill cheese! Once the sandwich has cooled, use a sharp knife to cut into small squares and sprinkle them over the soup. Easy, cheesy, and delicious!
Pin to Pinterest: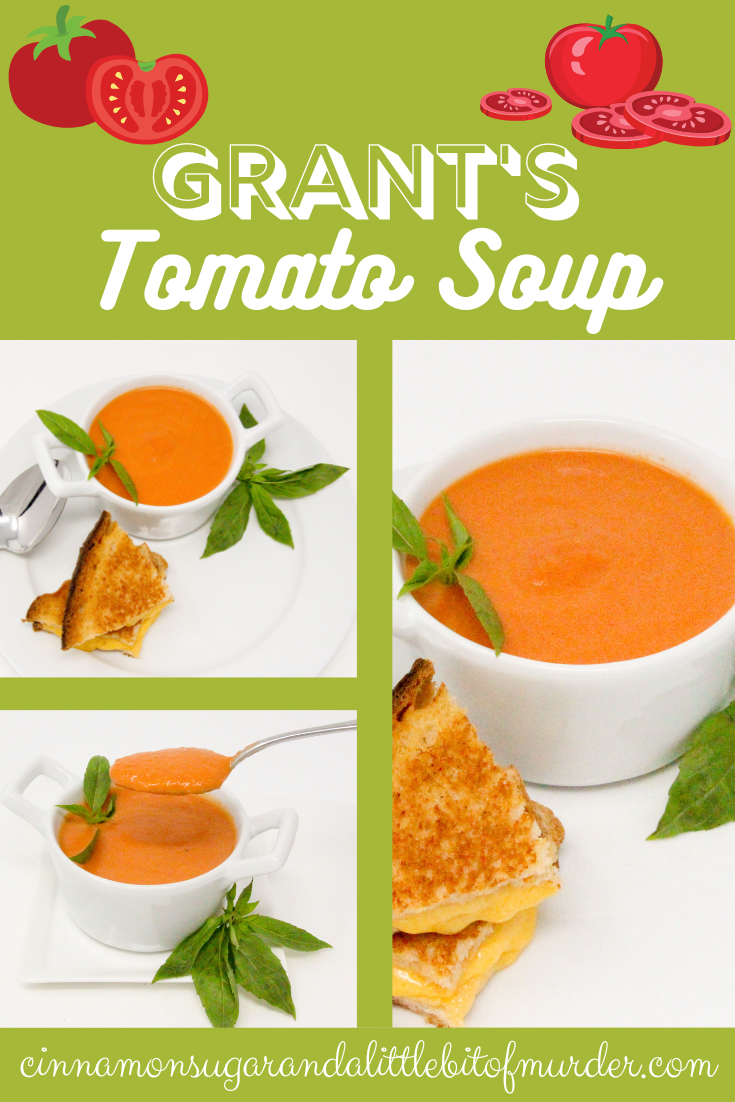 I was provided with an advance copy. All thoughts and opinions are my own.