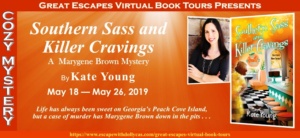 SOUTHERN SASS AND KILLER CRAVINGS is the first book in the brand new Marygene Brown Mystery series by Kate Young. I enjoyed being introduced to the protagonist, Marygene, and her family, along with spending time with them at The Peach Diner in Peach Cove Island. The author captures the southernisms and Georgia setting realistically and had me hearing, smelling, and thinking I was right there, visiting Peach Cove. This new cozy mystery is a bit different than most cozies in that the author tackles the difficult subject of domestic abuse by making Marygene a survivor. She handles the portrayal with great sensitivity without detracting from the overall mystery. Ms. Young effectively shows how Marygene grows and develops while dealing with the aftermath. Despite the subject matter and the murder of the town's lothario, there is plenty of humor provided through the ghost of Marygene's mother showing up to make amends. Marygene's best friend, Betsy, also brings a lightheartedness, which makes me appreciate the care the author has taken to develop her protagonist and the supporting characters.
When Marygene's sister, Jena Lynn, is accused of murder by poisoning one of their diner's customers, the family must pull together to clear her name. I enjoyed that despite the status of being a half-sibling to both her brother and sister, Marygene jumps in with complete support. Marygene is also finding her way with her biological father, Eddie, whom she has been on the outs for a long time. As sheriff, Eddie doesn't want his daughter to get involved, especially when danger seems to be moving in. It was heartwarming to see that despite the danger, Marygene does all she can to show her love by investigating. As she starts asking questions, it becomes clear that many people had reasons to hate the man. There were plenty of suspects to keep me guessing and the exciting conclusion, which includes Marygene's mama, was an edge-of-your-seat read!
As owners of The Peach Diner, Marygene and her sister bake and serve mouthwatering dishes. Ms. Young provides several recipes at the back of the book, and they all sound delicious. I tried her recipe for Marygene's Berry Crumb Bars and oh my goodness, they were oh so yummy! An easy to make dough serves as both the crust and crumb topping, while a generous amount of juicy berries provide a jammy filling. The addition of a bit of lemon juice, zest, and cardamom gives the dessert a boost in flavor. My test tasters all gave this two thumbs up as they went back for seconds!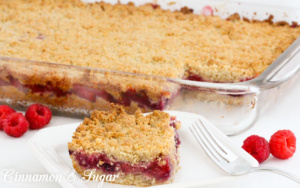 Amazon Synopsis
Life has always been sweet on Georgia's Peach Cove Island, but a case of murder has Marygene Brown down in the pits . . .

For generations, the women of the Brown family on Peach Cove Island have been known for their Southern sass and sweet homemade desserts at their beloved Peach Diner. Since their mother's passing two years ago, Marygene has been stuck in Atlanta while her sister Jena Lynn has been running the family business. Now Marygene has left her husband and returned to her hometown, where she can almost feel Mama's presence.

But all is not peachy back home. Marygene has barely tied on an apron when a diner regular drops dead at the counter. When it turns out the old man's been poisoned, Jena Lynn is led away in handcuffs and the family eatery is closed. Now, to save her sister and the diner, Marygene must find the real killer. With some startling assistance from her Mama's spirit, Marygene will be serving up a special order of just desserts . . .

The author is hosting her own giveaway:
A PRE-ORDER CONTEST with fabulous prizes! A Coach Bag with matching wristlet and $120 in gift cards plus autographed copies of the book!
Click on the link to visit the contest site:
* Grand Prize Winner receives a gorgeous Coach Avenue Tote and Coach wristlet (value $450) and a $100 gift card to either Amazon or B&N.
​​* 2 Runners up will receive a $10 gift card to either Amazon or B&N and an autographed paperback copy of Southern Sass and Killer Cravings.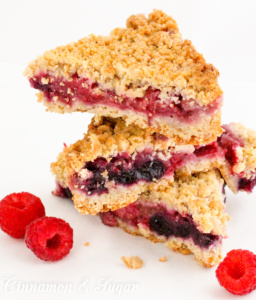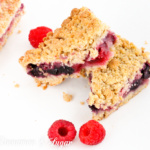 Marygene's Berry Crumb Bars
Ingredients
For the dough
3

cups

all-purpose flour

1

cup

brown sugar

1

teaspoon

baking powder

1/4

teaspoon

salt

1

cup

(2 sticks) unsalted butter, cold and diced

Zest of 1 lemon

1

egg, lightly beaten
For the Filling
5

cups

berries (strawberries, raspberries, and blueberries)

1

tablespoon

lemon juice

1

teaspoon

lemon zest

1

teaspoon

vanilla extract

1/2

cup

all-purpose flour

1

cup

granulated sugar

1/4

teaspoon

salt

1/2

teaspoon

ground cardamom
Instructions
Preheat the oven to 375°F. Grease a 9 × 13 inch baking pan.

In a bowl of an electric mixer fitted with a paddle attachment, combine the flour, sugar, baking powder, salt, and butter until it resembles cornmeal. Then add the egg and lemon zest. The dough will be crumbly. Pat half of the dough into the prepared pan. Place the pan and the remainder of the dough in the refrigerator while you prepare the filling.

In a bowl, mix gently together berries, lemon juice, zest, and vanilla extract. In a large Ziploc bag or bowl whisk together the dry ingredients. Pour over the berries and fold gently.

Spread the berry mixture evenly over the crust. Crumble the remaining dough over the top.

Bake in the preheated oven for 45 minutes, or until the top is slightly brown. Cool completely before cutting into squares. Refrigerate leftovers.
Pin to Pinterest: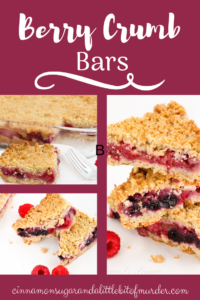 If you receive my blog post via email you will need to visit my website to view the video.

TOUR PARTICIPANTS
May 18 – Baroness' Book Trove – REVIEW
May 18 – Moonlight Rendezvous – REVIEW
May 18 – A Blue Million Books – AUTHOR INTERVIEW
May 18 – View from the Birdhouse – SPOTLIGHT
May 18 – fundinmental – SPOTLIGHT
May 19 – LibriAmoriMiei – REVIEW
May 19 – Cozy Up With Kathy – REVIEW
May 19 – Cinnamon, Sugar, and a Little Bit of Murder – REVIEW, RECIPE POST WITH PICTURES
May 19 – Babs Book Bistro – REVIEW
May 20 – The Power of Words – REVIEW
May 20 – The Avid Reader – REVIEW
May 20 – ⒾⓃⓉⓇⓄⓈⓅⒺⒸⓉⒾⓋⒺ ⓅⓇⒺⓈⓈ – SPOTLIGHT
May 20 – The Pulp and Mystery Shelf – SPOTLIGHT
May 21 – StoreyBook Reviews – REVIEW
May 21 – Bibliophile Reviews – REVIEW
May 21 – Ruff Drafts – AUTHOR INTERVIEW
May 21 – Books Direct – SPOTLIGHT
May 22 – Reading Is My SuperPower – REVIEW
May 22 – Lisa Ks Book Reviews – REVIEW
May 22 – 4covert2overt ☼ A Place In The Spotlight ☼ – SPOTLIGHT
May 22 – Read Your Writes Book Reviews – RECIPE POST WITH PICTURES
May 23 – Socrates Book Reviews – REVIEW
May 23 – MJB Reviewers – REVIEW
May 23 – ❧Defining Ways❧ – RECIPE POST WITH PICTURES
May 23 – Island Confidential – SPOTLIGHT
May 24 – Christa Reads and Writes – REVIEW
May 24 – The Book's the Thing – REVIEW
May 24 – Brooke Blogs – RECIPE POST WITH PICTURES
May 24 – Moonlight Rendezvous – REVIEW
May 24 – Elizabeth McKenna Romance Author – SPOTLIGHT
May 24 – Celticlady's Reviews – SPOTLIGHT
May 25 – Cassidy's Bookshelves – REVIEW
May 25 – A Wytch's Book Review Blog – REVIEW
May 25 – The Book Diva's Reads – SPOTLIGHT
May 26 – Melina's Book Blog – REVIEW
May 26 – The Book Decoder – REVIEW
May 26 – Readeropolis – SPOTLIGHT
May 26 – That's What She's Reading – SPOTLIGHT
I was provided an advance copy with the hopes I would review. All thoughts and opinions are my own.