SECRET IN THYME is the second book in the Rita Calabrese Mystery series by Maureen Klovers but the first I've had a chance to read… and it certainly won't be my last. I was delighted to find that the characters and setting were easy to get to know without knowing the backstory, so this second book can be read as a standalone. Ms. Klovers brings a strong Italian matriarchal protagonist to the pages via Rita Calabrese. I can't help but cheer that a competent, vibrant woman of a "certain age" is the heroine of the story. Rita has raised her children, grows an enviable garden, is a cook extraordinaire, and manages to work as an investigative reporter for the Morris County Gazette. Even local law enforcement admire her intellect and investigative skills.
I also admired how the author captures the ebb and flow of Rita's forty year marriage to Sal. It's not all champagne and roses especially when Rita's former flame comes to town, flouting his huge success as a notable historian and author. It causes Rita and Sal to take stock of their lives and their marriage to remember and find what's important. This brings an emotional element to the story, especially as Rita struggles with her son's impending nuptials to a woman she doesn't care for. Ms. Klovers has created memorable characters, each with distinct personalities, and each fitting into the story perfectly. She also weaves in snippets of Italian phrases, helping the reader feel the flavor of that nationality. The author does an admirable job of making the meaning of those phrases quite clear without giving a literal translation.
The murder mystery is set against the backdrop of Acorn Hollow's three hundred year founding celebration. When the body of a man missing for fifty years is found in the town's time capsule (which was actually a coffin that the funeral home couldn't sell) Rita starts asking questions, looking for news to impress her young newspaper editor. Little does she know that she will have to peel back decades of secrets and lies to find the truth. There were suspects galore and instead of trying to guess, I relaxed while I read and let the story unfold. The twists and turns along with the final reveal left me stunned. All I can say is kudos to Ms. Klovers for thinking up such a creative scenario and writing it in such a believable manner. I'm all set to catch up on the first book and look forward to reading future installments in this entertaining cozy mystery series!
Rita is quite the accomplished cook and baker. Not only does she provide mouthwatering meals for her family, she also bakes treats to tempt her interviewees to spill their secrets. One of her favorite tempting recipes is Chocolate Peanut Butter Biscotti and although Rita might share a lot with her friends, she also manages to eat several pieces herself. It's too good to pass up. A super crunchy, twice baked cookie that is made to dip in coffee, tea, milk, or dessert wine. The addition of the layer of chocolate makes it impossible to resist. I loved that it makes enough to generously share and it can easily be made ahead of time and stored until ready to gift or served to friends who drop in for coffee and gossip.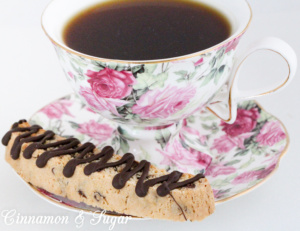 Amazon Synopsis
Rita Calabrese thought she had mastered her second act. Long acknowledged as Acorn Hollow's best cook and most lovable (or, as a few ignorant souls might say say, overbearing) Italian-American matriarch, she has more recently become its most celebrated journalist and sleuth too.
But on the eve of Rita's fortieth wedding anniversary—and the town's tercentenary—the sudden arrival of two very different men threatens Rita's comfortable existence. First, her husband's shady cousin shows up on their doorstep. Then, Rita's old high school beau suddenly returns after a fifty-year absence, and Rita is assigned to interview him. Stefano's a successful historian now and he's still bellissimo—but he's also hiding something.
When the town's time capsule is flung open to reveal a toothless skeleton, Rita hopes that solving this cold case will be just the diversion she needs. But if identifying the victim proves difficult, managing the men in her life becomes nearly impossible. A cagey ex-flame and boorish, cigar-smoking houseguest are enough to deal with, but it's another thing entirely when her husband, normally so skeptical of Rita's nose for crime, begins insisting his recently deceased grappa-swilling, red-meat-loving septuagenarian friends did not die of heart attacks, but were murdered. Only one thing's certain—if she can survive it, this will be an anniversary to remember.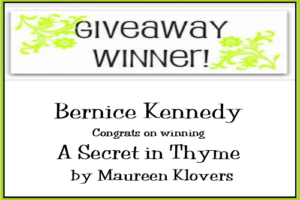 A special thanks to Maureen Klovers for providing a winner with their choice of either print or an e-book copy of A SECRET IN THYME. Contest ends Sunday, May 26, 2019 at 11:59 pm PST and print is limited to U.S. Please use the Rafflecopter box located below to enter. The winner will be announced on this page and on Cinnamon & Sugar's Facebook page, as well as notified by email (so check your spam folder!)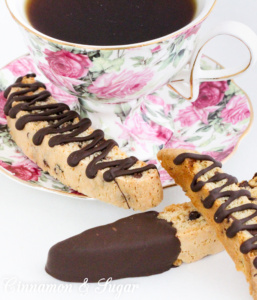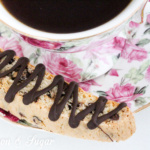 Chocolate Peanut Butter Biscotti
Biscotti was the Roman Empire's version of hard tack—its legions marched to battle with bellies full of biscotti—which is proof positive that Italians do everything better! In modern-day Italy, they are generally referred to as "cantucci"— "biscotti" is a broader, more generic term for a hard cookie or bread.

As the name suggests, biscotti are twice-cooked ("Bis" meant "twice" in latin, and "cotto"—the singular of "cotti"—means "cooked" in modern Italian), and this recipe requires you to do just that. The upside is that you end up with a wonderfully crunchy cookie to dip in your cappuccino or dessert wine, and they will last far longer than your typical chewy American cookie.

Peanut butter and chocolate are not particularly authentic flavorings, but this is one of my favorite recipes and--judging by all of the information I've extracted from neighbors I've plied with these biscotti—one of Acorn Hollow's favorite recipes too!
Ingredients
2-3/4

cups

flour

1-3/4

cups

sugar

1

teaspoon

baking powder

1/2

teaspoon

salt

3

eggs, beaten

1/3

cup

peanut butter

1/4

cup

water

4

cups

dark chocolate chips, divided
Instructions
Combine eggs, peanut butter, and water in a large bowl. In another bowl, mix flour, sugar, baking powder, and salt. Then add dry ingredient mixture to wet ingredients, stirring to fully incorporate. Then stir in one cup of chocolate chips.

Line cookie sheet with buttered parchment paper. Divide dough, which should be sticky and relatively dry for cookie dough, into two halves. Form each half into a log, approximately three inches in width and one-half inch in height, on the parchment-lined cookie sheet. Flatten slightly with back of spoon.

Bake logs at 350 degrees for 40 minutes. Then remove from oven and cool for 15 minutes. Turn down oven temperature to 300 degrees. Slice logs on the bias (diagonally) into 3/4 inch thick slices. Then arrange slices, cut side up, on the cookie sheet and bake at 300 degrees for 10 minutes. After 10 minutes, flip sliced biscotti so that the other side gets toasted and bake another 10 minutes at 300 degrees.

Let biscotti cool on a wire rack. Once biscotti have cooled somewhat, melt 3 cups of chocolate chips in a double boiler (or microwave according to package directions), stirring constantly. Then dredge one side of each biscotti in the melted chocolate (or drizzle over twice-baked cookie) and return to the wire rack to dry. Let harden overnight.
Tip
Spritz your hands with non-stick cooking spray before forming dough into logs.

I used mini chocolate chips in the dough and regular chips for dipping.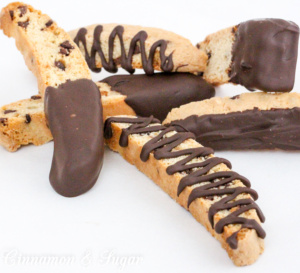 Pin to Pinterest: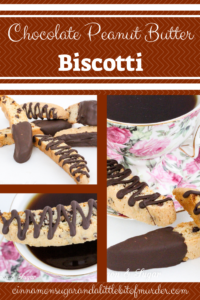 If you receive my blog post via email you will need to visit my website to view the video.