SOMETHING BORROWED, SOMETHING MEWED, the fifth book in the Lucky Paws Petsitting Mystery series by Bethany Blake, is another terrific addition to one of my favorite series in publication. A wedding planner out of control, competing mother-of-the-bride and mother-of-the-groom, adorable dogs galore, and a Harley-riding bridesmaid with a pet pig… Ms. Blake provides a rollicking tale that had me laughing out loud many times. Not only does she weave many humorous situations into a tightly plotted mystery, but she has a creative touch with pun-y business names and pet puns to fit the theme. In addition to an entertaining story, the author has endearing characters like protagonist Daphne Templeton. She's a free-spirted young woman who holds a PhD in Philosophy, but she's settling down and has opened a petsitting business and an organic pet treat bakery, Flour Power, in her home town. The characters are like catching up with old friends: both comforting and exciting to find out what's been happening in their lives. Not only are the human characters well-developed, the four-footed furry friends are just as charming. I know I've said it before, but I adore the protagonist's sidekick Basset hound, Socrates. He has a personality that is just as delightful as any human sidekick and I love each scene he is in.
When Daphne finds the wedding planner murdered on the eve of her sister's wedding, she needs to step in and calm the bride and groom's nerves. Except she finds out the groom doesn't have an alibi, but his bride-to-be, Daphne's sister, believes in his innocence. The author effortless weaves in the clues and subplots and kept me turning pages long into the night to find out "what happens next." There were twists and turns in the mystery that I didn't see coming along with the twists with Daphne's romantic interest, Detective Jonathan Black. Yet in the end, the threads of the characters and the story are brought together into a satisfying, heartwarming conclusion…that once again has me waiting impatiently for the next book to release.
Ms. Blake includes several cat treat recipes at the back of the book along with a recipe for Daisy's Secret Potato Salad which was served at the reception. Since my local family are dog people and there was a party coming up (Game of Thrones season opener!), I opted to make the potato salad recipe to share. It received rave reviews and was nicknamed 'Prince O'Beryn's Smashed Potatoes' in keeping with the theme of the party. I liked the use of the red potatoes, which gave the salad a nice texture and some color. The combo of mayo and sour cream provided a nice creamy, tangy flavor which paired beautifully with the fresh dill. The recipe makes a large batch which is perfect for sharing at a gathering or cut the recipe in third to make for a small family dinner. Either way, this will be my new "go-to" potato salad from here on out!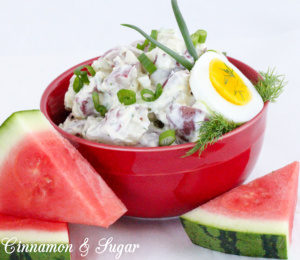 Amazon Synopsis
Daphne Templeton's sister Piper is getting married—and their mother is getting carried away. She insists on hiring Sylvan Creek's top event planner, Abigail Sinclair, who proposes an Independence Day theme complete with Statue of Liberty-inspired bridesmaid dresses. With all the bickering among the families, Daphne's glad her only duty right now is pet-sitting for Abby's cat, Ms. Peebles. But there are some fireworks coming that aren't part of the ceremony. The Poconos will never be the same . . .

At a tension-filled dress fitting, the abrasive wedding planner is found strangled by a garter—a weapon both borrowed and blue. Now Daphne's services are required not just for organizing the big day, but for figuring out whether one of the in-laws is an outlaw . . .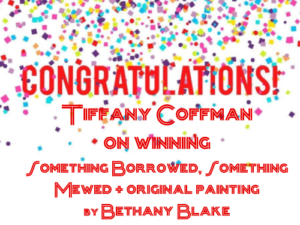 A special thanks to Bethany Blake for providing one winner with a print copy of SOMETHING BORROWED, SOMETHING MEWED & an original painting of Tinkleston the cat. Contest ends Wednesday, June 5, 2019 at 11:59 pm PST and limited to U.S. Please use the Rafflecopter box located below to enter. The winner will be announced on this page and on Cinnamon & Sugar's Facebook page, as well as notified by email (so check your spam folder!)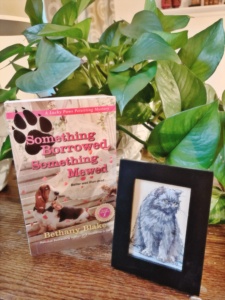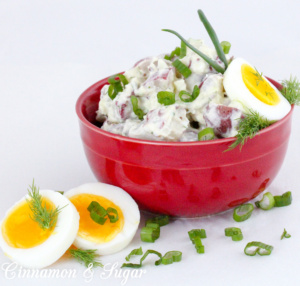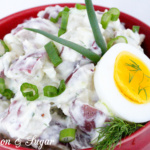 Daisy Carpenter's Secret Potato Salad with Dill
Daisy doesn't normally share this recipe, but since I did help to get her cleared of murder and save her restaurant, which was literally "in a pickle", I guess she took pity on me after I kept licking my plate clean at the barn party. She's assured me I can share the recipe with friends, too. I guess the secret is out!
Ingredients
3

pounds

red potatoes, unpeeled

3

eggs, hard-boiled and roughly chopped

1

cup

mayonnaise

3/4

cup

sour cream or plain Greek yogurt

1

tablespoon

apple cider vinegar

1

tablespoon

Dijon mustard

2

tablespoons

dried dill weed or 4 tablespoons fresh dill weed, minced

1

bunch scallions, chopped, white and green parts

Salt and pepper to taste
Instructions
Boil the potatoes until they are just tender. You don't want them to be mushy. When cool enough to handle, cut them into bite-sized chunks.

Mix together the hard-boiled eggs, mayo, sour cream, vinegar, mustard, dill and white part of the scallions.

Add the potatoes and toss gently. Season with salt and pepper to taste.

Sprinkle the dish with green scallion tops for a pretty presentation that will wow guests at your next summer picnic or party.
Hint:
If you love pickle flavor, skip the apple cider vinegar and add a few spoonfuls of pickle relish. Yum!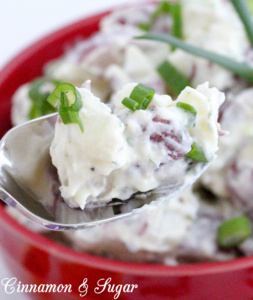 Pin to Pinterest: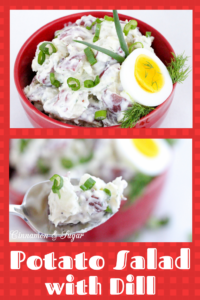 If you receive my blog post via email you will need to visit my website to view the video.
I was provided an advance copy via Netgalley. All thoughts and opinions are my own.