THE BOOK SUPREMACY, the thirteenth book in the Bibliophile Mystery series by Kate Carlisle, is an entertaining addition to a long enduring series! As a long-time fan of protagonist Brooklyn Wainwright (now Mrs. Derek Stone), I was ecstatic see her relationship with her love progress over the years, finally culminating in marriage and a romantic honeymoon in Paris. Ms. Carlisle captures the sounds, sights, and most definitely the tastes of the City of Lights, and makes me want to experience it firsthand. I was especially captivated by the description of the book stalls along the Seine. They sound fabulous especially when I read that some historians claim they have been in existence since the 17th century! After an indulgent interlude, Brooklyn and Derek head back to their home in the romantic city of San Francisco, where the action really starts. One of the strengths of the author is to set the stage, pulling the reader in with wonderful settings and superb character developments. It makes the reader want to follow the story of Brooklyn, her family and friends.
In the midst of sharing their find of an Ian Fleming James Bond book while in Paris, for displaying during a friend's spy shop celebration, murder happens and puts a somber damper on the festivities. It appears someone desperately wants Brooklyn's copy of The Spy Who Loved Me. Ms. Carlisle effortlessly weaves an intriguing tale of creepy escape rooms, an ambitious employee after Derek, jealousy, and rare book restorations. I thought I knew where the author was taking the story but then she'd throw in a curve ball that I didn't see coming. It kept me turning pages until I read the very last word. The final reveal brought great satisfaction and I was relieved that justice was served, like I hoped it would be. And that's what makes a good cozy mystery!
I was delighted to see that several recipes are included in the back of the book, especially after drooling over Brooklyn and Derek's feasts while honeymooning in Paris. The Stuffed French Toast recipe caught my eye and my granddaughter confirmed that it's a recipe worth serving again and again. Thick slices of French bread are stuffed with orange-scented, sweetened cream cheese. That in itself is yummy, but when paired with the orange and honey syrup, it's a marriage made in heaven!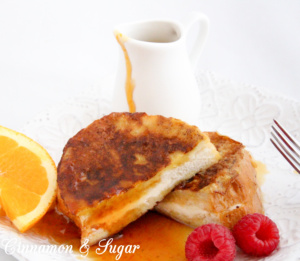 Amazon Synopsis
Newlyweds Brooklyn and Derek are enjoying the final days of their honeymoon in Paris. As they're browsing the book stalls along the Seine, Brooklyn finds the perfect gift for Derek, a first edition James Bond novel, The Spy Who Loved Me. When they bump into Ned, an old friend from Derek's spy days, Brooklyn shows him her latest treasure.

Once they're back home in San Francisco, they visit a spy shop Ned mentioned. The owner begs them to let him display the book Brooklyn found in Paris as part of the shop's first anniversary celebration. Before they agree, Derek makes sure the security is up to snuff—turns out, the unassuming book is worth a great deal more than sentimental value.

Soon after, Derek is dismayed when he receives a mysterious letter from Paris announcing Ned's death. Then late one night, someone is killed inside the spy shop. Are the murders connected to Brooklyn's rare, pricey book? Is there something even more sinister afoot? Brooklyn and the spy who loves her will have to delve into the darkest parts of Derek's past to unmask an enemy who's been waiting for the chance to destroy everything they hold dear.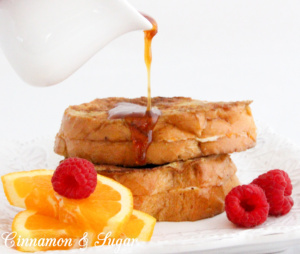 Honeymoon Stuffed French Toast
This is the heavenly French toast that Brooklyn and Derek enjoyed on the last day of their fabulous Paris honeymoon. Perhaps they'll have it for every anniversary.
Ingredients
Stuffed French Toast
1

loaf of French bread

8

ounces

cream cheese, room temperature

3

tablespoons

sugar

1

tablespoon

orange zest

2

teaspoons

vanilla, divided

6

eggs

1/2

cup

half-and-half

1/4

teaspoon

salt

1/4

teaspoon

cinnamon

2 - 4

tablespoons

butter
Honey-Orange Syrup
1/4

cup

orange juice

1/4

cup

water

1/2

cup

honey

1

tablespoons

orange zest
Instructions
Stuffed French Toast
Slice the bread 1-1/2-inch thick. Then slice each piece in half almost but not quite all the way, so the cream cheese stuffing can be added between the halves of each piece. If time permits, allow to sit out for an hour or two to dry out a little.

For the orange cream filling, combine the cream cheese, sugar, orange zest, and 1 teaspoon vanilla and mix well. Pipe or spread about 2 tablespoons into each bread slice.

Whisk together the eggs, half-and-half, sugar, 1 teaspoon vanilla, salt, and cinnamon. Dip each piece of stuffed bread into the egg mixture, ensuring that both sides are saturated.

Melt butter in a skillet over medium heat. Cook each piece of stuffed French toast until brown on both sides.

If desired, serve with Honey-Orange Syrup or your favorite maple syrup.
Honey-Orange Syrup
Combine all the ingredients in a small saucepan. Heat on medium until it reaches a gentle boil, then lower heat and continue to simmer until reduced by half, stirring frequently.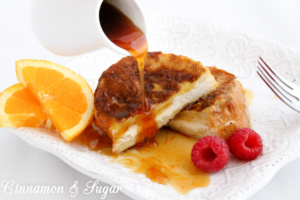 Visit Kate Carlisle at: http://www.katecarlisle.com for release and giveaway news.
Pin to Pinterest: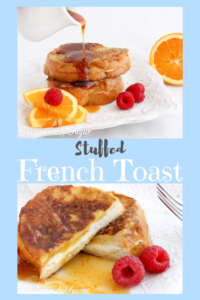 If you receive my blog post via email you will need to visit my website to view the video.
I received an advance copy via Netgalley. All thoughts and opinions are my own.