A DEADLY FEAST, the ninth book in the Key West Food Critic Mystery series by Lucy Burdette, is like a tropical holiday vacation without getting on an airplane during the hectic Thanksgiving season. The author provides an amazing assortment of delectable dishes, a gathering of family, entertainment, a wedding, and …murder, all beneath the sunny skies of Key West, Florida. Protagonist Hayley Snow is preparing for her nuptials to Detective Nathan Bransford. Most brides would not be joining a seafood tour group in order to write one more article for her employer the week of Thanksgiving. And definitely not mere days before her wedding on top of trying to get her houseboat home remodeled so she and her groom have a place to live. But, Hayley is a hard worker and dedicated to her job and joins the group. Besides that, her groom is on a special case so Hayley isn't able to spend time with him and wants her job to keep her mind off of her worries for his safety. I have so enjoyed watching Hayley's journey and personal growth throughout the series and A DEADLY FEAST is my favorite of the bunch. While it can be read as a standalone, I highly suggest starting at the beginning in order to enjoy the character development that occurs, as in real life, with Hayley alongside her family and friends.
When a death occurs at the end of Hayley's seafood walking tour, her natural investigative curiosity is intrigued. When one of the chefs on the tour asks Hayley to look into the death, worried someone might have deliberately killed the woman to sabotage her restaurant, she can't help but get involved. Except her groom has asked her to stay out of any dangerous situations because there's some bad stuff happening in town. I admire Ms. Burdette for how she creatively manages to keep Hayley on the fine line of honoring her groom's concern while at the same time finding out information. In past books, Hayley has put herself in danger to find the truth, but she's learned to using her intellect with less risk. Despite that, the author manages to put plenty of excitement into the story and provide enough suspects to keep the plot moving. There was a unique twist that I didn't see coming and the heartwarming conclusion makes me want to book a flight for Key West immediately!
A DEADLY FEAST is a drool-worthy book and Ms. Burdette provides the reader with recipes at the back of the book to make those drools a reality. Key West screams of mojitos so I was drawn to trying the Mojito Cookies. These (almost) shortbread-style cookies incorporate fresh mint and fresh limes, while a sweet, lime-infused icing is the proverbial "cherry on top". I loved the light green color of the cookies and the refreshing flavor is perfect for warm summer days!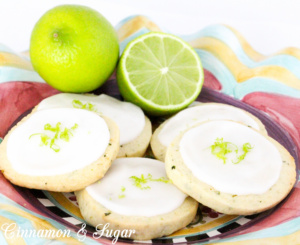 Amazon Synopsis
Key West food critic Hayley Snow scents-es something fishy when a customer falls stone-crab cold dead on a seafood tasting tour.
Thanksgiving is nearly here, and Key West food critic Hayley Snow has just one more assignment to put to bed for Key Zest magazine before she gets to celebrate with her family and her police officer fiancé, Nathan Bransford. Then, just days later, wedding bells will ring—if death doesn't toll first.
The sweet potatoes and stuffing will have to wait when Hayley picks up a distraught phone call from her friend, Analise Smith. On the last stop of a seafood tasting tour run by Analise, one of the customers collapsed—dead. With the police on the verge of shutting down the tour—and ruining Analise's business—Hayley can hardly refuse her friend's entreaties to investigate.
As if wedding jitters and family strife weren't enough for Hayley to worry about, there's crusty pastry chef Martha Hubbard, whose key lime pie may have been the murder weapon—but did she poison her own pie or was she framed? As the hours to Turkey Day tick away, the pressure cooker is on for Hayley to serve up the culprit on a silver platter in A Deadly Feast, national bestselling author Lucy Burdette's taste-tempting ninth Key West Food Critic mystery.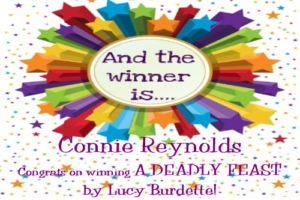 A special thanks to Lucy Burdette for providing a winner with a hardcover copy of A DEADLY FEAST. Contest ends Monday, May 21, 2019 at 11:59 pm PST and is limited to U.S. Please use the Rafflecopter box located below to enter. The winner will be announced on this page and on Cinnamon & Sugar's Facebook page, as well as notified by email (so check your spam folder!)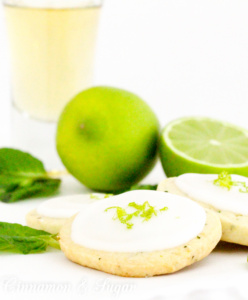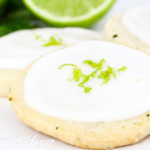 Mojito Cookies
These cookies are a lovely pale green and would be excellent as a spring dessert or as part of a Christmas cookie platter. You can make the icing or not, as you prefer. But Hayley's tasters loved the frosting with its subtle rum flavoring!
Ingredients
For the cookies:
1-1/2

teaspoons

lime zest (from 1 lime)

1

bunch

fresh mint, enough for one tablespoons chopped (or more to taste)

1/2

cup

butter, at room temperature

1/2

cup

white sugar

1

teaspoon

vanilla extract

1

egg

2

cups

all-purpose flour

1/2

teaspoon

baking powder (low-sodium works fine)

Pinch salt
For the rum lime glaze:
1/2

cup

powdered sugar

1-2

teaspoons

fresh lime juice

1

teaspoon

light rum (I used silver rum to keep the glaze white)
Instructions
For the cookies:
Zest the lime, reserving the fruit for the icing. Wash and dry the mint and chop it into very small pieces.

Cream the butter and sugar together until fluffy. Add the vanilla, egg, lime zest, and mint and mix well.

Stir in the flour, baking powder, and salt together, and then add this to the butter/sugar mixture and mix on low speed only until combined.

On a sheet of parchment paper, shape the dough into a log, cover with the parchment, and refrigerate for two hours or more.

Preheat oven to 375 degrees (F).

Place a second sheet of parchment on a baking sheet. Slice chilled dough into 1/4-inch slices and transfer to prepared pan.

Bake 10 - 12 minutes, or until bottoms and edges are a light golden brown. Cool on baking sheet for 5 minutes then remove to a wire rack to cool completely.
For the rum lime glaze:
Mix the powdered sugar with the lime juice and rum. Beat until smooth. Ice the cookies once they are cool.

You can adjust the amounts of lime versus rum to please your palate. And add more sugar if it seems too runny.
Cinnamon & Sugar's Notes:
If you want a stronger mint flavor, add 1/2 teaspoon mint extract to the dough.

Use the method of lightly spooning flour into a measuring cup and leveling.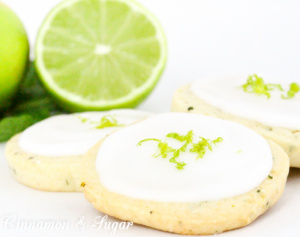 Pin to Pinterest: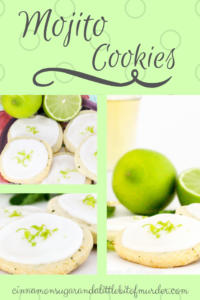 If you receive my blog post via email you will need to visit my website to view the video.
I was provided an advance copy with the hopes I would review. All thoughts and opinions are my own.