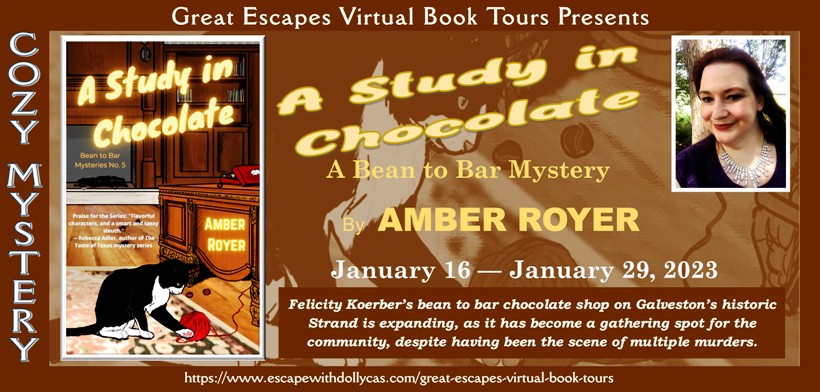 I'm delighted to be participating in the Great Escapes Virtual Book Tour introducing A STUDY IN CHOCOLATE, the fifth book in the Bean to Bar Mystery series by Amber Royer. This delicious new release had me drooling over the descriptions and kept me engrossed in the Sherlockian-style murder mystery. While I haven't read any of the previous books, Ms. Royer does a fantastic job introducing the characters and the setting, so I never felt at a loss. The protagonist, chocolatier Felicity Koerber, comes across as relatable and someone you'd love to spend time with… especially when she's working in her bean to bar chocolate shop on Galveston's historic strand. My only little quibble is her love triangle, which detracted a bit from my overall enjoyment of the story. I thoroughly enjoyed the bits and pieces woven into the story about the process of making chocolate from the cacao bean until it was turned into a delectable truffle. And I was especially intrigued by the mention of chocolate sculpturing and painting portraits with chocolate. These aspects easily segued into the theme of artists and the art world, setting the stage for the murder of a local artist and collector.
Even though Felicity attended the tea hosted by the artist, she really didn't know him. It comes as a complete shock when the killer contacts her later and tells her she has only a short time to save his life… but she receives the message too late. The killer tries to pull Felicity into the game by leaving her A Study in Scarlet, with the threat that someone Felicity loves will be killed next unless she can solve the crime before it happens. The fast-paced plot kept me guessing and the clues are there for a sharp reader to follow. With a 100-year-old cold case thrown in the mix, I'll admit I didn't guess correctly. The edge-of-your-seat reveal was electrifying and unsure what the final outcome would be, I turned the pages faster and faster. Ms. Royer writes a compelling mystery that is sure to appeal to fans of both chocolate and intriguing plotlines.
With so many mouthwatering chocolate treats mentioned on page, I am happy to share a recipe the author created for this blog post: Banoffee Banana Bread. While I've had Banoffee pie and of course, banana bread, combining the two is pure genius. Chocolate, bananas, caramel, and toffee bits wrapped up into a tender loaf is utterly delicious. I added a simple drizzle of confectioners' sugar mixed with a bit of water, then sprinkled with additional toffee bits and mini chocolate chips. Perfect for breakfast, snack time, or even dessert, I'll be making this decadent bread again soon!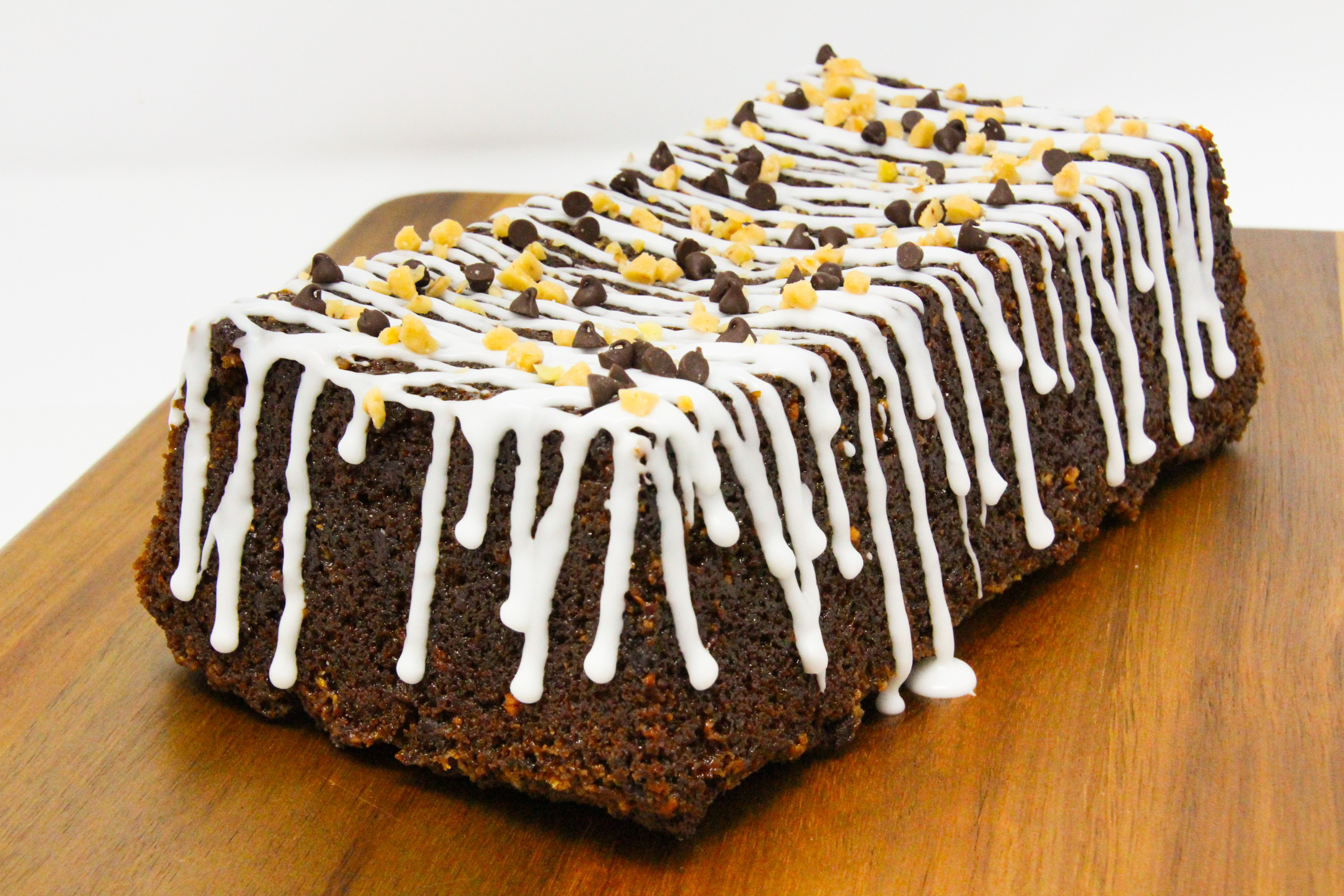 Amazon Synopsis
Felicity Koerber's bean to bar chocolate shop on Galveston's historic Strand is expanding, as it has become a gathering spot for the community, despite having been the scene of multiple murders. Artists she met while doing a chocolate sculpture are now working out of the shop. So when Felicity is invited to tea by an eccentric art collector, she's intrigued, especially when she gets asked to pose for a portrait done with chocolate on chocolate. Only, where there is a murder the next day at the same historic house where the tea was held, one of Felicity's artist friends becomes the main suspect.
When the killer threatens that, unless Felicity unravels the murder, one of her two love interests will be the next victim, she finds herself unwittingly at the center of a puzzle, with a Sherlock Holmes obsessed murderer who wants to be the next Moriarty – and wants to cast Felicity as Sherlock.
Felicity starts finding unexpected connects between her friends and acquaintances, and has to deal with the idea that someone who knows her is a murderer. At the same time, she has to keep her business running, despite construction dust and unruly customers – and an unexpected order for thousands of truffles.
Satchmo the retired police dog turned therapy dog returns to help her sniff out a few clues, and the kidnapping of Ruffles, the quirky artist's cat, helps lead Felicity into the puzzle. Can Felicity solve it in time to protect the people she cares about from becoming additional victims?

A special thanks to Amber Royer for providing one winner with an author signed copy of the book and a chocolate bar from French Broad Chocolate. Contest is limited to U.S. residents only and ends January 29, 2023 at 11:59 pm EST. Please use the Rafflecopter box located below to enter. Contest is administered by Great Escapes Virtual Book Tour and the winner will be announced on this page and notified by email (so check your spam folder!)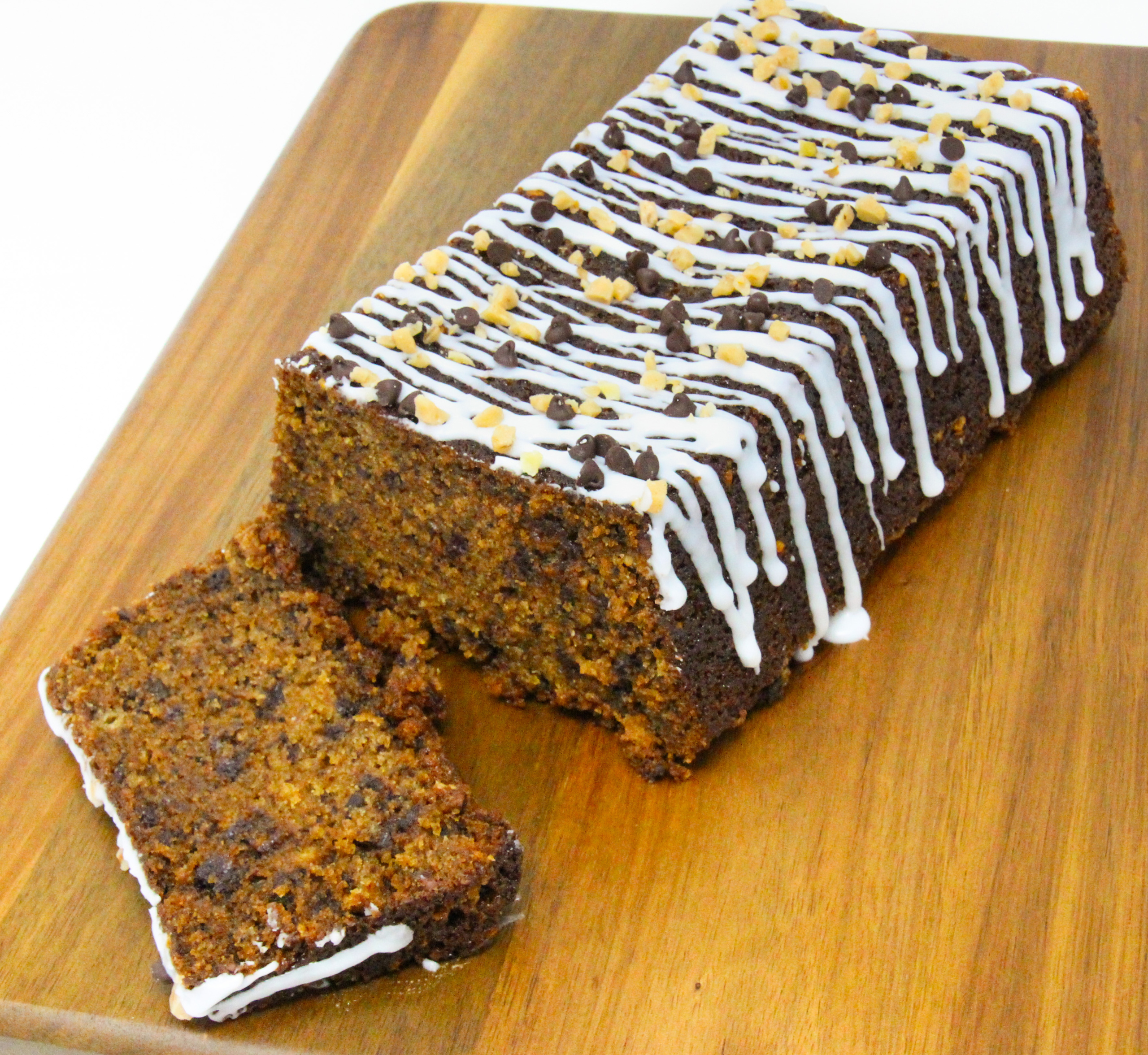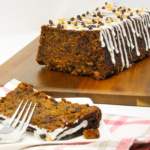 Banoffee Banana Bread
I love taking classic recipes and twisting them into a different form. This bread has the classic flavors of a banoffee pie, in a much more portable form. I gave the pastry chef at my protagonist's bean-to-bar chocolate shop the same playfulness when it comes to flavor and form. Because she created this for a chocolate shop, I have her replacing the nuts you often see in banana bread with cacao nibs.
Ingredients
1/2

cup

butter, plus extra for greasing pan

1

cup

sugar

2

eggs

1

cup

(2 medium) mashed bananas

1/4

cup

milk

2

tablespoons

dulce de leche or caramel sauce

1

teaspoon

vanilla

1

cup

all-purpose flour

1

cup

graham cracker crumbs

1/4

cup

cacao nibs

1

teaspoon

baking soda

1/2

teaspoon

salt

1

cup

toffee bits
Instructions
Heat oven to 350 degrees. Grease bottom only of 9x5 or 8x4 inch loaf pan. Set aside.

Place sugar and butter in the bowl of a stand mixer. Cream sugar and butter together until light and fluffy. Add the eggs, one at a time, mixing between each addition. Add the bananas, milk, dulce de leche and vanilla, then mix briefly, just until combined. Set aside.

In a small bowl, place the flour, graham cracker crumbs, cacao nibs, baking soda and salt. Whisk until well combined.

Add the flour mixture to the egg mixture. Stir with a wooden spoon just until the dry ingredients are moistened. Stir in the toffee bits. Pour batter into the prepared pan.

Bake for 50 to 60 minutes, or until toothpick inserted in center comes out clean. Cool 5 minutes. Remove. Cool completely on wire rack.

Wrap and store in the refrigerator.
Note:
Add one cup chocolate chips to make this chocolate chip banana bread.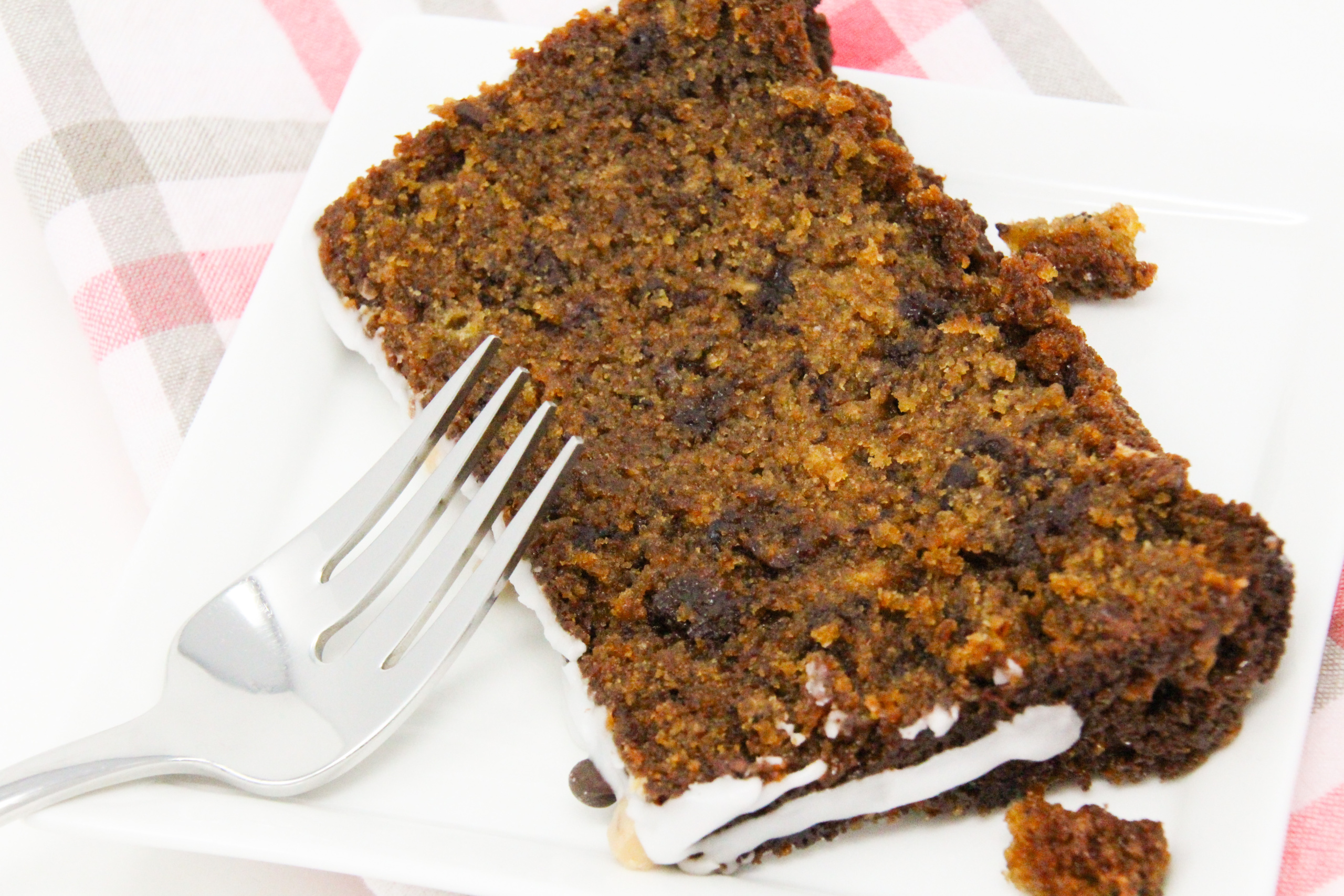 Pin to Pinterest: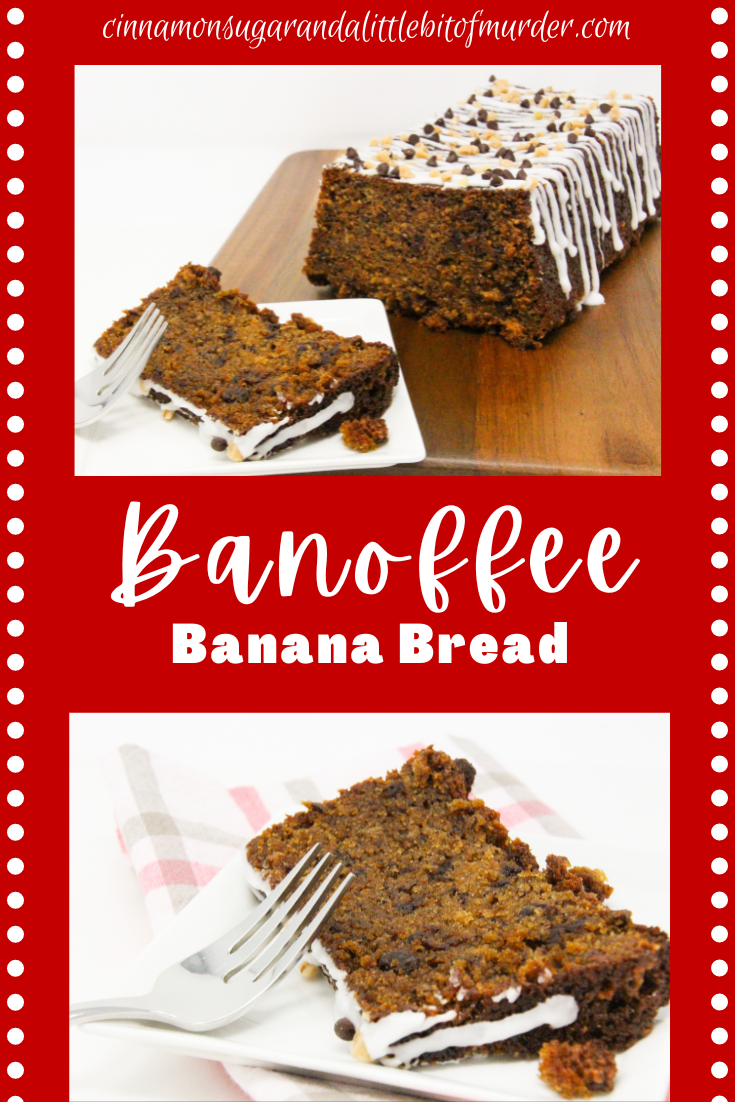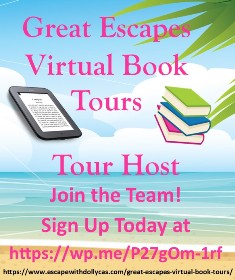 TOUR PARTICIPANTS
January 16 – Literary Gold – AUTHOR INTERVIEW
January 16 – My Reading Journeys – REVIEW
January 17 – Cinnamon, Sugar, and a Little Bit of Murder – REVIEW, RECIPE
January 17 – Sapphyria's Book Reviews – SPOTLIGHT
January 18 – Mochas, Mysteries and Meows – CHARACTER GUEST POST
January 19 – Socrates Book Reviews – SPOTLIGHT
January 19 – Christy's Cozy Corners – AUTHOR GUEST POST
January 20 – I'm Into Books – SPOTLIGHT
January 20 – The Mystery Review Crew – AUTHOR GUEST POST
January 21 – Celticlady's Reviews – SPOTLIGHT, EXCERPT
January 21 – Escape With Dollycas Into A Good Book – SPOTLIGHT
January 22 – Cozy Up With Kathy – CHARACTER GUEST POST
January 22 – FUONLYKNEW – SPOTLIGHT
January 23 – Lady Hawkeye – SPOTLIGHT
January 24 – Ascroft, eh? – AUTHOR GUEST POST
January 25 – #BRVL Book Review Virginia Lee Blog – SPOTLIGHT
January 26 – Sneaky the library Cat's Blog – CHARACTER INTERVIEW
January 27 – Maureen's Musings – SPOTLIGHT
January 28 – Mystery Thrillers and Romantic Suspense Reviews – SPOTLIGHT, EXCERPT
January 28 – My Journey Back – SPOTLIGHT
January 29 – Girl with Pen – SPOTLIGHT
I was provided with an advance copy. All thoughts and opinions are my own.