I'm very happy to welcome Paige Shelton back to my blog to celebrate her new release, OF BOOKS AND BAGPIPES. She is also sharing her amazing recipe for Best Butterscotch Mistake Cake Ever! along with a chance to win a signed hardcover copy of her new book. Thank you, Paige, for your generosity! You can see my review and the synopsis at the bottom of the page below the Rafflecopter link.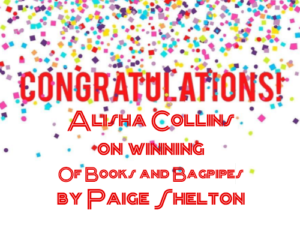 The contest ends Monday, April 3, 2017 at 11:59 pm PST and is limited to U.S. residents only. Please use the Rafflecopter box located below the recipes to enter. The winner will be announced on this page and on Cinnamon & Sugar's Facebook page, as well as notified by email (so check your spam folder!)
Welcome back to Cinnamon & Sugar, Paige!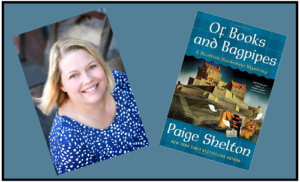 Don't you love it when a plan comes together? Don't you love it even more when things come together without any plan in the first place? Me too. It's rare that one of my throw-together, or leftover ingredient recipes actually taste good, but I got lucky on this one.
In celebration of the publication of my upcoming book OF BOOKS AND BAGPIPES, I'm sharing the recipe. This might not necessarily be a Scottish recipe, but we can pretend and somehow correlate the ButterSCOTCH with scotch whisky, though there's no whisky involved. Okay, a stretch, I know, but you'll thank me later.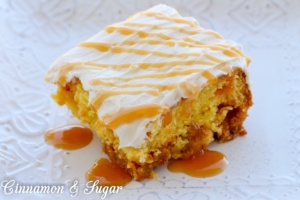 Best Butterscotch Mistake Cake Ever!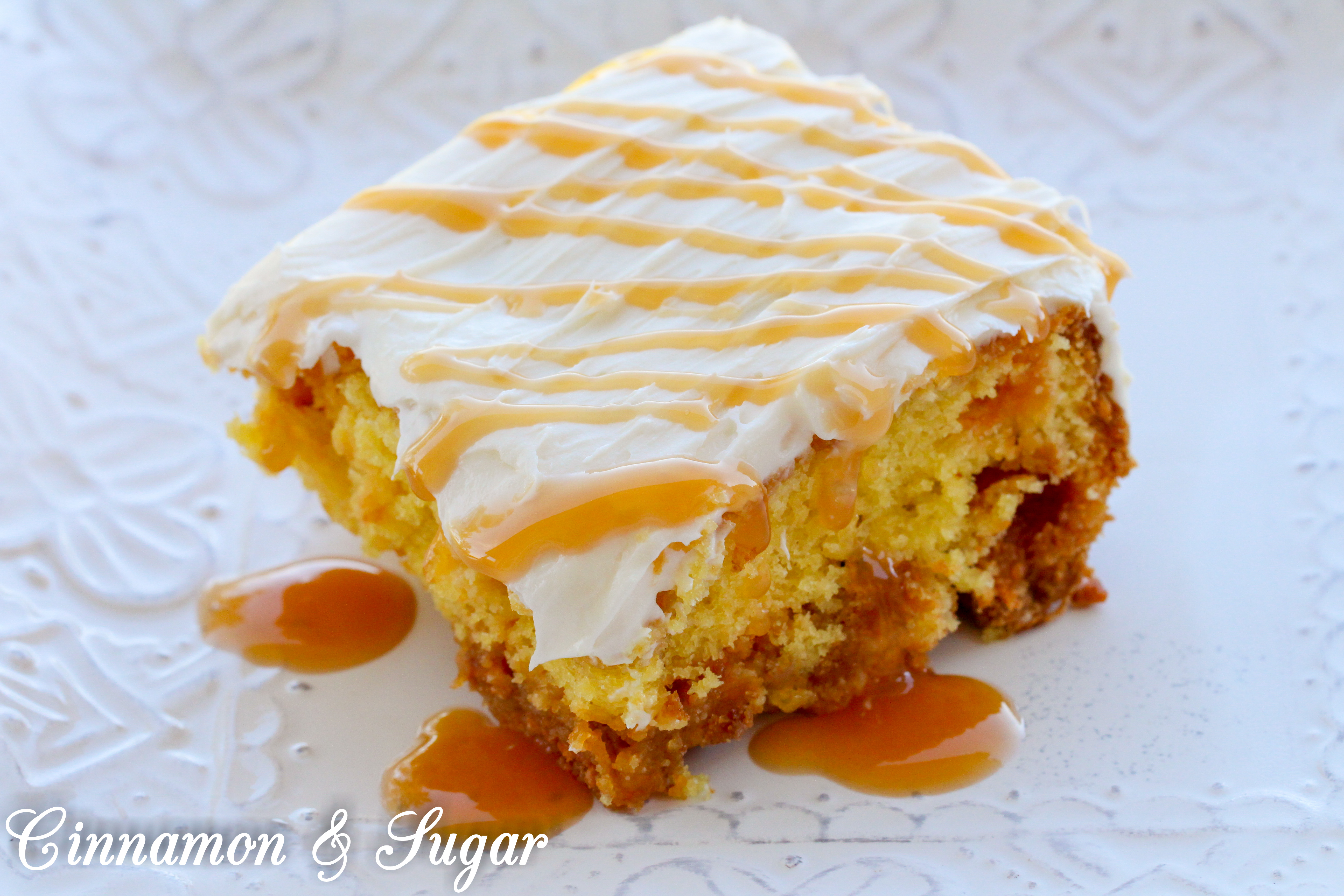 Ingredients
1 package yellow cake mix, minus three tablespoons.

Okay, I don't know what you're supposed to do with the three tablespoons, but I had to use them for another recipe, and that's ultimately how this cake recipe was born. In fact, you can probably leave in the three tablespoons, but that's not what I did.

**
1 small instant vanilla pudding mix, or a little over half of a 5.1 ounce box (which is what I used)
1/2 cup sour cream
1/2 cup whipped cream
1/2 cup milk
1/2 cup vegetable oil
3 eggs
About 3/4 of a bag of butterscotch chips
1 can of cream cheese frosting
Instructions
Preheat oven to 350 degrees F.
Grease and flour the bottom and sides of a 9 by 13 cake pan.
Combine yellow cake mix, vanilla pudding mix, sour cream, whipped cream, milk, vegetable oil, and eggs.
Mix on medium to high speed for about four minutes. This is a thick batter and I had to fight it a little, but it worked.
Fold in the butterscotch chips.
Pour into pan and cook for forty to forty-five minutes, maybe longer. Check by inserting a toothpick into the center. When it comes out clean, the cake is done.
Let cool in pan on rack. Once cool, frost with frosting.
Enjoy! Store covered in refrigerator, if you can get it there before it gets eaten.

Reviewer's Notes:

I made this cake using the entire cake mix and it worked fine. I also made the cake both in a 9 x 13-inch cake pan AND made it in a bundt cake pan, which my guests really liked. The butterscotch chips sank during baking and stuck to the pan, so to prevent that, 1) omit the chips when mixing the cake 2) place batter in bundt cake pan 3) sprinkle chips on top of batter and gentle push them down just until covered with batter. They will sink into the batter while baking. Instead of frosting the bundt cake, I melted the can of cream cheese frosting in the microwave for about 30 seconds (until it is easy to drizzle) then drizzled over the cake. The bundt cake bakes the same amount of time as the sheet cake, 40 - 45 minutes. I allowed to cool in the pan for 10 minutes before inverting onto a serving platter.

**If you want to see the Cake Batter Gourmet Popcorn recipe Paige used those 3 tablespoons of cake mix for, please visit: https://cinnamonsugarandalittlebitofmurder.com/2017/02/gourmet-popcorn/
https://cinnamonsugarandalittlebitofmurder.com/2017/03/butterscotch-cake/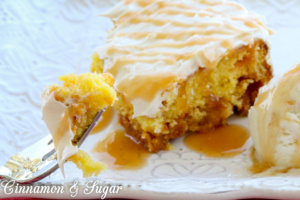 Thank you to my sister, Kathy, for making this cake yesterday (4/2) and instigating another happy mistake which corrected the issue of the cake sticking to a bundt pan. She forgot to add the butterscotch chips before adding the batter to the bundt pan. Once she realized it, she sprinkled the chips over the top of the batter and barely pushed them down until a small amount of batter covered them. The chips sink as it is baked and turned out perfectly! Here are her pics.
My Review
When Paige Shelton released the first book in her Scottish Bookshop Mystery series last year, I was smitten and couldn't wait for the next installment. Books and treasures, the warmth and charm of the characters, and a strong mystery to keep me guessing combine to create another home run with her newest release, OF BOOKS AND BAGPIPES!
The author has created a memorable protagonist with her character, Delaney Nichols from Kansas in America. Delaney has relocated herself to Scotland to work for elderly Edwin MacAlister, owner of the bookshop The Cracked Spine. The setting of the bookshop is magical with its books, hidden treasures, and delightful employees including the darling terrier, Hector. Delaney comes to love her boss and the others at the bookshop like family and her care and concern shine through the situations she finds herself in. Paige Shelton has also created a lovely relationship between Delaney and her landlords, Elias and Aggie, who treat the American transplant like a daughter. Cab-driving Elias becomes a ready sidekick to Delaney's exploration and investigations, providing balance to the scenes while portraying the charm of the Scottish people and their delightful language.
I loved how the author weaves bits and pieces of Scottish history into the story in such a creative way that I didn't even realize I was "learning" while turning page after page to find out what happens next. And turn the pages I did… as the intertwined murder mystery and half-century old secrets unfolded, unexpected twists and turns caught me by surprise and took me in an entirely different direction than I thought the author was going. It provides an edge-of-your-seat read that I couldn't put down until I finished the last page!
Now my comment about the Best Butterscotch Mistake Cake Ever! I had a lot of family coming into town to stay with me for several days. When Paige sent me the recipe I knew it was one I needed to make for my company. Once the plates were passed around three things happened: 1) Everyone wanted the recipe right then and there; 2) Numerous people went back for seconds; 3) I knew I was going to have to make a second cake right away…and I did! This is an amazingly easy cake to make but the results are anything but ordinary!
Amazon Synopsis
Delaney Nichols has settled so comfortably into her new life in Edinburgh that she truly feels it's become more home than her once beloved Kansas. Her job at the Cracked Spine, a bookshop that specializes in rare manuscripts as well as other sundry valuable historical objects, is everything she had dreamed, with her new boss, Edwin MacAlister, entrusting her more and more with bigger jobs. Her latest task includes a trip to Castle Doune, a castle not far out of Edinburgh, to retrieve a hard-to-find edition of an old Scottish comic, an "Oor Wullie," in a cloak and dagger transaction that Edwin has orchestrated.
While taking in the sights of the distant Highlands from the castle's ramparts, Delaney is startled when she spots a sandal-clad foot at the other end of the roof. Unfortunately, the foot's owner is very much dead and, based on the William Wallace costume he's wearing, perfectly matches the description of the man who was supposed to bring the Oor Wullie. As Delaney rushes to call off some approaching tourists and find the police, she comes across the Oor Wullie, its pages torn and fluttering around a side wall of the castle. Instinct tells her to take the pages and hide them under her jacket. It's not until she returns to the Cracked Spine that she realizes just how complicated this story is and endeavors to untangle the tricky plot of why someone wanted this man dead, all before getting herself booked for murder.
If you receive my blog post via email you will need to visit my website to view the video.
Pin to Pinterest: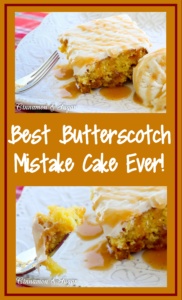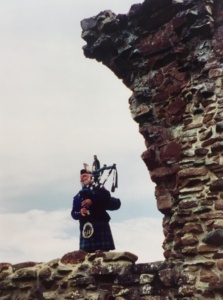 I'll admit I was never a fan of bagpipes until I visited Scotland and saw an elderly man, dressed in a kilt, playing his bagpipe at the ruins of an ancient castle. The haunting sound that captured the moment has stayed with me for years!
I received a copy in exchange for my honest review. All thoughts and opinions are my own.