The second book in the adorable Emergency Dessert Squad Mystery series by Laura Bradford, SILENCE OF THE FLANS is a solid, entertaining addition! Winnie Johnson is an engaging protagonist with a smart sense of humor and witty dialog. I love her interaction with her elderly friends who are more like family to her. One of the fun things about this series is the absolutely creative, whimsical names for desserts that Winnie bakes and delivers! The author enlisted the help of a couple of people to come up with the names in this book and I think it would be so much fun to see the variety they created before narrowing it down to a few. I am not a pun creative type of person which makes me appreciate and admire those who can.
Winnie has a heart of gold: taking in a cat that hates her (which provides some comedy) along with helping out a troubled college student, whose grandmother is dying. Even though she's warned about the girl, she still feels like she needs to do her best to help. Winnie says, "How much trouble can 1 college girl really cause?" and from there the story takes off with a bang when another college girl drops dead after eating Winnie's Fade to Blackberry Crisp. Becoming a suspect with her dessert the cause of the poisoning, Winnie's business comes to a standstill. Winnie's tenacious determination to keep her business going and prove to the town that she's innocent propels her into tracking down the real killer. Besides being a fun, entertaining read the mystery had a good flow and I enjoyed seeing her find new suspects and then rethinking old suspects which made it believable. The reveal wrapped up the plot and subplots with a satisfactory conclusion and made me anxious to find out what happens next!
With all the adorable, pun-filled dessert names floating around the book, I am grateful that Laura provides several recipes for the reader to drool over! She has graciously allowed me to share her recipe for Apple Kootchy-Kootchy-Koo Kuchen with you. I've never had Kuchen before and was impressed with the yummy pastry crust, rich custard filling, and tart apples. There is just enough cinnamon to delicately flavor it without overwhelming or detracting from the overall flavor. I really like that it bakes up into a large casserole dish and serves a lot of people. Perfect for breakfast, a coffee break, or warmed up with ice cream for dessert…any way you serve it, your friends and family will thank you!
Amazon Synopsis
Baker Winnie Johnson does her best work when the heat is on. As owner of the Emergency Dessert Squad, she has a deft touch in the kitchen and a soft spot for lost causes. So when her business professor beau, Jay Morgan, expresses misgivings over having to fail one of his fourth-year students, Winnie cooks up a sweet solution.

She'll offer an extra credit opportunity in exchange for a little help with her growing business. But when her protégé's first dessert delivery poisons a student journalist, the publicity threatens to burn Winnie's business to a crisp. Now the entrepreneur-turned-detective must uncover the ingredients behind a recipe for murder before she crumbles under pressure…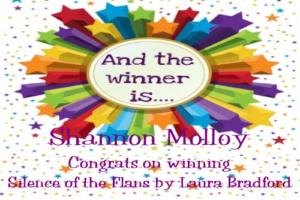 A special thanks to Laura Bradford for providing a signed copy of SILENCE OF THE FLANS for one lucky winner! Contest ends Friday, March 10, 2017 at 11:59 pm PST, and limited to U.S. residents only. Please use the Rafflecopter box located below the recipe to enter. The winner will be announced on this page and on Cinnamon & Sugar's Facebook page, as well as notified by email (so check your spam folder!)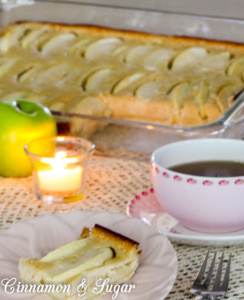 Apple Kootchy-Kootchy-Koo Kuchen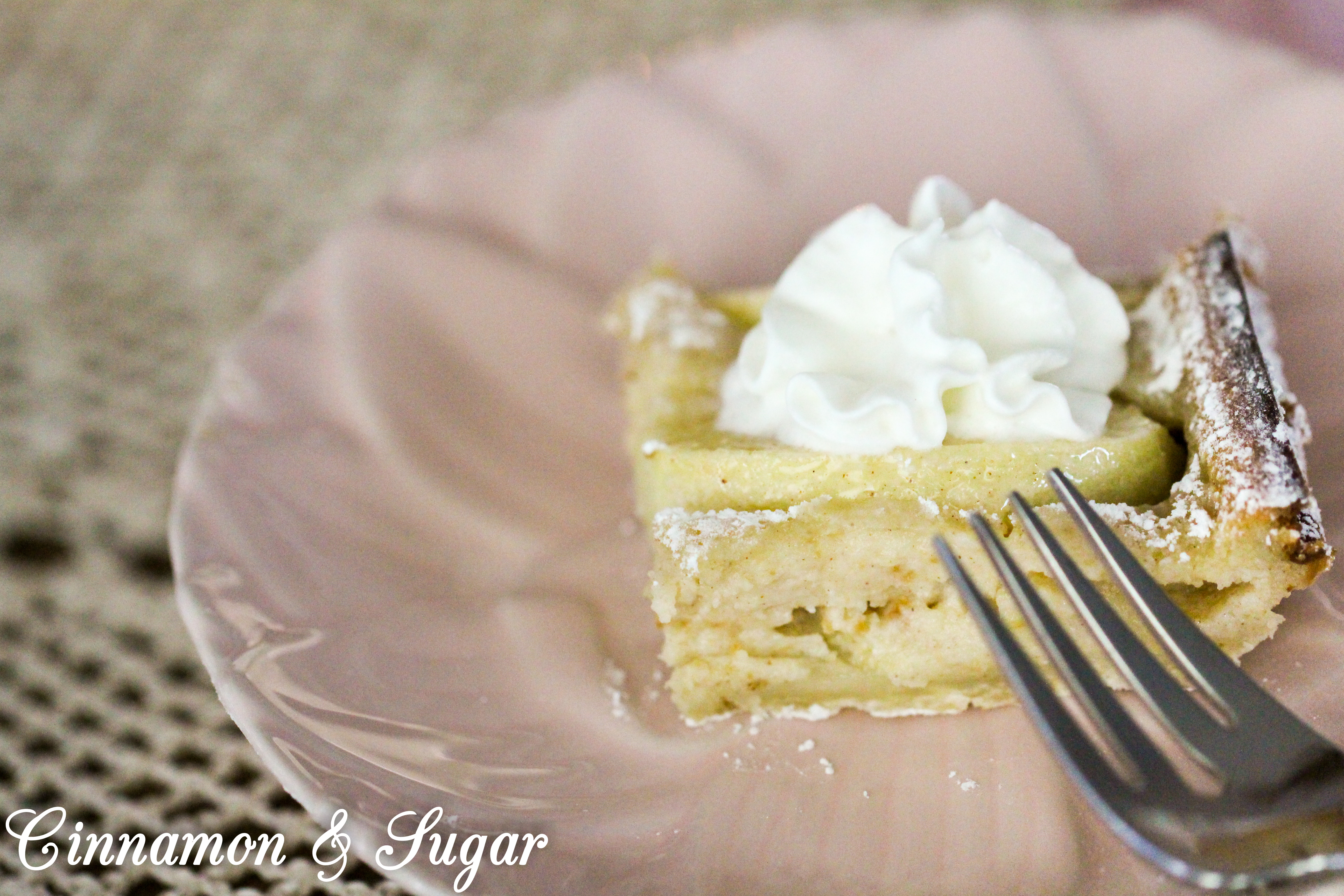 Ingredients
Crust

1 cup flour
1/4 cup confectioners' sugar
1/4 teaspoon salt
1/2 cup butter, melted

Filling

4 Granny Smith apples (peeled, and cut into 6 - 8 wedges each**)
2 eggs
1 cup sugar
1/4 teaspoon salt
1/4 tablespoon cinnamon
3 tablespoons flour
1 8-ounce container sour cream
Instructions
Preheat oven to 450 degrees.

Crust

Combine all the crust ingredients in a bowl to form a dough.
Pat gently into a 13 x 9-inch pan, lightly coated with non-stick cooking spray.

Filling

Arrange the apple wedges across top of the crust.
In a separate bowl, beat eggs.
Blend in sugar, salt, cinnamon, flour, and sour cream.
Pour over fruit topped crust.
Bake at 450 degrees for 10 minutes, then reduce heat to 325 degrees and bake for 30 - 35 minutes, until filling is set.
Top with whipped cream if desired. Koochy-Koochy-Koo Kuchen is great served warm with ice cream.
Store leftovers in the refrigerator.

My Note

**My taste testers indicated they preferred the apples sliced thinner, which I'll try next time.
https://cinnamonsugarandalittlebitofmurder.com/apple-kuchen/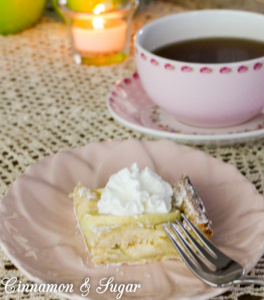 Pin to Pinterest: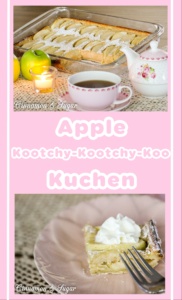 If you receive my blog post via email you will need to visit my website to view the video.
I received a copy of this book and willingly provided a review. All thoughts and opinions are my own.